Is Zach Wilson Better Than Trevor Lawrence? What Chris Simms' Quarterback Rankings Tell Us
Is Zach Wilson better than Trevor Lawrence?
The Jacksonville Jaguars certainly didn't think so. At pick No. 1 in the 2021 NFL draft, they could have picked either of these QBs, and they chose Lawrence. On the other hand, the New York Jets would probably tell you they liked Wilson better all along and were glad he fell to No. 2.
NFL analyst Chris Simms recently weighed in on this debate when he released his quarterback rankings for 2021 and had to decide between these top two picks.
Zach Wilson vs. Trevor Lawrence: The tale of the tape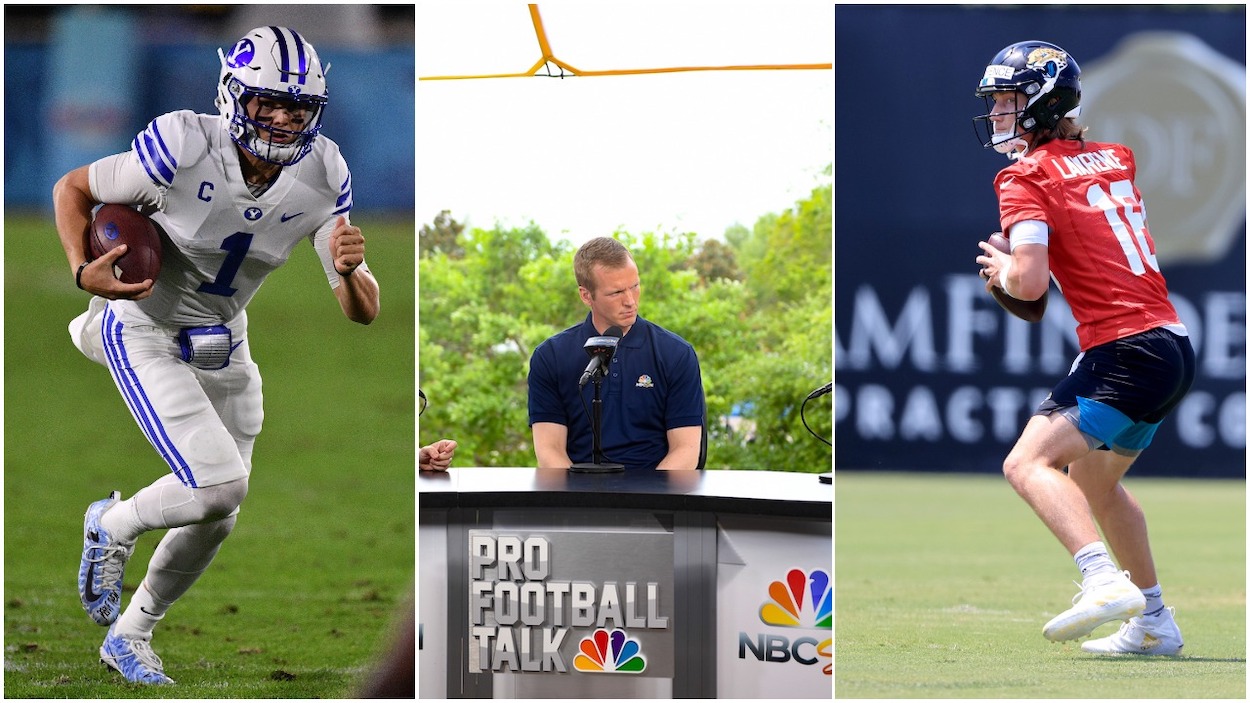 Wilson checks in at 6-foot-3, 214 pounds, and comes to the Big Apple from Draper, Utah, and Brigham Young University. Lawrence hails from Cartersville, Georgia, attended Clemson University, and stands 6-foot-6, 213 pounds.
Both quarterbacks have exceptional arm talent and can move. Wilson excels throwing on the run like Aaron Rodgers, while Lawrence has shown remarkable scrambling ability for a big man, ala Josh Allen.
Wilson and Lawrence each started for three seasons at their respective schools, with Lawrence starting a few more games his freshman year.
In 40 total games, Lawrence threw for 10,098 yards with a 66.6% completion percentage. He added 90 passing touchdowns and 18 rushing scores against 17 interceptions. Wilson threw for 7,652 yards with a 67.6% completion rate in 30 games. He threw 56 touchdowns and 15 picks.
The most significant difference between the two passers is the level of competition they faced and the big games they played.
Lawrence won the ACC Championship and went to the College Football Playoff all three years. He played in the National Championship Game twice and won it all his freshman year. On the flip side, Wilson only played two ranked teams his final year at BYU: Boise State and Coastal Carolina.
Wilson also went to bowl games every season, but the Boca Raton Bowl, Hawaii Bowl, and Famous Idaho Potato Bowl aren't quite on the level as Lawrence's bowl game experience.
Chris Simms' quarterback rankings for 2021 has Wilson ahead of Lawrence 
Chris Simms is an NFL analyst for NBC, a former college and pro quarterback, and the son of a former NFL QB and current TV analyst, Phil Simms.
Chris Simms does an annual Top 40 QB Countdown that often garners a lot of attention. This season, his list is already controversial because he ranked a third-round pick over first-round picks Justin Fields and Trey Lance.
A little less than halfway down the list, Chris Simms turned heads again, ranking the No. 2 pick ahead of the guy in the No. 1 spot. The former Texas Longhorns QB put Trevor Lawrence at No. 28 on his list and Zach Wilson at No. 27.
Justifying his flip-flopping of the draft positions, Chris Simms started by explaining to Pro Football Talk host Mike Florio that he thinks "Trevor Lawrence is awesome" and dismissing the ideas his rankings are for "click bait."
He continued to defend his ranking vigorously by saying:
Zack Wilson is CLEARLY the number one quarterback in the draft for me. There is a separation. Zach Wilson is a really, really special football player, from every aspect and angle. The only negative I can even come up with here is, I wish he was a little thicker, and bigger. He's 6-3, 210, but I don't think that necessarily matters this day and age in the NFL, and I do like his build, regardless.
He goes on to say he was "blown away" by Wilson, who he describes as a combination of Aaron Rodgers and Patrick Mahomes — high praise from any NFL analyst.
Zach Wilson vs. Trevor Lawrence is in Week 16
Pro football is a true team sport, so individual win/loss records for QBs don't tell the whole story. When QBs face off head-to-head, you can often get an idea of the relative talent level of each passer.
That is precisely what we'll get to see when Wilson's Jets and Lawrence's Jaguars play in Week 16 at MetLife Stadium in New Jersey.
Both players have first-time NFL head coaches in New York's Robert Saleh and Jacksonville's Urban Meyer. Both teams upgraded their offense around their young future stars. The Jets concentrated on the offensive line while the Jag upgraded their weapons by picking Lawrence's college teammate, running back Travis Etienne.
Week 16 is late enough in the season that both these top picks should show a true glimpse of who they are and who they can be in the NFL. It may not give us a definitive answer in the "Is Zach Wilson better than Trevor Lawrence?" debate, but it should get us much closer to finding out.
All stats courtesy of Sports Reference