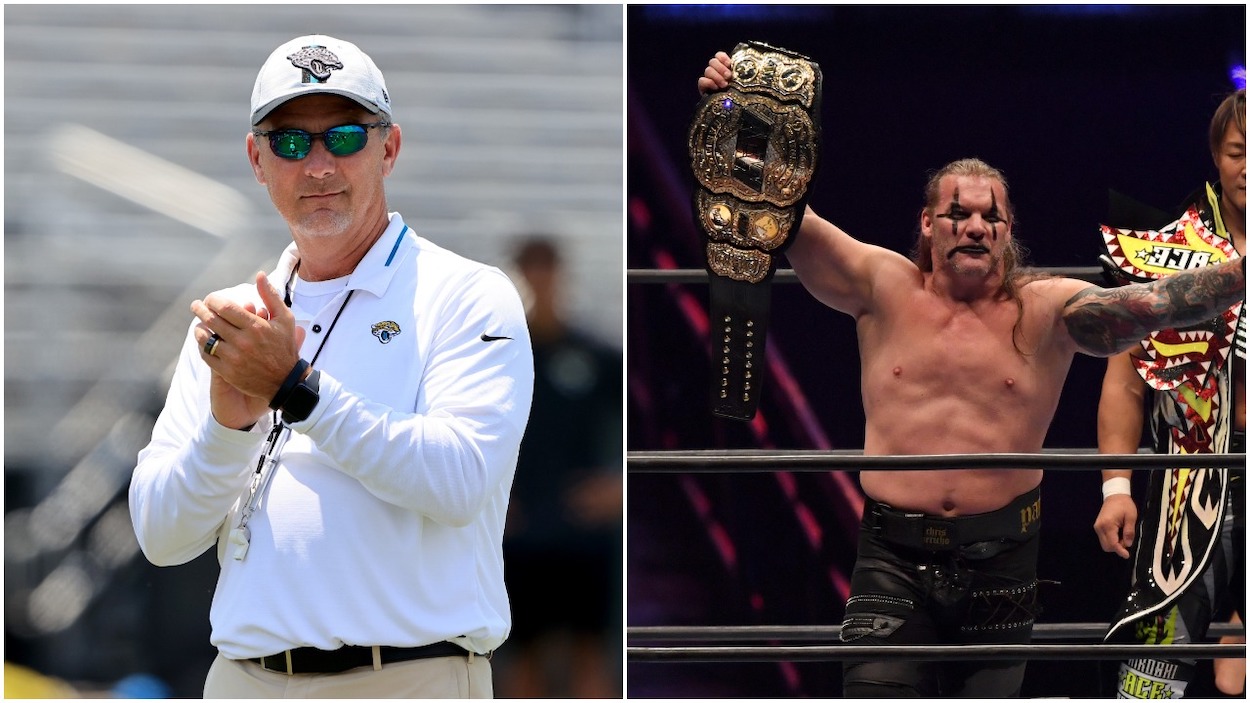 Urban Meyer Teams up With Chris Jericho in His Professional Wrestling Debut
First-year Jacksonville Jaguars head coach Urban Meyer and his assistant, Charlie Strong, joined a long list of pro sports figures to make their pro wrestling debut, teaming with the Inner Circle and Chris Jericho to take on MJF and the Pinnacle at All Elite Wrestling's (AEW) 'Double of Nothing' pay-per-view event.
New Jacksonville Jaguars head coach Urban Meyer has already made quite a mark on the organization. So far, he's drafted his franchise quarterback, Trevor Lawrence, and signed Tim Tebow to play tight end. 
When an All Elite Wrestling (AEW) match spilled into his office at TIAA Bank Field on Memorial Weekend, Urban Meyer helped pro wrestler Chris Jericho make his mark; on his opponent, MJF. 
Urban Meyer has an excellent college coaching track record but is starting his first NFL head coaching gig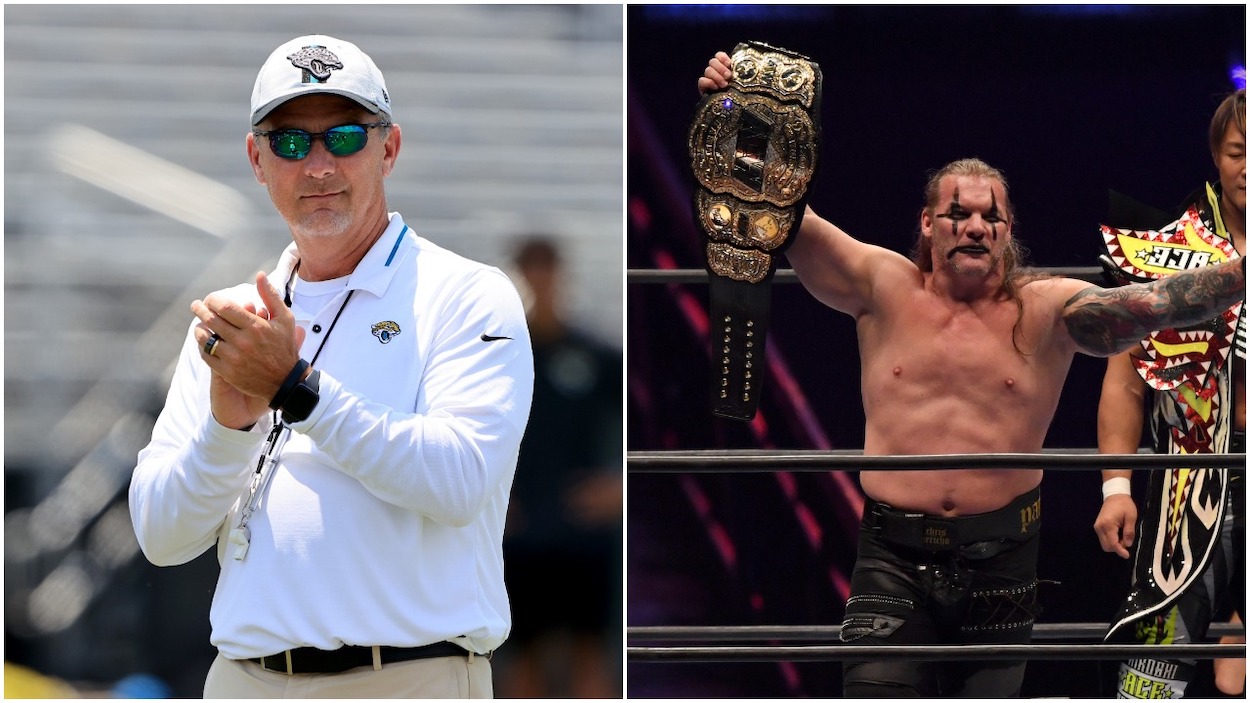 Meyer is a very successful college coach. He wins wherever he goes. In fact, he's never had a losing record (or even a .500 season) at any stop as a head coach. In his 17 seasons coaching Bowling Green State, the University of Utah, the University of Florida, and Ohio State University, he compiled a record of 187-32. 
The Ohio-born coach took teams to Bowl games in 14 of his 17 years and won three NCAA National Championships, two with Florida and one with Ohio State. 
In between coaching stints, Meyer spent time as a college football analyst. He has worked for both ESPN and FOX Sports. 
Following Jacksonville firing head coach Doug Marrone after a 1-15 season, the team hired Meyer to coach the Jaguars in January 2021. 
Meyer lent pro wrestler Chris Jericho a hand at AEW Double or Nothing pay-per-view event
AEW is a startup wrestling promotion that kicked off in 2019 and is giving the WWE a run for its money. The league is finding success with its weekly show, AEW Dynamite, its online and social media shows, and its pay-per-view shows like Double or Nothing. 
The Double or Nothing pay-per-view, which is the show that happened in Jacksonville over the holiday weekend, is the promotion's flagship event that launched AEW two years ago. This year's show took place in front of a packed house at Daily's Place, an amphitheater connected to TIAA Bank Field, per CBS Sports.  
The last match featured a group called the Inner Circle, led by former WWE superstar and current AEW wrestler Chris Jericho, against the Pinnacle, a faction led by wrestler MJF. It was a "Stadium Stampede" match in which the wrestlers fought throughout the Jag's stadium. 
At one point, Jericho and MJF ended up in Meyer's office with the new head coach and assistant head coach, Charlie Strong. The NFL coaches lent Jericho a hand in beating down his opponent. Strong tossed Jericho footballs which he pelted MJF with, and Meyer helped seal the deal by handing over his laptop. Jericho proceeded to smash the computer over his foe's back after telling Meyer, "nice plays."
Jericho and The Inner would go on to win the match. 
The tie-in with Meyer and the Jaguars is no accident, and it goes beyond the fact that the pay-per-view special filmed in Jacksonville. Shad Kahn, the Jaguars owner, is also a co-owner of AEW, and his son, Tony Kahn, is the organization's founder, CEO, GM, and Head of Creative, according to AllEliteWrestling.com. 
Meyer is the latest in a long line of sports figures to appear on professional wrestling shows
Meyer may be the most recent sports figure to appear on a professional wrestling show, but he is certainly not the first. Pro sports participants and professional wrestling have a long history that goes back decades. 
The tradition dates back at least to the 1980s, per Athlon Sports, when Muhammad Ali and William "Refrigerator" Perry took to the ring. The trend continued in the 90s when athletes like Lawrence Taylor, Pete Rose, and Mike Tyson got in on the act. In the late 90s and early 2000s, wrestling programs often featured NBA players. Shaquille O'Neal, Dennis Rodman, Karl Malone, and even Dallas Mavericks owner Mark Cuban all showed up in the squared circle. 
At recent events, notable athlete participants include the basketball-playing Ball family (LaVar, Lonzo, and LaMelo) and Rob Gronkowski. 
The connection between mainstream sports and pro wrestling works the other way as well. Several wrestling superstars also played high-level college football or basketball or even made it to the NFL. Wrestlers Roman Reigns and Dwayne "The Rock" Johnson played football at Georgia Tech and Miami, while Kevin Nash and Paul "The Big Show" Wright played hoops at Tennessee and Wichita, respectively. 
At the professional level, Bill Goldberg played three seasons for the Atlanta Falcons, and Steve "Mongo" McMichael had a distinguished NFL career, mainly with the Chicago Bears, before stepping into the ring. 
All stats courtesy of Sports Reference