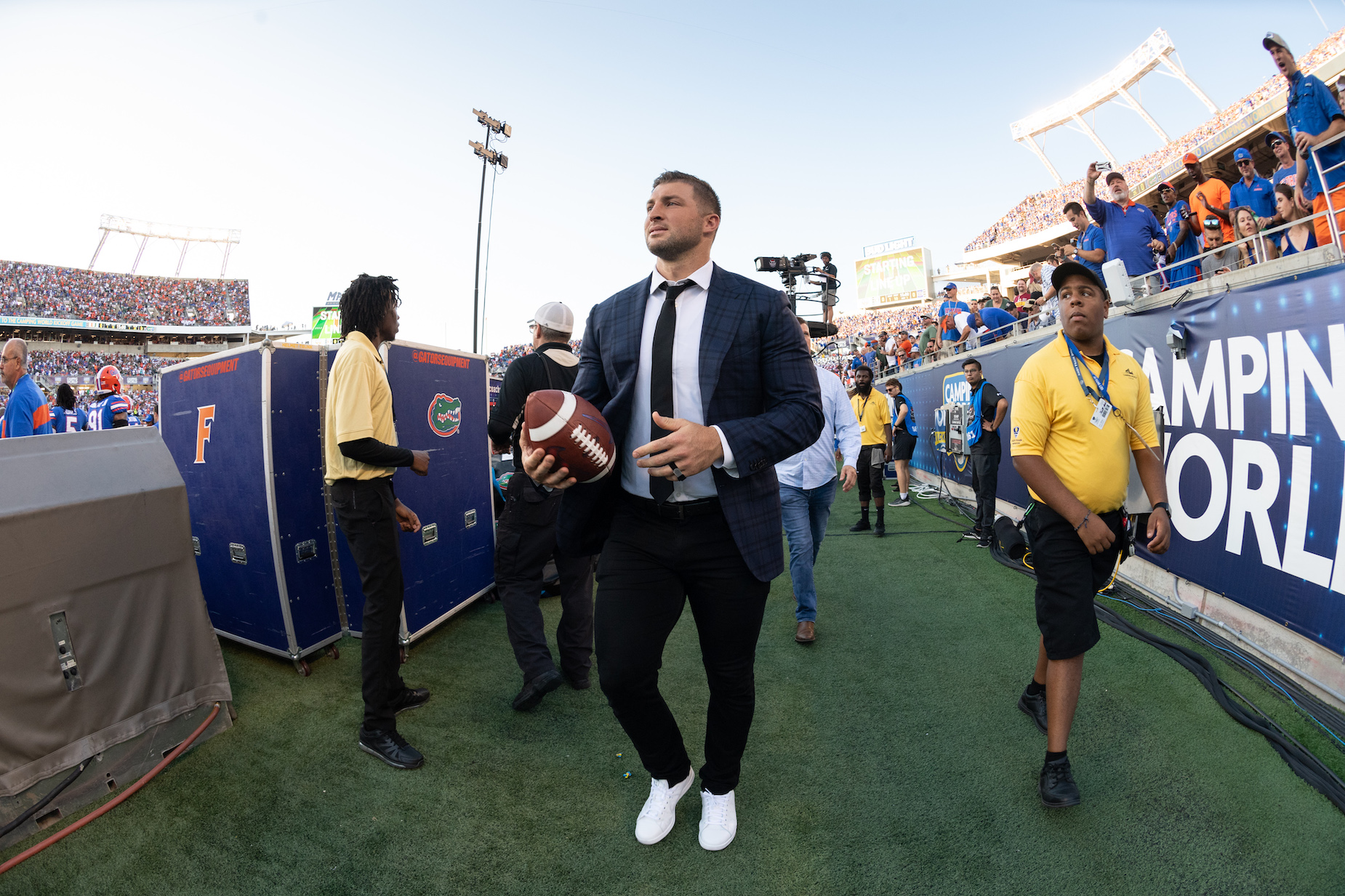 Can Tim Tebow Really Play Tight End? A Former Jacksonville Jaguar Thinks He Might Be Able to 'Get it Done'
According to a former Jacksonville Jaguars tight end, ex-quarterback Tim Tebow might be able to switch positions successfully in the right situation.
The last time NFL fans saw Tim Tebow as an NFL player, he suited up as a preseason quarterback for the Philadelphia Eagles. After a detour into professional baseball, though, the former Florida Gators star seems poised to return to the gridiron. This time, however, he seems ready to join the Jacksonville Jaguars as a tight end.
As you might imagine, that rumor has been met with plenty of skepticism. If Tebow couldn't stay in the league at his chosen position, does he have any shot of surviving in a new role? According to Marcedes Lewis, who spent 12 years as the Jaguars' tight end, the ex-quarterback could be able to "get it done" in the right situation.
Tim Tebow is no stranger to trying new things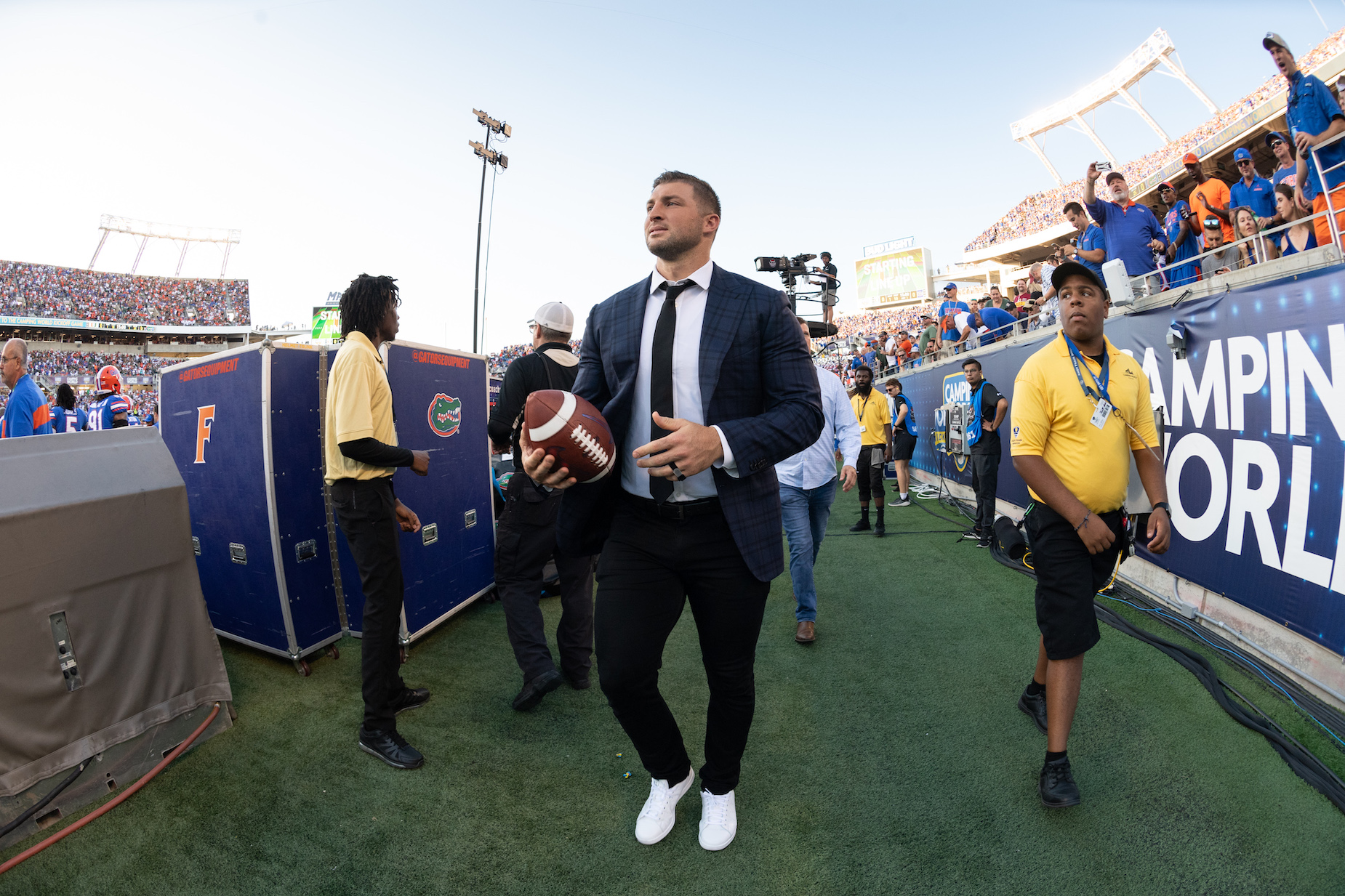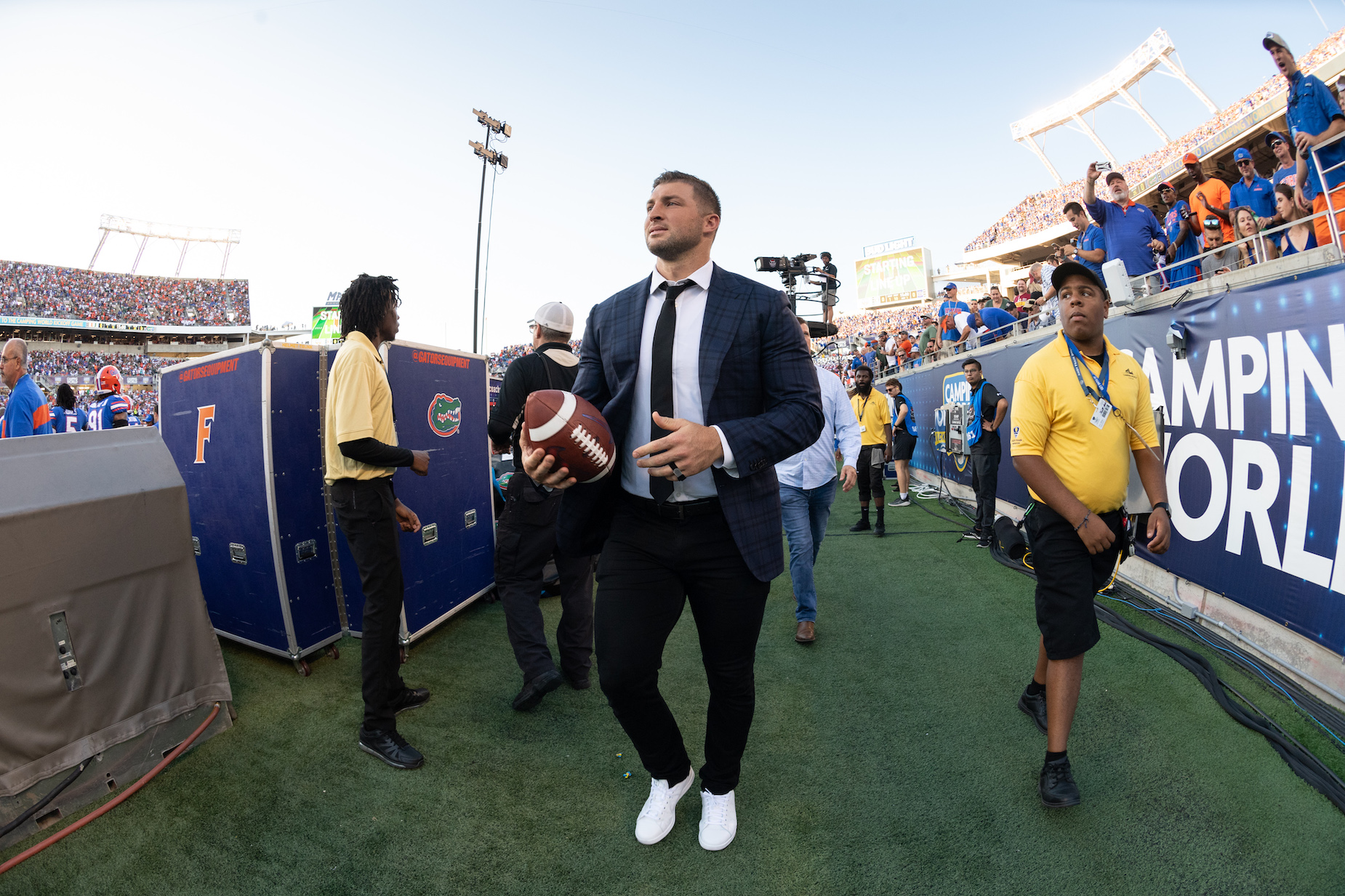 For the most part, professional athletes usually find one role and specialize in it. Tebow, however, has done things a bit differently during his career.
Everything started, of course, at quarterback. Tebow burst onto the scene with the Florida Gators and made headlines with his sheer ability to make things happen. While he looked like a legitimate dual-threat player at the college level and claimed the 2007 Heisman Trophy, he wasn't destined for professional stardom.
At the NFL level, Tebow struggled to make an impact. Although he did produce a few magical moments with the Denver Broncos, the quarterback's passing numbers were never up to snuff. He started a total of 16 games over his pro football career before failing to land a full-time job.
Tebow wasn't ready to leave professional sports behind forever, though. In 2016, he joined the New York Mets organization, appearing in the Instructional League and the Arizona Fall League. He made it as high as Triple-A in 2019 but, on the whole, never looked like a legitimate Major League Baseball prospect.
A potential NFL return as the Jacksonville Jaguars' tight tend
In February 2021, Tebow retired from professional baseball. While nothing is official yet, it seems he made that move with an eye on an NFL return.
Shortly after the turn of the new year, Urban Meyer, who coached Tebow at the University of Florida, took over as the Jaguars' head coach. While quarterback is already covered—Jacksonville drafted Trevor Lawrence—there could still be room for Tebow on the roster.
As reported by ESPN, the Jaguars plan on signing Tebow to a one-year contract as a tight end. He has never played that position before, even in high school, but Jacksonville apparently wants to take a look and at least consider his potential.
Marcedes Lewis thinks Tim Tebow could 'get it done' at tight end in the right situation
Given Tebow's combined lack of NFL success and lack of position-specific experience, there isn't much optimism about his ability to play tight end. Marcedes Lewis, however, took a different stance.
Lewis has plenty of experience at tight end; he lined up in that role for 12 seasons in Jacksonville before moving to Green Bay. While he thinks the transition will be tough, he wasn't willing to rule anything out.
"With the right coach, in the right system, he's athletic, and, if he's willing, he'll be able to get it done," Lewis told TMZ Sports.
The NFL veteran also provided some insight into Tebow's potential role. Even if he does make the Jaguars roster as a tight end, he'll probably be there for his athleticism rather than his brute strength.
"I'm pretty sure if he does come back, it would probably be in an F tight end role, kind of an adjuster where he's able to run routes and stuff like that. I don't see him inline blocking, so he may be able to pick it up," Lewis added. For reference, F tight ends are more flexible and line up almost anywhere; Y tight ends, however, usually stay closer to the offensive line.
The former Jaguar also noting that playing tight end is, understandably, "a tough position" where you have to know what everyone on the field will be doing.
Can Tebow handle that when he hits the field this fall? As of now, only time will tell.