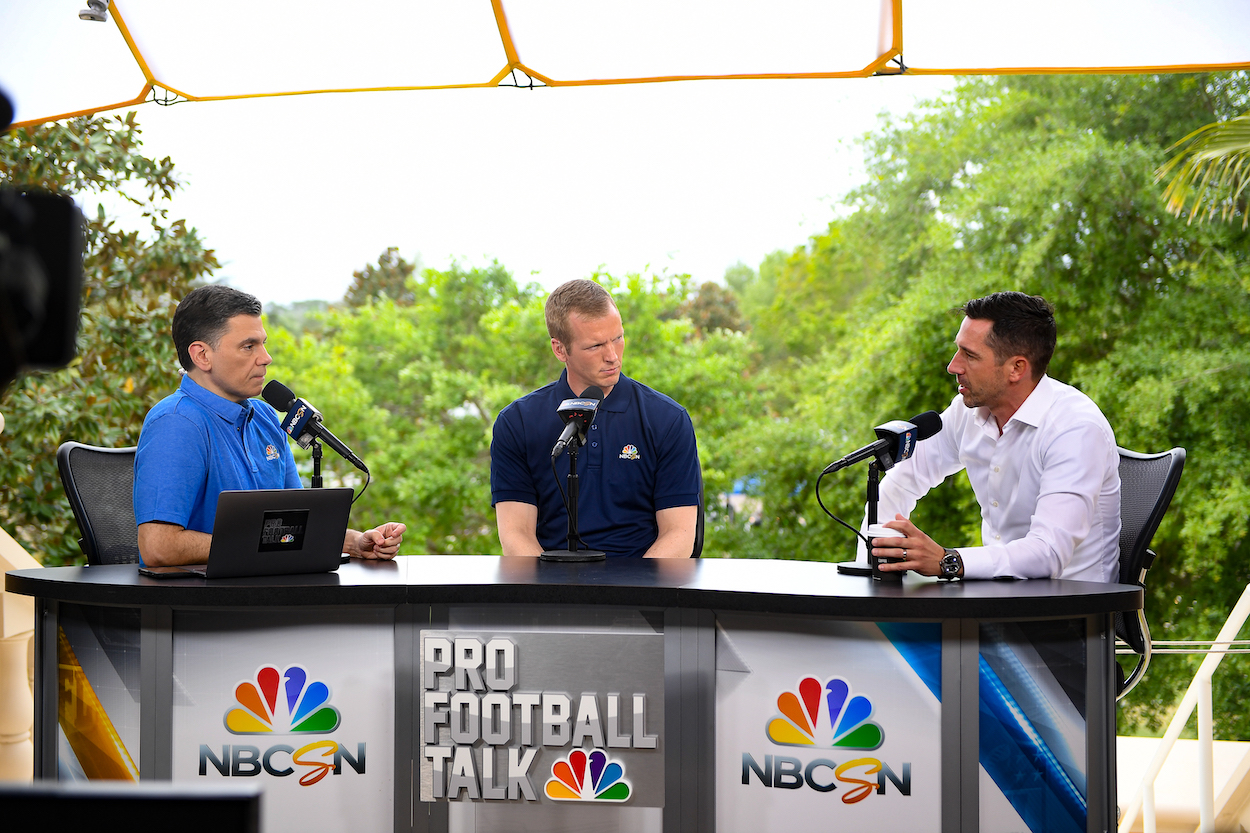 Justin Fields and Trey Lance Ranked Behind a Third-Round Rookie Making $660K in Chris Simms' 2021 Top 40 QB Rankings
NBC NFL analyst Chris Simms started revealing his annual Top 40 QB Countdown. At the back end of the list, Simms shocked many when he put the No. 66 pick, the Minnesota Vikings' Kellen Mond ahead of both the San Francisco 49ers' Trey Lance and the Chicago Bears' Justin Fields.
Pro football teams often pick quarterbacks high in the NFL draft. The better QBs go in the first round, and the lesser ones go later. Occasionally, though, a great passer slips through the cracks. It's how the New England Patriots ended up with Tom Brady at pick No. 199.
NFL analyst Chris Simms thinks this is precisely what happened in the 2021 draft. In his annual Top 40 QB Countdown, Simms ranked a third-round pick ahead of two quarterbacks drafted in the first 11 picks.
NFL QB-turned-broadcaster Chris Simms annually ranks his top 40 NFL QBs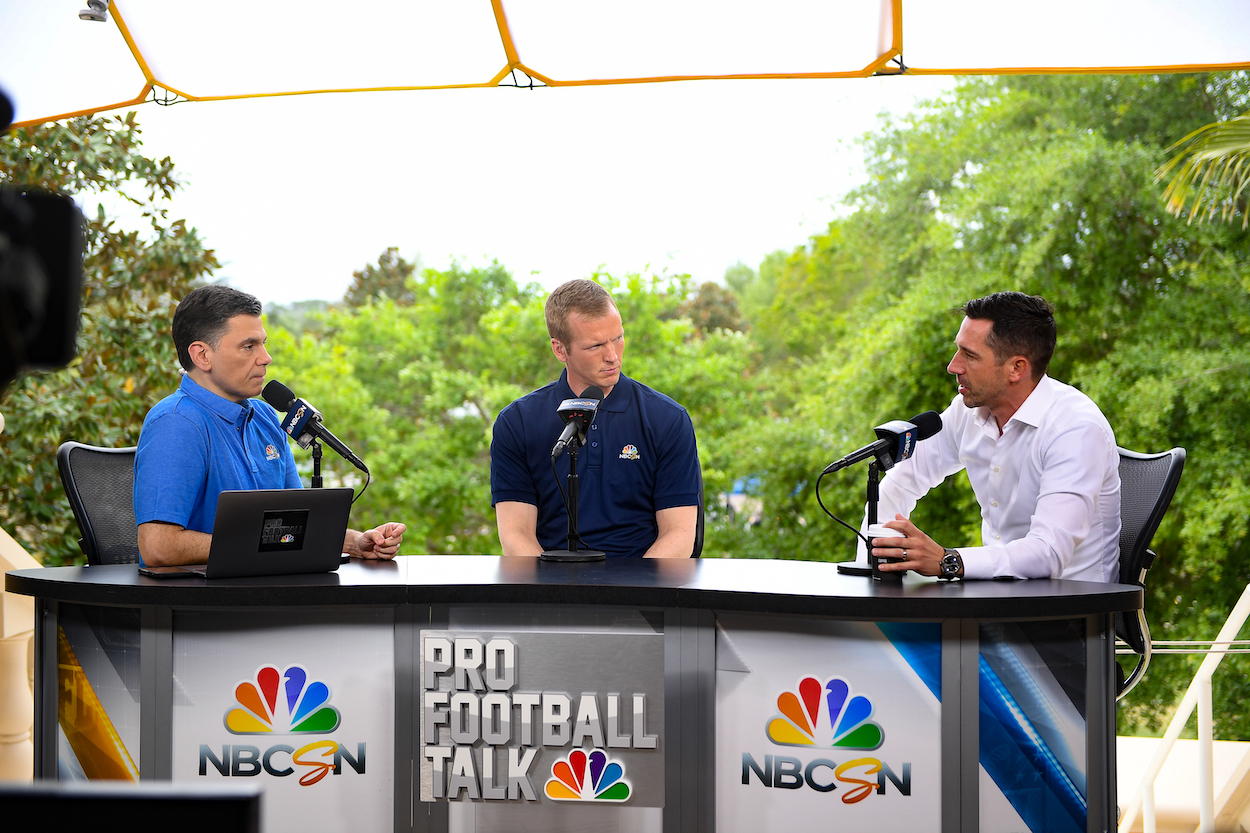 Chris Simms is probably best known as the son of Super Bowl-winning New York Giants quarterback Phil Simms. While he didn't have his dad's career, Chris Simms was a pretty good passer in his own right.
At the University of Texas, Chris Simms appeared in games all four years as a Longhorn. In his first three seasons, he split time to various degrees with Major Applewhite. In his senior season, the quarterback threw for a career-high 3,207 yards and 26 touchdowns.
On the strength of this last season at Texas, the Tampa Bay Buccaneers drafted Chris Simms in the third round of the 2003 NFL draft with pick No. 97. Simms spent most of his NFL career as a backup but ended up playing for five seasons with the Buccaneers, Tennessee Titans, and Denver Broncos.
After he retired in 2009, Chris Simms again followed in his dad's footsteps and went into broadcasting. He now works for NBC, where he wears several hats, including putting together an annual ranking of the NFL's top 40 quarterbacks.  
The Minnesota Vikings' Kellen Mond is ranked ahead of Justin Fields and Trey Lance 
Following the 2021 NFL draft, Chris Simms began unveiling his 2021 top 40 list. Nos. 37, 38, and 39 are all rookie QBs, but the highest name in that grouping is a big surprise.
The former journeyman quarterback put the Chicago Bears No. 11 overall pick Justin Fields at No. 39 and the San Francisco 49ers' No. 3 overall pick Trey Lance at No. 38. The next spot went to a signal caller drafted well after these two highly regarded prospects.
At No. 37 on Chris Simms' list is former Texas A&M quarterback Kellen Mond. The Minnesota Vikings selected Mond with the second pick of the third round. 
Explaining his pick, Chris Simms told co-host, Mike Florio, Mond is "made for the NFL as far as pocket passing is concerned." He continued, raving about Mond's arm, technique, decision-making, accuracy, and ball security.
Justin Fields, Trey Lance, and Kellen Mond will all likely start the season on the bench
While all three of these QB prospects project to have promising NFL futures, they will all likely start the 2021 season holding a clipboard.
Mond will begin the season behind incumbent Viking QB Kirk Cousins. Cutting or trading Cousins would result in $76 million in dead cap, so he will 100% be on the team in 2021. If the former Washington quarterback can't improve on last year's 7-9 record, though, Mond may be able to get some snaps later in the season.
Lance is also behind a QB with two years left on a big money deal. Jimmy Garoppolo will make $26 million in 2021 and $27 million in 2022, but, unlike Cousins, trading Garoppolo would only cost the Niners $2.8 million in dead cap this year and $1.4 million next year. These more favorable financials may lead to Lance getting a shot earlier than Mond.
The easiest path to the starter role will be for Fields. The Ohio State product is behind both Andy Dalton and Nick Foles currently, but neither one of those QBs has a great track record of success. Both their deals are also easy to move on from or to keep as a backup going forward.
Simms rankings aren't always perfect, but he does know what he's talking about. And, if Mond can produce like last year's QB in the No. 37 spot, Justin Herbert, both Simms, and the Vikings will look pretty smart.
All stats courtesy of Pro Football Reference and contract figures courtesy of sportrac