Kellen Mond Could Be the Dak Prescott of the 2021 NFL Draft
Quarterback Kellen Mond from Texas A&M could be the steal of the NFL draft and compares favorably to another late-round gem, Dak Prescott.
The 2021 NFL draft is setting up to be all about the quarterbacks. While the pre-draft hype is focused on the names at the top of the first round, there is a chance that the most important quarterback of the draft goes in a later round. There is one quarterback in particular, Kellen Mond from Texas A&M, who some believe is highly underrated and could become a future franchise player like 2016 fourth-round draft pick, Dak Prescott.
Top quarterback prospects in the 2021 NFL Draft
All the chatter leading up to the 2021 NFL draft is about the five signal-callers who will likely be taken toward the beginning of the first round. This includes Trevor Lawrence from Clemson, Zach Wilson from BYU, Mac Jones from Alabama, Justin Fields from Ohio State, and Trey Lance from North Dakota State.
Lawrence, Jones, and Fields are all known commodities. They have been regularly featured in nationally televised games, including the College Football Playoffs. Wilson comes from a smaller school but one that has produced a surprising number of high NFL draft picks at the position. Highly-drafted BYU quarterbacks include Steve Young, Jim McMahon, and Ty Detmer.
Mond comes from a bigger, better-known school than Lance but the small-school quarterback benefits from the recent success of similar prospects like Carson Wentz and Josh Allen. Some may want to compare Mond to fellow Aggie Johnny Manziel but the better comp is another overlooked SEC quarterback in Prescott.
Why Kellen Mond is flying under the radar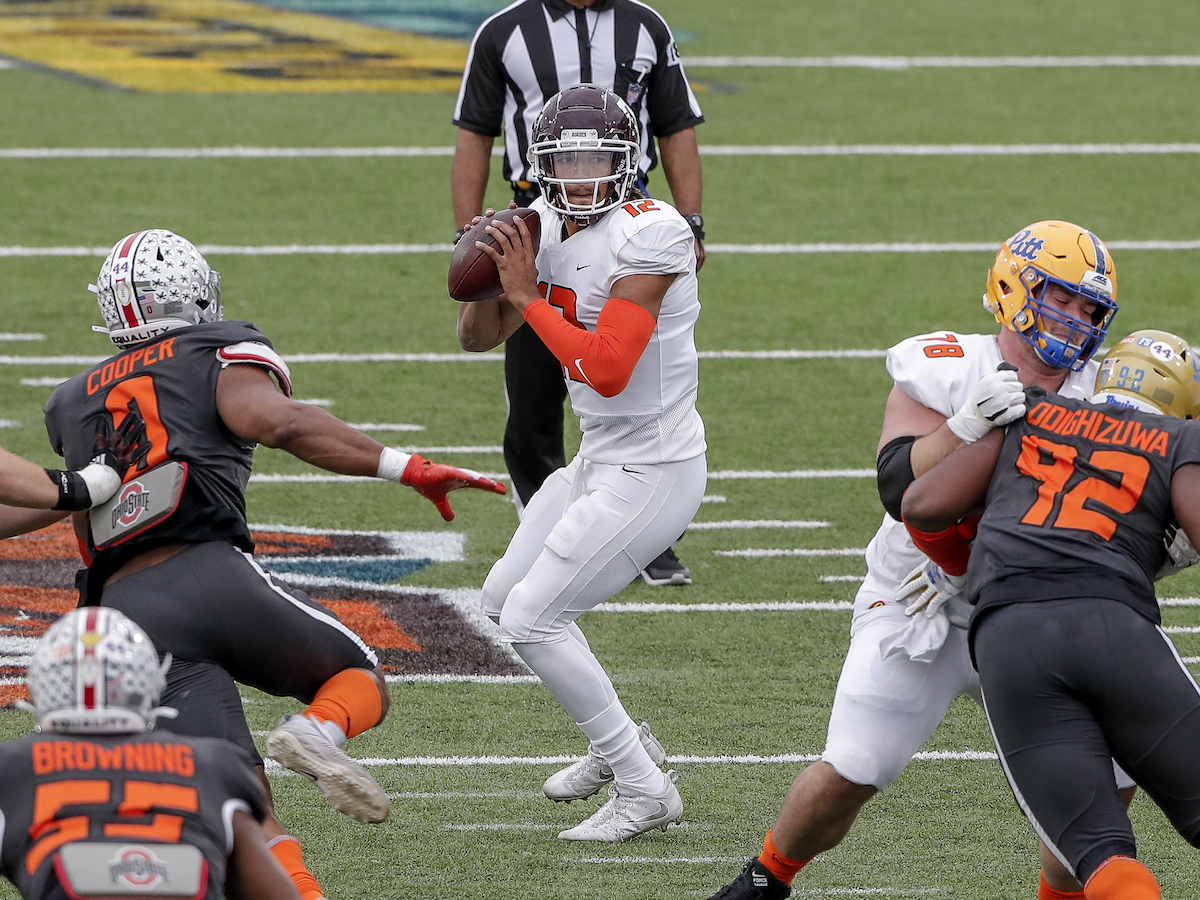 Related: Bill Belichick Can Rewrite His Legacy by Taking a Bold $14.8 Million Risk in the 2021 NFL Draft
NFL analyst Chris Simms is a big fan of Mond. The former quarterback believes Mond is being overlooked by teams, just like Prescott was in 2016, because of his flaws. Simms recently told the BMitch & Finlay show on 106.7 The Fan in Washington D.C. that he believes those flaws are "easy fixes" when compared to the flaws of some of the other top quarterbacks in the 2021 draft.  
Simms said that when he watched Mond's tape at Texas A&M, he looked as good or better than Fields and Lance as well as past first-rounders Daniel Jones and Jordan Love. The biggest thing that Simms likes about Mond's game is his special arm talent. Mond's arm allows him to make throws that other quarterbacks simply can't.
The biggest way that Simms' evaluation makes Mond seem similar to Prescott is that he believes that the players at Texas A&M are far inferior to the rosters at places like Ohio State and Alabama. Prescott dealt with the same issue at Mississippi State. Also like Prescott, Mond led his team to a better record than they probably deserved.
Where could Kellen Mond go in the NFL Draft? 
Outside of the teams picking in the top three of the draft, several others need a quarterback as well. Both the Washington Football Team and the Chicago Bears are going into the 2021-22 season with stopgap measures under center.
Washington is going with a combination of journeymen Ryan Fitzpatrick and Taylor Heinicke. The Bears' situation is equally as bleak with Nick Foles and Andy Dalton their top two options heading into the season.
The Pittsburgh Steelers and Atlanta Falcons also need quarterbacks, if not this year, soon. Mason Rudolph is not the long-term answer to replace Ben Roethlisberger in Pittsburgh. In Atlanta, there currently is less of a long-term solution. Going into the 2021 NFL draft, Atlanta doesn't even have a backup behind Matt Ryan.
The most interesting team that Mond could end up on though is the New England Patriots. The team of the 2000s is still looking for a replacement Tom Brady and it appears that Mond and Patriots offensive coordinator Josh McDaniels already have a relationship.
With Cam Newton already in place for next season, drafting a late-round quarterback would make sense. And, taking a quarterback late and developing him into a star worked out pretty well for Belichick and the Patriots two decades ago when they picked Brady 199th in the 2000 NFL draft.   
Like Sportscasting on Facebook. Follow us on Twitter @sportscasting19.