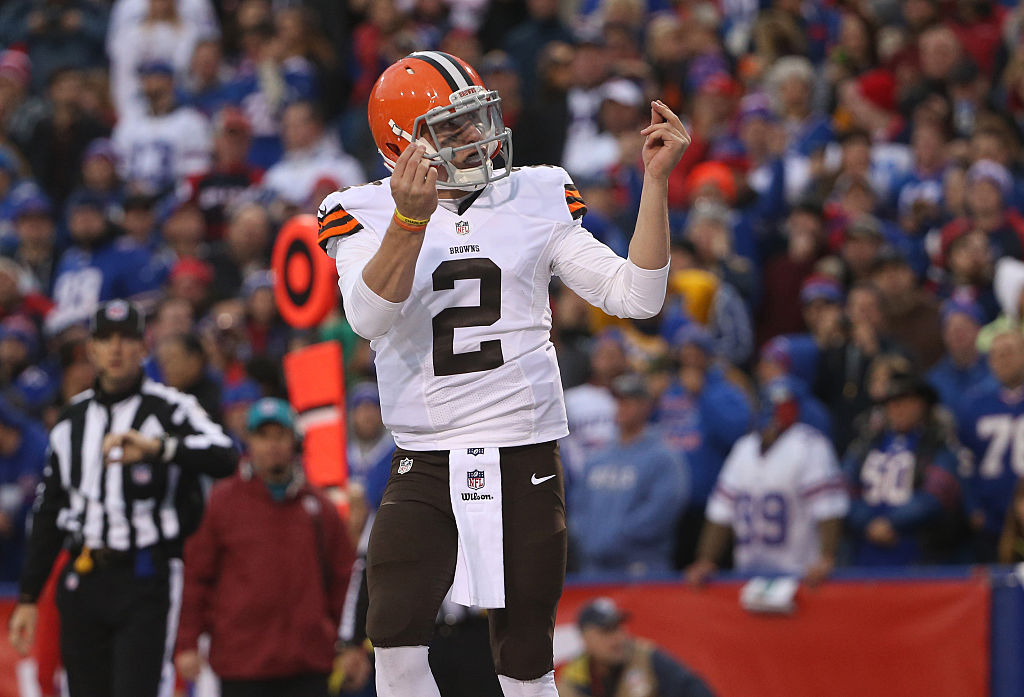 Johnny Manziel Confession Offers Explicit Details Why His Career Tanked
Johnny Manziel was a college football superstar winning the Heisman Trophy as a freshman. Manziel confessed his partying lifestyle prevented him from achieving that same success in the NFL.
To say Johnny Manziel was a huge bust in the NFL is an understatement. The Heisman Trophy winner out of Texas A&M had a promising future when the Cleveland Browns selected him in the first round of the 2014 NFL draft. He played a total of 15 games in his NFL career and it was over. Manziel recently confessed to his many blunders and why he failed on such a grand scale. 
Johnny Manziel bursts on to college football scene
At Texas A&M, Johnny Manziel came out of nowhere his first year in College Station. The freshman quarterback shocked the SEC with his dynamic two-pronged attack rushing and throwing the ball. That first season Manziel threw for 3,706 yards with 26 touchdowns and nine interceptions. On the ground, he rushed for an impressive 1,410 yards and 21 touchdowns.
Manziel's introduction to the national college football scene came on November 12, 2012 when he led the Aggies into hostile territory on the road against No. 1 Alabama and pulled off the stunning 29-24 upset. That performance catapulted Manziel to the front of the Heisman race, which he won a month later, becoming the first freshman to win the prestigious award.
Johnny Football followed up with another stellar season his sophomore year racking up 4,119 yards through the air with 37 touchdowns and 13 interceptions. He also added 759 yards on the ground. Following his sophomore season, Manziel declared for the NFL draft. 
Manziel's troubled time in the NFL
The Cleveland Browns drafted Johnny Manziel with the No. 22 overall pick in the 2014 NFL draft. They inked what they hoped to be their quarterback of the future to a four-year, $8.247 million deal, which included $6.07 million in guaranteed money. 
Manziel revealed early signs of trouble before the regular season ever started when he shot the middle finger during a preseason contest against the Washington Redskins, and the NFL fined him $12,000. Manziel made his NFL debut in Week 12 of the 2014 season, and started a couple of games later in the season, but an injured hamstring sent him to the sidelines. 
Manziel was more effective during the 2015 season and was named the starting quarterback on November 17. A week later he was demoted to third-string quarterback when a video surfaced of him partying back home in Texas during the bye week. He regained his starter status a few weeks later but once again lost it the last game of the season due to a concussion. Rumors swirled Manziel was in Las Vegas during the season's final weekend, and the Browns confirmed he missed a scheduled check-in. 
When it was learned Manziel was under investigation for a domestic violence incident with his ex-girlfriend, the Browns released a statement saying his continued disregard of their "expectations for our players on and off the field" had undermined the Browns' reputation. Cleveland released him in March 2016.
Johnny Manziel confesses to wild lifestyle
Following his short stint in the NFL, Manziel played briefly in the CFL as well as the Alliance of American Football, before the league shut down. Now, several years after playing, Manziel has had time to reflect on where it all went wrong, and knows precisely what happened. In an interview with the Subpar Podcast, Manziel offered a blunt assessment of his failed career.
"Listen, I'm 18, 19, 20, 21, 22 years old with the world at my fingertips, and I raged. Like, sue me. I had a lot more fun going to a nightclub and walking out with two girls than I did putting the pads on and going and grinding it out. And the thing that I've learned over time is you get out of the game that you love what you put into it."
Despite the obvious disappointment of not living up to expectations and enduring relentless criticism for years, Manziel seems to be at peace with his football career as evidenced by a post a few months ago on Twitter. 
Johnny Manziel finally gets it. While that might not be any consolation for the Browns organization or its fans, it's refreshing to see an athlete own up to their mistakes and hopefully learn from them. In the end, that's what we're all trying to do as we navigate through this thing called life.