New York Jets' Zach Wilson Picks a Jersey Number Worn by 3 of the Biggest Draft Busts in NFL History
New York Jets fans have been wondering what number will be on their new Zach Wilson jersey ever since the franchise took the BYU quarterback at No. 2 in the NFL draft. Wilson has worn both No. 1 and No. 11 in his career but decided to switch things up with his new team.
While plenty of Gang Green fans will surely run out and by Wilson's new jersey, the number on the shirt may be concerning. Not many NFL signal-callers have worn the number that Wilson picked, and three of those who have are considered three of the biggest NFL draft busts in history.  
The best quarterback to wear No. 2 is the Atlanta Falcons' Matt Ryan
On May 13, the Jets announced the jersey numbers of their first three 2021 draft picks on Twitter. The team's new quarterback, the No. 2 overall pick, will fittingly be wearing No. 2 for the upcoming season.
If Wilson wants to become the best quarterback in NFL history to wear this number, he doesn't have a lot of competition, but there is a well-known No. 2 that has set a pretty high bar.
Matt Ryan was drafted No. 3 overall by the Atlanta Falcons out of Boston College in the 2008 NFL draft. The Exton, PA native dropped the one from his No. 12 college uniform and became No. 2 with the Falcons.
Ryan is entering his 14th NFL season and has put together an excellent, although not extraordinary, career. The quarterback has thrown for 55,767 yards with 347 touchdowns and 158 interceptions. He is a four-time Pro Bowler and, in 2016, was a first-team All-Pro.
The 6'4" passer also led the Falcons to Super Bowl LI in 2016 and had a 28-3 lead in the Big Game before Tom Brady and the Patriots stormed back with 25 unanswered points and won the game.
If Wilson can equal or surpass Ryan's career accomplishments, Jets fans will likely be delighted with the pick.
Several other quarterbacks have also worn the number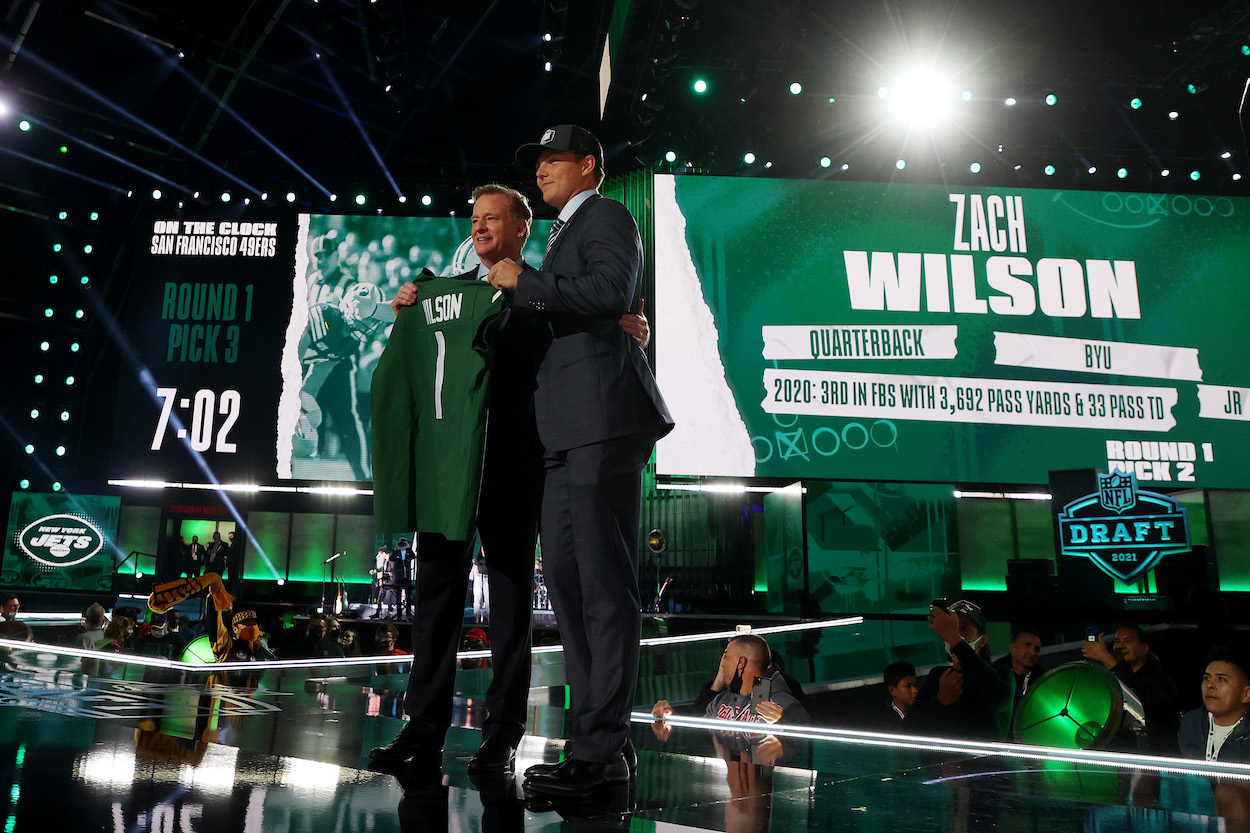 The No. 2 has long been a jersey number associated more with kickers than quarterbacks. David Akers, Rod Bironas, Steve Christie, and Mason Crosby have all worn the number. The examples at quarterback are fewer and further between, but there are some.
Charley Trippi played quarterback and wore No. 2 for the Chicago Cardinals from 1947-1955. He is an NFL Hall of Famer, but he also played halfback and defensive back, so it is hard to count him as the best "quarterback."
Doug Flutie wore No. 7 during his most successful NFL stint in Buffalo but wore No. 2 for both the Chicago Bears and New England Patriots, as well as the Toronto Argonauts in the CFL. Aaron Brooks is probably best known for being Michael Vick's cousin, be he had a respectable seven-year career where he started 92 games.
Three of the most notorious NFL draft busts in NFL history wore No. 2
The problem for Wilson and Jets fans is that the most famous – or more accurately, infamous – quarterbacks to wear No. 2 are a trio of all-time draft busts.
The Cleveland Browns drafted Tim Couch with the first pick of the 1999 draft. The Kentucky quarterback played just four seasons for the Browns and ended his career with 64 touchdowns and 67 interceptions.
Making matters worse, several much better players were drafted behind Couch. These picks include quarterbacks Donovan McNabb and Dante Culpepper, as well as Hall of Famers Edgerrin James and Champ Bailey.
The next No. 2 to go No. 1 was an even bigger bust. JaMarcus Russell was out of the NFL after three seasons of putting up just 4,083 yards, 18 touchdowns, and 23 picks. Russell was a rare miss in a loaded 2007 first-round that produced Calvin Johnson, Joe Thomas, Adrian Pederson, and Patrick Willis.
The most recent No. 2-wearing bust wasn't a No. 1 overall but did come into the NFL with a ton of hype after being the first freshman ever to with the Heisman trophy. Johnny Manziel, aka Johnny Football, only made it two years in the NFL. He started eight total games and threw seven touchdowns and seven interceptions.
If Wilson can simply avoid the fates of these quarterbacks that share his new number, Jets fans may not be jumping for joy, but they will be relieved.
All stats courtesy of Pro Football Reference