The New York Jets Did Something in the 2021 NFL Draft That ESPN's Scouting Service Has Rarely Seen Before
When the NFL draft ends, sports media rushes to grade each team's draft and declare which teams won and lost. While no one will truly know how a draft shakes out for a few years, that doesn't stop pundits from delivering swift and definitive analysis.
A team that many commentators agree had a good draft is the New York Jets. They widely received high marks for their selections, but one scouting service provided tangible data that they succeeded in a way few teams in history ever have.  
The New York Jets hailed as "winners" of the 2021 NFL draft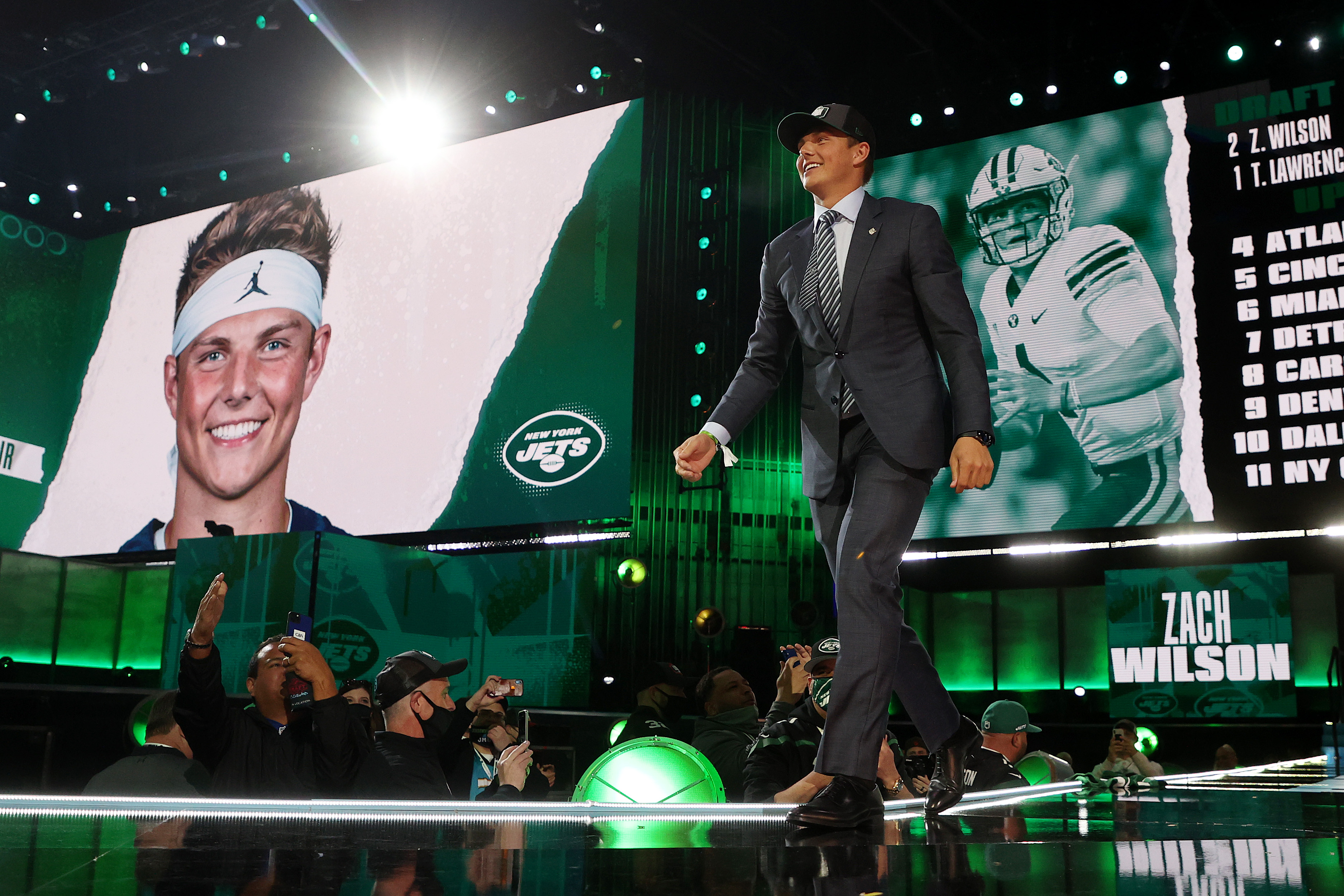 Many post-draft analysis pieces include the New York Jets as one of the winners of the 2021 NFL draft. Long-time NFL expert John Clayton writes in The Washington Post:
Give General Manager Joe Douglas a lot of credit. He drafted well last year, and he was even more aggressive this year. The emphasis was on offense, and after choosing BYU's Zach Wilson with the second pick to be the Jets' quarterback of the future, Douglas was aggressive in trading up from the 23rd pick to No. 14 to land a powerful guard, Alijah Vera-Tucker.
Clayton continues by praising Douglas and the Jets for finding great value with their second-and fourth-round picks, wide receiver Elijah Moore from Ole Miss and running back Michael Carter from North Carolina, respectively. The overarching idea of most Jets' draft analysis is that drafting a possible franchise quarterback and putting weapons around him made the organization's draft successful.
ESPN's scouting service loves the New York Jets' first three picks
Being declared a draft winner is one thing, but there's a scouting service that takes this a step further and uses data to show the New York Jets actually did something in the 2021 draft that has rarely been accomplished. According to ESPN, only twice before has a team drafted players with their first three picks that the media empire's scouting service, Scouts Inc., has rated at 90 or above. The Jets' first three picks, Wilson, Vera-Tucker, and Moore, all fit this bill.
Scouts Inc. has been grading college football prospects for ESPN since 2004. In this time, only the Jets' AFC rival Miami Dolphins have pulled off this feat. They have actually done it twice. In 2008, the Dolphins took Jake Long, Phillip Merling, and Chad Henne. Three years earlier, Ronnie Brown, Matt Roth, and Channing Crowder earned these 90-plus ratings.  
A 90-plus grade from Scouts Inc. doesn't guarantee success
The New York Jets choosing these three highly-rated players shows that they did well based on pre-draft grading. However, pre-draft evaluations are in no way a guarantee of future success. Using the Dolphins' drafts above, you can see that while Long and Brown went on to have Pro Bowl careers, Merling, Henne, Roth, and Crowder all ended up being unspectacular players.
You can look at the ESPN Scouts Inc. ratings from drafts within the last five years for more recent examples. Just looking at quarterbacks, the scouting service certainly got a lot right, rating guys like Josh Allen and Baker Mayfield in the 90s. They also seem to have got a few things wrong though. Josh Rosen and Jared Goff were also in the 90s, while Lamar Jackson, Patrick Mahomes, and Deshaun Watson were all in the 80s.
The Jets picking three players rated in the 90s doesn't make the players a sure thing, but it is a nice feather in the team's cap. It is also heartening for Jets fans who may finally have some confidence in the franchise's front office after years of head-scratching decisions. Maybe the trio of Wilson, Vera-Tucker, and Moore will be the players to finally return the Jets to the glory of the Broadway Joe days.
Like Sportscasting on Facebook. Follow us on Twitter @sportscasting19.