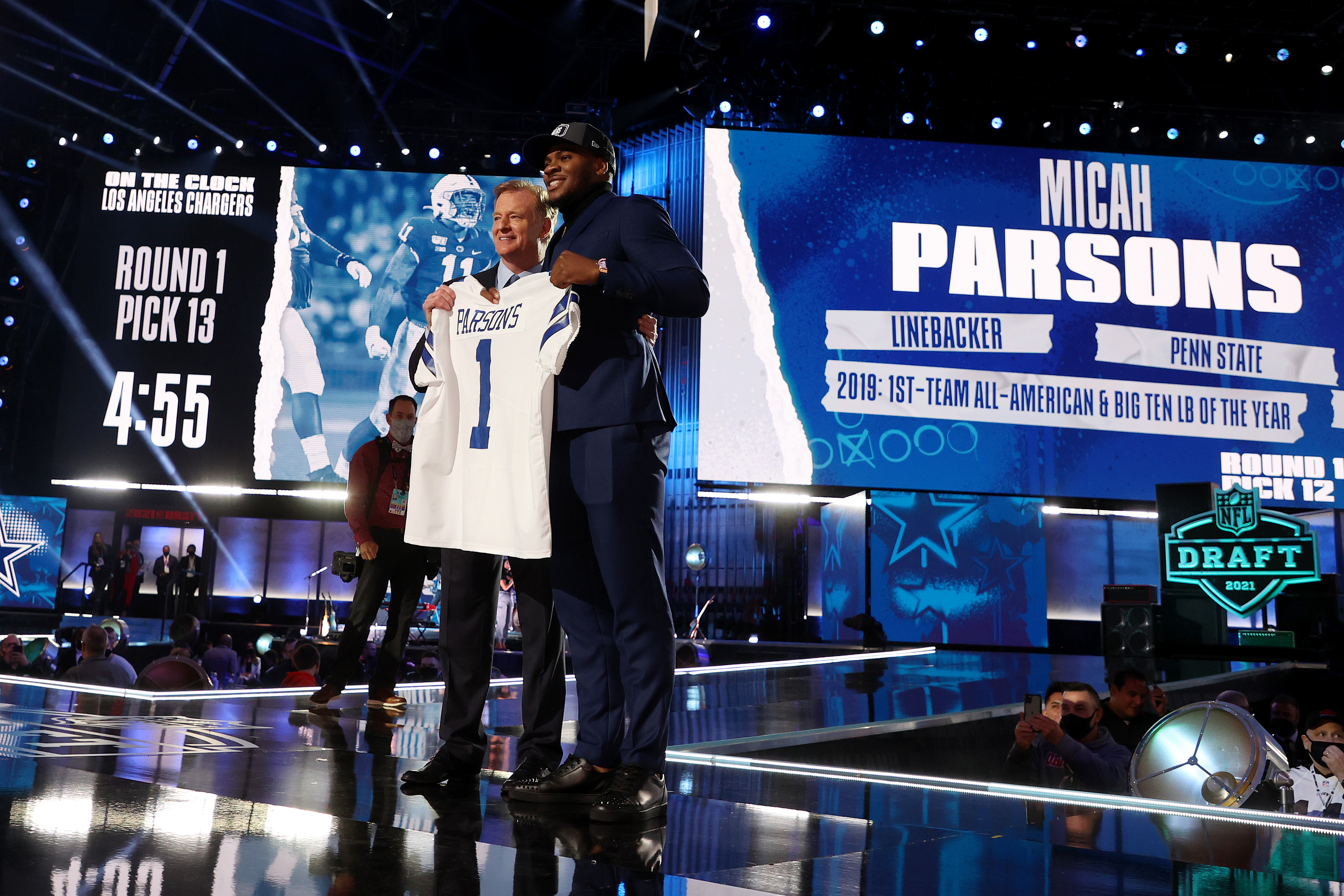 Dallas Cowboys Owner Jerry Jones Just Saved $9.1 Million by Drafting Micah Parsons No. 12
Dallas Cowboys draft pick Micah Parsons gave Jerry Jones an upgrade at linebacker and financial flexibility at the position.
There seemed no bigger 2021 NFL draft certainty than Jerry Jones and the Dallas Cowboys going cornerback in round one. However, the Carolina Panthers took Jaycee Horn from South Carolina at No. 8. The Denver Broncos then selected Alabama's Patrick Surtain II at No. 9, leaving Jones without an option at defensive back.
Like the experienced draft operator he is, Jones slickly pivoted and traded the No. 10 pick so that the Philadelphia Eagles could move up two spots and take Alabama wide receiver DeVonta Smith. Two picks later, when Jones returned to the scene, the Cowboys selected Penn State linebacker, Micah Parsons. This pick not only yielded a potential star player, but it also saved Jones a cool $9.1 million.  
Micah Parsons is the best linebacker in the 2021 NFL draft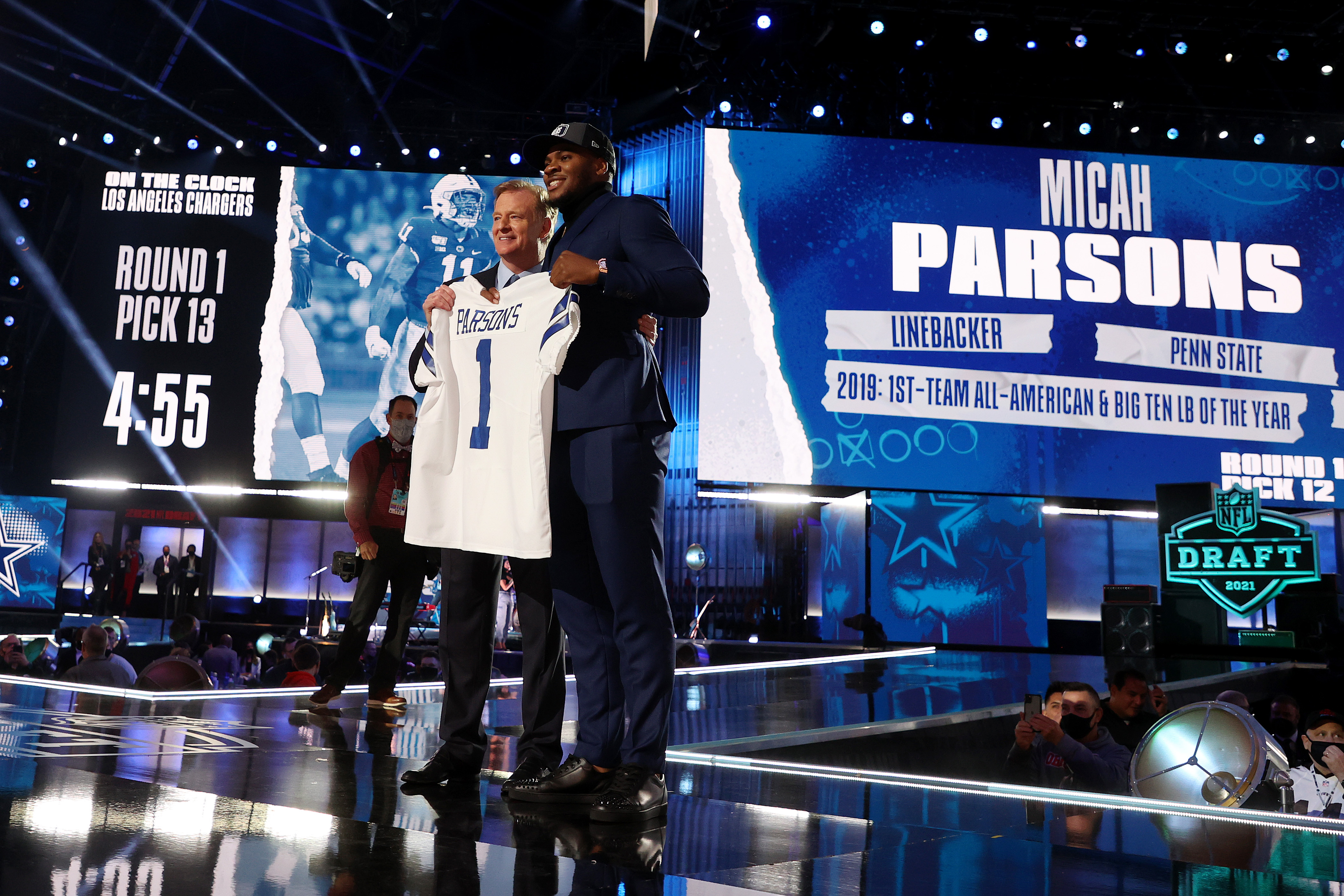 Many NFL draft analysts touted Parsons as the best overall defensive player available this year. Sports Illustrated hailed him as "the most versatile player in the draft." He is the type of player who is highly valued in the NFL these days: a player who can excel in coverage, against the run game, and rushing the passer. Coaches can line him up at his natural position, middle linebacker, or get creative and put him in different spots on the field.
It wouldn't be a Dallas Cowboys pick though without some controversy. While not as controversial as one of their later-round picks, according to Yahoo! Sports, some teams did have off-field character concerns about Parsons coming out of school. While the specific details surrounding these concerns have never been made public, it is common knowledge Parsons was named in a lawsuit against Penn State involving a hazing scandal.
The Dallas Cowboys declined linebacker Leighton Vander Esch's fifth-year extension
Taking a do-everything linebacker with a pick in the top half of the NFL draft gives the Dallas Cowboys much more financial flexibility at the position. According to ESPN, this includes the ability to decline linebacker Leighton Vander Esch's fifth-year extension, which they did on May 3. If the Cowboys did pick up the extension, it would have guaranteed Vander Esch $9.1 million in 2022.
The talented but oft-injured Boise State product missed 13 games in the last two seasons due to neck and collarbone injuries. Declining this option does not mean that Vander Esch is necessarily done as a Dallas Cowboy though. He will still play the 2021 season in Dallas before becoming a free agent. Cowboys Executive Vice President Stephen Jones recently said that they would consider bringing Vander Esch back. His 2021 performance will be what ultimately decides his future as a Cowboy.
Jerry Jones hopes the Cowboys have finally solidified the linebacker position
Parsons comes into a Dallas Cowboys defense that ranked 28th in points allowed and 23rd in total yards in 2020. The team also saw veteran defensive leader, the (again) talented but injury-prone Sean Lee, retire this offseason. Jerry Jones needed to upgrade at linebacker during this draft, and he did just that.
In addition to Parsons, the Cowboys went linebacker in the fourth round, selecting Jabril Cox from LSU with pick No. 115. Cox's coverage skills will fit well with the pass-rushing of Parsons and the run-stuffing of fifth-year linebacker Jaylon Smith. Along with Vander Esch (if he can stay healthy), this trio should give Dallas one of the most well-rounded linebacking corps in the league and help improve their anemic 2020 defense.
Media and fans criticize Jerry Jones for his aggressive drafting style and often, rightly so. In the 2021 NFL draft though, the Cowboys owner should be praised. With his top options gone, he made the smart move and traded back, then took the best player available. This pick should upgrade the defense and gave the team more financial flexibility in the process. This is why Dallas Cowboys fans should be happy with this year's top pick.
All stats courtesy of Pro Football Reference