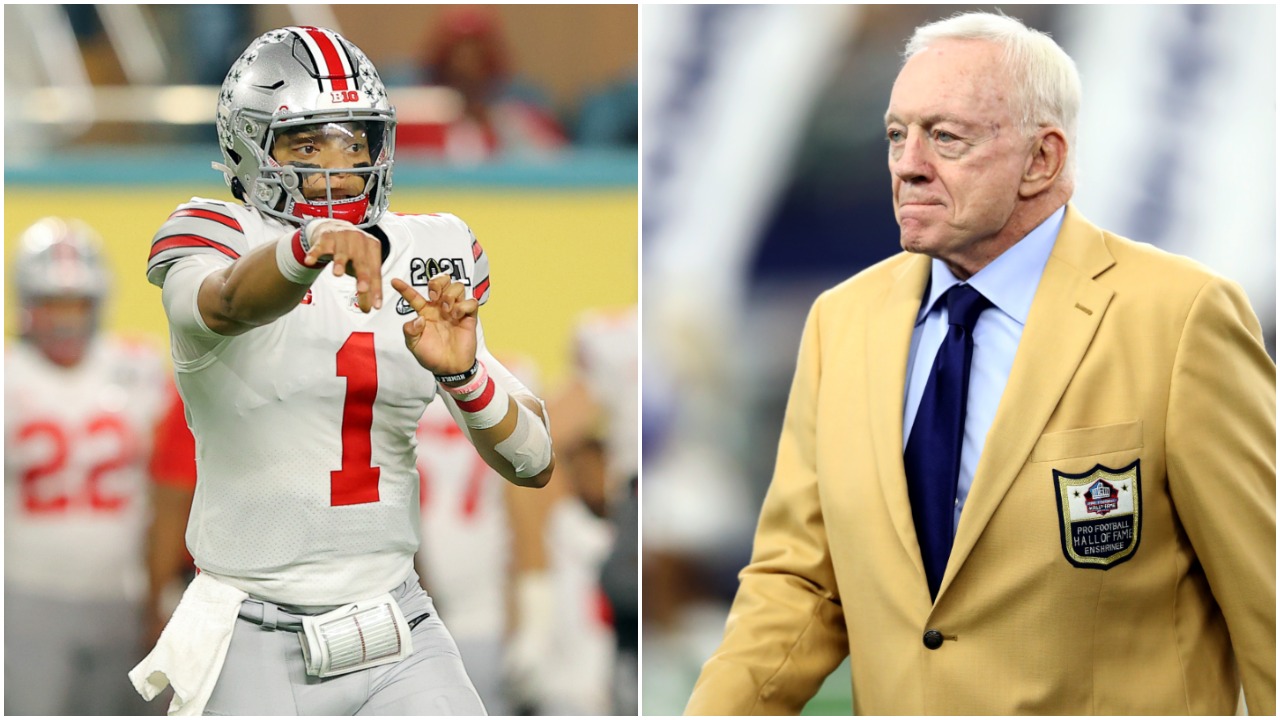 The Chicago Bears Have Cowboys Owner Jerry Jones to Thank for Justin Fields
Dallas Cowboys owner Jerry Jones paved the way for the Chicago Bears to draft Ohio State QB Justin Fields.
We've heard this plenty of times before, even just as recently as a few years ago, but the Chicago Bears believe they've finally found their quarterback of the future. And maybe they truly have this time after trading up to select Ohio State superstar Justin Fields with the No. 11 pick in the 2021 NFL draft. While we'll obviously have to wait and see how all of that plays out over the next few years, if Fields does end up working out in the Windy City, the Bears and their fans will have Dallas Cowboys owner Jerry Jones to thank.
Justin Fields will be joining an interesting QB group with the Bears
After letting former No. 2 overall pick Mitch Trubisky walk into free agency after four seasons, the Bears signed veteran quarterback and three-time Pro Bowler Andy Dalton to a one-year/$10 million contract. Dalton, who spent last season with the Cowboys after nine seasons with the Bengals, was expected to compete with former Super Bowl MVP Nick Foles for the starting job but was named the starter for the 2021 season just one week after signing his contract.
But despite having two proven quarterbacks on the roster, the Bears were still keeping their options open at the quarterback position heading into the NFL draft. Things weren't looking great for Chicago, however, as Ryan Pace & Co. were picking 20th and the top five quarterbacks — Trevor Lawrence, Zach Wilson, Trey Lance, Mac Jones, and Justin Fields — were essentially guaranteed to be gone by then.
Everyone knew the Jaguars were going to take Lawrence at No. 1 and that the Jets would select Wilson at No. 2. The 49ers then took Lance at No. 3 in a bit of a shocking move, leaving Fields and Jones in the mix. Some thought the Falcons (No. 4) and Broncos (No. 9) might take a QB but both teams chose not to, which certainly made things a little more interesting. The Cowboys were slated to pick 10th but as their top two targets had just been taken off the board, Jerry Jones & Co. made an interesting move, a move that opened the door for the Bears to take Fields.
Ryan Pace has Dallas Cowboys owner Jerry Jones to thank for Fields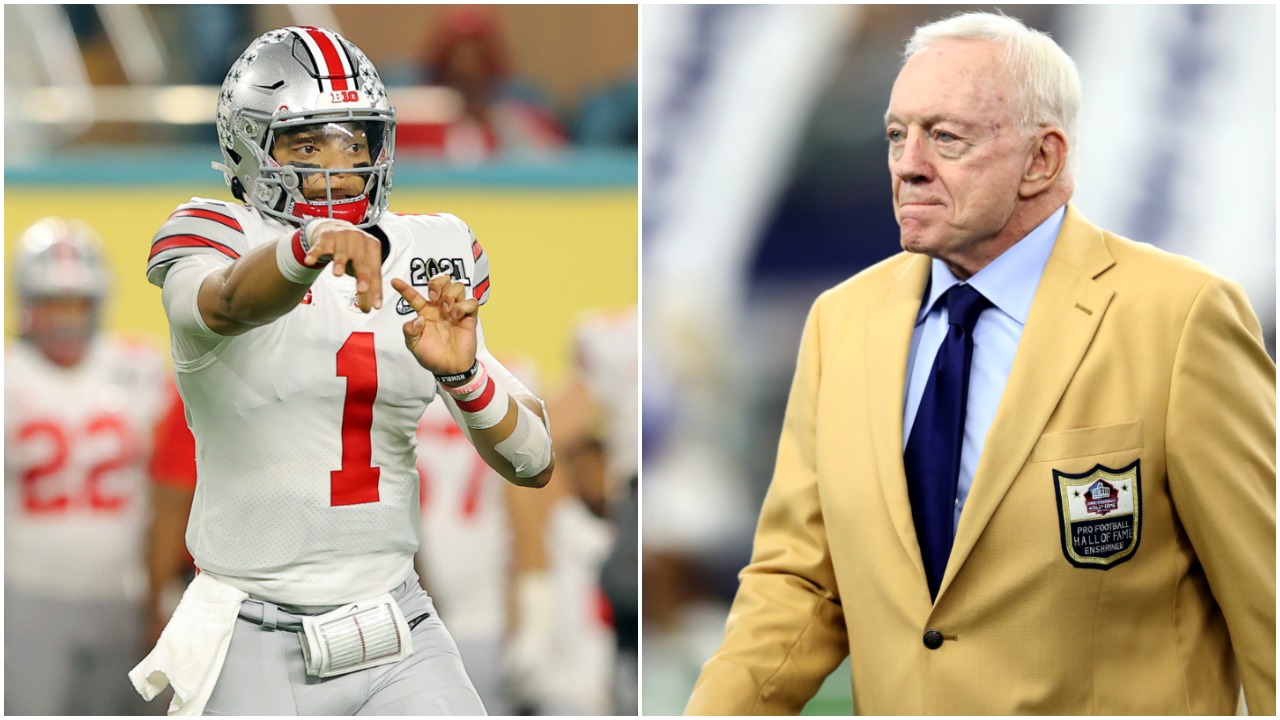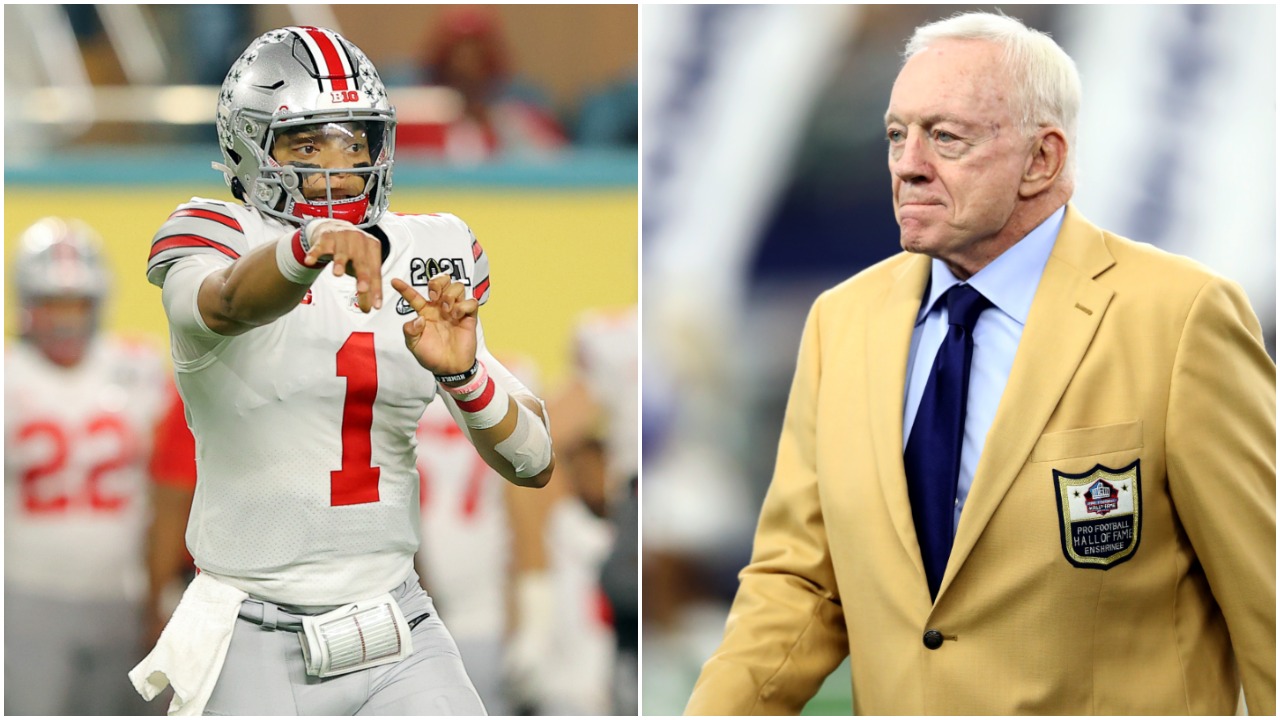 After watching cornerbacks Jaycee Horn and Patrick Surtain II get selected by the Panthers and Broncos, respectively, Jones traded the Cowboys' No. 10 pick to the Eagles for the No. 12 pick and Philly's third-round selection (No. 84 overall).
The Eagles proceeded to draft Heisman Trophy winner DeVonta Smith at No. 10, straight up stealing him from the Giants, who were clearly set to take him at No. 11. With New York's main target off the board, the Bears sprang into action, dealing their No. 20 selection, this year's fifth-rounder, and their first and fourth-round picks next year to the Giants to jump to No. 11, where they obviously drafted Fields.
Again, there's no guarantee that Fields even works out in Chicago. But if he does become who the Bears hope he becomes, the organization and their fans will have the Cowboys to thank as without that bold move from Jones, the Giants draft Smith and the Bears likely lose out on Fields. And they would have missed out on Mac Jones as well as he was taken by the Patriots at No. 15.
The Bears have already announced that Andy Dalton is still their starting quarterback
Despite the acquisition of Fields, the Bears have already made it known that Dalton is still seen as QB1 in the Windy City, at least for now, as Pace called the "Red Rifle" on Thursday night after everything played out. But that doesn't mean the Bears GM wasn't stoked about his new signal-caller (h/t ESPN).
"Fields' toughness on a scale of 1-10 is an 11. And you just love that about him. Oh, and by the way, he runs a 4.44 40-yard dash. You throw that all in together, and it just feels good."

Chicago Bears GM Ryan Pace on Justin Fields
Pace went on to say that he's excited about the way thing played out and that he's very happy to have veteran quarterbacks around to help Fields develop.
Now we just have to wait and see how long it takes those veteran quarterbacks to lose their jobs.