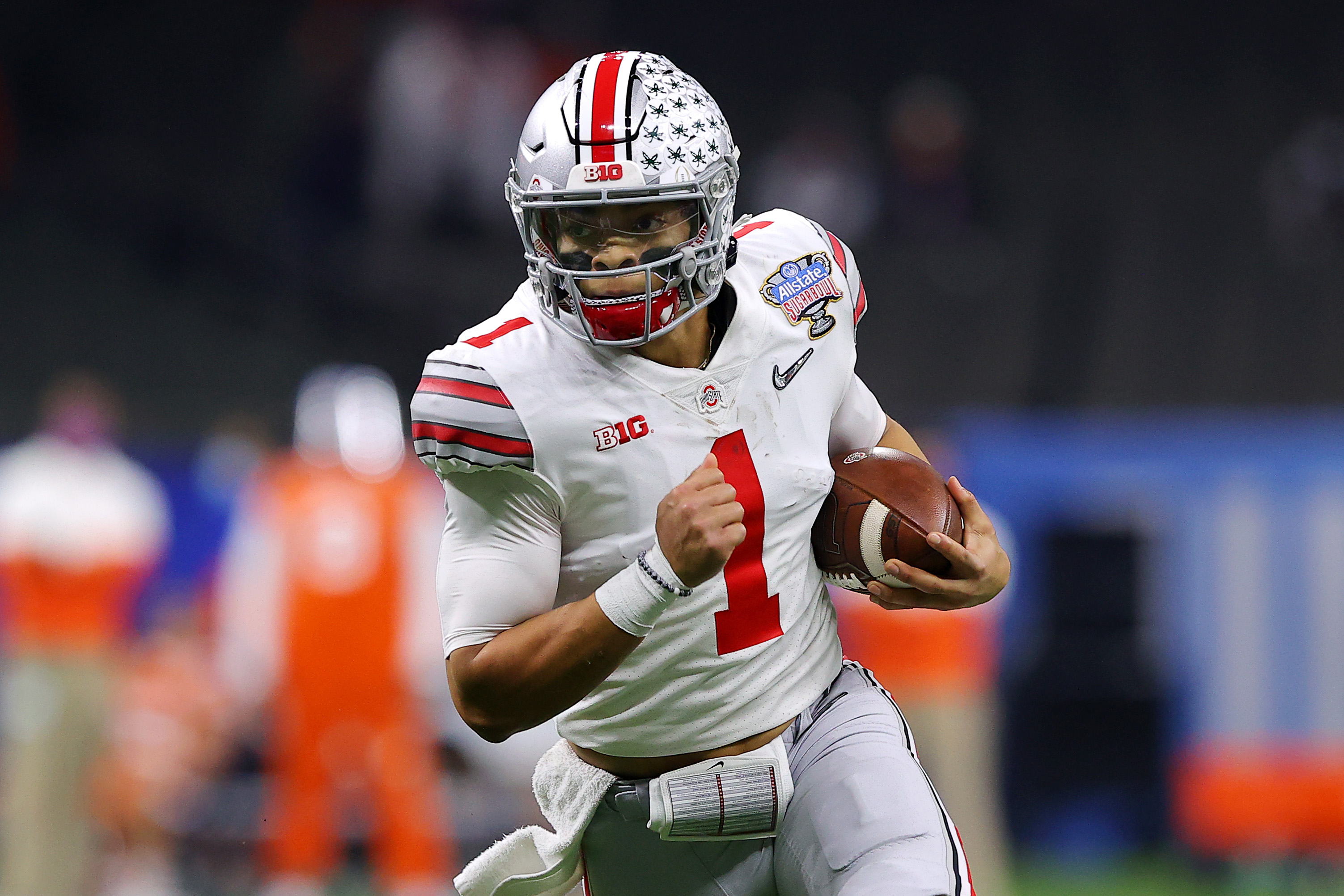 Justin Fields 'Still Messed Up' Heading Into 2021 NFL Draft Says Cris Collinsworth
Cris Collinsworth said he's heard former Ohio State quarterback Justin Fields is "still messed up" as he enters the 2021 NFL draft.
For some reason, Justin Fields has seen his NFL draft stock plummet in recent mock drafts. In many of those drafts, the former Ohio State quarterback is the fifth quarterback chosen. NFL analyst Cris Collinsworth recently explained what might be the reason for that dip.
Justin Fields' road to the 2021 NFL draft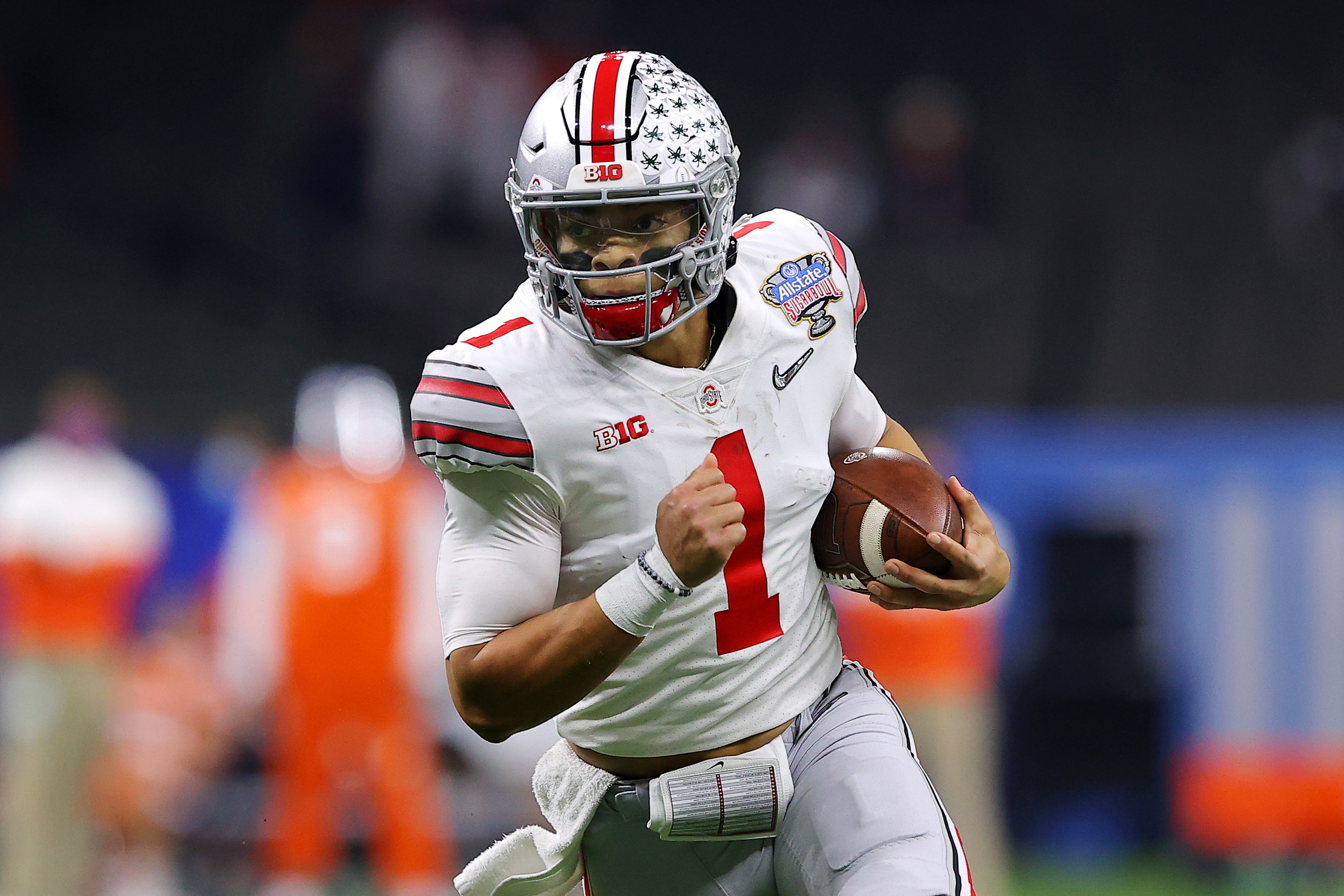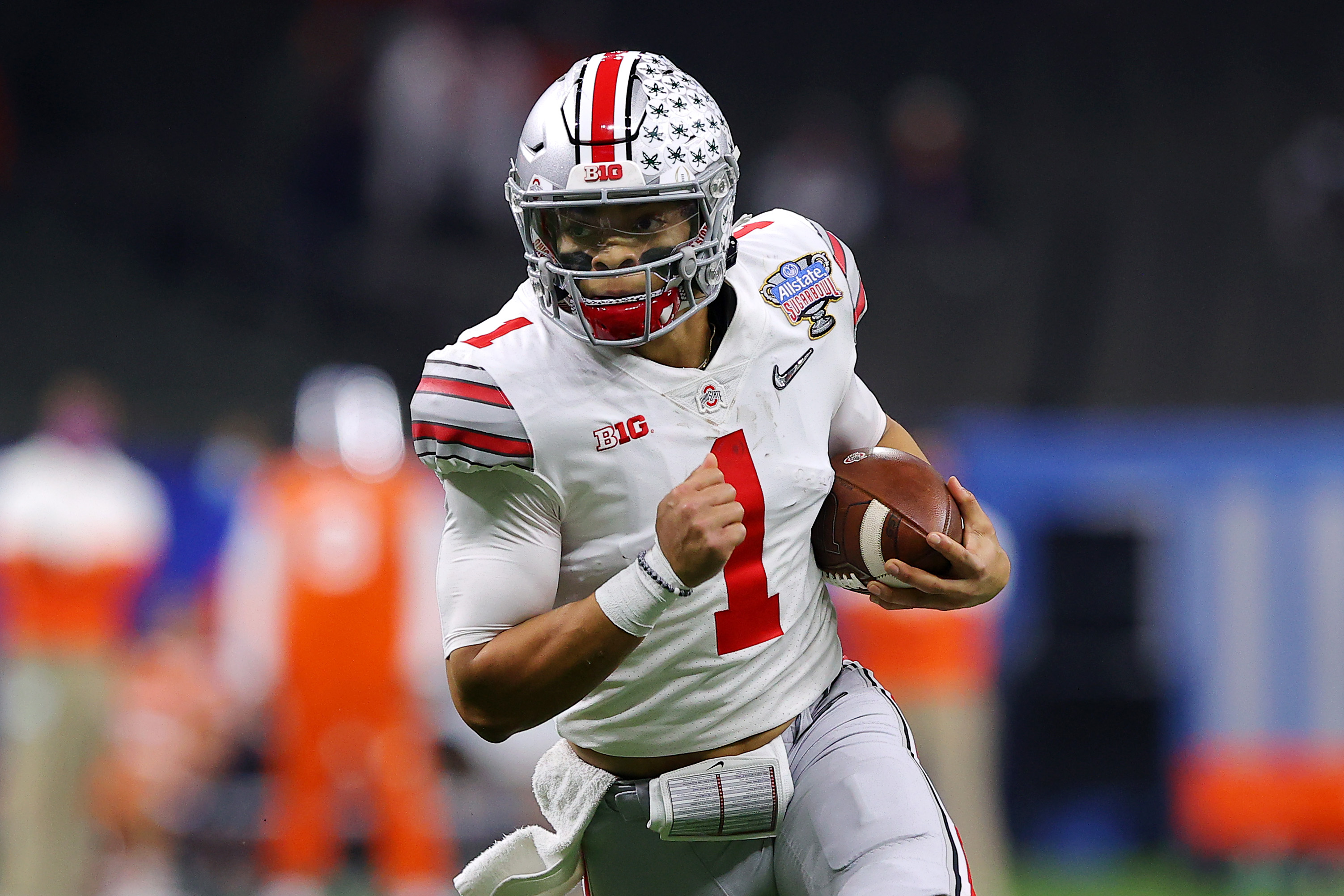 Justin Fields might be the most talked-about quarterback heading into the 2021 NFL draft. He's a high-ceiling guy who played against the toughest of competition while at Ohio State. He's a 6-foot-3, 227-pound athletic quarterback who had himself quite a college career.
Fields began his college football playing days at Georgia, taking part in 12 games as a true freshman. Fields, however, was playing behind established starter Jake Fromm. Fromm was expected to keep his job the following year so Fields transferred to Ohio State in 2019.
In 2020, Fields guided the Buckeyes to the title game. In the semifinal game against Clemson, Fields took a wicked hit to the ribs that laid him out, but he showed his toughness by throwing six touchdown passes in the win over the Tigers. Fields and the Buckeyes fell to Alabama in the championship.
Cris Collinsworth reveals why Fields might be slipping in the draft
NBC Football analyst Cris Collinsworth was a recent guest on Doug Flutie's Flutie Flakescast podcast, and the two former NFL players were discussing the NFL draft. In particular, they were talking about the No. 3 pick that belongs to the San Francisco 49ers. The 49ers made a bold move last month, trading three first-round draft picks to move up from the 12th spot in the draft to pick third overall.
With the first two picks expected to be quarterbacks Trevor Lawrence and Zach Wilson, the big debate is who the Niners will pick. Many believe they are selecting a quarterback, but will it be Fields, Trey Lance, or Mac Jones? "I thought the reason the 49ers traded up was to get Justin Fields," Collinsworth said.
Collinsworth said he's heard Fields still may not be fully recovered from that massive hit he took in the Clemson game. "There are people telling me that he's still not right from that hit," he said, "that he's still messed up from that hit."
Collinsworth still believes Fields will be a good fit in the NFL
RELATED: The San Francisco 49ers Are Trying to Sell a $25 Million Lie About the Future of the Franchise
Not only did Fields take that big hit, but he also disclosed he was diagnosed with epilepsy. Despite the big hit and the medical diagnosis, Collinsworth believes Fields will strike some fear into his NFL opponents. "When he runs the ball, it's frightening," Collinsworth said on the Flutie Flakescast podcast.
"He's not sliding into anything," Collinsworth continued. "He's backwards-diving into the end zone at 235 pounds and runs 4.4 whatever he does. Can you imagine that beast coming out of the backside on a bootleg from a stretch zone in a play-action offense? Now one guy, that's all it's gonna be, you're gonna have one outside linebacker/defensive end who's in charge of getting that beast on the ground.
"And he's accurate. Our (Pro Football Focus) numbers show that when he throws the ball, he's one of the most accurate passers. I will tell you what he is not. He is not a guy who quickly goes through progressions. He has the accuracy, the strength, and he's already proven his toughness. I personally feel Justin Fields would've been my number three but, who knows, I've been wrong a lot."