Ryan Leaf Was His Own Worst Enemy in the 1998 NFL Draft
Every year around the NFL draft, fans can't help but think about the biggest NFL draft busts in history. No list of NFL draft busts is complete without talking about Ryan Leaf. Many fans give credit to Indianapolis Colts owner Jim Irsay and former GM Bill Polian for passing on Leaf. However, the quarterback has said in the past that he made that decision easy by telling them not to draft him.
As the subject of now-infamous draft history, Leaf has been making the rounds on talk shows leading up to the 2021 NFL draft. He is talking about how he caused many of his own problems back in 1998 but he also disputes some of the most famous stories about his actions leading up to the draft.
Ryan Leaf and Peyton Manning were the top two prospects in the 1998 NFL draft
Five years removed from the great Drew Bledsoe/Rick Meier quarterback debate, the 1998 NFL draft featured another set of much-hyped prospects. There was Leaf from Washington State and Peyton Manning from the University of Tennessee.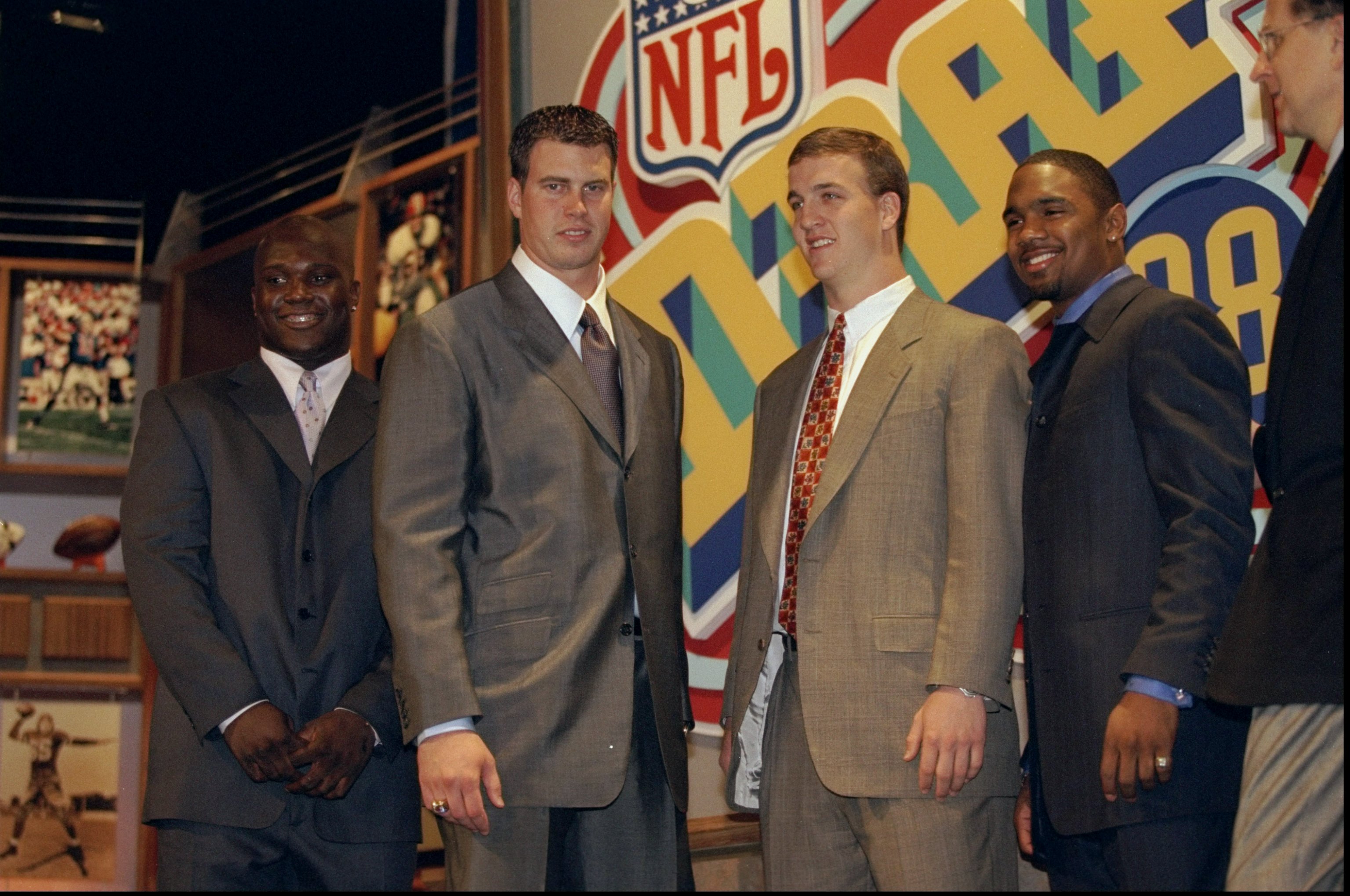 RELATED: What Is Ryan Leaf's Net Worth?
Statistically, the two quarterbacks were very similar in their final year of college. Manning threw for 3,819 yards and 36 touchdowns in his senior year while Leaf went for 3,968 yards and 34 touchdowns. NFL teams and experts alike were split on who would be the better NFL quarterback.
Manning had the poise and family pedigree to become an NFL star. He was seen as the sure-fire, safe pick. Leaf was more unpolished but he had incredible arm strength. Many NFL scouts also believed at the time he had a higher ceiling than Manning.
Ryan Leaf is considered one of the biggest NFL draft busts of all time 
RELATED: Former No. 2 NFL Draft Pick Ryan Leaf Was Arrested for a Dark Reason
The Colts took the safe option and picked Manning first. The San Diego Chargers traded up one spot, from third to second, for the right to pick Leaf. Manning became one of the greatest quarterbacks in NFL history. Leaf became one of the biggest draft busts.
Leaf was out of the NFL within five years. After two years filled with drama and injury in San Diego, he signed with the Tampa Bay Buccaneers and later the Dallas Cowboys in 2001 but was released by both teams. He signed with the Seattle Seahawks for the 2002 season but retired before training camp at the age of 26.
The former second-overall draft pick's life spiraled out of control after that. The next decade-plus of his life became marked by struggles with addiction and legal issues. In 2021, Leaf has seemingly put these issues behind him and now works as a football pundit and motivational speaker.
Leaf regrets telling the Colts not to draft him
On a recent appearance on The Rich Eisen Show, Leaf reminisced about the process leading up to the 1998 NFL draft. Leaf told guest-host Chris Brockman that, as a 21-year-old, his mindset was all about wanting the California lifestyle. He now admits that he should have thought more about the football situation. He specifically cites the fact that the Colts had All-Pros and future Pro Football Hall of Fame inductees at running back and wide receiver in Marshall Faulk and Marvin Harrison respectively.
Although he acknowledges in the interview that he did communicate to the Colts that he did not want to go there, he denied two commonly told stories about the draft process. He says he did not skip an NFL Combine meeting with the Colts because he didn't want to go there. Rather, it was an MRI on his thumb, requested by the Chicago Bears, that caused him to miss the meeting.
Leaf also contradicted a well-known story from Polian in the interview. Polian has said that when he told Leaf the dates of the Colts minicamp that year, Leaf responded that he would be in Las Vegas with his buddies on that date so he wouldn't be able to attend. The former quarterback admitted that while he may have been his own worst enemy in the 1998 NFL draft, he never would have blown off minicamp for a Vegas trip.
All stats courtesy of Sports Reference.