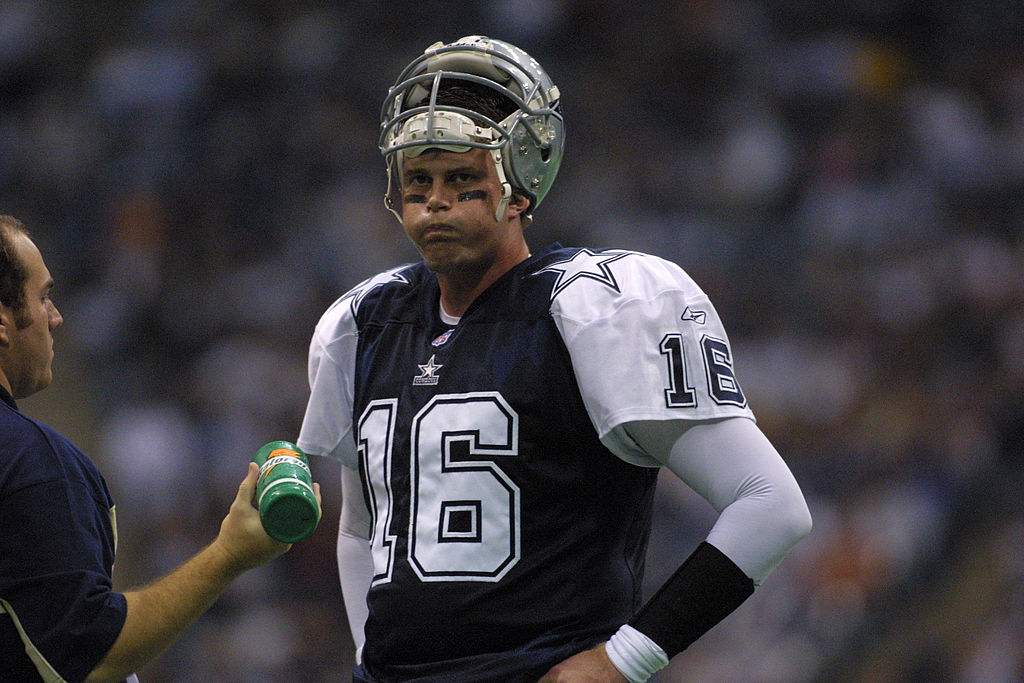 What Is Ryan Leaf's Net Worth?
Ryan Leaf has gone from a multi-million dollar NFL contract to out of the league and into prison. He worked in 2019 for ESPN. What is Ryan Leaf's net worth?
Ryan Leaf signed a record contract with the San Diego Chargers out of college as the No. 2 overall pick in the 1998 NFL draft. He played three disappointing seasons and was considered one of the biggest busts in sports history. After his NFL career, he ran afoul of the law and spent years in prison. Last year, Leaf began work at ESPN as a college football analyst. What is Ryan Leaf's net worth?
Ryan Leaf signs huge contract as No. 2 pick
When the San Diego Chargers selected Washington State quarterback Ryan Leaf as the No. 2 overall pick in the 1998 NFL Draft, the future looked bright. The Chargers thought they had found their quarterback of the future and signed him to a four-year, $31.25 million contract, including an $11.25 million signing bonus, the largest ever given to an NFL rookie at the time.
That day the Chargers drafted Leaf, he confidently told the media he looked forward to a 15-year NFL career, a couple of trips to the Super Bowl, and a parade through downtown San Diego. It never happened.
The standard four-year contract turned out to be one year too long. Leaf lasted just two disappointing seasons in San Diego before moving on for his third and final NFL season in 2001 with the Dallas Cowboys. After three years, the former All-American and Heisman Trophy finalist's career in football was over before it started.
Life and troubles after football 
In 2001, Leaf married Nicole Lucia, a San Diego Chargers cheerleader. Around that same time, Leaf returned to San Diego and became a financial consultant. Three years and a divorce later, Leaf returned to Washington State University where he earned his Bachelor of Arts degree in humanities in May 2005. 
After graduation, Leaf felt drawn to the game that had given him so much. This time, he wanted to give back and offered to serve as a volunteer quarterbacks coach at West Texas A&M University. For the next three years, Leaf reconnected with the game. That time allowed him to reflect and come to terms with his failed past. 
Then, in November 2008, out of nowhere, the school put Leaf on indefinite leave. He resigned from his position the next day. Leaf's legal troubles soon followed. 
He went in and out of rehab and was arrested multiple times on various charges including burglary, theft, and various drug-related offenses. In 2012, after violating his probation terms, he was sentenced to seven years in prison. Leaf was released from prison early in 2014.
What is Ryan Leaf's net worth?
Ryan Leaf, who has been engaged to Anna Kleinsorge since 2017, became a father in October 2017 when Kleinsorge gave birth to the couple's first child, McGyver. Since his release from prison, Leaf has been clean and sober and steadily made his way back into the college football scene as a broadcaster. 
In 2018, Leaf began working for the Pac-12 Network and co-hosting a show on SiriusXM's Pac-12 channel. His work was noticed by the brass at ESPN and in 2019, the Worldwide Leader in Sports hired Leaf to work as a college football analyst for the 2019 season.
In addition to his broadcast work, Leaf, who according to The Richest has a reported net worth of $10 million, has worked as a Program Ambassador for Transcend Recovery Community, a sober-living program dedicated to helping individuals find long-term sobriety.