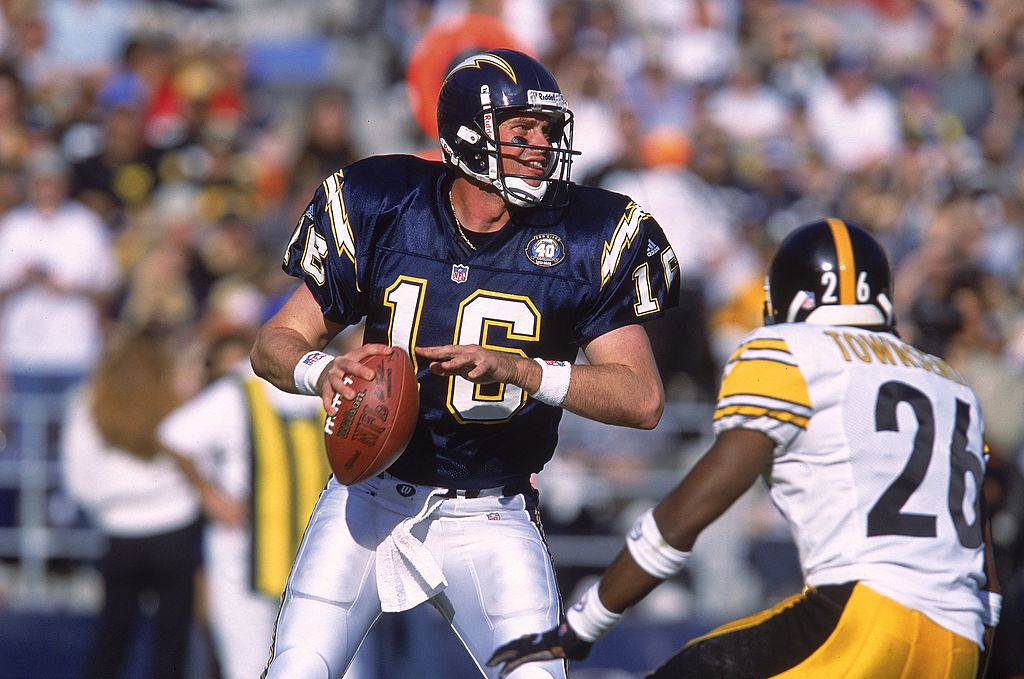 Draft Bust Ryan Leaf Opens Up His NFL Hazing and What He Tells Rookies
For NFL fans, Ryan Leaf's name is synonymous with professional failure. The quarterback, however, has a key piece of advice for NFL rookies.
In professional sports, certain names will always live in infamy. Sam Bowie, for example, can't escape the fact that he was picked before Michael Jordan. Mitchell Trubisky will always have to face questions about Patrick Mahomes and Deshaun Watson. Ryan Leaf knows that reality firsthand. In NFL circles, the quarterback's name lives on as one of the biggest draft busts of all-time.
Although Leaf's time in the NFL wasn't a resounding success, he still learned a thing or two along the way. In fact, the quarterback recently opened up about his early days in the league and an important lesson that all rookies need to learn.
Ryan Leaf's infamous NFL career
After a strong high school football career, Ryan Leaf could have played linebacker or quarterback. He chose the latter position and enrolled at Washington State; that decision proved to be the right move. As a junior, Leaf threw for 3,968 yards and 34 touchdowns, earning Heisman Trophy consideration and All-American honors.
On the back of that collegiate success, Leaf was one of the top prospects heading into the 1998 NFL draft; the other, of course, was Peyton Manning. The Indianapolis Colts selected Manning first overall, and Leaf went to the San Diego Chargers in the second spot. While analysts expected the two quarterbacks to dominate the league for years to come, they were only partially correct.
While Manning blossomed into a star, Leaf struggled. Off-the-field issues and poor play marred his rookie season; his entire sophomore season was spent on injured reserve. Leaf returned to the lineup for the 2000 campaign but still couldn't find his footing. He was cut at the end of the season and only appeared in four more NFL games before calling it a career.
Remembering an early encounter with Junior Seau
Every rookie, even the second overall pick, has to pay their dues upon entering the NFL. Ryan Leaf was no exception, but his hazing went a little differently.
"Junior Seau came into my room during training camp," Leaf remembered on the Pat McAfee Show, "and I was watching film. I was about to be the starter, and he came in and, he was really so sweet about it because he knew I was going to be the starting quarterback. He wasn't going to haze the starting quarterback like everybody else's rookies got hazed."
"So he came in and was like 'hey, I'm going to take the defense to dinner, and you're buying. Give me your credit card," the former quarterback continued. "And so I gave him my credit card, and he took the defense out to dinner. That was my rookie hazing."
While the story eventually spiraled into Seau stealing Ryan Leaf's credit card and sticking him with the bill, the actual incident was much more polite. In fact, Leaf even includes the late linebacker in a piece of advice he shares with NFL rookies.
Ryan Leaf's advice for NFL rookies
While Ryan Leaf might have struggled on and off the football field, he uses his past to help current NFL players. The quarterback might not have leaned on Junior Seau enough, but he doesn't want rookies to make the same mistake.
"I find that [Seau] was probably one of the best possible teachers for me that I didn't utilize," Leaf explained. "And that's something that I talk to these rookies about when they're coming into the league."
"I don't care if you're the first pick in the NFL draft, it starts all over," he said. "You go into that room, and you go find the guy that's played 10, 12 years, who's showed you how he can be a professional and get it done, and you go ask him how you did it, and then you follow his advice verbatim."
In terms of his football career, Ryan Leaf was a bust. Helping rookies follow a better path, however, is arguably even more admirable than anything he could have done on the field.