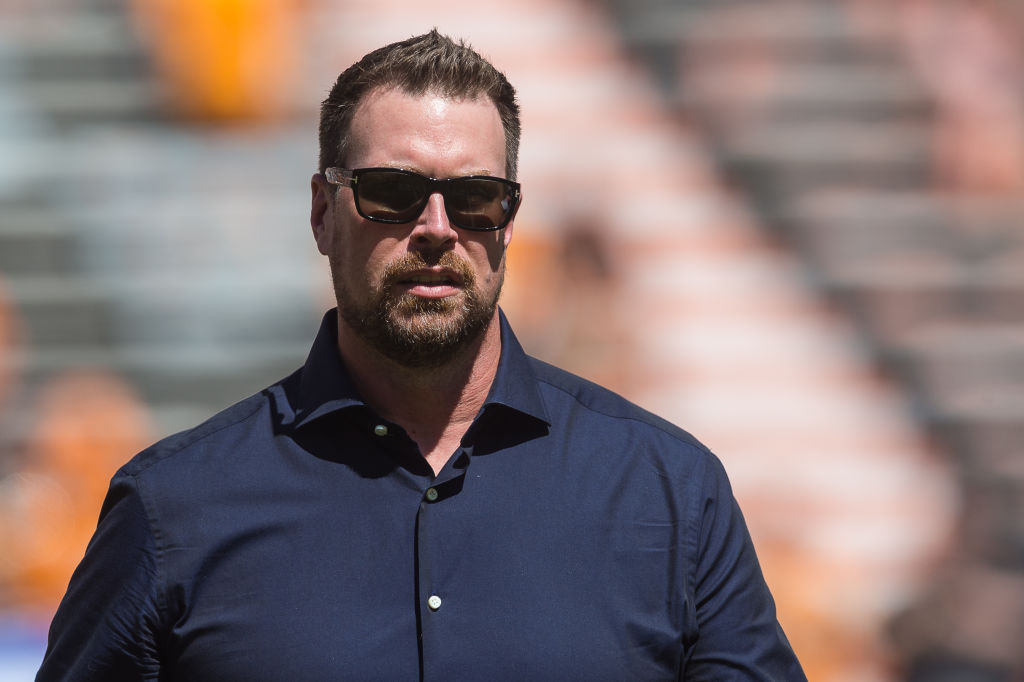 Ryan Leaf's Troubled Past Returns in Domestic Battery Arrest
Ryan Leaf made headlines last July when ESPN announced the hiring of the former Washington State star who has battled addiction and spent time behind bars as one of the network's college football analysts in 2019. It appeared to be another huge step in Leaf's remarkable comeback. Unfortunately, it appears the comeback has experienced a …
Ryan Leaf made headlines last July when ESPN announced the hiring of the former Washington State star who has battled addiction and spent time behind bars as one of the network's college football analysts in 2019. It appeared to be another huge step in Leaf's remarkable comeback. Unfortunately, it appears the comeback has experienced a setback as Leaf was arrested in Palm Springs, California on domestic battery charges.
Ryan Leaf's career
Ryan Leaf was a superstar in college at Washington State. In 1997, Leaf dissected opposing defenses throwing for 3,968 yards, 34 TDs, and 11 interceptions. He was named the Pac-12 Offensive Player of the Year, first-team All-American, Sammy Baugh Quarterback of the Year, and a Heisman Trophy finalist. He also guided the Cougars to the Rose Bowl.
The San Diego Chargers selected Leaf as the No. 2 overall pick in the 1998 NFL Draft. It was disastrous. In Leaf's rookie season, he started nine games, tossed two touchdowns, and had 15 interceptions. 
Leaf's second season in San Diego wasn't much better. After a move to Dallas, he started four games in the 2001 season for the Cowboys, and then it was over. Leaf was out of football. Many considered him to be the biggest draft bust in NFL history. Unfortunately, it was the beginning of a downward spiral.
Ryan Leaf's post-football troubles begin
Ryan Leaf's troubles after football began in 2002 when he started taking painkillers for an injured wrist. It steadily progressed from there and by the time 2009 rolled around, Leaf had checked into a drug-rehabilitation program in Canada when he was indicted on burglary controlled-substance charges in Texas. It was the first of numerous run-ins with the law.
In April 2010, Leaf pleaded guilty to seven counts of obtaining a controlled substance by fraud and one count of delivery of a simulated controlled substance, all felonies. He was fined $20,000 and sentenced to ten years probation. 
During 2012, he was twice arrested on burglary, theft, and various drug charges. He pleaded guilty to one count of felony burglary and one count of criminal possession of a dangerous drug. For the next two-plus years, Leaf was incarcerated in multiple rehabilitation and correctional facilities. In December 2014, Leaf was released from prison, and the comeback began.
A great comeback story
Since his 2014 release, Ryan Leaf has been on the straight and narrow. In 2018, Leaf was pulling double duty working on the Pac-12 Network and co-hosting a show on SiriusXM's Pac-12 channel, as well serving as a Program Ambassador for Transcend Recovery Community, a sober-living program dedicated to helping individuals find long-term sobriety. 
In an interview with Ellen DeGeneres, Leaf also mentioned he started a foundation called the Focus Intensity Foundation, designed to raise money for scholarships for people who can't afford treatment and mental health treatment. He was also working the motivational speaking circuit. 
His life seemingly in order, ESPN hired Leaf in July 2019 to work for the network as an analyst. 
Ryan Leaf arrested on domestic battery charges
According to the Spokesman Review, a booking report filed by the Riverside County Sheriff's Department, shows that on May 22, the 44-year-old Leaf was arrested by the Palm Desert Police Department around 5 p.m ET. He was charged with domestic battery of a spouse, former spouse, fiancee, dating partner, or co-parent. Bail was set at $5,000 and he is scheduled to appear in court Wednesday. 
Leaf has been engaged to Anna Kleinsorge since 2017. She gave birth to their first child, McGyver, in October 2017.