Zach Wilson to the New York Jets Makes NFL Draft Sense Since His Uncle Founded JetBlue
BYU star Zach Wilson is one of five quarterbacks expected to go near the top of the NFL draft, with many expecting the New York Jets to make him the second selection.
With the 2021 NFL draft days away, attention remains focused on the class of quarterbacks that will dominate the first half of the first round. In fact, Trevor Lawrence, Zach Wilson, Justin Fields, Mac Jones, and Trey Lance could all go in the first 10 picks.
The San Francisco 49ers maneuvered their way to the third pick to assure themselves one of the signal-callers. With the clock ticking down to April 29, the No. 1 question concerns what it will take for someone to pry the fourth pick loose from Atlanta. That assumes the Falcons don't have their eyes on an heir to Matt Ryan.
Second on the list of questions: What late-breaking development will shake up the pecking order of the five top QBs?
Justin Fields' diagnosis isn't causing concern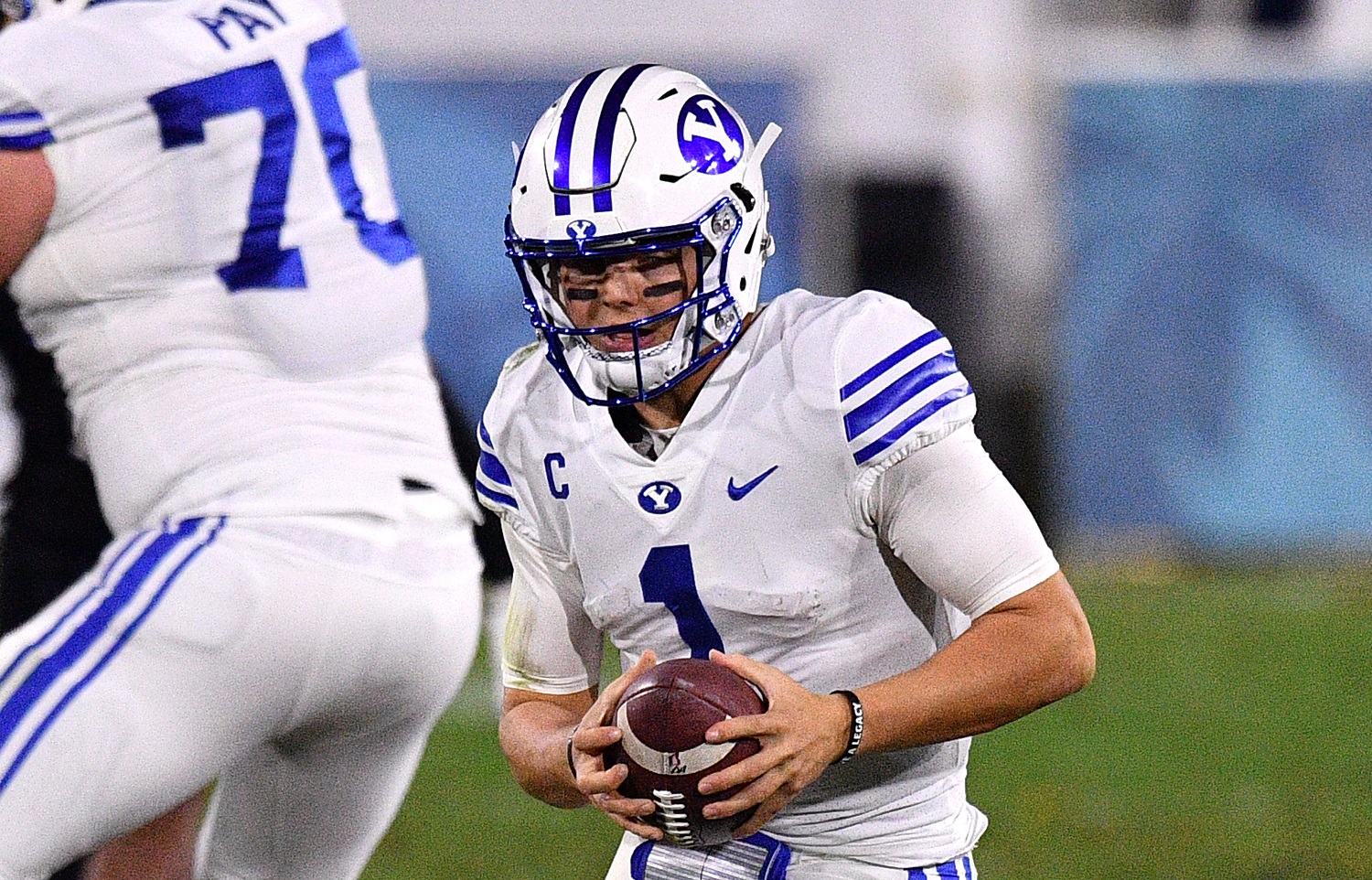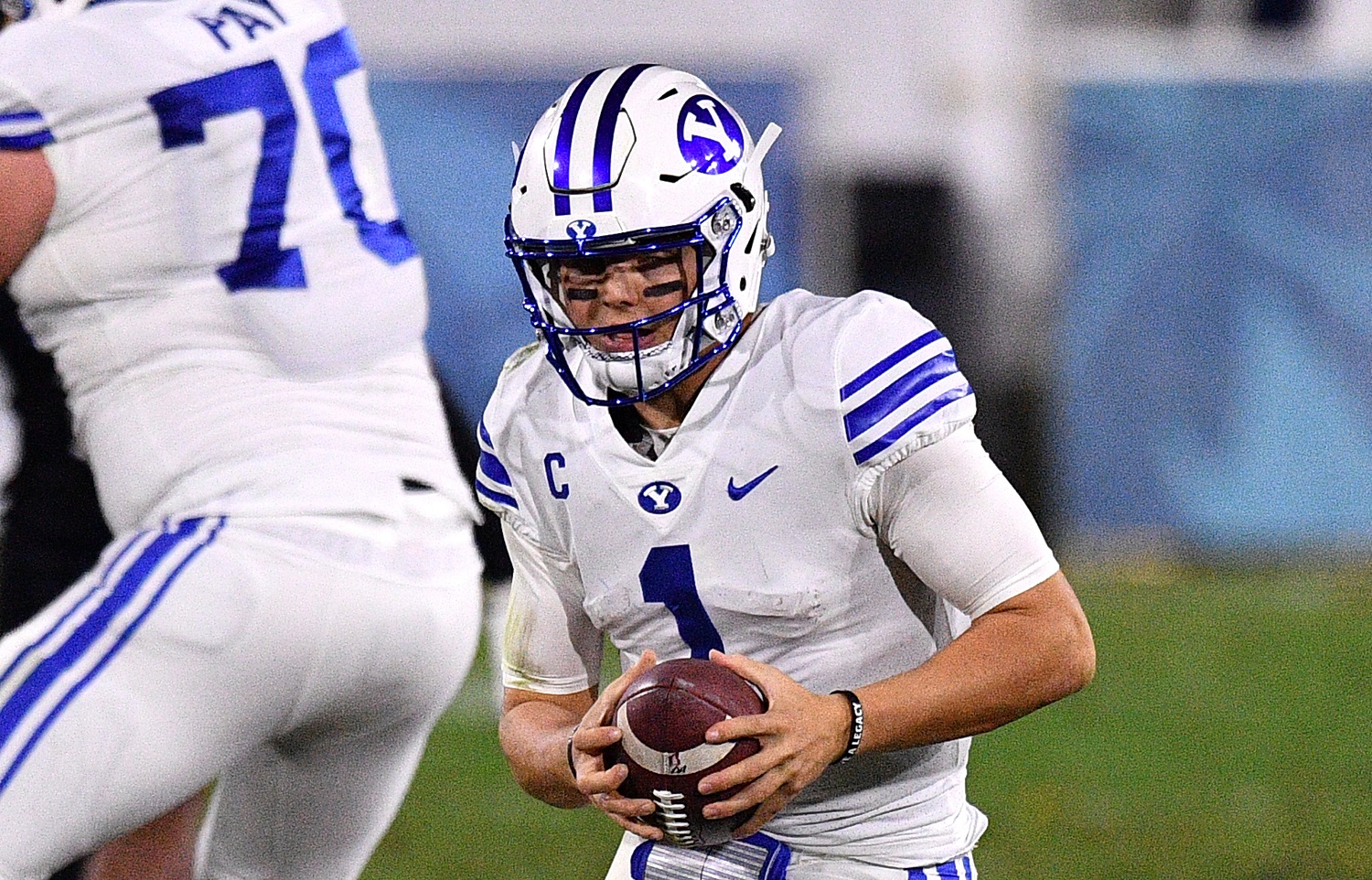 Just when football fans thought they already knew everything possible about Zach Wilson, Mac Jones, and all the others in the NFL draft, news broke about Justin Fields. The Ohio State star has revealed to teams that he has epilepsy, a neurological disorder that causes seizures.
Fields learned about his condition as a youth, and epilepsy is well-controlled with medication. According to NFL.com, the symptoms have become less troubling over time — and there is a family history of growing out of it. There's no record of Fields missing action at Ohio State. Retired Baltimore Ravens safety Samari Rolle and Hall of Fame lineman Alan Faneca competed successfully despite the same diagnosis.
Otherwise, all the QB prospects have been poked and prodded, and there don't appear to be potentially disqualifying medical issues rising to the level of 2020, when there were concerns whether Tua Tagovailoa could play as a rookie after his season-ending injury at Alabama.
Trevor Lawrence had shoulder surgery at the conclusion of Clemson's season. Outkick.com reported that the Crimson Tide's Mac Jones had an MRI to evaluate the ulnar collateral ligament on his throwing arm.
Zach Wilson got dinged, but not for a medical issue
Outkick's rundown of potential health issues among the quarterbacks in the NFL draft class mentions that BYU's Zach Wilson likely underwent shoulder surgery to repair the posterior labrum in early 2019. Given that he has had two seasons since, there should be relatively little cause for concern.
The New York Jets hold the second pick in the NFL draft. With the Jacksonville Jaguars apparently coveting Trevor Lawrence, the Jets will likely take Wilson. The fact that they watched him throw and then traded incumbent quarterback Sam Darnold suggests they have no concern about Wilson's shoulder if he is indeed their choice.
However, there has been something out there since late December that has put Wilson in a negative light. An anonymous scout raised a character concern in an article on the Walter Football website. The article tagged Wilson as a "rich kid who is an entitled brat — uncle owns Jet Blue –, parents are a pain, not a leader, selfish, and he's a know-it-all."
Yes, Zach Wilson's uncle founded JetBlue Airways
Anonymous sources must be considered carefully. The speaker may be credible and his words accurate, but he loses nothing in the way of credibility if he's wrong. Nor can he subsequently say, "I told you so," if Zach Wilson proves to be a bust.
Wilson's coaches and teammates came to the quarterback's defense immediately after seeing the critical evaluation.
"Zero entitlement," Cougars quarterbacks coach Aaron Roderick texted to Sports Illustrated. "Respects teammates, coaches, & opponents. Exhibits his respect for the game with a relentless work ethic. Never feels like he's arrived. Always wants to be coached. Never defensive about criticism from coaches, teammates, or fans."
Perhaps the biggest stretch in the anonymous criticism was that Wilson is an entitled brat in part because his uncle founded JetBlue Airways.
It turns out the family connection is accurate. David Neeleman founded JetBlue, which has a $6.3 billion market cap. He has also built a slew of other foreign and domestic airlines and has another in the works. Neeleman also owns a large stake in TAP Air Portugal, the national airline.
But he's hardly the family's only success story.
Another uncle, Stephen Neeleman, became a trauma surgeon and then founded HealthEquity, which pioneered now-omnipresent health savings accounts. The quarterback's aunt Julie manages the family-owned resort near Zion National Park. U.S. News and World Report rates it a top family retreat,
If Wilson possesses a rich-kid mentality, perhaps a hard-working family environment offsets it.
Like Sportscasting on Facebook. Follow us on Twitter @sportscasting19.