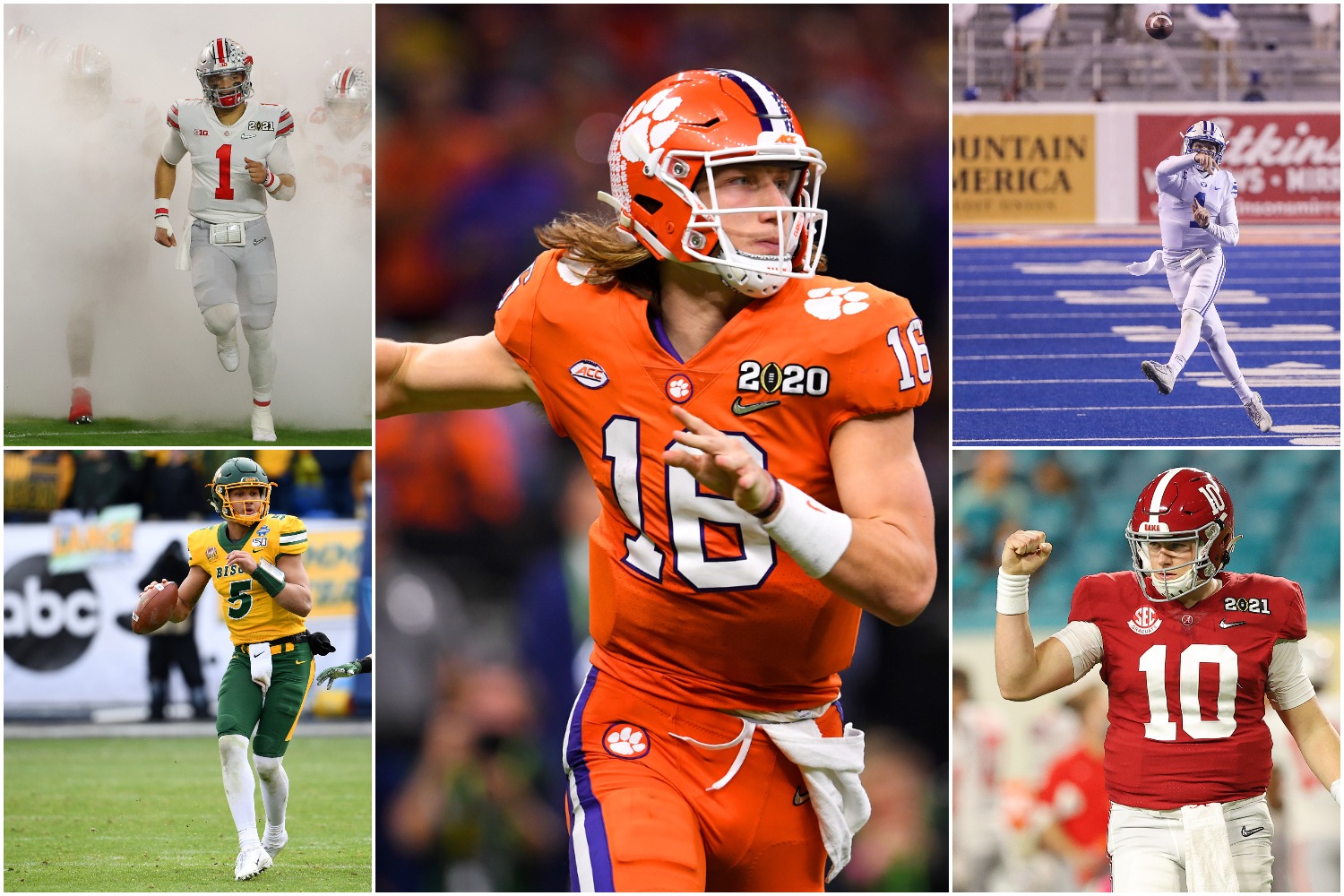 Who Are the Top Quarterbacks in the 2021 NFL Draft After Trevor Lawrence?
Who are the top quarterbacks in the 2021 NFL draft? There are several intriguing prospects destined to come off the board after Trevor Lawrence goes No. 1.
The Jacksonville Jaguars will undoubtedly make Trevor Lawrence the first player off the board in the 2021 NFL draft. After all, he's been viewed as the top quarterback in the nation since he took the college football world by storm as a true freshman in 2018. But the former University of Clemson star will likely see at least four other signal-callers join him in becoming a first-round pick.
In fact, the possibility exists that four quarterbacks could get drafted by the time the Cincinnati Bengals come on the clock at No. 5. So which names should NFL fans get familiar with as the draft inches closer?
Trevor Lawrence is the crowned jewel of the 2021 NFL draft
Even the toughest NFL evaluators will have trouble finding a weakness in Trevor Lawrence's game. He checks every box from a physical perspective. And at just 21 years old, he has plenty of time to fill out his 6-foot-6 frame.
In three years at Clemson, the Tennessee native shattered records, won a national championship, and set himself up to become a very wealthy young man. In 35 career games, Lawrence totaled 10,098 passing yards, 90 touchdowns, and just 17 interceptions. He added 943 yards and 18 touchdowns on the ground, too.
Unfortunately for the projected No. 1 pick, he will join a franchise with a poor track record of success. But if Lawrence can transform the culture in Jacksonville and carry his collegiate success over to the NFL level, Jaguars fans may just have something to root for after all.
Zach Wilson looks like the favorite to go No. 2 overall
Tipping the scales at 6-foot-2, 214 pounds, Zach Wilson doesn't boast the prototypical size of a franchise quarterback. However, he possesses a cannon for an arm and the confidence to make any throw from anywhere on the field.
Wilson put himself in the first-round conversation by completely dominating defenses in 2020. After posting pedestrian numbers in his first two years on campus, the BYU star completed 73.5% of his passes for 3,692 yards and 33 touchdowns.
The athletic quarterback seems destined to become the next starting quarterback of the New York Jets. With the franchise officially throwing in the towel on the Sam Darnold experiment, Wilson will face enormous pressure to make Jets fans forget about another failed first-round pick.
Mac Jones, Trey Lance, and Justin Fields should also hear their names called early in the 2021 NFL draft
This is where the 2021 NFL draft gets interesting. Because in this case, beauty truly is in the eye of the beholder. But whatever order they come off the board, Mac Jones, Trey Lance, and Justin Fields should be gone within the first 15 picks.
Jones took full advantage of his first year as a full-time starter by throwing for 4,500 yards and 41 touchdowns. Oh, he also led the Alabama Crimson Tide to a national title. Critics will point to his uninspiring athletic traits, and some believe he excelled mostly because of the talent around him, but don't be surprised if Jones becomes the new face of the San Francisco 49ers.
Lance drips with potential. However, he only played 18 games, including none in 2020. But given his immense upside, it wouldn't be shocking to see a team jump up to secure him.
Finally, Fields also checks in as a first-round prospect. A former five-star recruit, he transferred from Georgia to Ohio State and put up monster numbers in two seasons as the Buckeyes' starting quarterback. He also has an intriguing combination of size, speed, and athleticism that should help him become a top-15 pick.
Kyle Trask headlines a list of Day 2 prospects who could become starting NFL quarterbacks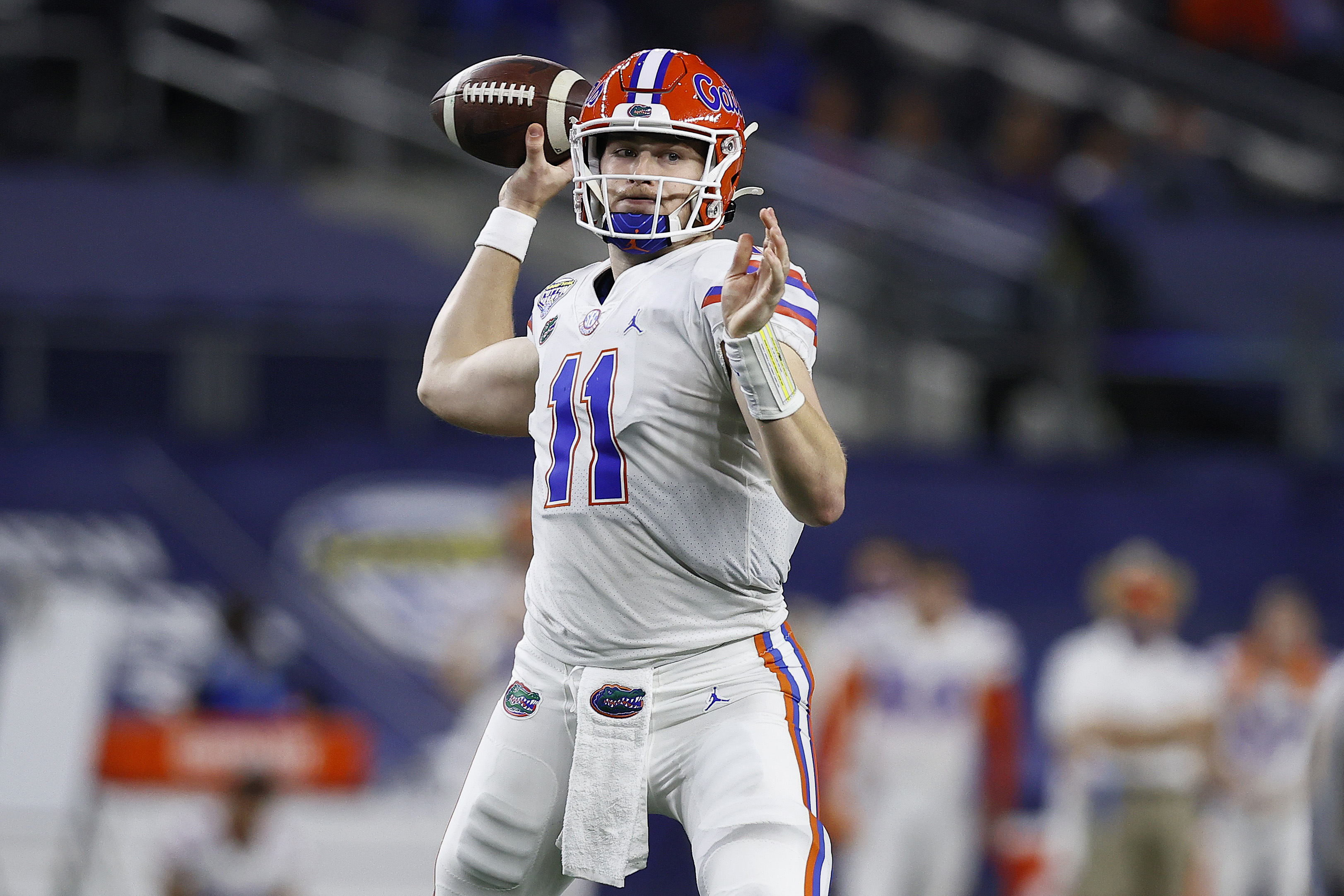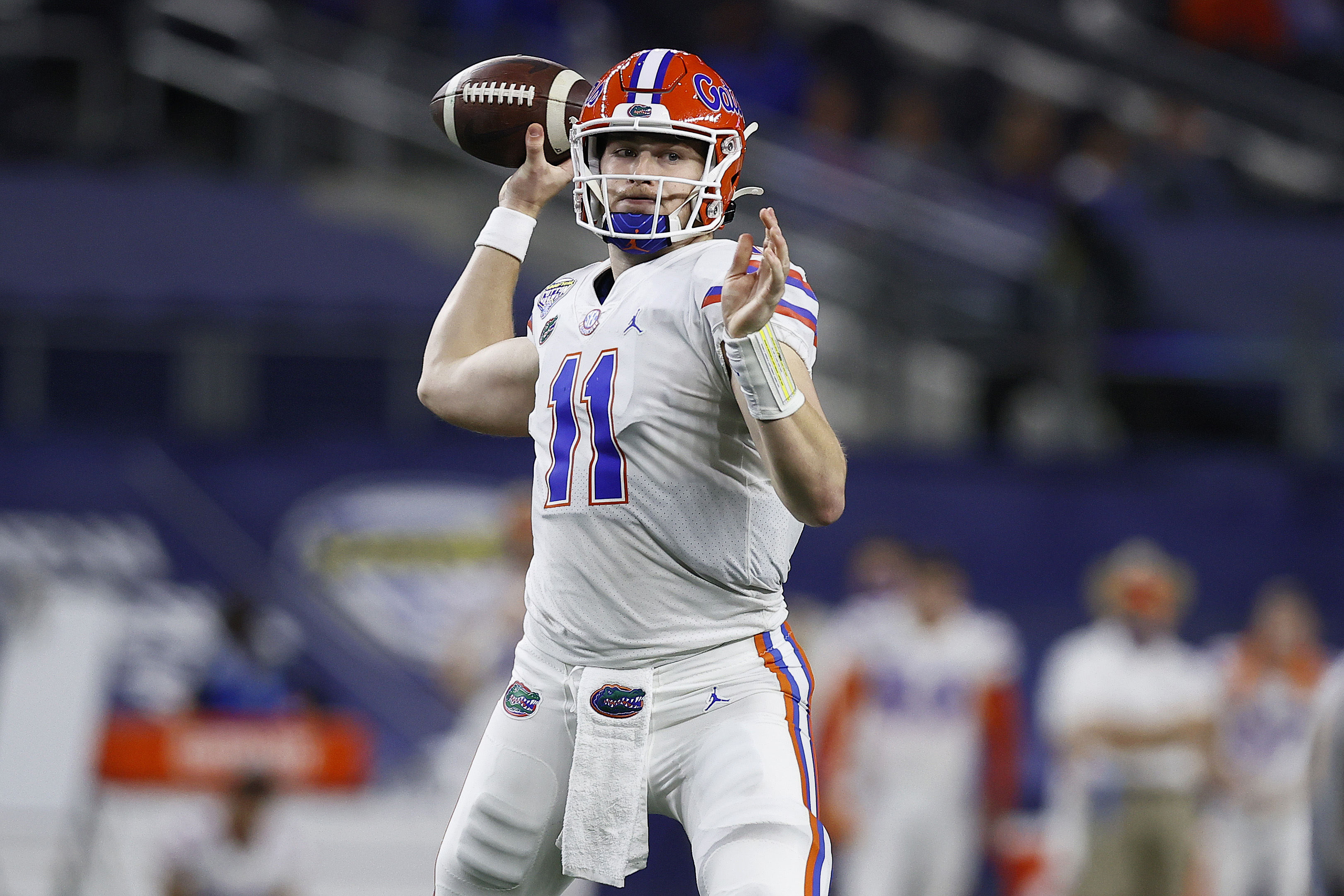 So who are the top quarterbacks in the 2021 NFL draft who may not go in the first round? Florida's Kyle Trask racked up huge passing numbers the last two years. Then again, it helped to have two elite weapons in Kyle Pitts (arguably the best non-quarterback in the draft) and Kadarius Toney (a potential first-round pick).
Other names to keep an eye on include Kellen Mond and Davis Mills. The former continues to garner buzz as a high-upside prospect who could use some solid coaching. Mills looks the part of an NFL quarterback, but he falls more into the "pocket passer" category. If teams value mobility and playmaking ability, he may not be the right fit.
All statistics courtesy of Sports Reference.