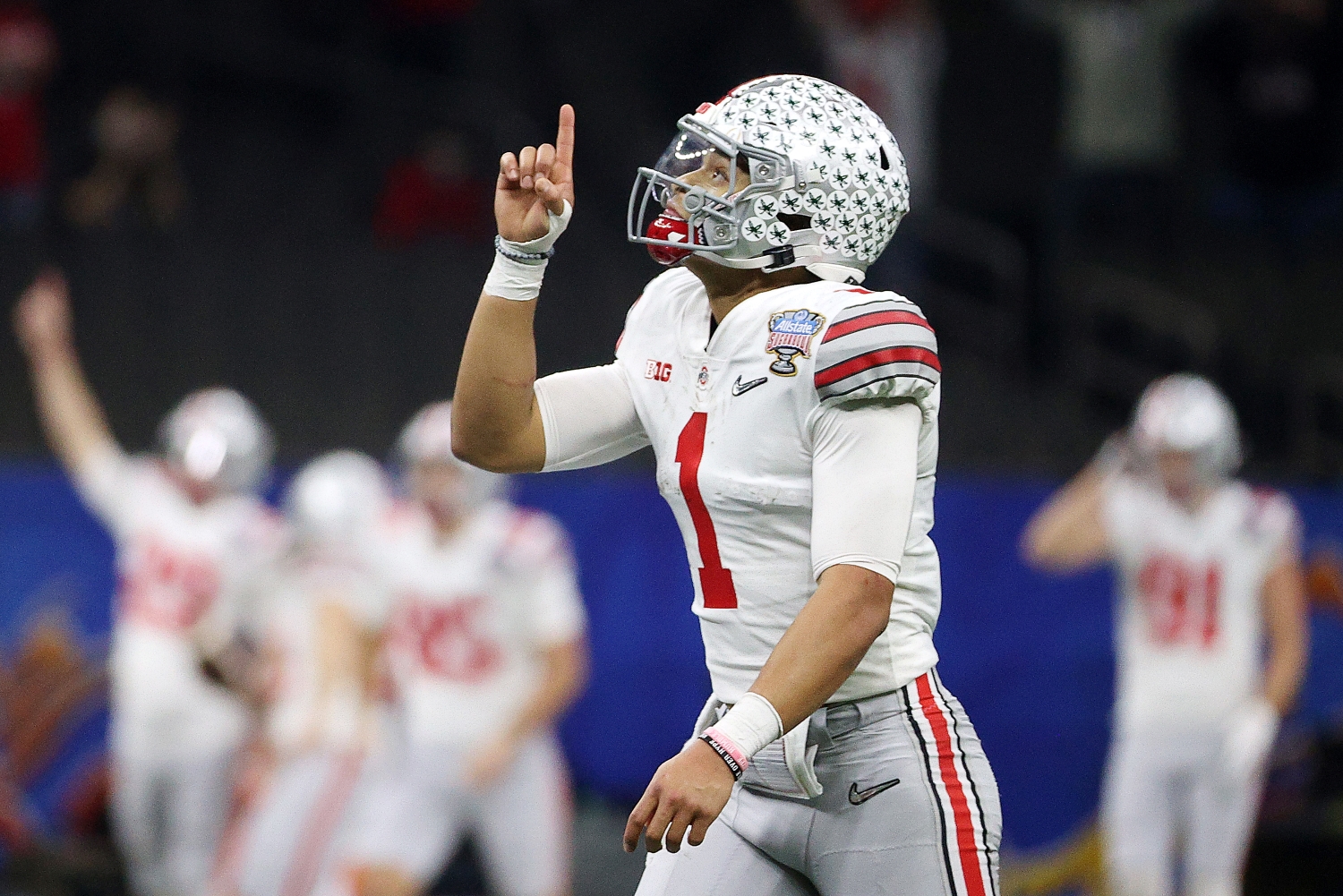 Justin Fields Just Forced the Jets to Open Their Eyes to What Should Be an Easy $33 Million Decision
Top 2021 NFL draft prospect Justin Fields had a fantastic pro day that should give the New York Jets every reason to invest in his future.
The New York Jets clearly need to make a change at the most important position in sports. After all, Sam Darnold simply hasn't come close to living up to expectations since arriving as the third pick of the 2018 NFL draft.
Ironically, the franchise's best path to success hinges on using the No. 2 pick in the 2021 NFL draft on yet another quarterback. With speculation swirling about which prospect would fit best in New York, Ohio State's Justin Fields just forced the Jets to open their eyes to what should be an easy $33 million decision.
New York needs a new quarterback
The Jets seemingly secured a franchise signal-caller three years ago. However, the Sam Darnold experiment has yet to yield any meaningful results. After throwing 45 touchdown passes and 39 interceptions in 38 starts, his days in New York appear numbered.
That makes the 2021 NFL draft particularly important. Armed with the No. 2 pick, the Jets should come on the clock with every quarterback prospect on the board other than Trevor Lawrence.
BYU's Zach Wilson has seen his stock rise precipitously in the last week or so. His pro day featured a number of wow moments that certainly strengthened his case to go very early in next month's draft.
Meanwhile, Mac Jones, Trey Lance, and Justin Fields also carry first-round grades. While Lance and Fields boast unique athleticism for the position, Jones instead relies on his intelligence and accuracy to make plays.
With four interesting prospects in play, the Jets have an expensive decision to make with franchise-altering ramifications.
Justin Fields just forced the Jets to open their eyes to what should be an easy decision
Although Zach Wilson has gained steam in the race to become the No. 2 overall pick, his biggest competitor just proved why he firmly belongs in the conversation, too. In fact, Justin Fields just forced the Jets to open their eyes to what should be an easy $33 million decision.
According to ESPN, the 6-foot-3, 228-pound quarterback ran an unofficial 40-yard dash of 4.44 seconds at Ohio State's pro day. Robert Griffin III is the only quarterback in NFL history to record a faster time.
After showcasing his elite wheels, Fields put on a show throwing the ball. The former Buckeyes star impressed onlookers by completing a number of big-time throws. ESPN NFL draft analyst Matt Miller tweeted a text he received from a scout that described Fields' day as "the best QB workout I've seen in a while."
While Wilson offers incredible upside of his own, Fields' workout should have shown the Jets everything they needed to know about his All-Pro potential. After all, he dominated at the high school level before proceeding to pick apart college defenses with both his arm and his legs.
Fields' combination of size, athleticism, proven production, and leadership make him a truly rare prospect. And considering they will have to commit about $33 million in guaranteed money on whoever they pick at No. 2, the Jets would be smart to invest their resources on a player who has consistently produced at a high level dating back to his days at Harrison High School.
Will the former Ohio State star go No. 2 overall in the 2021 NFL draft?
Justin Fields battled Trevor Lawrence for the No. 1 spot in the recruiting ranking a few years ago. But with the Jacksonville Jaguars expected to use the first pick on the talented Clemson quarterback, Fields will have to wait until at least the second pick to hear his name called.
With the 2021 NFL draft less than a month away, the Jets have just a few weeks to finalize their plans. Only time will tell whether Fields' electrifying pro day convinced the front office to build around the 2019 Heisman Trophy finalist.
Based on his resume, he should absolutely be the pick over Zach Wilson. But as we have witnessed over the years, NFL teams don't always go with the logical choice.
If the Jets pass on Fields in favor of Wilson, they better hope that plan works out better taking Sam Darnold over Josh Allen and Lamar Jackson.
Contract estimate courtesy of Spotrac. All statistics courtesy of Sports Reference