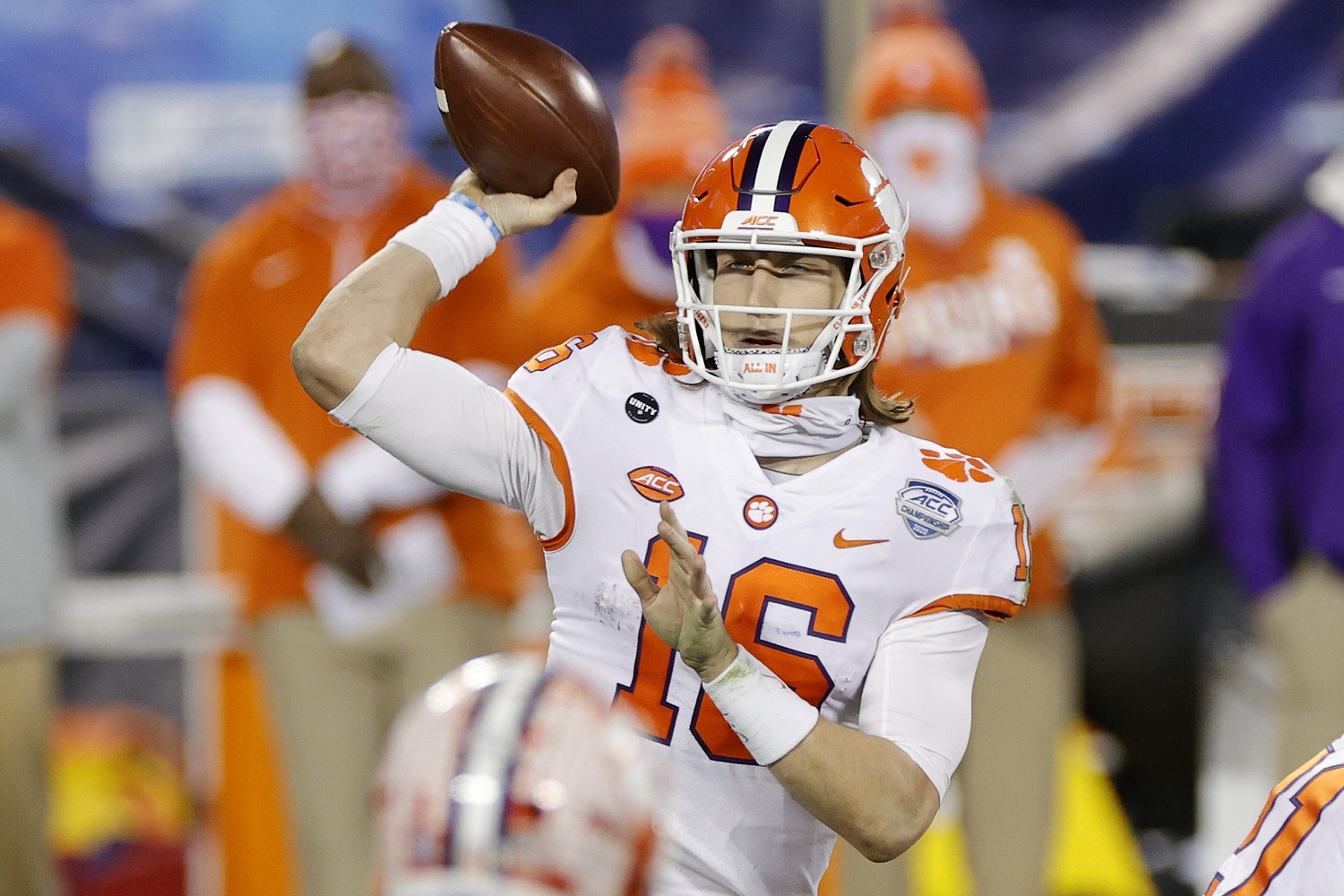 Trevor Lawrence's Wedding Gift Registry Is Online, but Someone Beat You to the Punch on the $2.95 Appetizer Plate
Clemson star Trevor Lawrence and his fiancee have set up a wedding gift registry online ahead of their April 10 nuptials in South Carolina, less than three weeks before the NFL draft.
What do you get the man who is about to have everything? If it's Trevor Lawrence, the Clemson University quarterback almost certain to be the first pick of the NFL draft by the Jacksonville Jaguars, the options are plentiful.
But if you're still not sure, then Lawrence and fiancée Marissa Mowry are giving you options – and we're not talking QB run-pass options, either.
A life-changing day is coming up for Trevor Lawrence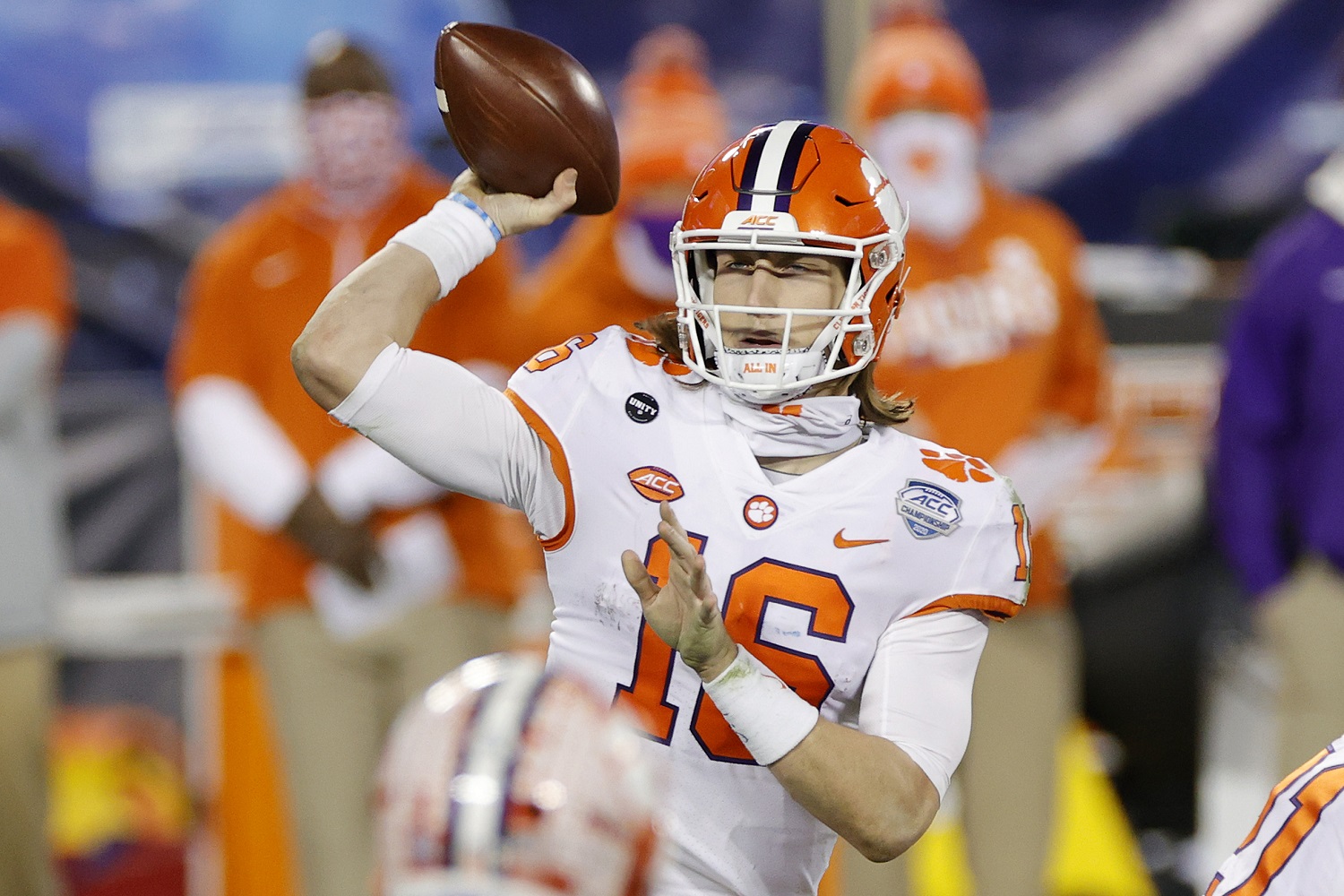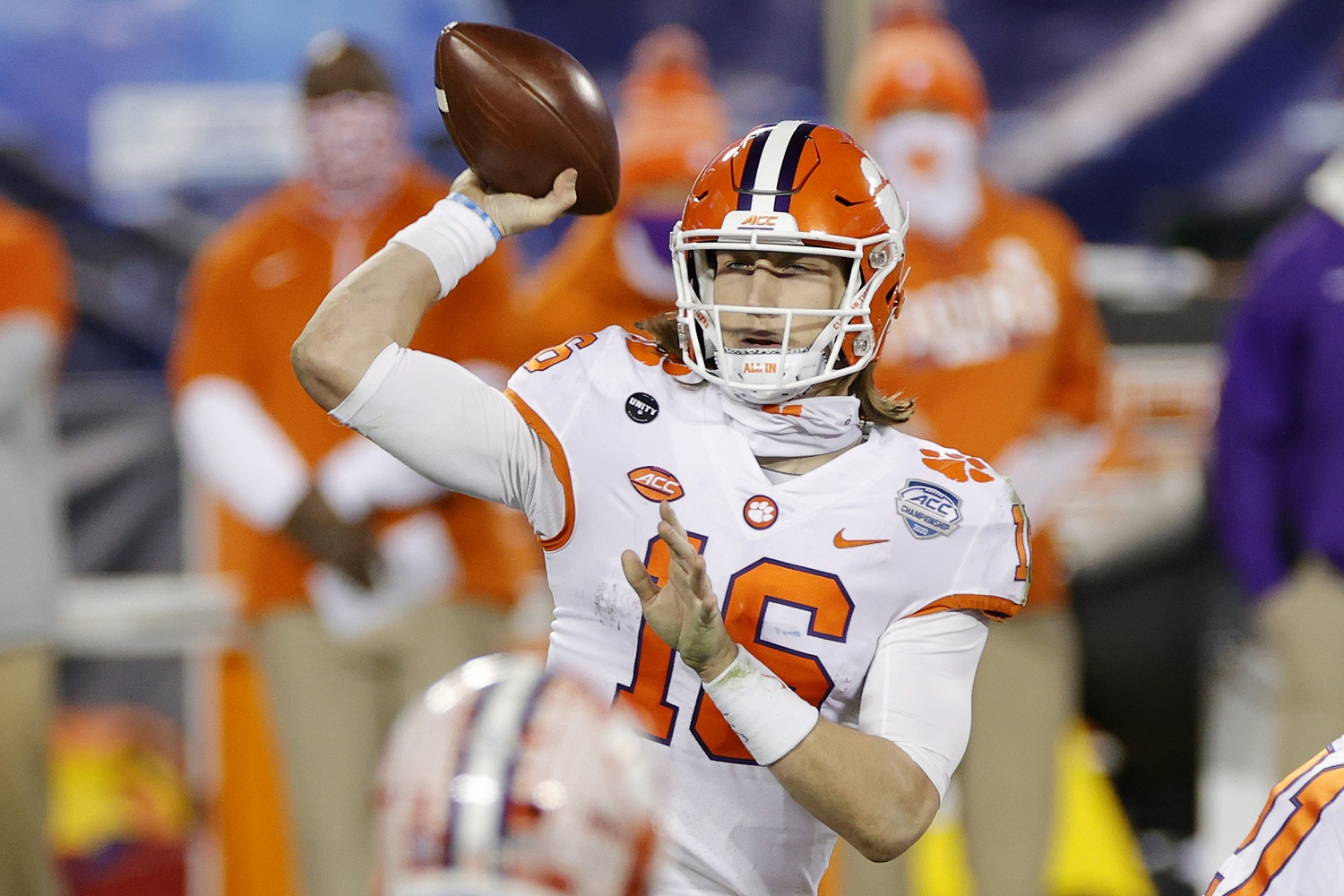 Quarterback Trevor Lawrence and girlfriend Marissa Mowry had been dating for four years, so it didn't surprise family and friends when the Clemson junior proposed last summer. Mowry and Lawrence attended Cartersville High School in Georgia and remained close even after going their separate ways in college. While Lawrence continued his football career in the ACC, Mowry was playing midfield on the soccer team at Anderson University, half an hour away.
Lawrence popped the question on the field at Memorial Stadium, getting down on one knee to propose to Mowry, whom he met in junior high school. Mowry wrote on her own Instagram account that the answer to Lawrence's proposal was the "easiest yes of my life."
According to their wedding gift registry, the ceremony is slated for April 10 in Bluffton, South Carolina.
Trevor Lawrence's wedding gift registry is online
As the presumptive No. 1 pick of the 2021 NFL draft, Trevor Lawrence is set for life financially. The projected salary slot for next month's No. 1 pick is $34,746,325 over four years, including a signing bonus of more than $22.6 million. For now, though, Lawrence and fiancée Marissa Mowry are just a couple of college kids trying to get their start in life.
The couple set up a wedding registry at TheKnot.com ahead of the April 10 wedding. That will be helpful if your invitation to the reception is lost in the mail but you still want to do something special for the soon-to-be newlyweds. (H/T to Outkick.com)
Family and friends already purchased several higher-end gifts on the list. An educated guess says that Lawrence's agent, grateful for a 4% commission on $34.7 million (and change), splurged for the $999.95 Breville "The Barista Touch" coffeemaker. The Roomba wi-fi robotic vacuum ($349.99) and the Breville Juice Fountain ($179.95) were also first-round draft picks, as were two knife sets.
Our scouting report suggests that Mr. and Mrs. Lawrence expect to be moving into expansive living space in the Jacksonville area this summer, which would explain the need for seven mirror sets from Anthropologie ranging from $328 to $1,548.
If you were hoping to get away with picking something less expensive from the registry, be advised that the $2.95 appetizer plate from Crate & Barrel is spoken for. However, two sets of $14.95 dish towels, six $19 hand towels, and six $29 bath towels are still free agents.
The likely No. 1 pick is skipping the NFL draft
RELATED: Former NFL Head Coach Urges the Jaguars Not to Take Trevor Lawrence at No. 1, Says He's Only the 3rd-Best QB in the Draft
With the nuptials rapidly approaching, Clemson quarterback Trevor Lawrence has already gotten the bachelor party weekend in Las Vegas out of the way, according to photos published by TMZ.
However, Lawrence isn't going to travel much in the short term. Sources told ESPN's Adam Schefter that the likely No. 1 pick has decided not to travel to Cleveland for the NFL draft.  
Instead, Lawrence will watch it on TV with a few family members and friends at Clemson. The draft begins April 29 and wraps up May 1.
Like Sportscasting on Facebook. Follow us on Twitter @sportscasting19.