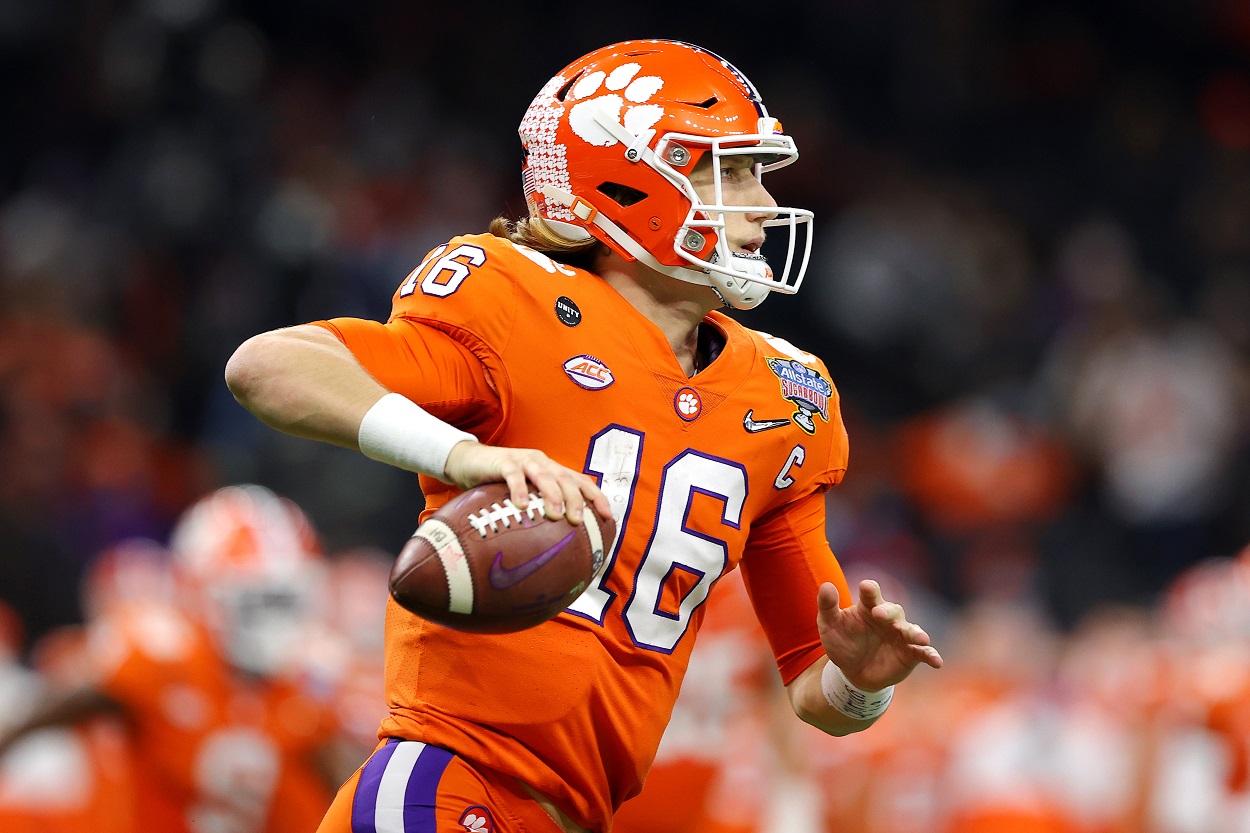 Former NFL Head Coach Urges the Jaguars Not to Take Trevor Lawrence at No. 1, Says He's Only the 3rd-Best QB in the Draft
Former NFL head coach June Jones says the Jacksonville Jaguars shouldn't select Clemson QB Trevor Lawrence with the top pick in the NFL draft.
The 2021 NFL draft is still two months away but the mystery that sometimes surrounds the No. 1 overall selection has been gone for quite some time as the Jacksonville Jaguars are widely expected to select quarterback Trevor Lawrence with the top pick.
However, if former Atlanta Falcons head coach June Jones had any say in the matter, Urban Meyer and the Jags would pass on the Clemson QB, trade the top pick, and select one of the other two quarterbacks he has rated ahead of Lawrence.
Trevor Lawrence is expected to be the No. 1 overall pick in the 2021 NFL draft
Trevor Lawrence came to Clemson in 2018 with a lot of hype surrounding him. As a senior at Cartersville (GA) High School, he was named a USA Today All-American and High School Football Player of the Year after breaking Georgia state records for passing yards and passing touchdowns, records previously held by another Clemson QB, Deshaun Watson.
While technically the backup quarterback in his first season the Tigers, Lawrence split time with starter Kelly Bryant but took over as QB1 after four games and promptly led Clemson to an undefeated season and a national championship. He then led the team to another undefeated regular season in 2019 and a fifth straight ACC title before finally losing his first game in the CFP National Championship against Heisman Trophy winner Joe Burrow and LSU.
Most believe Lawrence would have been the No. 1 pick in the 2020 NFL draft but he obviously wasn't yet eligible. So when COVID-19 rocked the sports world, many urged him to sit out the entire 2020 season as some believed it wouldn't be seen as a real season anyway. But Lawrence chose to suit up and while he did miss a couple of games after contracting the novel coronavirus, he still had another phenomenal season and once again led the Tigers to the College Football Playoff, where they lost to Ohio State in the national semifinal.
In three years at Clemson, Trevor Lawrence completed 66.6% of his passes for 10,098 yards with 90 touchdowns against just 17 interceptions, also adding 943 yards and 18 scores on the ground.
Former Atlanta Falcons head coach June Jones says the Jaguars shouldn't draft Trevor Lawrence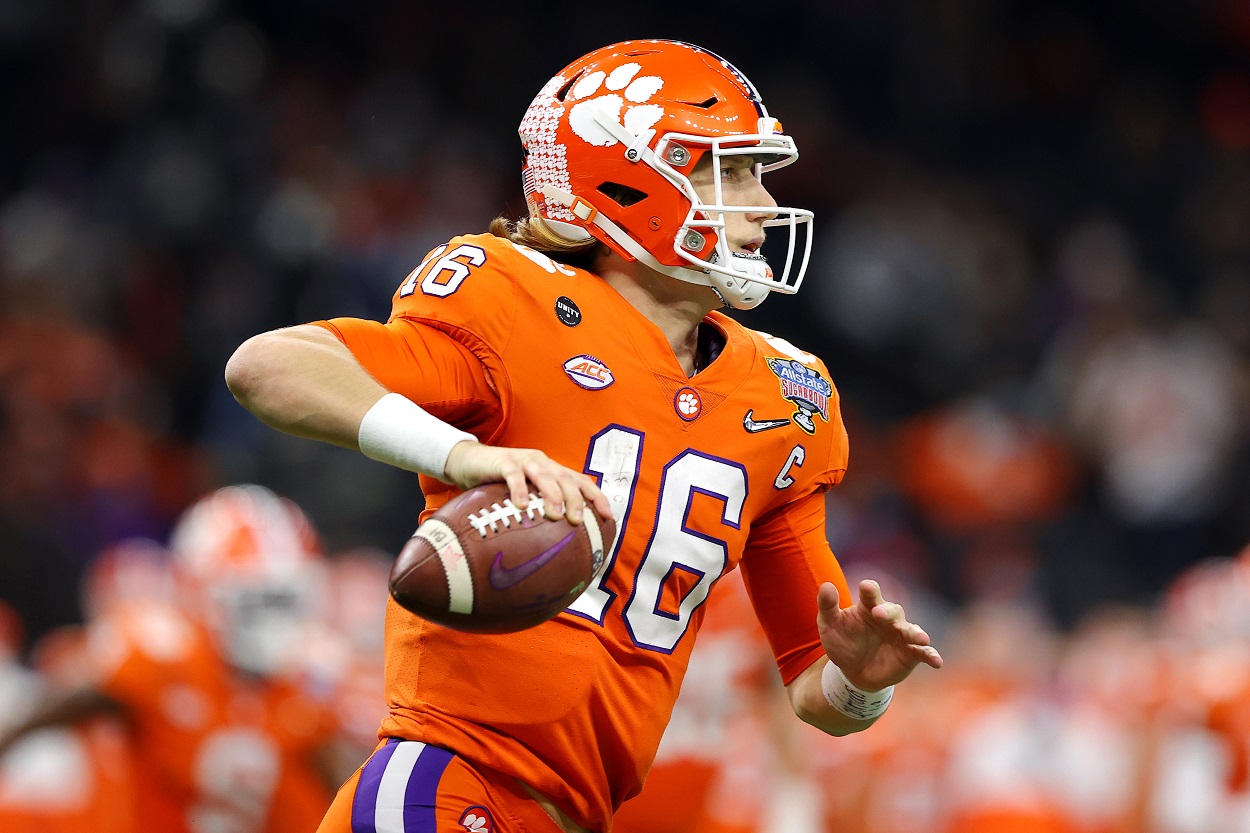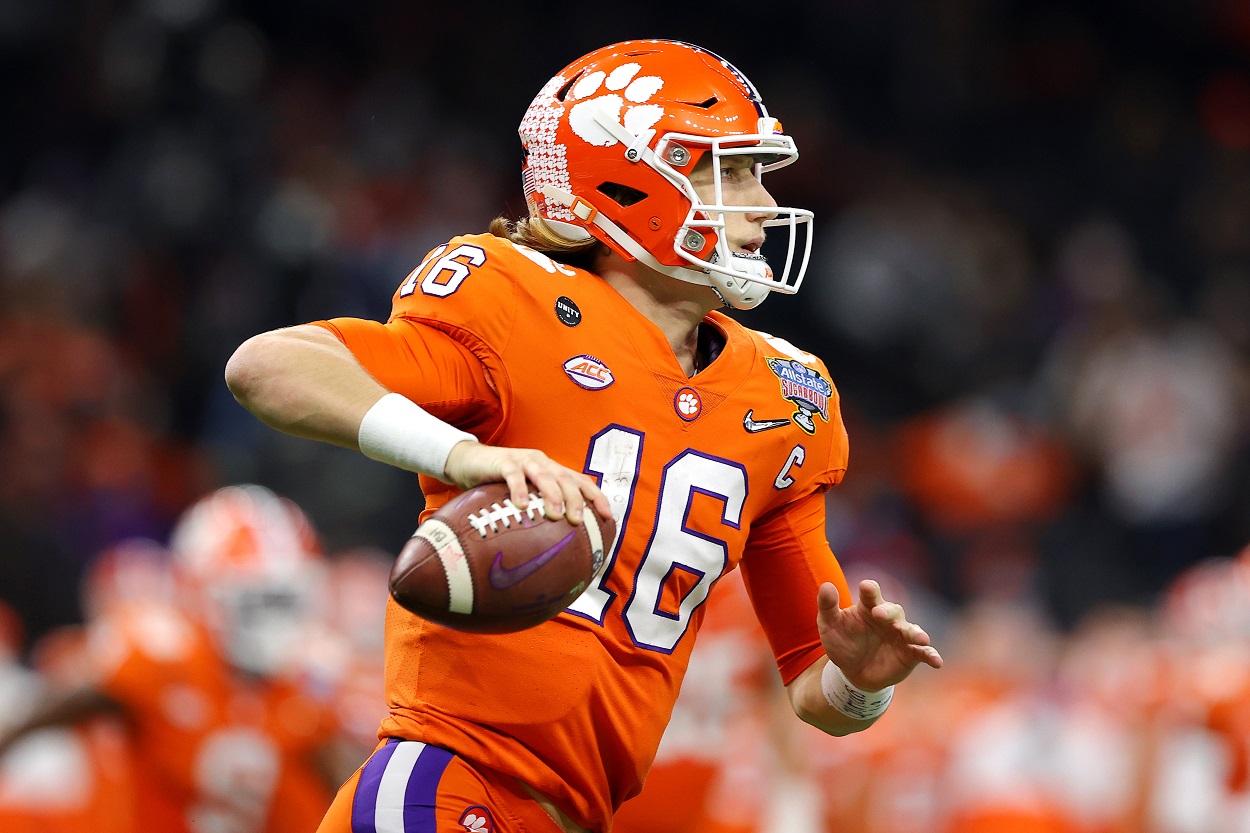 Despite Trevor Lawrence's impressive win-loss record and statistics and many thinking he's a generational talent, former Atlanta Falcons head coach June Jones isn't sold — well, at least not completely.
Jones, who himself played quarterback before beginning his coaching career, says he likes Lawrence but thinks Urban Meyer and the Jaguars would be making a mistake using the No. 1 overall pick on him. He believes Jacksonville should trade the top pick and then select one of the other talented quarterbacks in the draft. Jones offered up his reasoning for the bold take in a recent interview with Yahoo Sports.
"He's a very talented kid, don't get me wrong, and I think he's a winner. He can do things that other quarterbacks can't do, such as run.

"But what I've noticed is, when you see him drop back and throw, let's say, a 9-route down the field, on those completions that he had over 20 yards, a lot of times his receivers make great plays on those balls. And they weren't right on the money, they weren't right in stride. The receivers sometimes had to work for the deep ball with him than what (you'd expect from) a great quarterback."

June Jones on Trevor Lawrence
In 2020, Lawrence completed 69.2% of his passes but that completion percentage dropped to 51% on passes that traveled over 20 yards in the air, which is certainly still a very respectable number but apparently not as high as Jones would like from a No. 1 pick.
So who does June Jones like better than Trevor Lawrence? Well, it's actually two guys.
June Jones thinks Mac Jones and Zach Wilson are better NFL prospects at the moment
There have been some draft "experts" out there that like one quarterback or another over Trevor Lawrence but not many people out there right now are saying the Clemson QB is the third-best prospect heading into the 2021 NFL draft.
But that's where June Jones is at the moment as he prefers Alabama's Mac Jones and BYU's Zach Wilson to Lawrence specifically because of their downfield accuracy.
Both Wilson and Jones threw 56 passes that traveled over 20 yards this past season with Wilson completing 62.5% of those attempts with Jones a few points behind at 58.9%. When taking dropped passes into account, Wilson's adjusted completion percentage was 67.9% to Jones' 67.1%. Jones, however, had the edge in yardage on those deep balls, 1,355 to 1,286.
Well, that's certainly a different Trevor Lawrence take than we're used to hearing. Only time will tell if June Jones turns out to be right.
Stats courtesy of Sports Reference