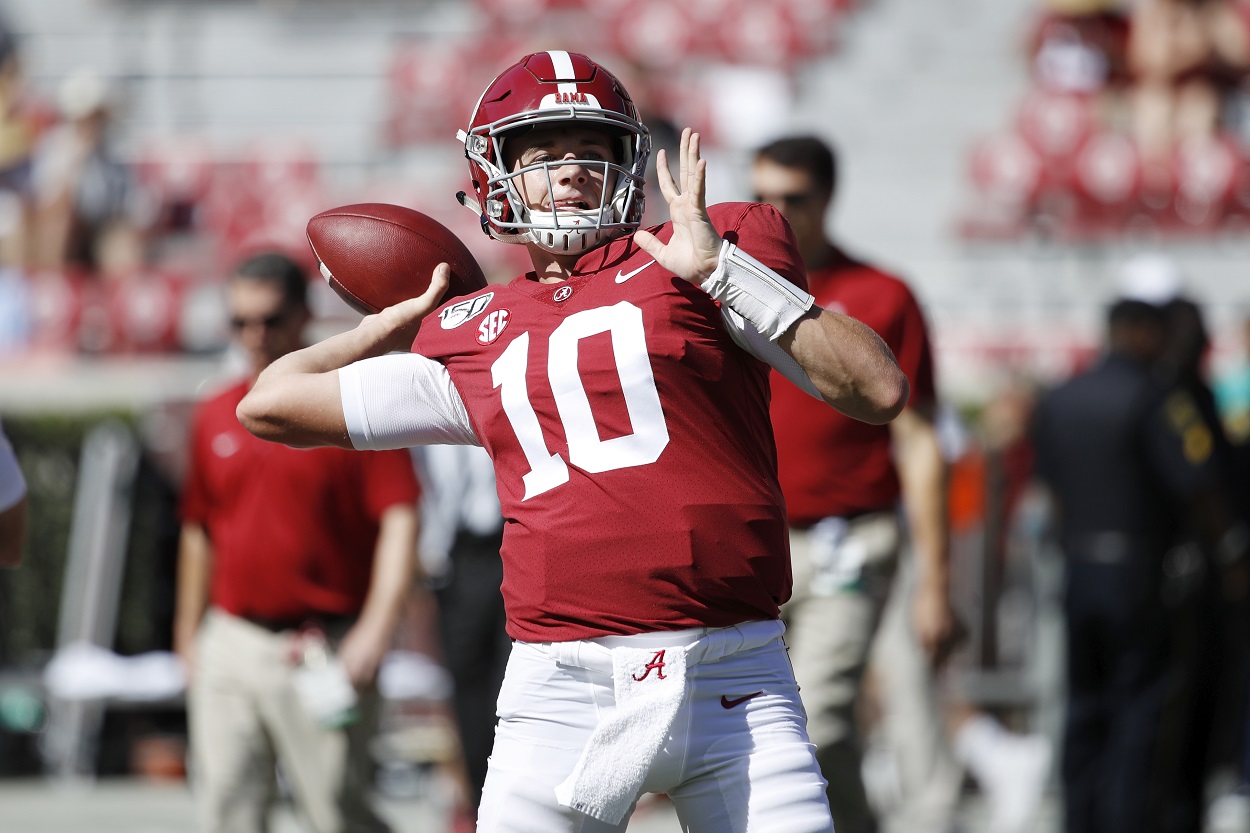 Former Patriots OC Charlie Weis Says His Former Team Are 'Dumba–es' if They Don't Draft Mac Jones if Available, Compares Him to Future HOF QB
Former New England Patriots offensive coordinator Charlie Weis strongly believes his former team should draft Alabama QB Mac Jones if he's available.
Former New England Patriots offensive coordinator Charlie Weis knows a thing or two about the quarterback position and has offered up some advice to his former team heading into the 2021 NFL draft: take Alabama QB Mac Jones if he's available.
While some "experts" don't think Jones' success with the Crimson Tide will transfer to the NFL, Weis, who played a role in developing Tom Brady and was with the Patriots for their first three Super Bowl wins, is very high on the Heisman Trophy finalist and says his former team would be doing themselves a disservice by passing on him if he's still on the board at No. 15, although he used a bit stronger language.
Mac Jones led the nation in completion percentage, passing yards, and passer rating this past season
It's certainly hard to ignore what Mac Jones did for the Crimson Tide this past season in helping the team to yet another national title. The junior led the nation in completion percentage at an incredible 77.4% (311-402), passing yards (4,500), and passer rating (203.06) while throwing 41 touchdown passes against just four interceptions.
But despite these impressive statistics, many of the so-called NFL draft "experts" see him being the fourth of fifth quarterback selected this May. It's almost a foregone conclusion that Urban Meyer's Jacksonville Jaguars will be taking Clemson's Trevor Lawrence with the No. 1 overall pick and Ohio State's Justin Fields, BYU's Zach Wilson, and North Dakota State's Trey Lance are also ranked higher on most draft boards.
Some seem to believe that the only reason Mac Jones put up the numbers he did this past season is because he was surrounded by amazing talent in Tuscaloosa. But Charlie Weis sees that as a positive thing and is comparing Jones to a future Hall of Famer when he first came into the NFL.
Charlie Weis says the Heisman Trophy finalist reminds him of Drew Brees coming out of Purdue
On a recent episode of his SiriusXM NFL Radio show, which he co-hosts with Bill Lekas, Charlie Weis vehemently disagreed with those who feel Mac Jones only put up the numbers he did due to the team he had around him at Alabama, which obviously includes Heisman-winning wideout, DeVonta Smith.
Weis contends that Jones was still the leader of Alabama's high-octane offense as the quarterback and still had to make all of those throws. He says Jones "has less holes than just about anybody" and even compared him to Drew Brees when he was coming into the NFL out of Purdue in 2001.
"He [Drew Brees] went in the second round because everyone said, 'He doesn't take any snaps under center and his arm is not strong enough.' All he did was play great at Purdue, and complete almost every pass. How has that worked out?"

Charlie Weis on Mac Jones
Mac Jones may not drop to the second round as Drew Brees did and Weis thinks that if he's still on the board at No. 15, the New England Patriots would be wise to snatch him up.
Charlie Weis says the Patriots would be 'dumba–es' if they don't take Mac Jones if he's available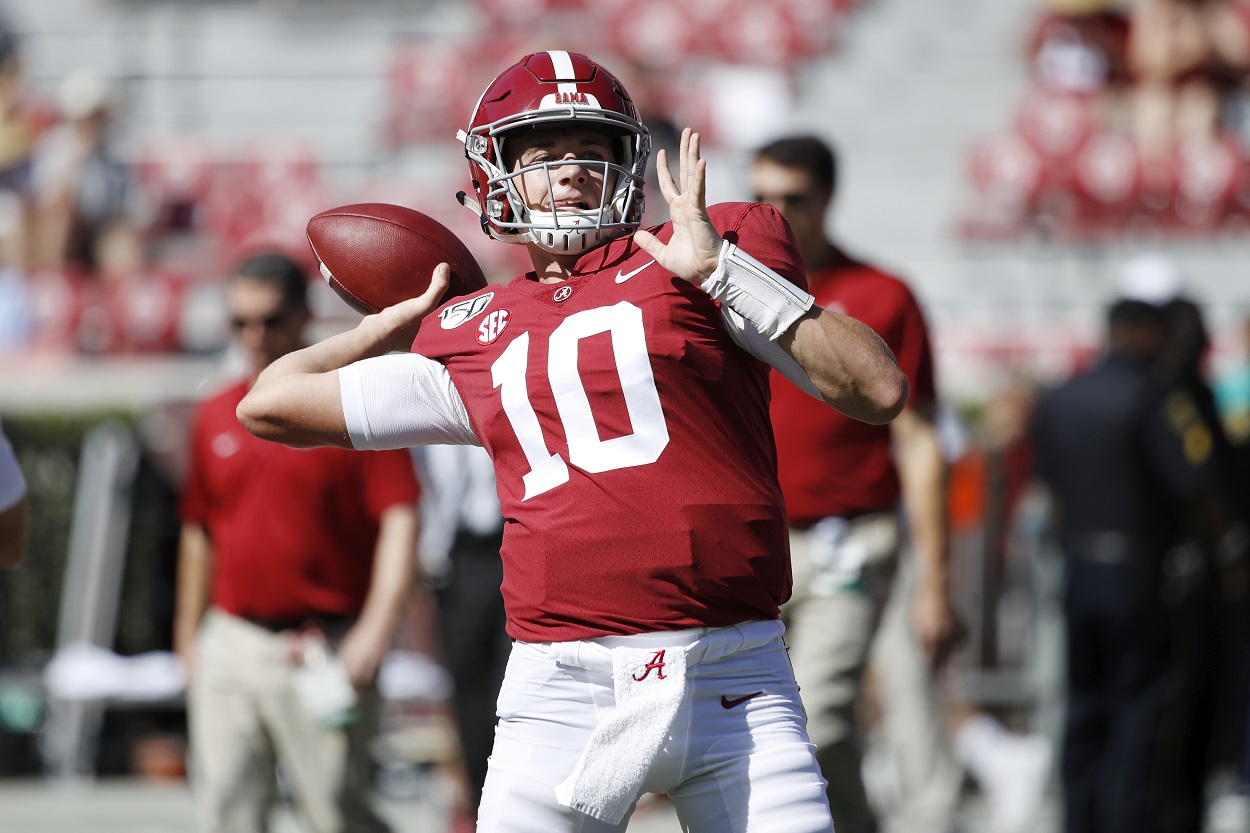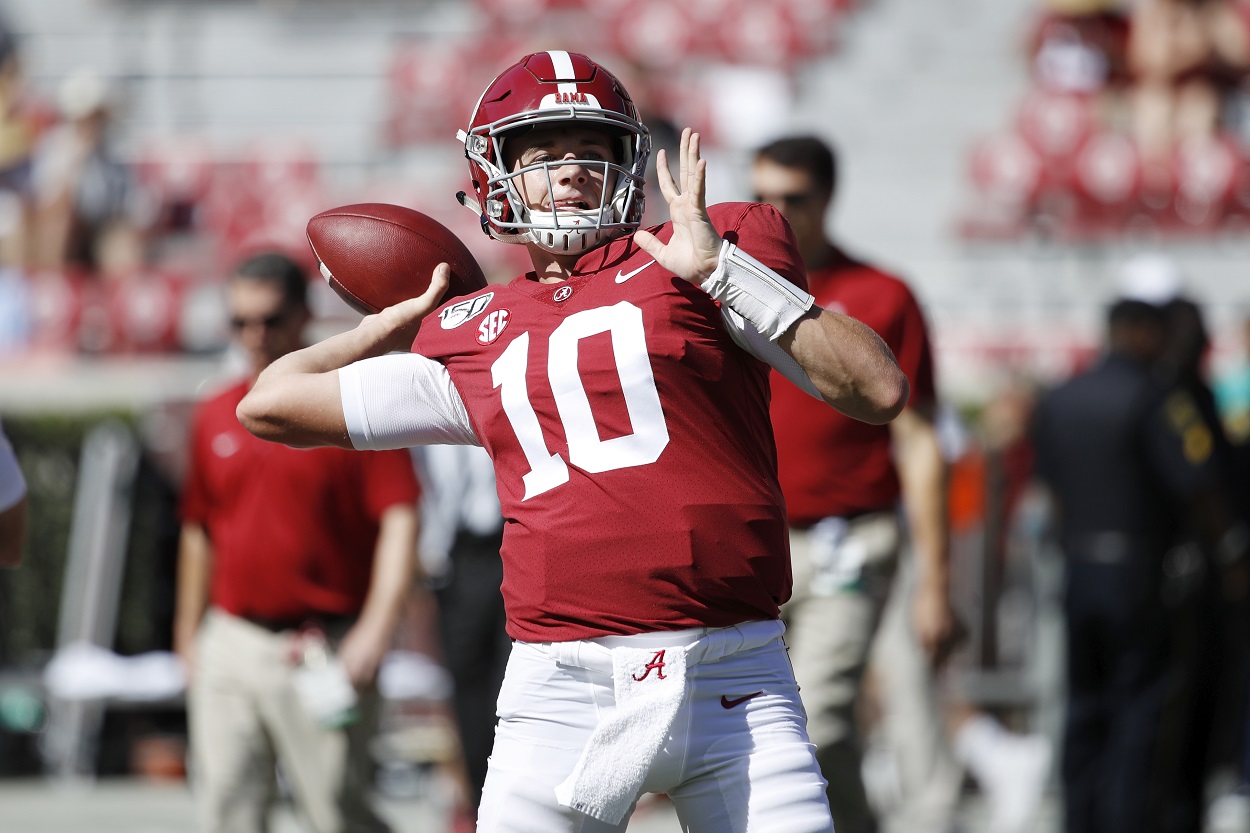 Given the issues the New England Patriots face at quarterback heading into the 2021 season and the upside Charlie Weis sees in Mac Jones, he feels his former team and the Alabama QB are perfect for one another.
With Bill Belichick not looking all that great after his former signal-caller, Tom Brady, just won a Super Bowl without him, Weis strongly believes his former boss could have a true successor to TB12 in Jones, assuming he's still available at No. 15, which is New England's highest draft pick in 13 years.
"I don't want to be one of those people telling them [the Patriots] how they are dumbasses if they don't do that [draft Mac Jones].

"What are the two most important components of a star quarterback? They have the 'it' factor. And they're accurate. That's who [Jones] was."

Charlie Weis on the Patriots drafting Mac Jones
No need to sugarcoat it, Charlie. Tell us how you really feel.
With Cam Newton likely not returning to New England, the Patriots are left with Jarrett Stidham as QB1 for the moment as Brian Hoyer is set to hit free agency. The Pats could certainly sign someone in free agency as there will be a few available and still could make some sort of trade as well.
But if neither of those things happens before the draft this spring, Charlie Weis thinks Mac Jones just could be the future for the Patriots. We'll just have to see if Bill Belichick agrees if it gets to that point.
Stats courtesy of Sports Reference