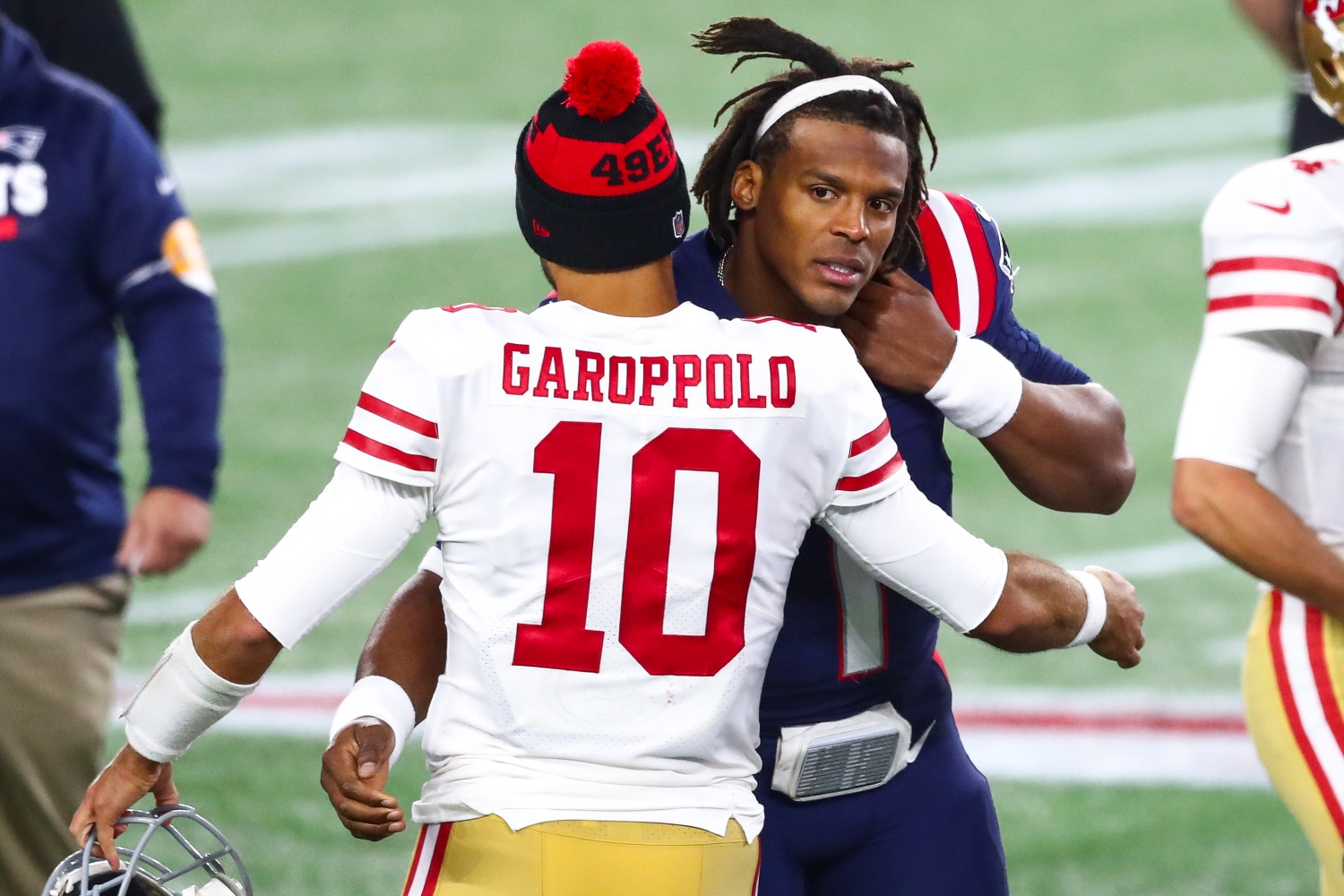 The New England Patriots Have Reportedly Made a Final Decision About Jimmy Garoppolo's Future in Foxborough
The New England Patriots have reportedly made a final decision about pursuing Jimmy Garoppolo.
Bill Belichick just wrapped up the most expensive week in New England Patriots history. But even after going wild in free agency, he still has one major roster hole to fill.
In desperate need of a long-term solution at quarterback, the Patriots have yet to add a new one to their roster this offseason. However, a familiar face has remained in the mix to return to Foxborough.
And with the 2021 NFL draft inching closer, the Patriots have reportedly made a final decision about whether Jimmy Garoppolo will be a part of their future.
The Patriots still need to find a long-term solution at the most important position in sports
Cam Newton somehow convinced Bill Belichick to bring him back for another year. But even though he just signed a second contract, the former No. 1 pick will have to battle to earn the starting job.
After all, he had to settle for another one-year, incentive-laden deal to remain in Foxborough. And with Jarrett Stidham as the only other quarterback on the roster, the Patriots possess a dangerously thin depth chart that features two major question marks and no concrete answers.
New England has so far avoided investing resources on a new signal-caller.
Even with several notable names available on the trade market, Belichick refused to engage in a bidding war. And beyond bringing Newton back, he elected to pass on adding a quarterback via free agency.
While that makes the 2021 NFL draft the most likely route to find a long-term solution at the position, rumors have persisted about a potential reunion with Jimmy Garoppolo.
Although the San Francisco 49ers have publicly backed their highly-paid quarterback, they just paid a premium price to acquire the No. 3 pick. And that certainly doesn't bode well for Garoppolo's future out west.
New England has reportedly made a final decision about Jimmy Garoppolo's future in Foxborough
Bill Belichick spent a small fortune in free agency to import a ton of new talent. On paper, the Patriots now feature a top-five defense to go along with a much-improved offense. In fact, they look a quarterback away from being a true Super Bowl contender.
And with Jimmy Garoppolo facing an uncertain future in San Francisco, that has only increased chatter about a potential return to New England.
Unfortunately for Patriots fans hoping for a Jimmy G trade, their wish won't come true.
On Sunday, ESPN's Jordan Schultz reported via Twitter that New England is not pursing the 49ers quarterback.
"Cap space isn't there and obviously Cam Newton will return," Schultz wrote. "Additionally, the draft is flush with QBs. No Jimmy GQ reunion for the Pats in foreseeable future."
New England entered free agency with nearly $70 million in cap space. But after Belichick's wild week of spending, the team currently has less than $15 million remaining.
So with Garoppolo reportedly no longer in play, it seems all but guaranteed that the Patriots will try to find their next franchise quarterback via the draft.
Will Bill Belichick trade up in the 2021 NFL draft to take a quarterback?
Bill Belichick absolutely must come out of the 2021 NFL draft with a high-upside quarterback prospect. But whether he trades up to secure competition for Newton remains to be seen.
Based on what the 49ers surrendered to acquire the No. 3 pick, it doesn't seem likely that Belichick will part ways with so much draft capital to move into the top-10.
Then again, he might not have a choice.
If the Patriots stay put at 15, all the top quarterbacks should be long gone. If they don't feel strongly about the rest of the class, could that force them to get aggressive and target one in the first round?
Ironically, Belichick took Jimmy Garoppolo in the second round back in 2014. Perhaps he will go that route again to find Tom Brady's actual successor.
While it remains unclear how the Patriots will attack the draft, it seems all but certain they will take a quarterback within the first three rounds. We'll soon find out what price Belichick is willing to pay to land the most coveted asset in the NFL.
All salary cap information courtesy of Spotrac.