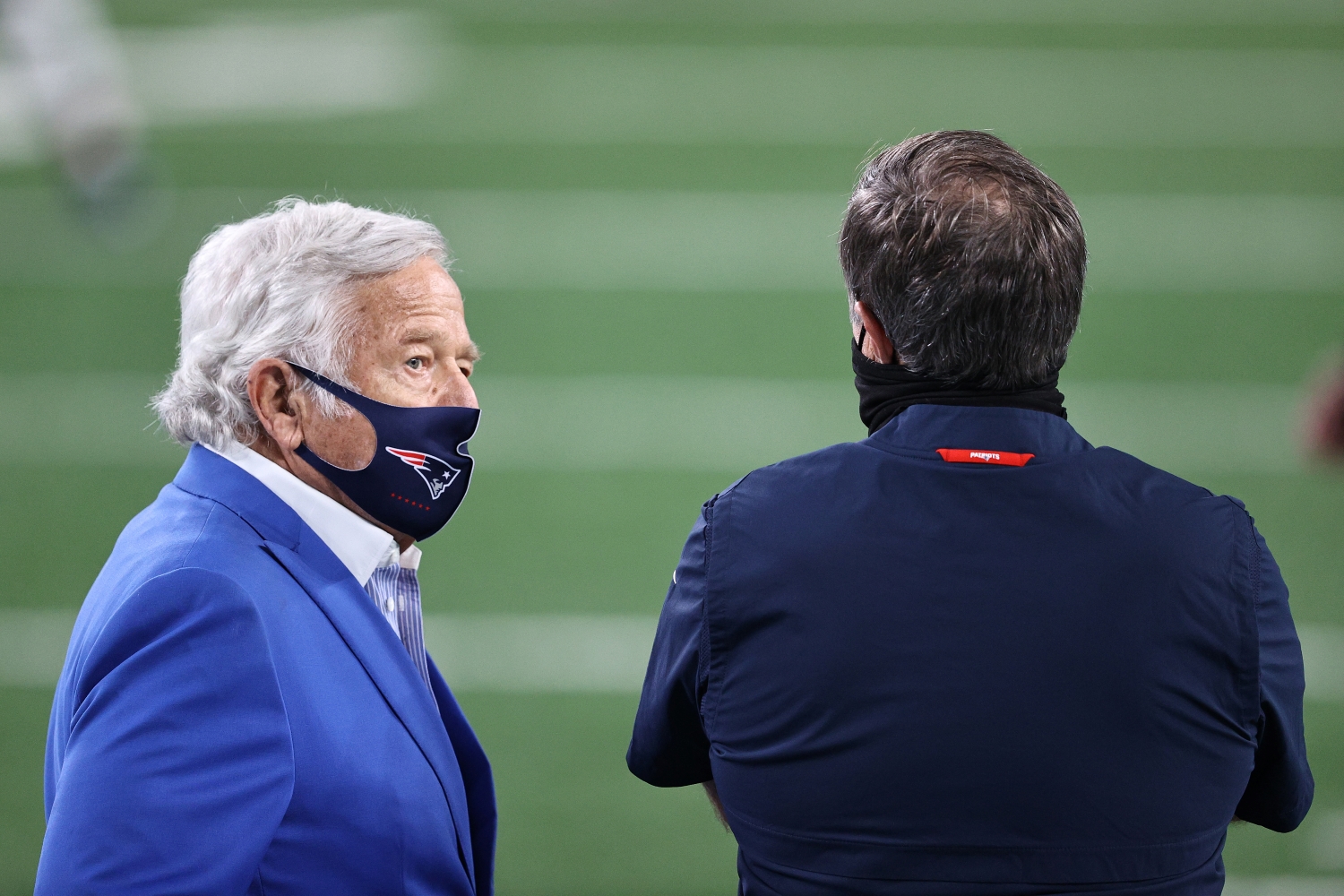 Robert Kraft Sent a Subtle Warning to Bill Belichick With His Recent Eyebrow-Raising Comments
Bill Belichick should be feeling a little nervous about his future in New England based on some recent comments from Patriots owner Robert Kraft.
With Tom Brady often masking his team's deficiencies, Bill Belichick rarely spent big in free agency during the quarterback's two-decade tenure with the New England Patriots. However, after suffering through a rare losing season, Belichick has shown no hesitation about spending Robert Kraft's money.
But after coming up with an unprecedented amount of capital to cover a brutally expensive bill, the 79-year-old owner sent a subtle warning to his longtime coach with his recent eyebrow-raising comments.
Bill Belichick went wild during the first week of free agency
The 2021 version of the Patriots will certainly look much different than the team Bill Belichick put together a year ago.
And Robert Kraft had to dig deep into his pockets to pay the price to check all the boxes off Belichick's wish list.
After getting next to nothing out of their tight ends the last two years, the Patriots committed more than $56 million in guaranteed money to sign Jonnu Smith and Hunter Henry. Of course, Belichick traded up twice in the third round to select Devin Asiasi and Dalton Keene in the 2020 NFL draft.
New England also added two solid receivers in Nelson Agholor and Kendrick Bourne. However, guaranteeing $16 million of Agholor's contract seems like a major gamble given his inconsistent career.
Speaking of risk, Belichick deviated from his normal business strategy to pay a premium for an edge defender. Former Baltimore Ravens outside linebacker Matthew Judon will make nearly $32 million across the first two years of his $54.5 million deal. The two-time Pro Bowler must make a consistent impact as a pass rusher to justify his pricey contract.
Robert Kraft raised some eyebrows with his recent comments to Peter King
For Robert Kraft, last week represented a truly unprecedented time in franchise history. After entering free agency with $69 million in cap space, the Patriots now have just north of $20 million left.
"In my 27 years as owner, I've never had to come up with so much capital before," he told Peter King of NBC Sports.
Kraft actually committed nearly the same amount of guaranteed money on free agents in two days ($175 million) as he did to buy the franchise back in 1994. While he compared the situation to investing in the stock market, he raised more than a few eyebrows with some of his other comments to King.
"We're not in the business to be in business," the Patriots owner said. "We're in this business to win."
He later added, "I do remember we always made fun of the teams that spent a lot in the offseason. So we know nothing is guaranteed, and I'm very cognizant of that."
Considering how much the organization pays attention to optics, it certainly stood out how Kraft specifically raised the point about having to "come up with so much capital."
While that statement rings true based on the pure numbers, it's entirely possible to interpret his comments as a subtle warning to Belichick, whose shaky work as a general manager in recent years got exposed badly last season.
Kraft sent a subtle warning to Belichick by choosing his words carefully
By also emphasizing the importance of winning, Robert Kraft made it abundantly clear he has no interest in running a business that doesn't yield a good return on his investment. Coming off a playoff-less season in which Tom Brady led his new team to a Super Bowl title, Bill Belichick faces enormous pressure to prove he can win without the GOAT. But if his recent moves don't pay immediate dividends, that will only lead to more questions about whether he should still make all personnel decisions.
Oh, and don't forget about the "we used to make fun of other teams" line from Kraft, either.
Based on how Belichick conducted business during the Brady era, it's incredibly ironic that the Patriots' path to success now hinges on an approach he always avoided. And by admitting they used to make fun of teams for investing heavily in free agency, Kraft opened the door to discussions about how hypocritical Belichick looks for handing out so much guaranteed money.
Will New England's new approach in free agency lead to a quick turnaround? Or will Belichick the general manager once again let down Belichick the coach?
The future still remains murky in Foxborough. What is clear, however, is that Robert Kraft wants to make winning on Sundays a normal business practice again.
And if Belichick can't figure out a way to make that happen, he shouldn't be surprised if his boss wants to have a serious discussion about the future of the franchise after the season.
All contract data courtesy of Spotrac.