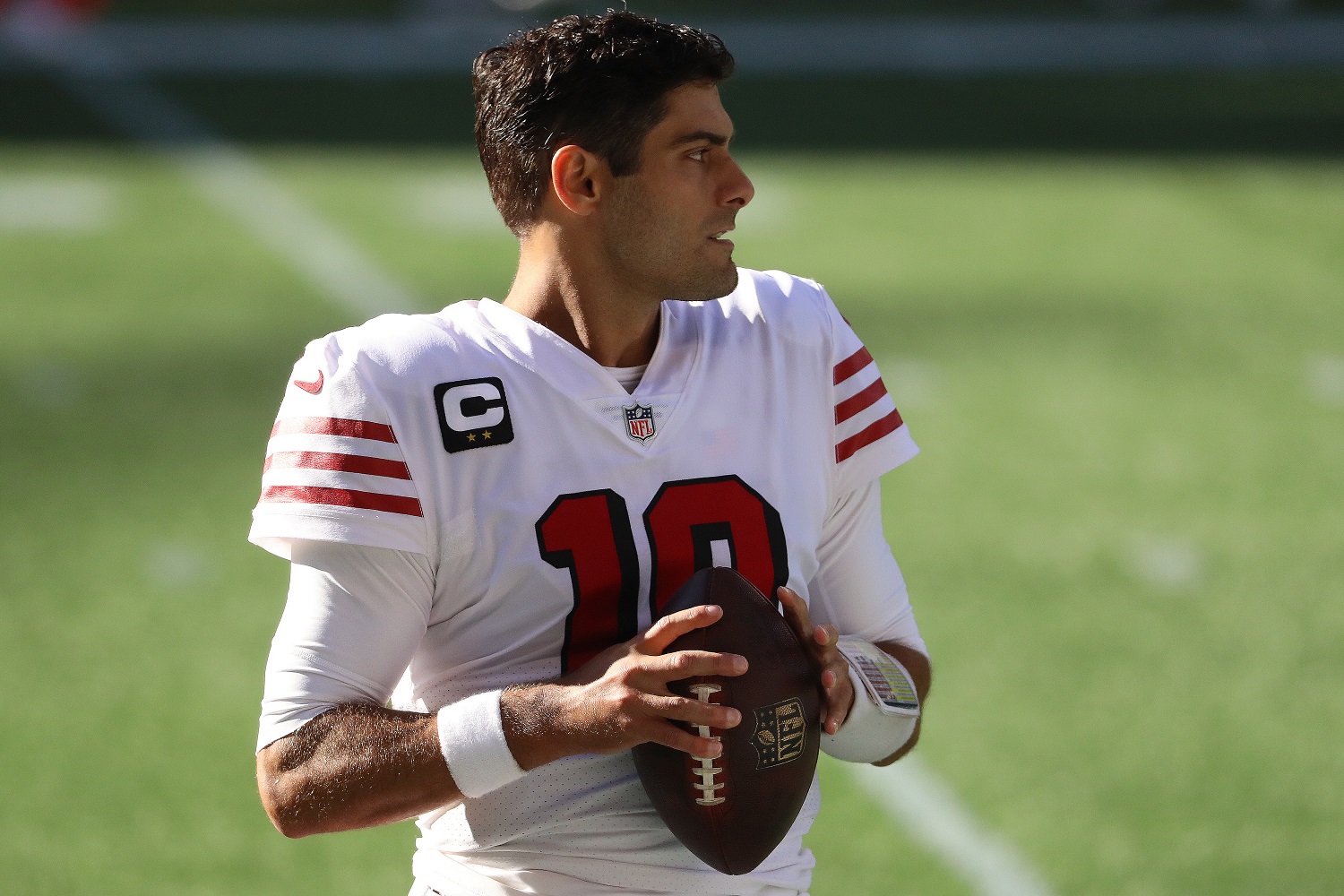 The Miami Dolphins Gifted the New England Patriots a Quarterback Upgrade, but It's Not Tua Tagovailoa
Now that the 49ers obviously have their mind set on drafting a QB, Jimmy Garoppolo could be headed back to the New England Patriots as part of the fallout from a trade between San Francisco and the Miami Dolphins.
Miami Dolphins general manager Chris Grier is justifiably being praised for two more savvy deals to stockpile draft picks. However, one of them very likely lowered the price Bill Belichick will have to pay to solve his quarterback problem.
If we're reading the implications of the trades with the San Francisco 49ers and Philadelphia Eagles, then Grier committed a cardinal sin of personnel moves: Don't help a team you face twice a year to get better.
The Miami Dolphins made two related deals
The Miami Dolphins added to theirs draft inventory with back-to-back deals on March 26, 2021.
Miami traded the No. 3 overall pick next month to the San Francisco 49ers for the No. 12 overall pick, the 49ers' first-rounders in 2022 and '23, and a third-round pick next year. General manager Chris Grier then flipped that 12th overall pick and a 2022 first-rounder to the Philadelphia Eagles for the No. 6 overall pick and a fifth-rounder this spring.
Sliding down a net of three spots in the first round doesn't hurt the Dolphins since Grier has obviously decided that Tua Tagovailoa is his long-term quarterback. The first three picks next month – and maybe No. 4, too – will be QBs. So, the Dolphins can still land a high-impact rookie at a need position.
Miami still owns the No. 18 pick, two second-rounders, and a third-rounder next month as it continues the rapid rebuild under coach Brian Flores that took them from 5-11 to 10-6. They have a combined eight more picks over the first three rounds in 2022 and '23.
The Mami Dolphins gifted the New England Patriots a QB
Before Miami Dolphins GM Chris Grier takes a victory lap, he should ask himself if he's OK with facing a Bill Belichick-coached Jimmy Garoppolo twice a year. For all practical purposes, his trades guaranteed the San Francisco 49ers that they will be able to pick Trevor Lawrence, Zach Wilson, Trey Lance, Justin Fields, or Mac Jones.
That makes Jimmy Garoppolo expendable, though CBS Sports reports 49ers GM
John Lynch has no doubt he will remain with the 49ers this fall. However, the 49ers slipped from 13-3 to 6-10 last fall, and Garoppolo has played only 25 of 48 games over the past three seasons. He'll be expendable next month.
Trading Garoppolo would leave the 49ers with just the rookie they'll take at No. 3 and Josh Rosen at quarterback. That can be remedied with a short-term rental (Alex Smith?) from the free-agent scrap pile, and trading Garoppolo will gain the Niners some draft currency.
The story that has circulated for years is that Robert Kraft forced Bill Belichick to trade Garoppolo to keep the coach from dealing Tom Brady instead. Garoppolo made only two starts in three years for the Patriots, but he's presumably still a fit for their system – and better than Cam Newton.
By moving up, the 49ers assured themselves a potential franchise QB. However, they lowered Garoppolo's value in a trade. Still, moving him now will reap more in return than what they can get next year when he'll have only one season left on his contract and might have rusted on the bench.
Who else is affected by Friday's NFL trades?
Tua Tagovailoa didn't impress the NFL in the fashion that Joe Burrow and Justin Herbert did as rookies last season, but he still looks promising. By moving down in the draft, the Dolphins signaled that taking a QB at No. 6 isn't the plan. With no rookie challenger coming in and veteran mentor Ryan Fitzpatrick gone, Tagovailoa won't have be looking over his shoulder.
Ditto for Jalen Hurts, who didn't get much of a chance to establish himself in 2020. There's no guarantee that even the fifth-best QB prospect will be available at No. 12, so Hurts' status with the Philadelphia Eagles is secure for now.
Teddy Bridgewater is a third quarterback whose short-term future is less tenuous. The Carolina Panthers were considered serious bidders for Deshaun Watson, whose potential legal problems make him highly risky. Now, the Jacksonville Jaguars, New York Jets, and San Francisco seem certain to take quarterbacks ahead of Carolina..
The Atlanta Falcons could make it 4-for-4 to start of the draft, so the Panthers aren't going to come up with a better option at No. 8 unless they use that pick in a trade for someone already in the league. The more likely scenario is that the hard-luck Bridgewater gets a chance to show he wasn't as bad last season as some people perceived him to be.
Like Sportscasting on Facebook. Follow us on Twitter @sportscasting19.