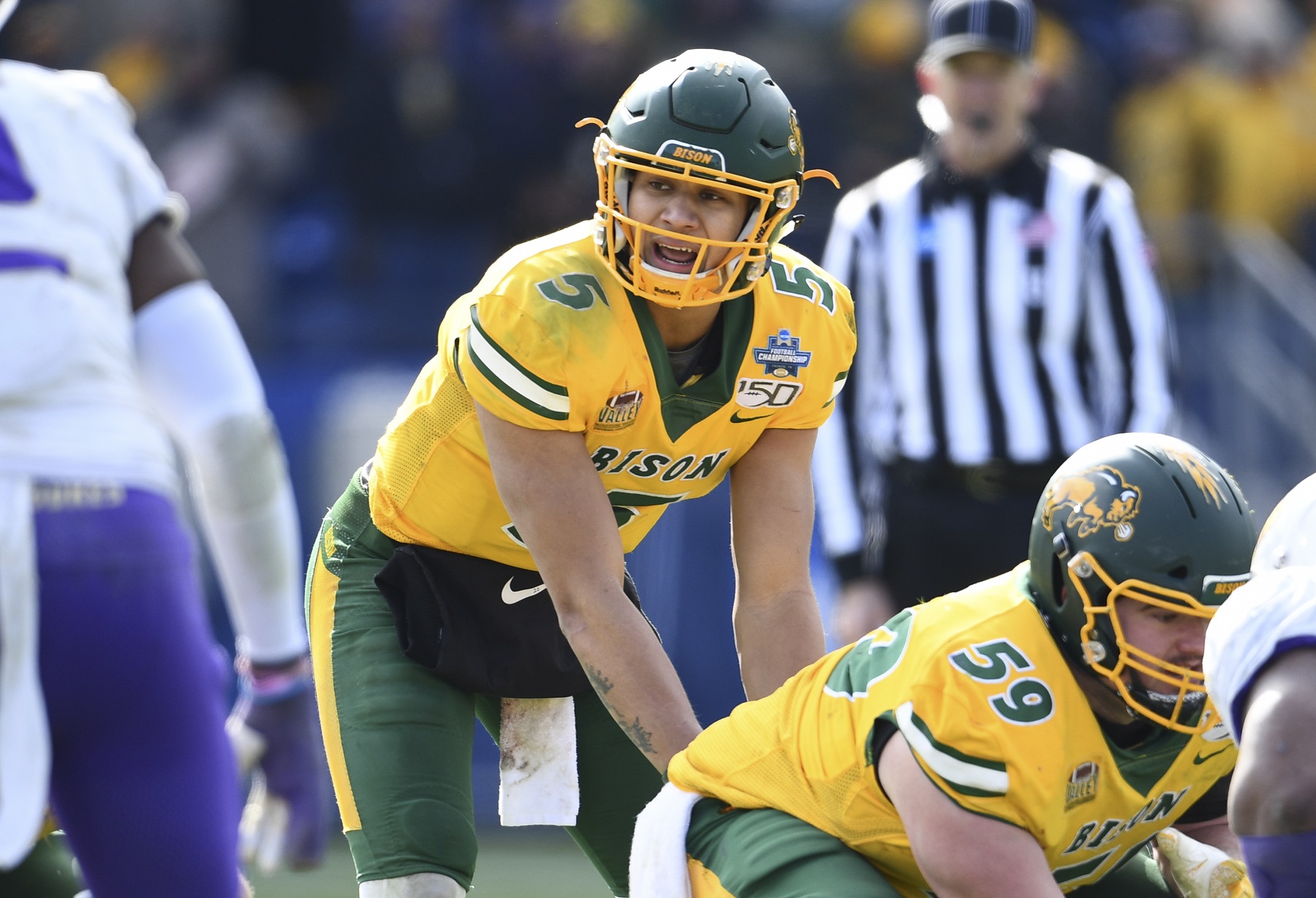 Trevor Lawrence Should Be Worried About Trey Lance in the 2021 NFL Draft
Trey Lance of North Dakota State could be the first quarterback selected in the 2021 NFL draft.
Carson Wentz looked good enough in the 2016 NFL draft that the Philadelphia Eagles gave up on Sam Bradford. The following year, Bradford merely led the league in completion percentage and compiled a 99.3 passer rating for the Minnesota Vikings. It's a story that will be mentioned frequently in the coming months in connection with Clemson star Trevor Lawrence and the lesser-known Trey Lance.
Lance is blowing up the notion that Lawrence is certain to be the first quarterback to go in the 2021 NFL draft. And he's doing so after a final college football season that lasted all of one game.
Trey Lance is heading to the 2021 NFL draft
North Dakota State quarterback Trey Lance posted on social media this week that he will give up two-plus seasons of remaining college eligibility to enter the 2021 NFL draft. In doing so, he becomes a candidate to be selected first overall just three years after Power 5 schools showed almost no interest in Lance as a quarterback prospect.
Lance did find a school that wanted him to play quarterback, but it turned out to be North Dakota State, a successful FCS program that launched Philadelphia Eagles QB Carson Wentz's career. In his first season as a starter there, Lance threw for 2,786 yards, 20 touchdowns, and no interceptions. He also ran for 1,100 yards and 14 scores.
Lance ended the year by earning MVP honors in the NCAA Division I Football Championship Game capping the 2019 season. For his work, he was selected the recipient of the Walter Payton Award and the Jerry Rice Award. He also garnered attention from NFL scouts who see him as a dual-threat prospect in the mold of Baltimore Ravens star Lamar Jackson.
Trey Lance played a one-game season
While college football's major conferences are tip-toeing gingerly through the pandemic minefield to try playing a fall season, FCS schools have shifted their season to the spring of 2021. That schedule will be at odds with the run-up to the traditional NFL draft timeline that sees top prospects attend the NFL Scouting Combine in February and make themselves available for pro day workouts in March.
North Dakota State quarterback Trey Lance is the biggest name to announce that he will skip the spring season to focus on his NFL future. He's doing so with only one full season under his belt. However, he did squeeze in one more game this fall. With FCS schools being allowed to play one game this semester, Lance threw for two touchdowns and ran for two more in a 39-28 victory vs. Central Arkansas on Oct. 3.
Weighed against his 16-game season as a redshirt freshman, the one-off game this fall means little for Lance's NFL future. But forgoing the spring season arguably puts him a leg up on Trevor Lawrence of Clemson and Justin Fields of Ohio State. Those two stars are frequently mentioned as being ahead of Lance in the NFL pecking order for QB prospects.
As such, their stock can't rise relative to Lance, but one or both could slip below the lesser-known player with a sub-par showing this fall.
This could cost Trevor Lawrence some money
Trevor Lawrence has been front-and-center among college quarterbacks since going 11-0 as a starter in 2018 to lead Clemson to a national title. His two-season stat line of 66 touchdown passes and 12 interceptions against major-college defenses has conspiracy theorists envisioning NFL teams tanking the 2020 season for a chance to draft him. At 6-foot-6 and 220 pounds, he looks like the prototypical pocket passer.
At 6-3 and 220 pounds, Trey Lance has the necessary size for an NFL quarterback. However, he possesses the sort of elusiveness that many traditional pocket passers lack, and that potentially makes him more desirable to coaches and general managers who see Lamar Jackson and, to a lesser degree, Patrick Mahomes extending plays and flustering defenses.
Lawrence is off to a flying start for Clemson this fall with 948 passing yards, seven touchdowns, and no interceptions through three games. However, every snap he takes exposes Lawrence to the risk of injury, which felled Tua Tagovailoa last season at Alabama.
If Lawrence is injured or his performance tails off, causing him to slip below Lance in the 2021 NFL draft, it could cost him several million dollars. This past spring, No. 1 pick Joe Burrow of LSU landed a $36 million deal with the Cincinnati Bengals. Going just four spots lower to the Miami Dolphins had the effect of costing Tagovailoa about $6 million.