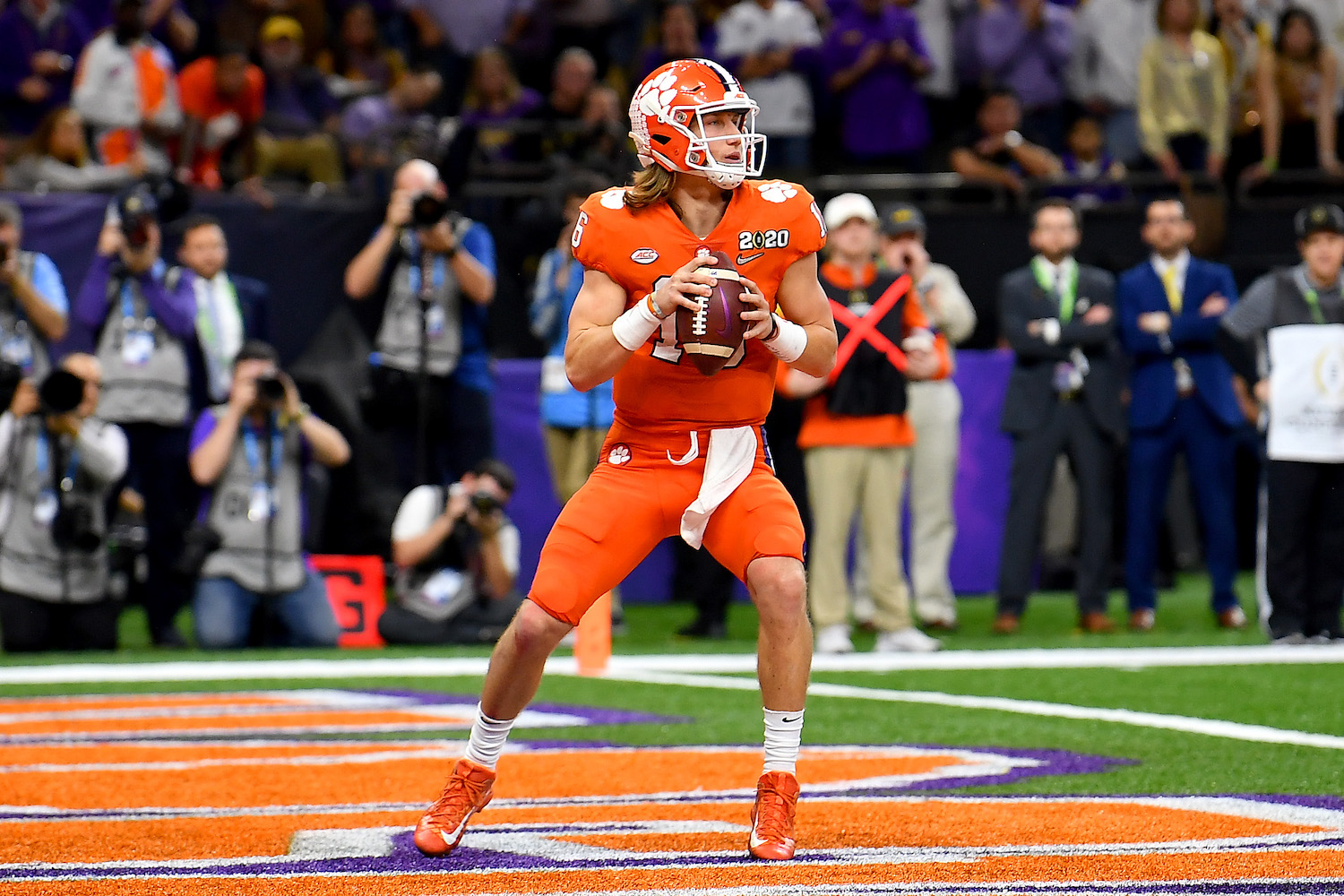 Trevor Lawrence Would Make $2.4 Million a Season According to New Report
The debate of paying college athletes has go on for years. In a new report, if they were paid, Clemson's Trevor Lawrence would make millions.
For years there's been talk of college athletes getting paid. In October 2019, that topic of discussion gained even more traction when the NCAA announced student-athletes would be able to profit off of their names and images in the future. A new independent report has come out and shows how much college athletes like Clemson quarterback Trevor Lawrence should be paid. And the amounts are staggering. 
Trevor Lawrence and athletes to get paid according to NCAA
Late in 2019, the NCAA stunned the sports world in an announcement that the organization was starting the process of allowing student-athletes to profit off their name, image, and likeness. The NCAA's shocking change in position came just a month after California Governor Gavin Newsom signed a bill that would allow players to sign lucrative endorsement deals and hire agents starting in 2023.
According to the NCAA's new plan, college athletes will be compensated for the use of their name, image, and likeness. The NCAA's three divisions must still craft their own rules and detail the specifics. 
The NCAA said it would gather feedback through April and asked each division to create any new rules beginning immediately, but no later than January 2021. 
Plans revealed on how college athletes can make money
In April 2020, the NCAA revealed in greater detail how it expects college athletes like Trevor Lawrence will get paid in the future. One thing made clear is it wouldn't be the college or university paying the athletes directly.
Instead, the organization said student-athletes would be allowed to receive compensation for third-party endorsements. That includes players profiting from social media, personal appearances, and through businesses they started.
"Throughout our efforts to enhance support for college athletes, the NCAA has relied upon considerable feedback from and the engagement of our members, including numerous student-athletes, from all three divisions," board chair Michael V. Drake, president of Ohio State University, said in a statement. "Allowing promotions and third-party endorsements is uncharted territory."
The NCAA said next steps include further consideration from Divisions I, II, and III, with all three expected to adopt the new rules early next year. The plan would then be in effect for the start of the 2021-22 academic school year.
Trevor Lawrence would make millions according to new report
While the NCAA's plans for student-athletes receiving payment is still more than a year away, the National Bureau of Economic Research produced a report that compared how much money college athletes today would earn relative to their professional counterparts. 
The report — Who Profits From Amateurism? Rent-Sharing in College Sports — only included college football and men's basketball players in the Power Five conferences. It concluded if using the same 50-50 revenue split between players and ownership in the NFL and NBA, football players on average would make $360,000 while basketball players would earn $500,000 per season. 
The authors divided the players' shares based on position and popularity. Star players would receive more than average, while a center in football would get far less. A star quarterback like Clemson University's Trevor Lawrence would earn an impressive $2.4 million annually. Starting wide receivers would make $1.3 million per season. Basketball salaries for a team's five best players would earn between $800,000 and $1.2 million a year.
While those numbers are impressive, they're not realistic. The NCAA has flatly stated the universities will not be directly paying the athletes in the future. That's not to say star athletes like Trevor Lawrence or others won't be able earn six figures or even higher through endorsement deals. In either case, college athletes getting paid is long overdue and it will be very interesting to see what those deals look like and how close they are to the latest report.