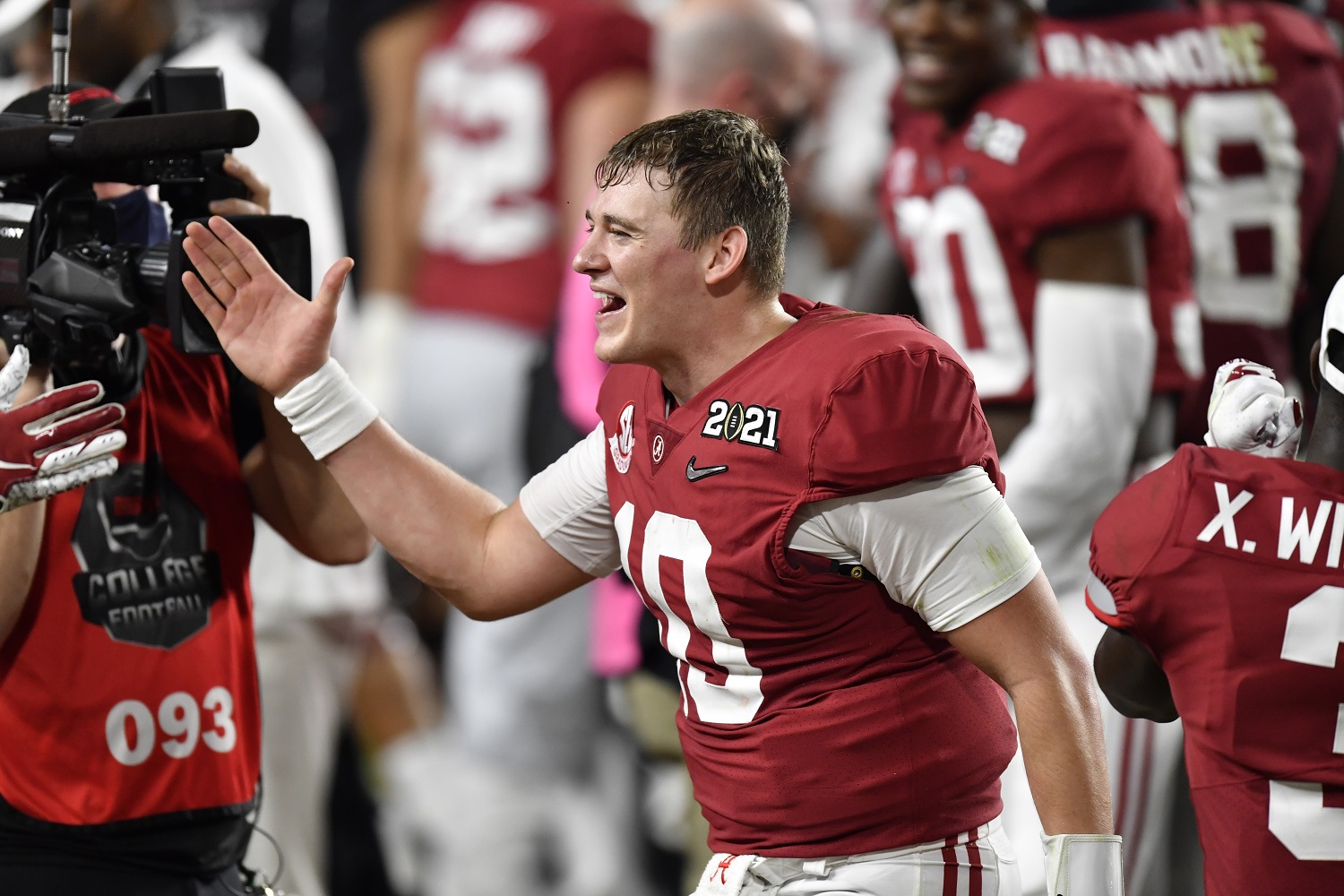 Mac Jones Is Being Haunted By Old Pictures Just Days Before the NFL Draft
Alabama quarterback Mac Jones is under scrutiny two weeks before the 2021 NFL draft over an old photo on social media.
NFL teams do not like surprises, especially from rookies they are about to hand multi-million-dollar contracts. Alabama Crimson Tide quarterback Mac Jones is in line for one of those big contracts. Speculation is focused on the San Francisco 49ers grabbing him with the third pick of the first round on April 29 or someone else selecting Jones shortly afterward.
However, a controversy about Jones surfaced on social media this week and has picked up steam. Whether it affects his draft status remains to be seen, but it's the sort of late development that has the potential to make a general manager gun shy.
Mac Jones is part of a touted draft class of QBs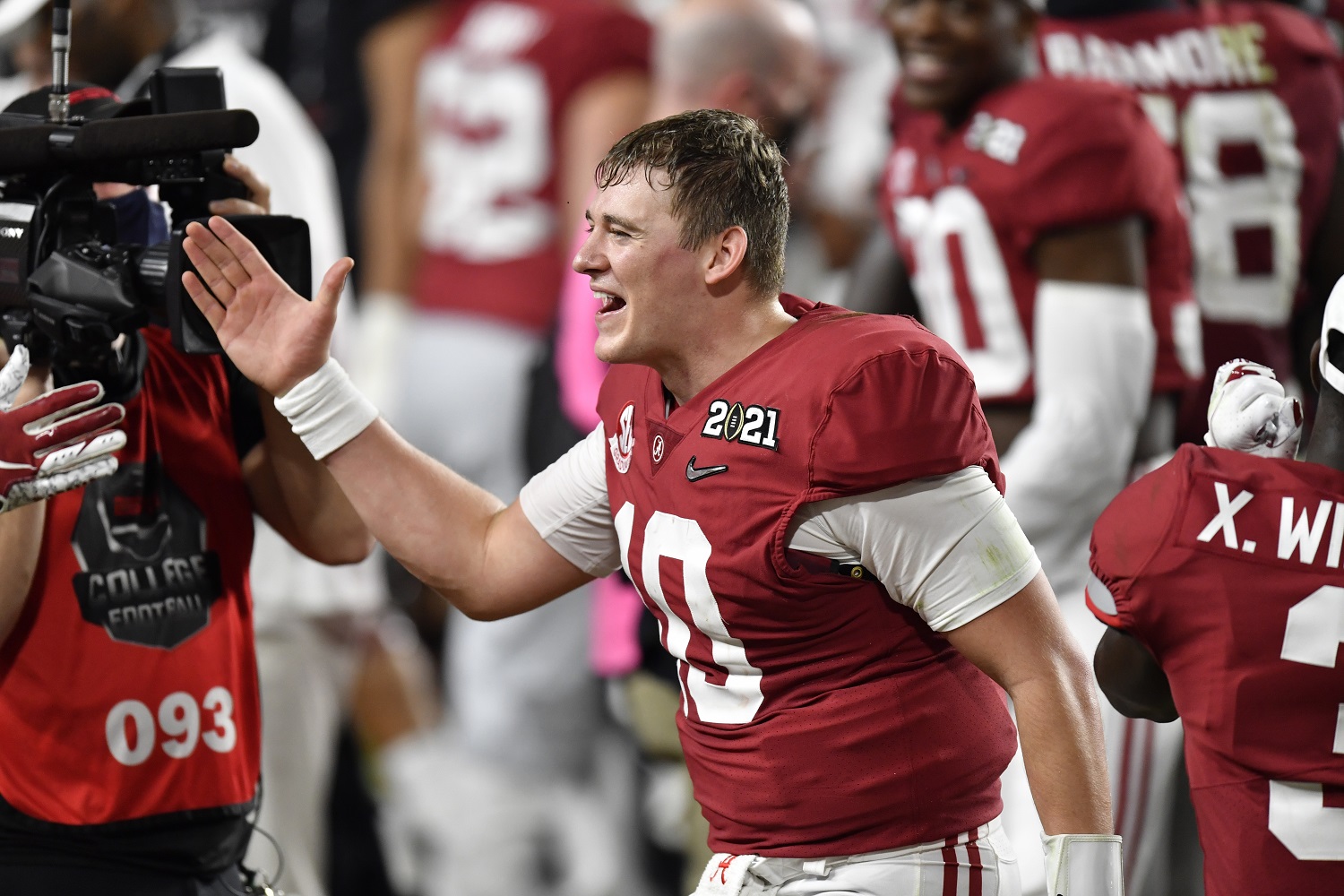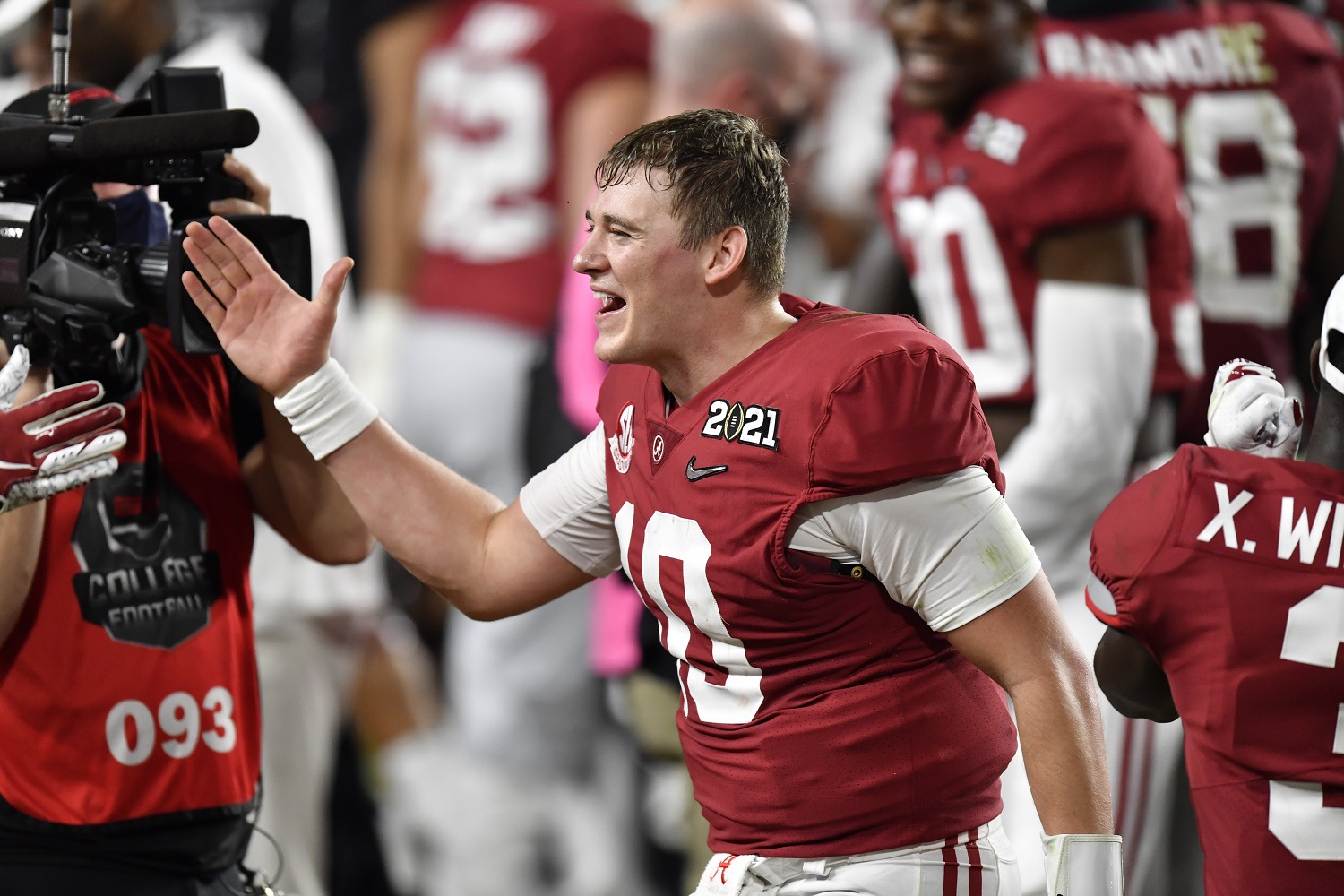 By many accounts since the end of the NFL and college FBS seasons, there are five quarterbacks now likely to go in the first round of the draft:
Trevor Lawrence of Clemson is widely assumed to be heading to the Jacksonville Jaguars as the No. 1 pick of the draft.
Zach Wilson of Brigham Young is expected to go to the New York Jets at No. 2.
Justin Fields of Ohio State.
Trey Lance of North Dakota State.
Mac Jones of Alabama.
Where the last three go, and in which order, will be the hottest single topic right up until the start of the draft. The San Francisco 49ers, Atlanta Falcons, New England Patriots, and Denver Broncos are most frequently mentioned as other teams likely to take a quarterback.
There is substantial money at stake. Spotrac.com projects Lawrence landing $34,746,325 from the Jaguars and Wilson pulling in $33,204,927 from the Jets if that's how the top of the draft plays out. The salary slots for the next three picks are all valued at $29 million or more, but the numbers start sliding in a hurry after that. There's a $10 million drop-off from the fifth to 10th positions.
Alabama's Mac Jones comes under fire
Given the money at stake in the NFL draft, the chatter this week about old pictures purported to be of Mac Jones, 22, could be costly to the quarterback who led Alabama to a national championship in January and threw for 41 touchdowns and 4,500 yards during the season.
According to Breitbart.com, photos that appear to be from a costume party eight years ago show Jones dressed as a caricature of then-president Barack Obama. The person in the photo is wearing a mask vaguely resembling the former president, dreadlocks, and a sash saying "Nobama."
The photos are believed to have come from the social media account of the quarterback's sister. The exaggerated costume and the anti-Obama sentiment have stirred up criticism on social media. Black Sports Online raised the idea that a double standard exists with respect to Ohio State's Justin Fields, who has been the subject of unflattering evaluations this month.
"What is interesting is Jones has DUIs and now this, but no one brings up his character, whereas Justin Fields has been talked about like he is the one that doesn't have high character and intelligence," Robert Littal wrote. "It is sad, but not surprising."
Joey Bosa experienced some of this in 2019
Alabama QB Mac Jones is hardly the first NFL prospect to experience blowback over teenager behavior turning up on social media. In 2019, the San Francisco 49ers made Nick Bosa the No. 2 NFL draft pick despite controversy over his online support of then-president Donald Trump and criticism of former NFL player Colin Kaepernick. He promised to keep his political stances private going forward.
The controversy didn't affect Bosa's draft status, and the former Ohio State great logged nine sacks as a rookie. He played only two games in 2020 before being lost for the season to an injury.
As for Mac Jones' status, however, the 2020 election raised hard feelings to new levels. Given that the draft is still nearly two weeks away, the quarterback could find himself caught up in a never-ending news cycle that could lead to teams being pressured to avoid him.
Like Sportscasting on Facebook. Follow us on Twitter @sportscasting19.