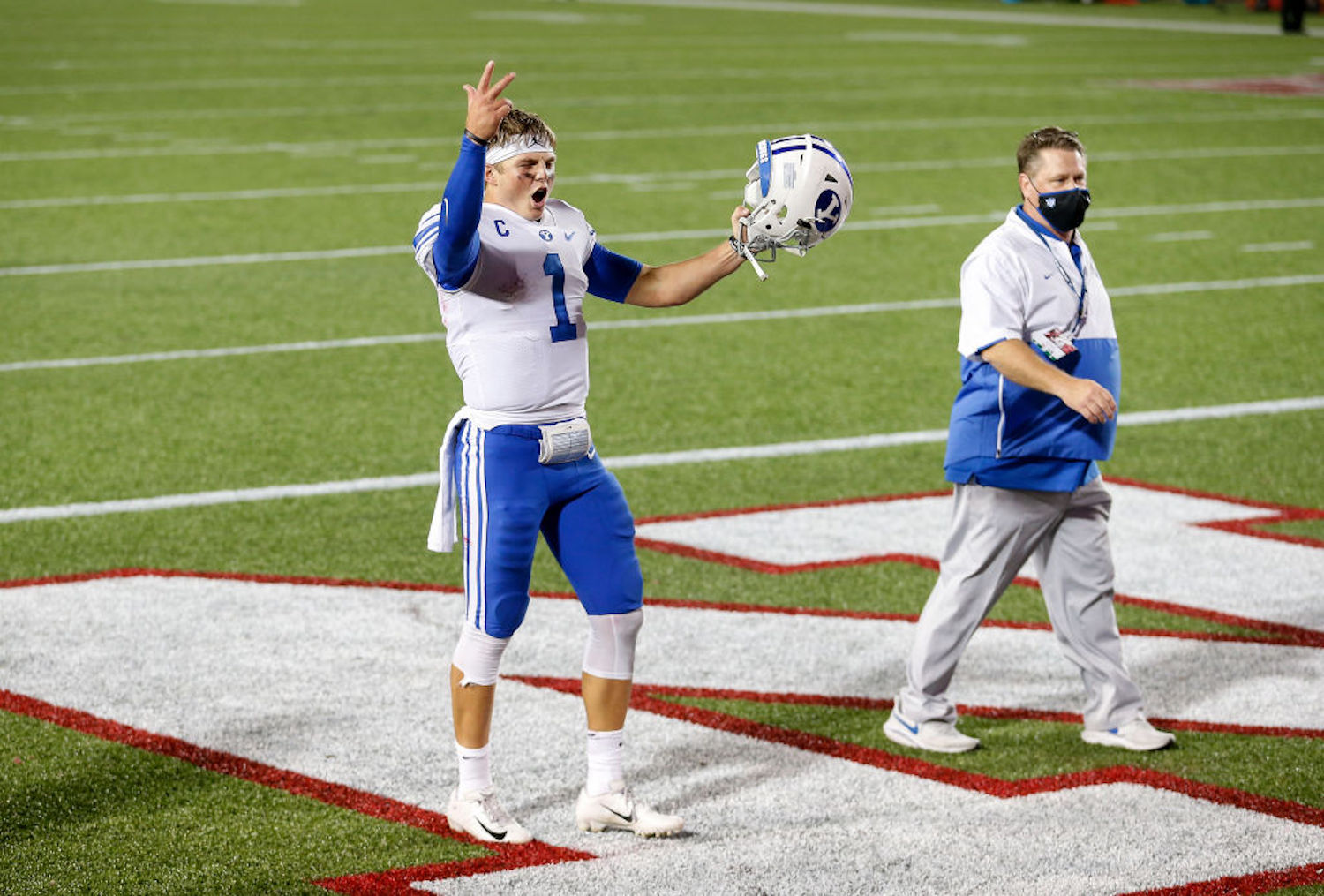 Meet Zach Wilson: The Darkhorse Heisman Candidate From BYU
Trevor Lawrence and Justin Fields dominate the headlines in the race to the 2020 Heisman Trophy, but it's time to start talking about BYU's Zach Wilson.
Clemson's Trevor Lawrence and Ohio State's Justin Fields have dominated the Heisman conversation since before the season even started, but there's a new name college football fans need to know in the race to be named the best player in the country — Zach Wilson.
Wilson is BYU's do-it-all quarterback who's been dominating opposing defenses all season. He has the Cougars undefeated at 6-0, and BYU fans are even thinking playoffs with four games left on the schedule.
So, who is Zach Wilson, and does he have a real chance to hoist the Heisman this year?
Who is Zach Wilson?
Zach Wilson wasn't a highly touted recruit coming out of high school. He was the No. 38 ranked quarterback in the 2018 class out of Corner Canyon High School in Draper, Utah. Wilson was just a three-star recruit out of high school, and he was ranked the No. 958 prospect in America.
As a high school senior, Wilson fielded offers from Boise State, Minnesota, Iowa, and others, but he decided to stay home and attend Brigham Young University. He played immediately as a true freshman, and he put up modest numbers in his first college season.
Wilson took a step back in year two, as he threw for just 11 touchdowns and nine interceptions as a sophomore. Things weren't trending in the right direction for the duel-threat QB, but he's come out on fire in year three.
Over the first six games in 2020, Wilson is completing 78.3% of his passes for 1,928 yards and 16 touchdowns. He only has one interception this season. Wilson has also been a prolific runner this season, as he's totaled 115 yards and six touchdowns on the ground.
Wilson has BYU thinking CFP
In a year filled with the unexpected, BYU making a run at the College Football Playoff wouldn't be so outlandish. Wilson has led the Cougars to a 6-0 record to start the season and the No. 11 spot in the AP Poll.
BYU has outscored its opponents by 186 points through six games this season, which is the second-best mark in the country behind only No. 1 Clemson. The Cougars will face their biggest test when they meet No. 25 Boise State on the blue turf next Friday. If BYU can handle the Broncos and make a statement in the process, a CFP appearance would move from a pipe dream to a real possibility.
Wilson has the Cougars playing some of the most dominant football in the country, and he's rightly soaring up the Heisman list with each passing week.
How realistic are Wilson's Heisman chances?
BYU hasn't had a Heisman winner since Ty Detmer won the award in 1990, but Wilson gives them a great chance to add another trophy to the collection this year.
Wilson ranks second in the nation in passing yards (1,928) and fifth in passing touchdowns (16) in 2020. The QB is fourth on ESPN's Heisman Watch after six games behind just Trevor Lawrence, Mac Jones, and Justin Fields. With Lawrence out after testing positive for COVID-19, it will only help Wilson's chances to strike the Heisman pose in 2020.
Wilson might not be on the same tier as those NFL prospects, but he's proven all season that he deserves to be sitting next to them when the Heisman Trophy is announced after the season.
All stats courtesy of Sports Reference