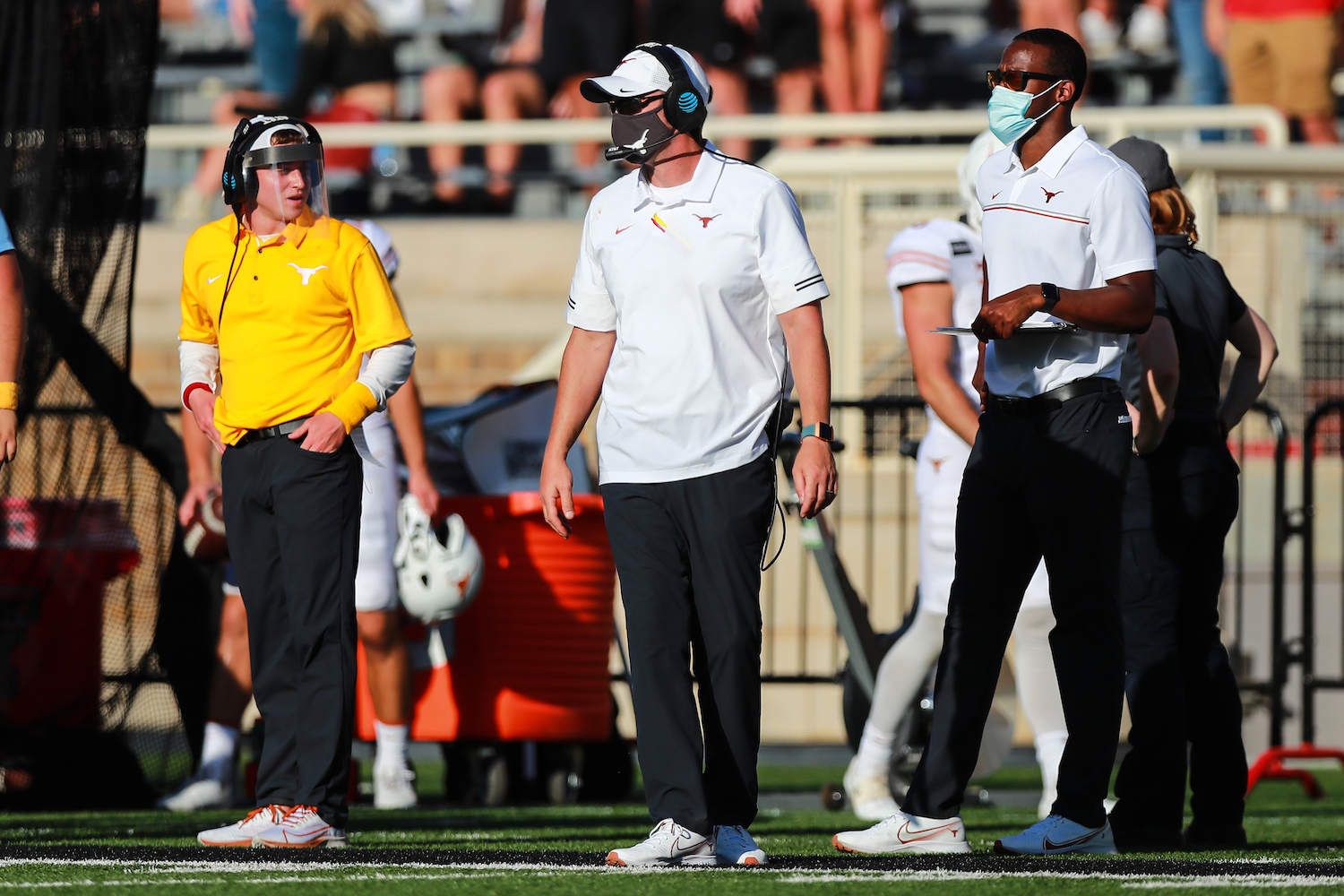 Tom Herman Just Got Terrible News and It's an Ominous Sign for His Future with the Texas Longhorns
Tom Herman has struggled as head coach of the Texas Longhorns during his four years in Austin. He just received horrible news that is an ominous sign for his future with the Longhorns.
In his fourth season in Austin, Tom Herman has compiled a lackluster 28-17 record with the Texas Longhorns. There's no denying Herman's hiring has been an improvement over previous head coach Charlie Strong, but everyone agrees that was a low bar.
The 2020 campaign for the Longhorns has been a microcosm of Herman's tenure in Austin—fleeting glimpses of greatness mixed in with an overwhelming dose of mistakes and mediocrity. That perception, however, which has largely been held by media and fans for some time, doesn't cost coaches jobs. Losing recruits does. And Tom Herman just lost a big one.     
Tom Herman and Texas Longhorns struggling
When the University of Texas hired Tom Herman in 2017, the Texas Longhorn faithful were ecstatic. It was what many considered to be a step in the right direction. Many suggested Herman was groomed for this moment. After serving as a grad assistant in Austin under Mack Brown in the late 1990s, Herman worked his way up the ranks as a coordinator in multiple high-profile jobs before landing his only head job coaching at Houston, where he led the Cougars to a 22-4 record over two seasons.
After going 7-6 his first season in Austin, Herman guided the Longhorns to a 10-4 record in 2018, which included a win over Oklahoma, a Big 12 title game appearance, which they lost to the same Sooners team, and a victory over No. 6-ranked Georgia in the Sugar Bowl.  
Tom Herman's Longhorns squad has gone 11-7 since that night in New Orleans, including this season's 3-2 start, which includes victories over UTEP, Texas Tech, and Baylor, and a pair of conference losses to TCU and Oklahoma, Herman's fourth defeat in five tries to the rivals from north of the Red River. 
It's been groundhog day in Austin for the last several years as the Texas Longhorns continue to commit the same errors on a repeated basis. Missed tackles, turnovers, and plenty of yellow flags have become the norm for the Horns and their mistake-riddled undisciplined style of play. 
Tom Herman and Texas Longhorns have problems in locker room
Earlier this month, the Texas Longhorns fanbase got a double-dose of reality, and it wasn't pretty. In the biggest matchup of the season against the rival Oklahoma Sooners, who limped into the Cotton Bowl with a surprising 1-2 record, Tom Herman's squad came out flat. 
Texas finished the contest with more than 100 yards in penalties and three turnovers. Despite those miscues, the Longhorns hung around long enough to make it interesting, eventually losing in four overtimes, 53-45. However, what happened immediately after the game was alarming and quite revealing to the limited number of burnt orange-clad fans in the stands and those watching on television.
Quarterback Sam Ehlinger was the lone player who remained on the field for the singing of "The Eyes of Texas." The rest of the players and most of the coaching staff had returned to the locker room. It was a sign of a locker room divided. That singular moment will be a lasting image years from now, and one assigned directly to Tom Herman and his tenure in Austin.
Longhorns lose No. 1 prospect in 2022 class
Texas Longhorns fans have never been shy in sharing their thoughts on coaches when they believe the team is underperforming. The media has also criticized Tom Herman and his team this season for the consistently inconsistent play, which has now spanned over multiple seasons. Despite all of the much-deserved criticism, those two things don't typically result in coaches losing their jobs. 
However, Herman and his future with the Texas Longhorns took a massive hit on Wednesday night when No. 1 quarterback of the 2022 class, Quinn Ewers out of Texas high school powerhouse Southlake Carroll, decommitted from the school. Ewers is high on the wish list of many schools, including powerhouses Ohio State and Alabama.
Ewers is the biggest recruiting loss for Tom Herman this season, but he's likely not the last. If his decision leads to an exodus of other recruits, and possibly current players entering the transfer portal, it wouldn't be surprising to see the university buy out Herman's contract, which as of Dec. 1 stands at $15.4 million. It's a high price to pay, but for the Texas Longhorns, it's the price of doing business. 
Like Sportscasting on Facebook. Follow us on Twitter @sportscasting19.