ESPN NFL Analyst Pencils in the New York Jets for 2022 No. 1 Overall Pick
The 2021 NFL draft is over, which means almost a full year until draft fever overtakes NFL fans again. Even though there is an entire season and offseason to go before organizations start selecting college players again, it is never too early to start thinking about next year's draft.
That is precisely what one ESPN analyst and his band of number crunchers are doing. Aaron Schatz and his Football Outsiders have already put together its top 10 picks projections for the 2022 draft.
These statistic-based models don't look too kindly on teams that drafted QBs in the last two drafts, especially the New York Jets.
Aaron Schatz is the Bill James of football analytics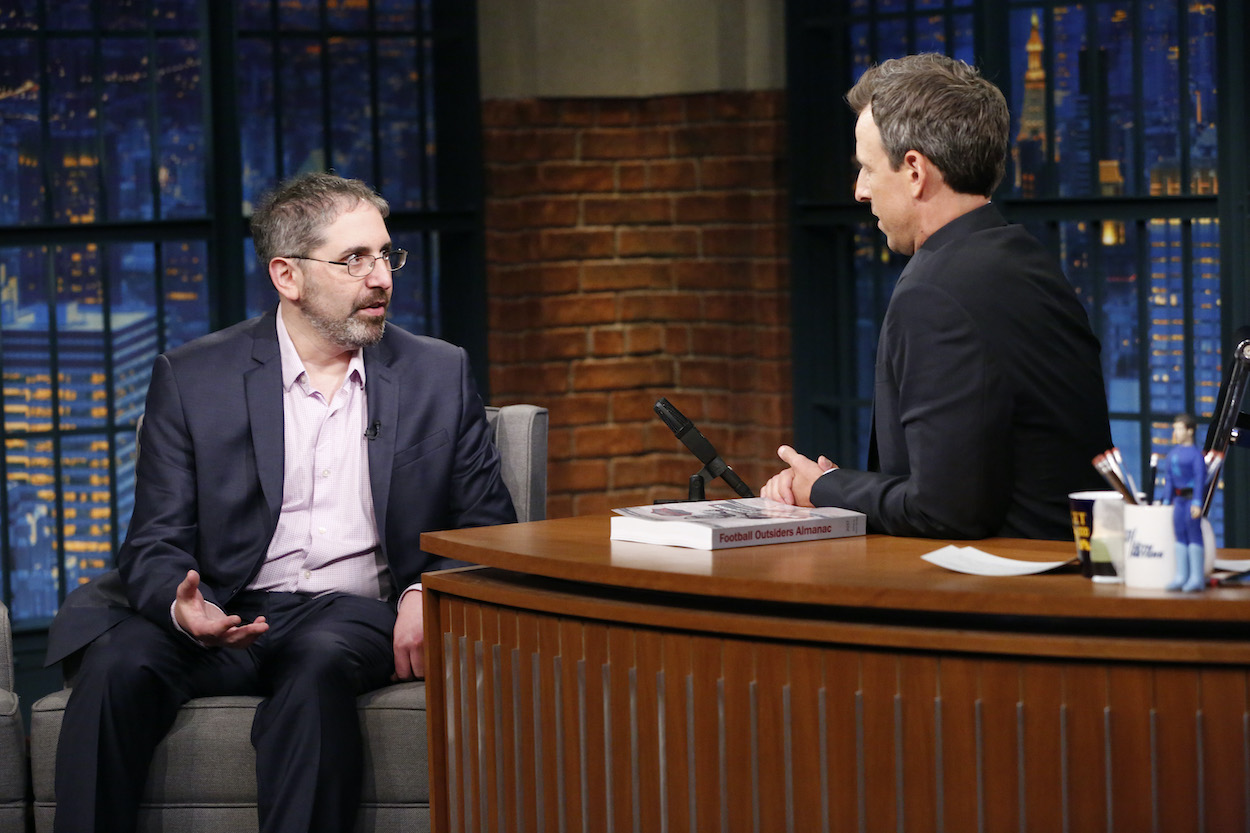 Gut feelings and superficial ideas about building an NFL team are not how these analysts come up with their 2022 top 10 projections. Schatz and his team at Football Outsiders use statistics and analytics to make their picks.  
Football as a sport has long-eschewed numbers and advanced stats. This is attributed to the collective belief that the game is too complicated and involves too many people to boil down to numbers alone. With the success of teams using analytics in baseball and basketball, many football teams are starting to use it more too, though.
Schatz is a pioneer in the football statistics community. Media outlets have given the analyst haughty titles and made the comparison another numbers trailblazer. As his Football Outsiders bio says:
Compared to Bill James by The New York Times Magazine, and attributed as a "founding father of football analytics" by The Ringer, AARON SCHATZ is the creator and Editor-in-Chief of Football Outsiders. Aaron is also the creator of most of the original statistical methods (DVOA, DYAR) used in NFL analysis on this website.
As any sports fan knows, numbers never tell 100% of the story, nor are they always accurately predictive. That said, basing projections on numbers instead of hunches does often make a more compelling case.  
Schatz projects the New York Jets will have the No. 1 overall pick in 2022
According to Schatz's ESPN projections, Football Outsiders have the team that used the No. 2 pick in the 2021 draft on BYU QB Zach Wilson selecting at No. 1 in 2022. The analyst sites the New York Jets 25th place average finish in DVOA (which measures offensive success adjusted for defenses played) the last three years.
The Jets' place at the bottom of the league is about their defense as well. Schatz notes that as successful as new head coach Robert Saleh's defensive scheme was for the San Francisco 49ers, teams with new schemes historically perform below league average in the first year.
The piece does offer some hope for Jets fans. In the "best-case scenario" section, Schatz notes that you never know what could happen with a rookie QB. If Wilson is the real deal and Saleh is better than the average new NFL head coach, there is always a chance that New York could go from worst to first.
However, he does couch that point by saying it would also take a rash of Buffalo Bills injuries to give them a chance at the AFC East in 2021.
Football Outsiders 2022 top 10 picks projections includes several teams that have selected QBs in the first round recently
It is not just Wilson and the Jets that the Football Outsiders are down on. The predictive models have several teams that have picked a QB high in the last two drafts finishing in the bottom 10 of the league.
The Cincinnati Bengals, Chicago Bears, Philadelphia Eagles, Los Angeles Chargers, and Jacksonville Jaguars come in at Nos. 5, 6, 8, 9, and 10. This is in spite of the fact that these teams recently drafted talented QB prospects Joe Burrow, Justin Fields, Jalen Hurts, Justin Herbert, and Trevor Lawrence, respectively.
Each team has its own issues with schedules, injuries, new coaches, or bad defenses, but the lack of offensive weapons around these young quarterbacks is a common thread.
This is a big issue for these teams because, although it may seem that quarterbacks alone can pull an organization out of the doldrums, that generally isn't the case. When you look at the most successful young QBs of the past three years, most have very talented supporting casts.
Buffalo's Josh Allen, Patrick Mahomes of the Kansas City Chiefs, and Baker Mayfield with the Cleveland Browns all have superior playmakers on the offensive side of the ball. Only Lamar Jackson has been able to reach this upper echelon without an incredibly high level of talent around him.
Although 2021 may not be the year these teams with new QBs breakthrough, most of these franchises, even the Jets, can hold on to hope that their QB will buck the statistics and lead them back to the promised land.
Like Sportscasting on Facebook. Follow us on Twitter @sportscasting19