Should New Quarterback Zach Wilson Worry That Robert Saleh Forgot He Was the New York Jets Head Coach?
When a team has a first-time head coach, there are bound to be screw-ups from time to time. Recently, the new man in charge of the New York Jets, Robert Saleh, told a story about an incident at practice when he forgot he wasn't the defensive coordinator but the head coach.
As a rookie quarterback in the NFL, you need strong, confident leadership around you to succeed. So, should this Saleh story be concerning for new Jets quarterback, Zach Wilson?
The New York Jets have a first-year head coach and a rookie quarterback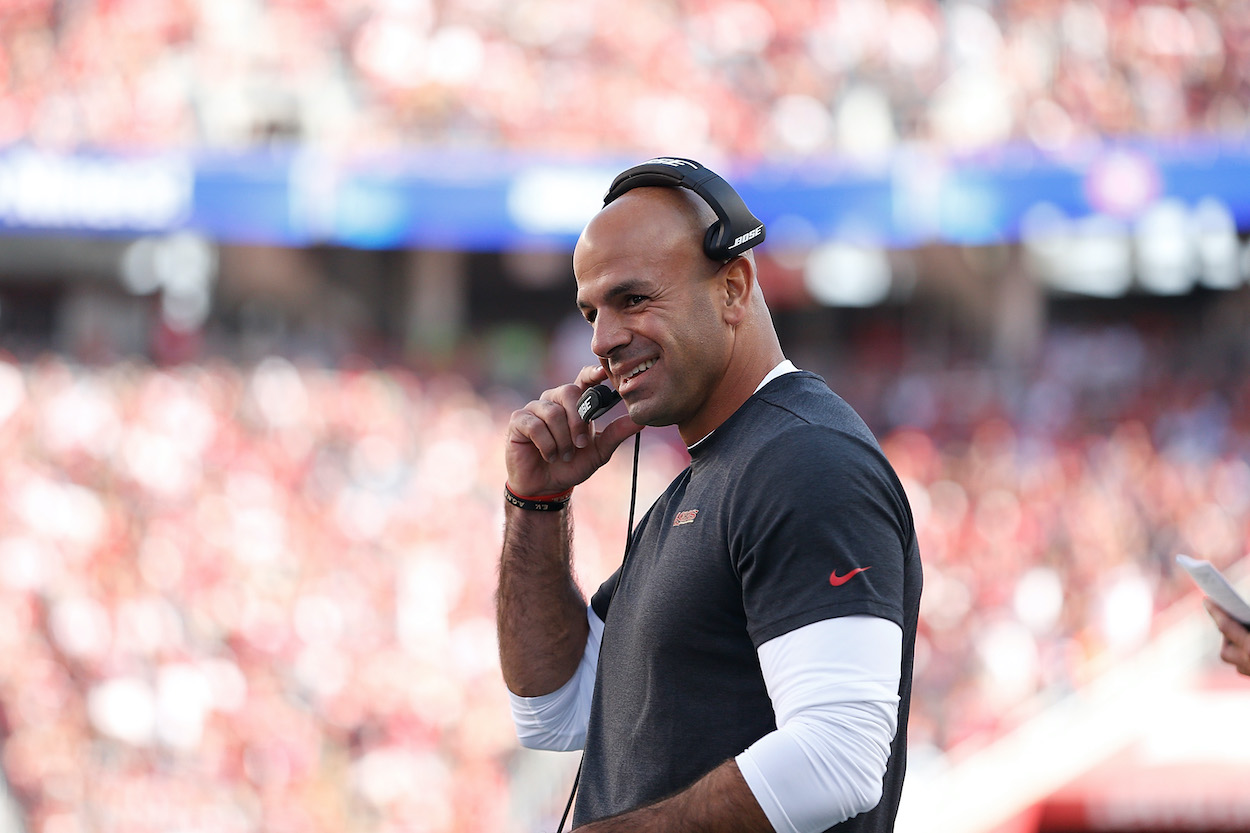 When you fire your coach, hire a new one, and draft a (hopefully) franchise quarterback an No. 2 in the NFL draft, that is what you call a hard reset. That is precisely what the New York Jets did in 2021.
The Jets got rid of head coach Adam Gase, who guided the franchise to a 9-23 record in two seasons. To replace Gase, the Jets hired the highly sought-after San Francisco 49ers defensive coordinator, Saleh.
The team took an even bolder step in the 2021 NFL draft and picked Wilson out of BYU, just three years removed from picking Sam Darnold at No. 3 overall. These moves mean that Saleh and Wilson will be inextricably linked in Jets history.  
They will also be the two of the four people in the organization – along with owner Woody Johnson and GM Joe Douglas – who will be most credited or blamed for the Jets' success or failure over the next three to five years.
Robert Saleh said he once forgot he was the head coach at practice
Saleh pursued a career in banking after playing college football at Northern Michigan. When his brother narrowly escaped from the World Trade Center on 9/11, Saleh left his corporate path to pursue his dream of coaching football.
On his path to becoming the first Muslin head coach in NFL history, Saleh had several jobs in the college ranks. He also held different defensive coaching staff positions with the Houston Texans, Seattle Seahawks, and Jacksonville Jaguars before becoming the 49ers defensive coordinator.
In 2020, his 49ers defense was one of the best in the league. The team finished in the top five of total points allowed, yards per play, and total passing yards. His success, combined with his enthusiasm, humility, and player endorsements, got him the lead job in New York.
Recently, Saleh shared an endearing story about his first day at Jets rookie minicamp. "The horn blew for practice to be over," Saleh said, as reported by Sporting News. "I started to take my normal spot behind the huddle to listen to the head coach speak, and I was like, 'Oh shoot! That's me!'"
Saleh should be more worried about Wilson than Wilson is about Saleh
A story like the one Saleh told about forgetting he is now the man in charge is funny and shouldn't be taken negatively in any way. If anything, Wilson should be happy he's playing for a coach who can be self-deprecating. This can be an unfamiliar trait to many head coaches. 
If there is a weak link in this chain, it may be Wilson. While the quarterback put up gaudy numbers at BYU, it wasn't against the best competition. Wilson's Cougars only played two ranked teams, Boise State and Coastal Carolina, and no teams from Power 5 conferences in his junior year. 
While the verdict is still out on Wilson, with the quality support of a coach like Saleh, the whole thing might just work out after all. And, if it does, maybe these two can be the ones to lead the Jets to heights unseen since Rex Ryan and Mark Sanchez or, even better, Weeb Ewbank and Joe Namath.  
All stats courtesy of Pro Football Reference and Sports Reference