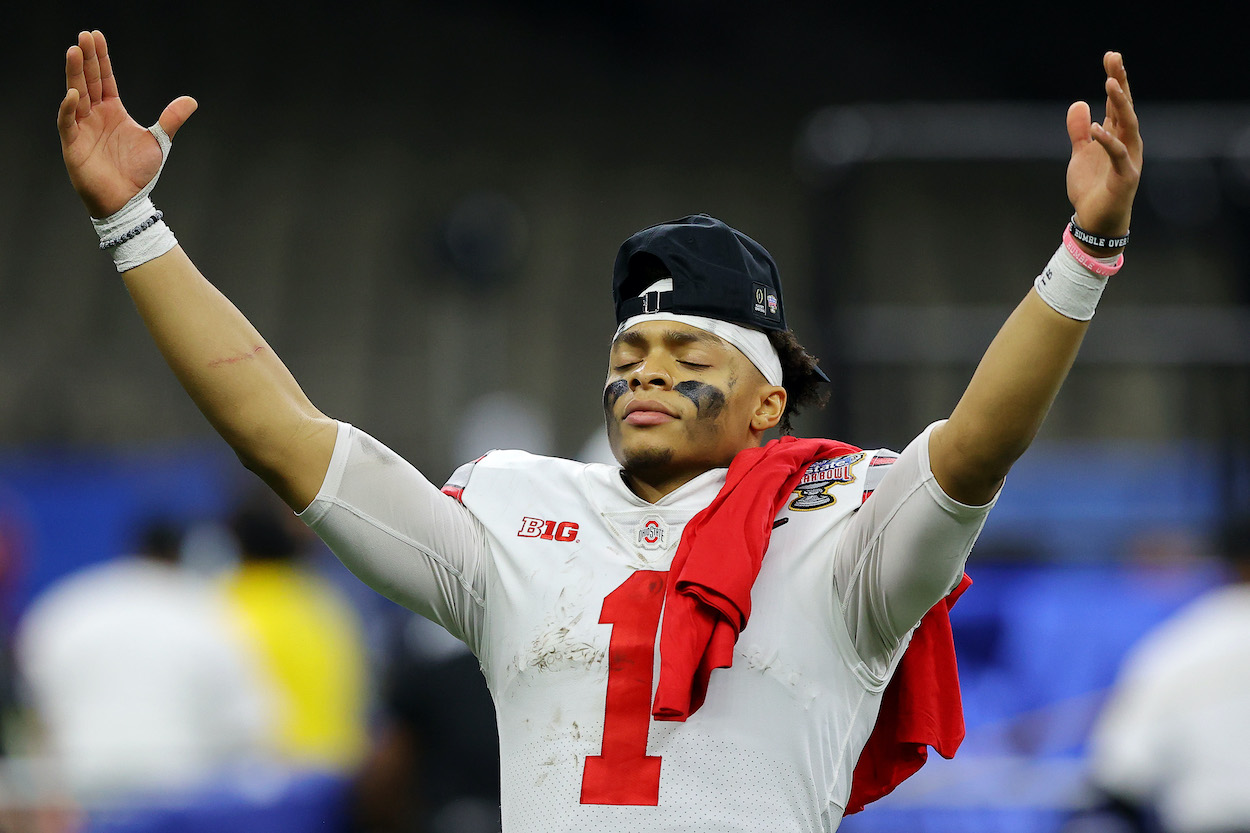 Justin Fields' Contract Guarantees Him $18.8 Million as He Becomes 1st Top 2021 Draft QB to Sign
Justin Fields' contract with the Chicago Bears guarantees him $18.8 million with an $11 million signing bonus. It also makes him the first top QB from the 2021 NFL draft to sign with his new team, but it doesn't guarantee he'll be the Bears' Week 1 starter at quarterback with Andy Dalton in the mix.
New Chicago Bears quarterback Justin Fields' contract is a big deal, literally and figuratively.
It pays the Ohio State product a whole lot of money, and it locks in their potential franchise-changing star so the team can move past the contract drama and focus on football.
The Bears' front office made a risky move on draft night, but signing their first-round QB quicker than the Jacksonville Jaguars, New York Jets, San Francisco 49ers, and New England Patriots signed theirs, shows that maybe they're learning their lessons after all.
Justin Fields' contract is the first signed by a 2021 NFL draft first-round QB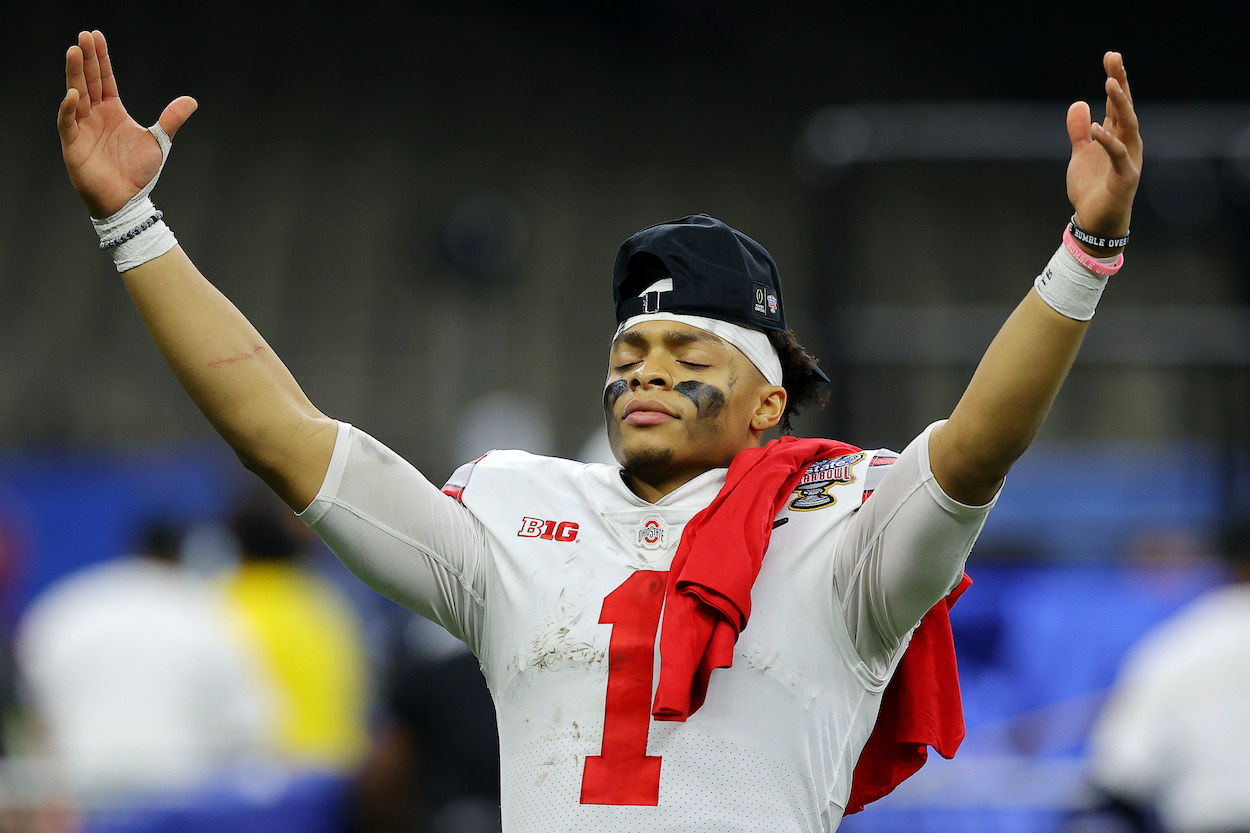 Fields is one of five QBs picked in the first round of the 2021 NFL draft. Trevor Lawrence, Zach Wilson, and Trey Lance went Nos. 1, 2, and 3 to the Jaguars, Jets, and 49ers, respectively. The Bears traded up to pick No. 11 for Fields, and the Patriots stayed put at No. 15 and got Mac Jones.
When reports came out Thursday, June 10, that Fields' contract was a done deal, he became the first QB of the 2021 class to sign on the dotted line for his new organization.
While there is no indication that Lawrence, Wilson, Lance, or Jones don't intend to sign their rookie deal soon, Chicago wrapping up the Justin Fields contract situation quickly should give Bears fans peace of mind.  
Rookie holdouts were much more common before the NFL's 2011 Collective Bargaining Agreement which changed the rookie salary structure. However, even with the new rules in place, top picks will occasionally hold out.
In 2016, No. 3 overall pick Joey Bosa held out as the then-San Diego Chargers tried to put language in the contract delaying his signing bonus and possibly offsetting his fifth-year option, according to Fox Sports. Denver Broncos QB Drew Lock also held out briefly in 2019 as his agent unsuccessfully negotiated for a "quarterback premium."
Justin Fields' contract includes a huge signing bonus
Field's new contract just made him a wealthy young man. The contract is a fully guaranteed four-year deal worth $18,871,952. It includes an $11,085,056 signing bonus, per NFL Network reporter Tom Pelissero.
The Bears will pay out the bonus in four $2.77 million increments, and Fields' base salary will increase each year of the contract from $660,000 to $1.5 million, $2.3 million, and $3.2 million in 2024.
Like with all first-round draft picks, the Bears will be able to pick up Fields' fifth-year option if they want. According to Over the Cap, the basic fifth-year option is "calculated from the average of the third to 25th highest salaries at [a player's] position over the past five seasons."
If Fields or any player hits certain playing time thresholds, that formula changes to the average of the third to 20th highest salaries. When a player makes a Pro Bowl, it goes to the third to fifth highest salaries at their position. A player who makes multiple Pro Bowls in their first four seasons gets whatever the position's franchise tag number is.
Justin Fields' contract doesn't guarantee he's the Chicago Bears Week 1 starter
Spending a high draft pick on a QB (plus trading even more picks like the Bears did) and signing him to a big contract is a serious commitment from a franchise. Chicago will need to get Fields on the field as soon as possible to see what they have.
There's a good chance that won't be in Week 1, though.
Before making the move for Fields, the Bears added veteran signal-caller Andy Dalton to a roster that already includes Nick Foles. While reports out of Bears OTAs have Fields outperforming Dalton, head coach Matt Nagy has been firm in saying, "Andy is the starter," according to Pro Football Talk.
While Dalton might be the "starter" for now, this might not be true for long.
The fact that Chicago quickly took care of the Fields' contract situation before it became the "Justin Fields' contract saga" shows their commitment to the QB. It won't be a surprise to see him get first-team reps sooner rather than later.
All contract figures courtesy of spotrac