Eli Manning Takes the Giants' Fan Fest Debacle Into His Own Hands With Hilarious Response
Eli Manning is a two-time Super Bowl champion and an all-time New York Giant great. The former Ole Miss QB retired following the 2019 season but didn't move far from his New Jersey home. He took a job in the franchise's front office because, as his Twitter bio says, "Once a Giant, Always a Giant, Only a Giant."
As part of his business development and fan engagement role, Manning is becoming more of a social media presence. In this capacity, he helped announce the Giants 2021 Fan Fest. Following an overwhelming response for tickets, the QB took to Twitter to humorously tell fans he was working to fix the resulting online ticketing glitches.  
Eli Manning helped announce the 2021 New York Giants Fan Fest
Like several NFL fan bases, Giants fans haven't seen their team in person since the end of the 2019 season. They won't get the chance to attend training camp this year either. The team announced that this year's camp, held at their on-site facility, the Quest Diagnostics Training Center in East Rutherford, New Jersey, will not be open to the public.
Although fans won't be able to attend training camp day-to-day, the Giants are doing something special for their diehard supporters. On August 11, the team announced they would hold a free Fan Fest.
More specifically, Manning announced this is a Twitter video.
In a corny but fun skit, Manning strolls by a marketing meeting, and the crew asks him if he has any ideas for something special to do for Giants fans during training camp. Seemingly off the top of his head, the 16-year Giants signal-caller rattled off all the features of Fan Fest.
These "ideas' include a night-time practice, games for the family, Giants alumni meet-and-greets, and the team's announcers calling the action. And of course, "Fireworks. Lots and lots of fireworks."
Giants Fan Fest generated so much interest it reached max capacity in 24-hours 
The announcement elicited an incredibly enthusiastic response from Giants fans. The volume of requests for the free tickets was so enormous, it overwhelmed the team's website. The Giants Twitter account announced that they were working on resolving the technical issues and that fans wouldn't get shut out.
That's when Manning stepped in with the perfect Eli-esque response. "I am working on this. Part of my new job requirements," Manning tweeted before adding the punchline, "Control/Alt/Delete is not working so far."
The Fan Fest ticketing site eventually got back on track, but fans who didn't get in early did get shut out. Twenty-four and a half hours after the initial Manning video dropped, the events 50,000 free tickets were all claimed.
Manning is an all-time NY Giant great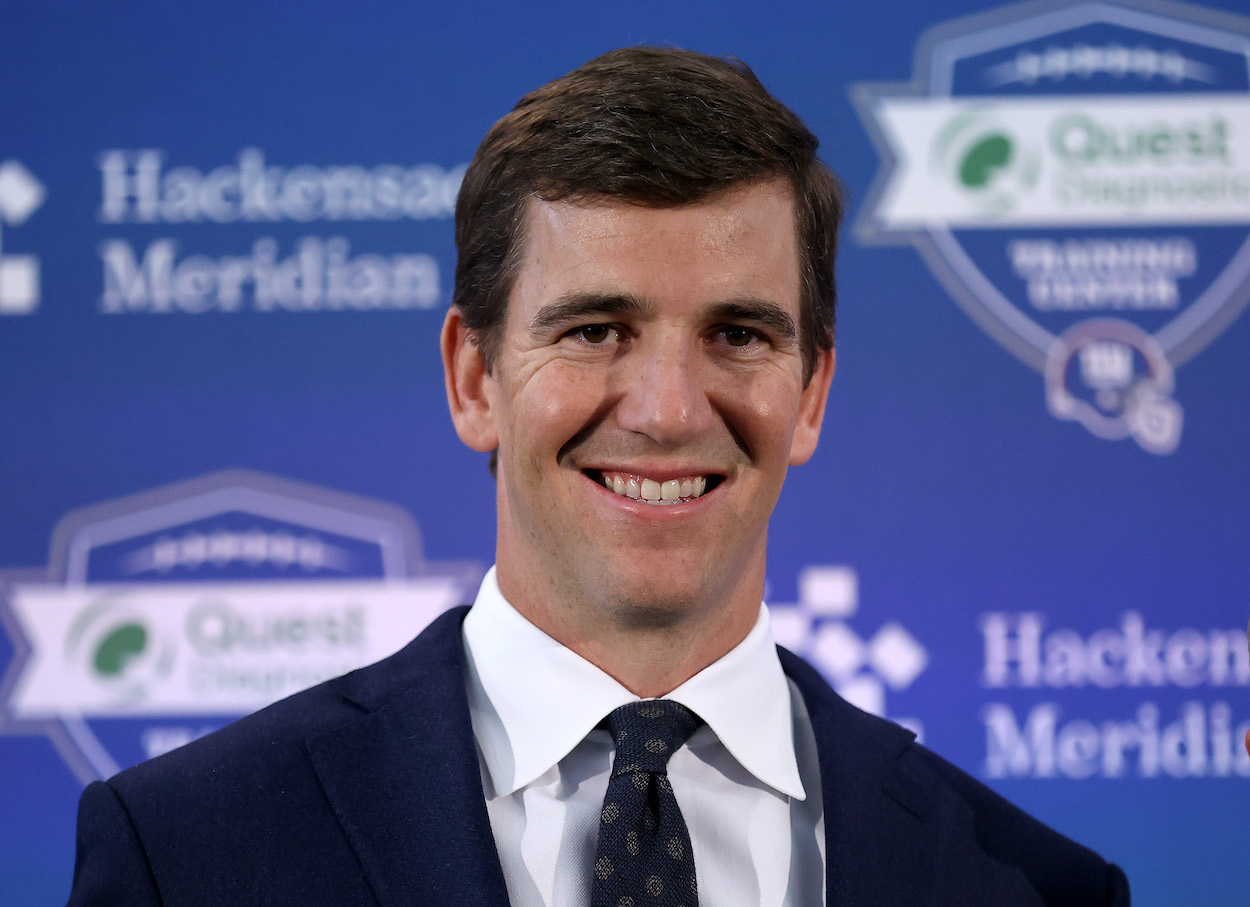 Following the success of his older brother in the NFL and his gaudy stats at Ole Miss, Manning was the consensus No. 1 pick in the star-studded 2004 NFL draft.
The then-lowly San Diego Chargers controlled the pick, though, and Manning and his family did not want him playing for the franchise. A draft-day trade moved Manning to New York for picks that ended up becoming three Pro Bowlers: kicker Nate Kaeding, pass-rusher Shawne Merriman, and quarterback Philip Rivers.
Manning would go on to play for the Giants for 16 seasons, longer than any other QB in franchise history. His 57,023 passing yards are the most in Giants history, as are his 366 passing touchdowns, 37 game-winning drives, and 27 fourth-quarter comebacks. He also played more games (236) for the franchise than any other Giant.
The most significant moments in Manning's career came in 2007 and 2011 when he led the team to two of its four Super Bowl wins. The QB from the famous family beat the vaunted New England Patriots both times. In 2007, he stopped Bill Belichick and Tom Brady's quest for an undefeated season by completing the iconic "Helmet Catch" to David Tyree.
All stats courtesy of Pro Football Reference