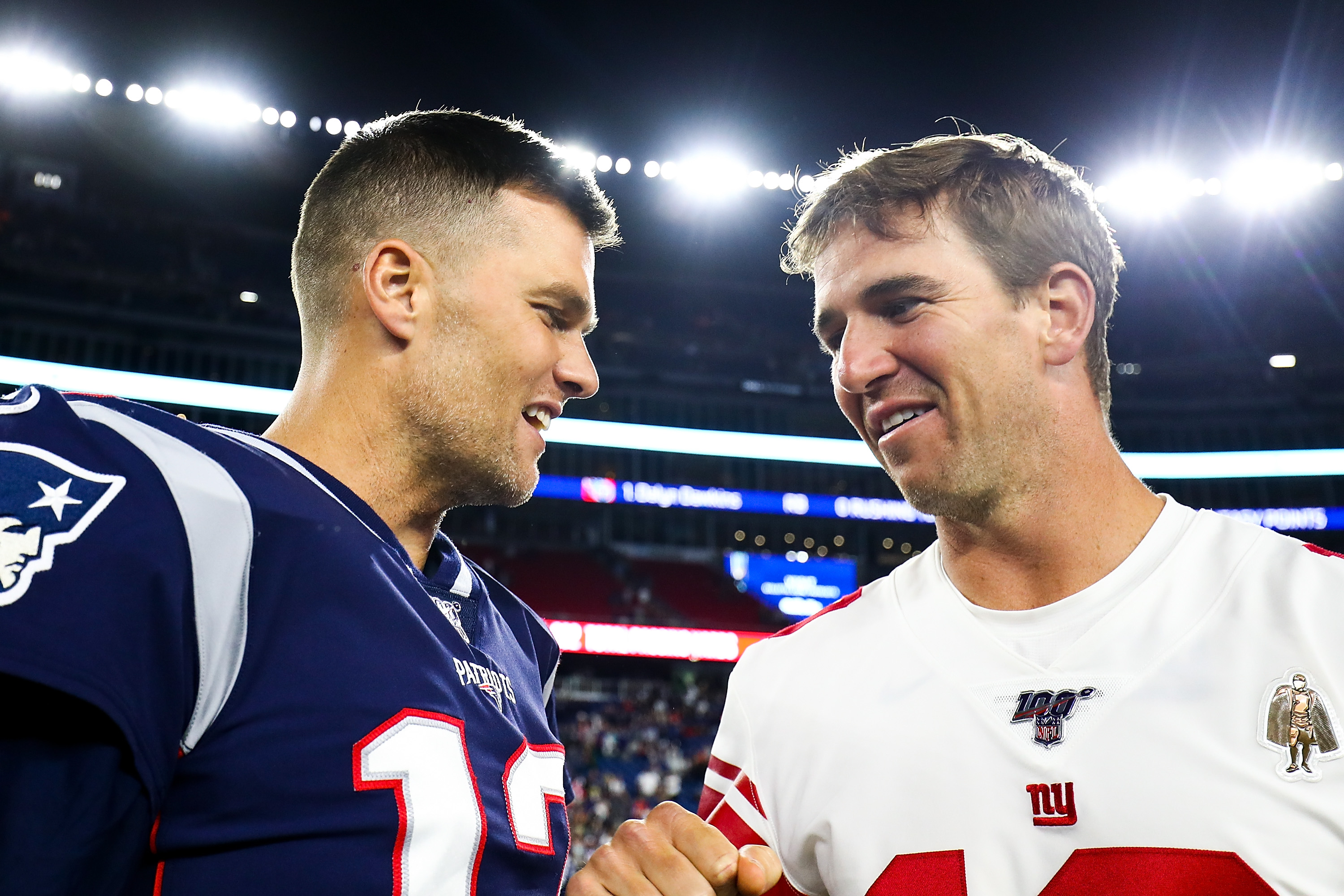 How Tom Brady Will Finally Get a Big Win Over Eli Manning This Season
After losing to Eli Manning twice in the Super Bowl, Tom Brady will finally get a big win over the former Giants quarterback this year.
Tom Brady and Eli Manning will forever be linked. The two famously met in the Super Bowl on two separate occasions with Manning's New York Giants dramatically beating TB12's New England Patriots both times.
Over the last 20 years, Tom Brady hasn't amassed a losing record against many other quarterbacks but Eli Manning is one of those guys. Brady lost three of five meetings against Manning but will pick up a win over his retired rival in his first season with the Tampa Bay Buccaneers.
But how is that possible?
Eli Manning twice defeated Tom Brady in the Super Bowl
Tom Brady and Eli Manning first met in the Super Bowl following the Patriots' undefeated regular season in 2007. The Pats got to 18-0 following two wins in the playoffs and were looking to become the first team since the famed 1972 Miami Dolphins to cap an undefeated season with a Super Bowl victory. But Eli and the Giants spoiled the party.
Down 14-10 with 2:39 left in the game, Eli led the Giants on an 83-yard drive to pull ahead, the drive's most memorable play obviously being the famous "Helmet Catch" by David Tyree. With 35 seconds remaining, Manning found Plaxico Burress for a 13-yard touchdown to give the Giants a 17-14 lead, which would be the final score.
Four years and two days later, Tom Brady went looking for revenge at Super Bowl 46. But Manning again played spoiler, coming from behind yet again to lead the Giants to victory. Down 17-15 in the fourth quarter, Eli again led a big drive to win the game, this time marching New York 88 yards down the field to seal the victory. On the first play of the drive, Manning connected with Mario Manningham for 38 yards along the sideline, a pass that drew comparisons to his dramatic pass to Tyree four years earlier.
The drive ended with the Pats letting the Giants score to give Tom Brady more time to engineer a comeback but Brady couldn't get it done. New York win the game by a score of 21-17 and Eli Manning collected his second Super Bowl MVP trophy.
The Twitter banter between the two has been hysterical
Eli Manning was never on Twitter during his playing days but finally jumped on the popular social media site after retiring from the NFL following the 2019 season. And who was right there to welcome him? None other than Tom Brady, who made reference to their history together with a phenomenal tweet.
Just fantastic stuff there. But, as he did on the football field, Eli Manning got the best of Tom Brady by tweeting out the "Tiger King" parody that was made about the two ahead of this year's ESPY Awards on ESPN. Take a look.
Just beautiful. While Brady won't ever again be able to attempt to beat his nemesis on the football field, he'll at least be able to say that he made more money.
Tom Brady will pass Eli Manning on the all-time NFL earnings list this year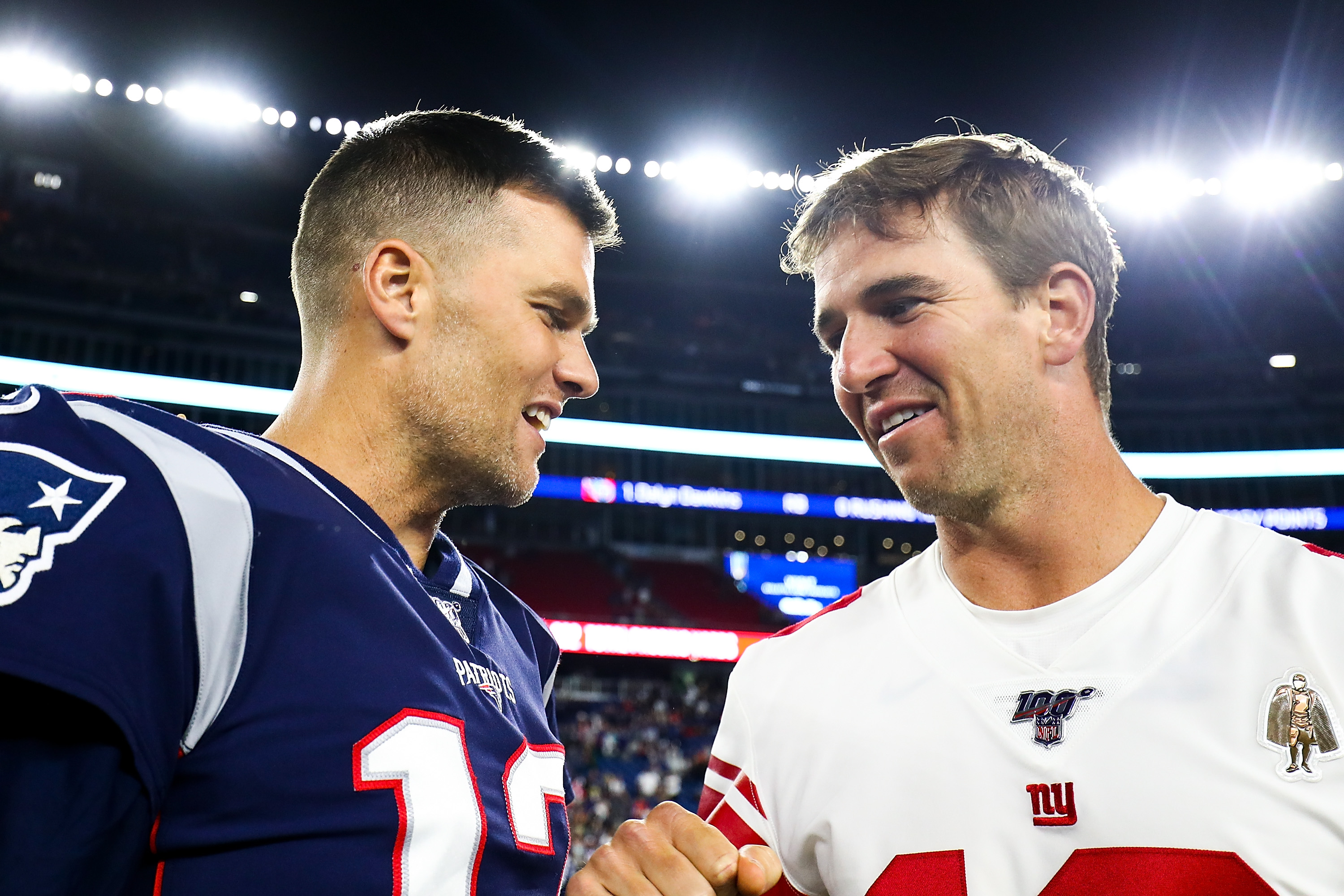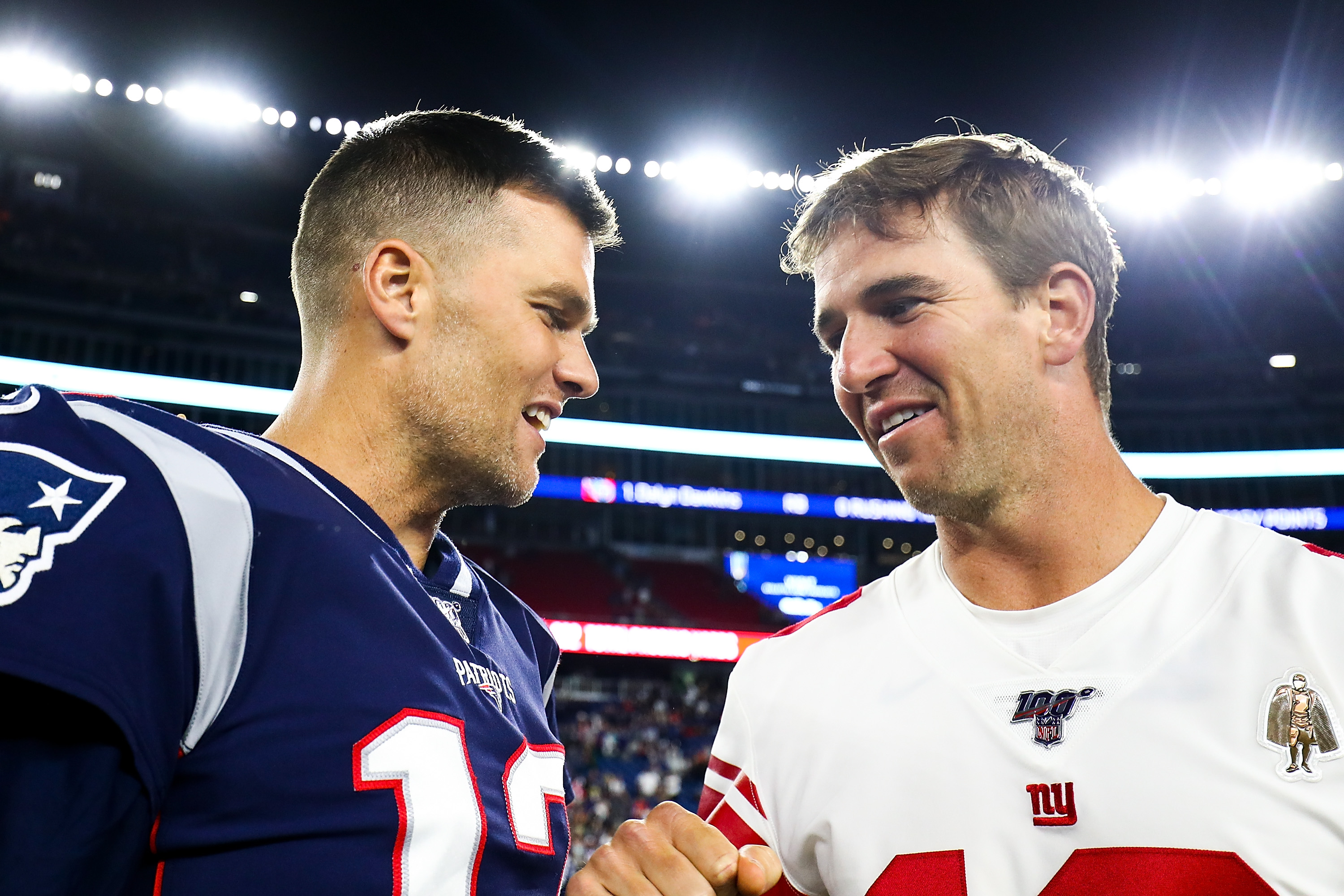 When Eli Manning retired in January, he left the game as the highest-paid player in NFL history. According to Business Insider, Manning made $252.3 million in 16 seasons, beating his older brother, Peyton Manning, by $3.6 million, who made $248.7 million in 17 years.
In fourth place on the all-time NFL earnings list following the 2019 season was Tom Brady, who made $235.2 million in 20 years with the Patriots, a number that obviously could have been much higher had he not given New England so many discounts over the years.
Back in March, Brady signed a two-year/$50 million deal with the Tampa Bay Buccaneers, all of which is guaranteed. So once he collects his $25 million for 2020, he'll surpass both Manning brothers on the career earnings list. However, he still won't be the highest-paid player in history once that two-year deal runs out. That honor will go to another quarterback that has the same 3-2 record against him.
So while Tom Brady will never be able to say that he beat Eli Manning in the Super Bowl, he can at least know that he earned more money, a different kind of victory but a victory nonetheless. There's also the matter of those six Super Bowls that he did win, something he can hold over any player in NFL history.