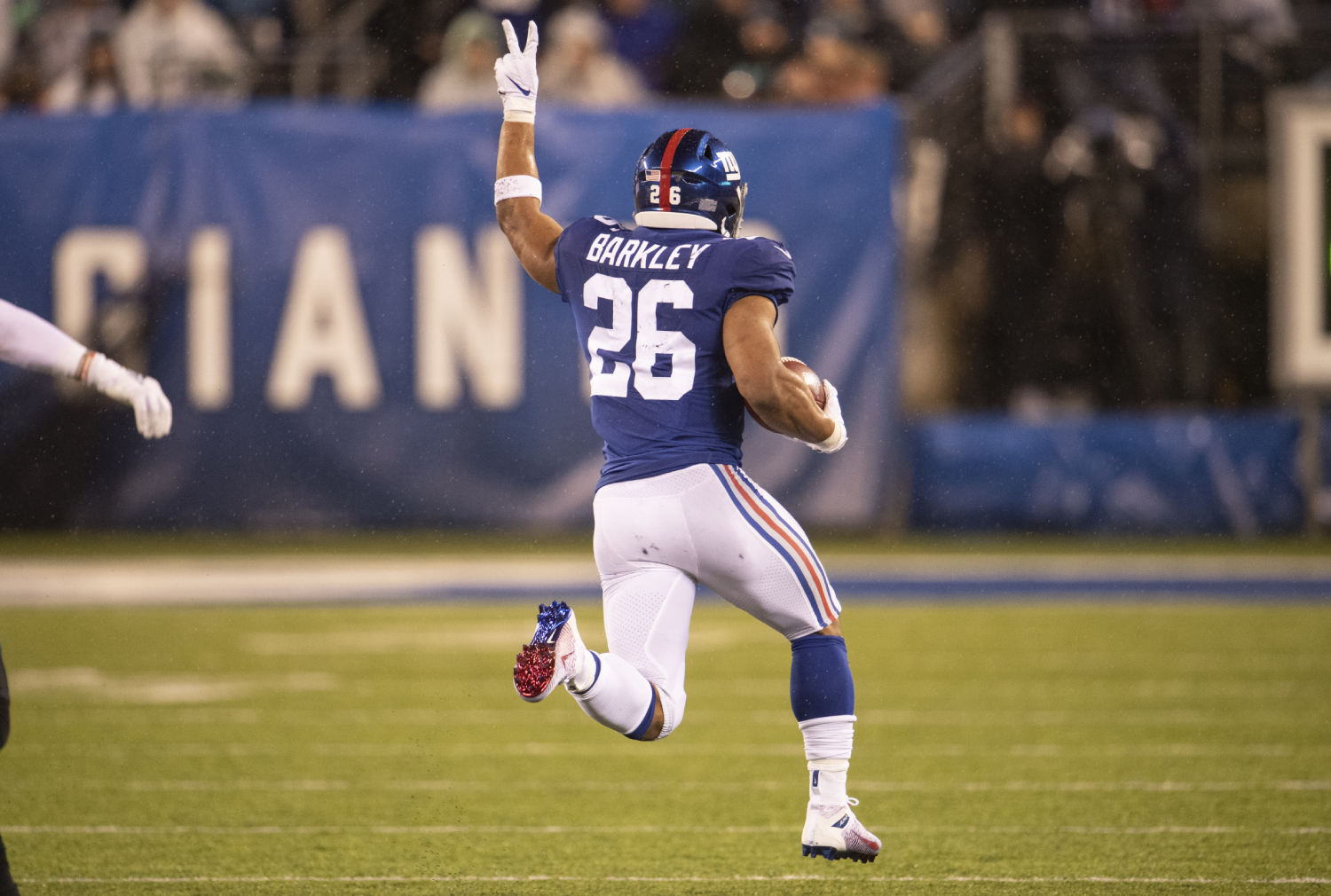 Saquon Barkley's Madden Rating Has New York Giants Fans in an Uproar
New York Giants' workhorse running back Saquon Barkley's Madden rating has raised some football fans' eyebrows.
Football is a numbers game and the numbers that don't really matter are the ones causing a stir. Running back ratings for the upcoming Madden NFL 21 were released Tuesday and those numbers are making their rounds through social media. New York Giants running back Saquon Barkley's rating doesn't even put him among the top four running backs in the league. That doesn't sit well with many Giants fans.
Saquon Barkley's football career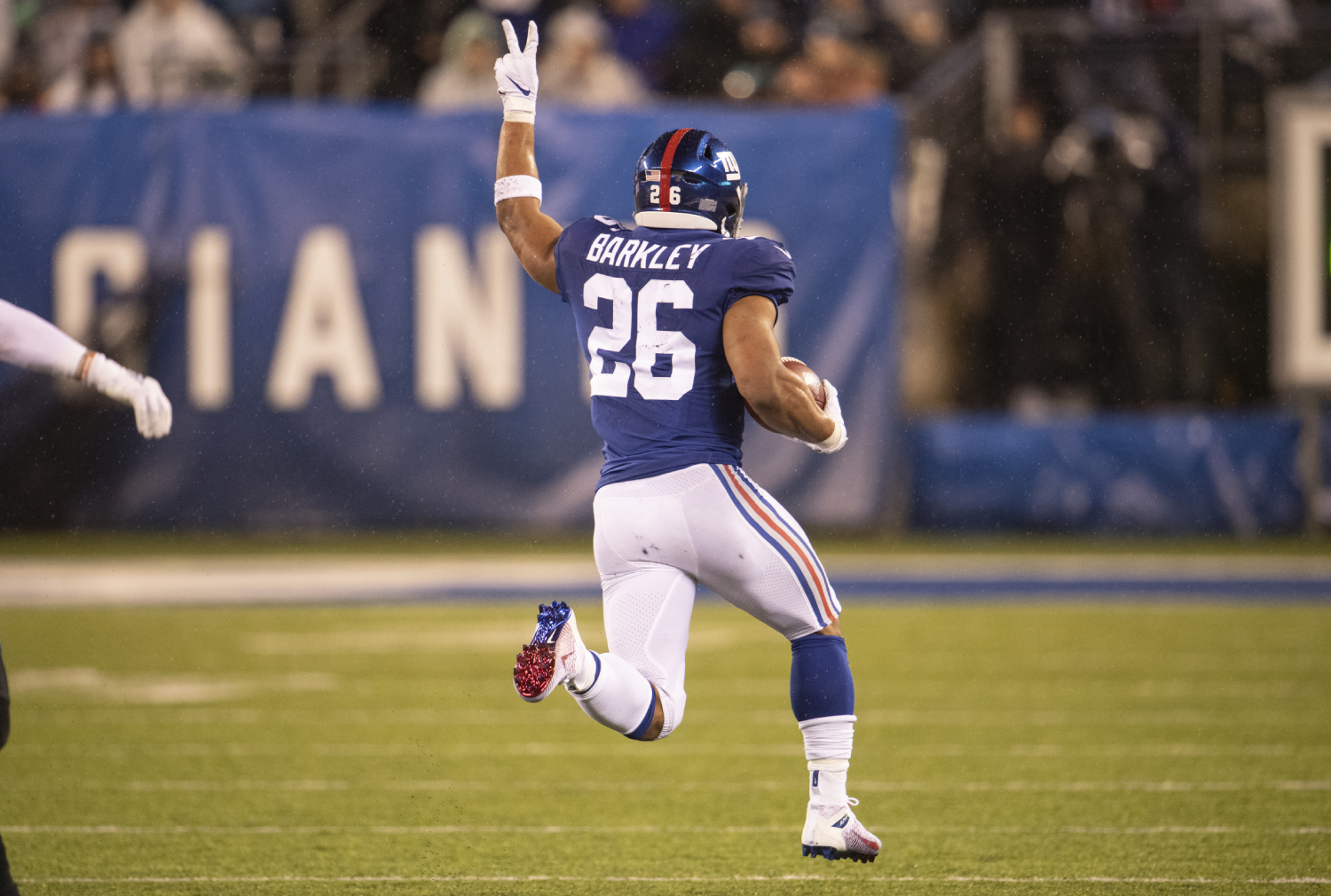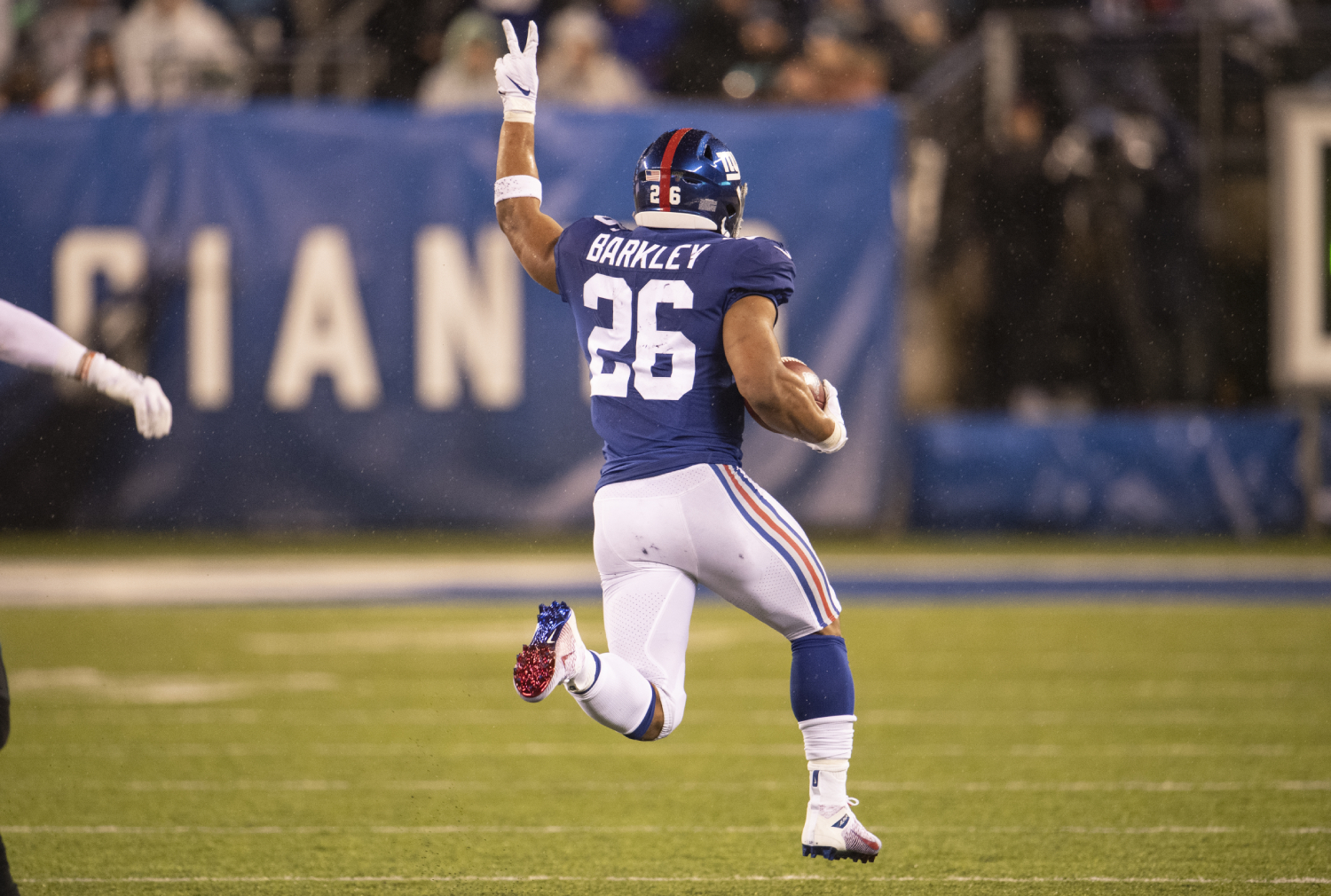 Saquon Barkley made a name for himself during his three years as a running back at Penn State. He rushed for better than 1,000 yards in each season with his best season coming in his sophomore year when he rushed for 1,496 yards and 18 touchdowns in 14 games. Barkley also had 402 receiving yards with four touchdowns. He followed that up with a very strong junior year, putting up very similar numbers (18 rushing TDs, 1,271 in 13 games).
Barkley went on to become the second overall pick in the 2018 NFL draft by the New York Giants. In his first season in the NFL, Barkley made quite an impact. He started all 16 games and rushed for 1,307 yards and 11 touchdowns. He was also involved heavily in the passing game with 91 catches for 721 yards and four touchdown receptions. Barkley made the Pro Bowl in his rookie year and was named the AP Rookie of the Year.
Last year, Barkley missed three games due to injury but still managed to produce another 1,000-yard rushing season. He finished with 1,003 rushing yards and six touchdowns. Through the air, he caught 52 passes for 438 yards and a pair of scores.
Madden releases ratings
On Tuesday, the Madden NFL 21 ratings were released. As always, there was debate about the numbers. When it came to running backs, Saquon Barkley of the New York Giants seemed to get a raw deal. Barkley was given a rating of 91 which ranked him fifth among other NFL running backs.
Barkley's 91 rating tied him with Dalvin Cook of the Minnesota Vikings. Rated above Barkley and Cook were Christian McCaffrey (99), Derrick Henry (93), Nick Chubb (92), and Ezekiel Elliott (92). Originally, there were Twitter reports that Barkley was an 89 which would've had seven running backs rated higher, including Cook, Aaron Jones, and Joe Mixon.
Being rated a 91 is nothing to be ashamed of. It's a high rating, but it's tough to see five running backs in the NFL rated equally or higher than Barkley. There wasn't a whole lot more Barkley could do in his first two seasons in the NFL as the Giants' workhorse.
Giants fans unhappy with Barkley's rating
New York Giants fans weren't overly happy when Madden NFL 21 came out with its running back ratings Tuesday. Despite a 91, Saquon Barkley was behind four other backs and tied with another, causing Giants fans to vent on social media. Twitter posts ranged anywhere from calling the Barkley ratings ridiculous to saying anyone involved in the rating process should be fired.
It also wasn't just Giants fans complaining about Barkley's rating. Former Detroit Lions running back Barry Sanders also posted a message on Twitter criticizing a portion of Barkley's score. Sanders complained about Barkley's 'ball carrier vision' score of 78 which has him tied for 86th place. Sanders tweeted, "you have to think about giving my man more credit on carrier vision. Hard to think of 85 men who see it better."
Barkley hasn't responded to the rating, although he retweeted Sanders' post.