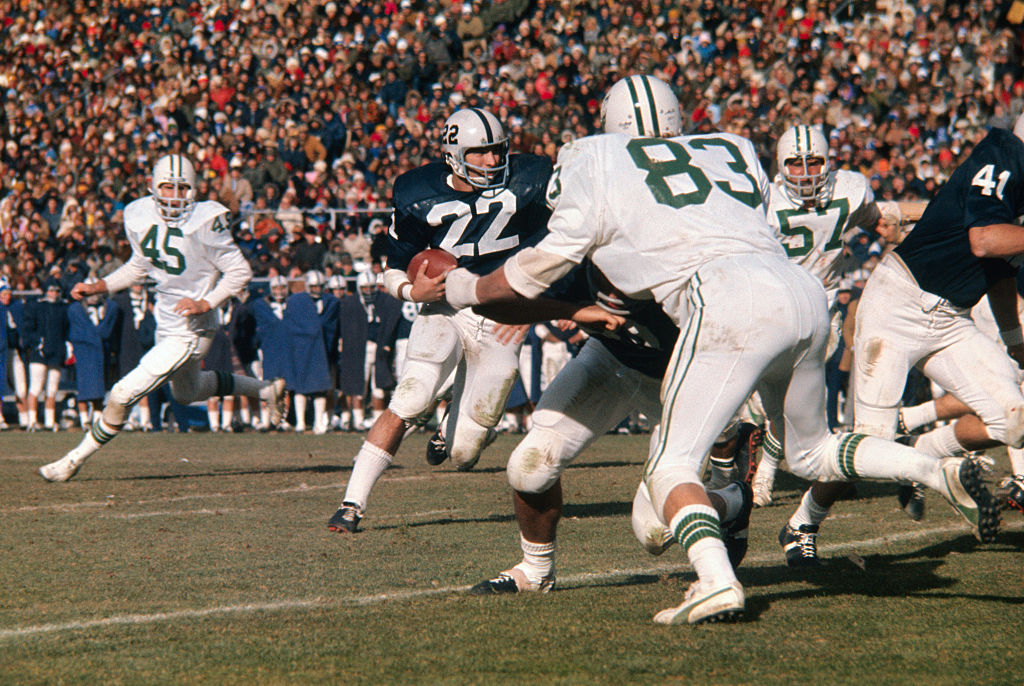 John Cappelletti's Cancer-Stricken Little Brother Led to Heisman Trophy and Heartbreaking Movie
Former Penn State star John Cappelletti's cancer-stricken little brother led to the Heisman Trophy and a heartbreaking movie.
Penn State's John Cappelletti put together one of the best seasons and Nittany Lions running back had in 1973. He became the first Penn State running back to rush for more than 1,000 yards in back-to-back seasons. Cappelletti finished the '73 season with 1,522 yards and 17 touchdowns while guiding Penn State to a 12-0 record. Cappelletti won the Heisman Trophy Award that season and his big year as inspired by his little brother Joey who was suffering from leukemia.
Cappelletti's football career
John Cappelletti played two seasons as a running back for Joe Paterno at Penn State. In those two seasons, the 6-foot-1, 215-pound running back compiled 2,639 rushing yards with 29 touchdowns. According to The Pittsburgh Post-Gazette, Paterno said Cappelletti was "the best football player I've ever been around." As a sophomore, Cappelletti played defensive back with Franco Harris and Lydell Mitchell both on the team as running backs.
During his senior year, Cappelletti guided the Lions to a 12-0 mark, rushing for 17 touchdowns and 1,522 yards. "He's got it all – balance, toughness, durability, confidence," Paterno said. "And he can play hurt." Cappelletti secured the Heisman and went on to be a first-round selection of the Los Angeles Rams in the 1974 NFL draft.
Cappelletti didn't have nearly the success in the NFL as he did in college. In his first two seasons with the Rams, he carries the ball 55 and 48 times, respectively. He became a fullback in his third season with the team. He spent five seasons with the Rams and then played four with the San Diego Chargers. A groin injury forced him to miss the entire 1979 season. He finished his career with 24 rushing touchdowns and 2,951 yards.
Cappelletti's special season at Penn State
After a game against Iowa during his junior year, Cappelletti wanted to give up football. He had a case of the fumbles and was being known around campus as 'Fumbletti.' "After the Iowa game last year, I was really confused and I felt I just didn't have it anymore," he told The Pittsburgh Post-Gazette in 1973. He bounced back with a big performance against Illinois the next week, bringing his confidence back.
Cappelletti was also inspired by the fight in his little brother. Joey Cappelletti was 11 years old and suffering from leukemia when John was playing football at Penn State. Cappelletti had the season of his life when he scored 17 touchdowns and helped his team to a 12-0 record. Cappelletti won the Heisman Trophy.
According to johncappelletti73heisman.com, During his Heisman speech, Cappelletti spoke about Joey and how Joe Paterno and Penn State also had Joey in their minds. "Coach Paterno was more concerned and talked more about what he could do for my brother than what he could do to get me to Penn State." John dedicated the trophy to his little brother that night, saying "If I can dedicate this trophy to him tonight and give him a couple of days of happiness, that is worth everything."
'Something for Joey'
John Cappelletti's special bond with his little brother Joey was turned into a made-for-TV movie called Something for Joey. Joey was battling leukemia and the two brothers were very close. The movie was based on a book with the same name written by Richard E. Peck.
Prior to Joey's 11th birthday, John had asked Joey wanted for his birthday. In Something for Joey, Joey said he wanted John to score three, then said, "No, four" touchdowns that day against West Virginia. The movie showed John asking a teammate how he was supposed to score four touchdowns. By halftime, however, John had three as Penn State was cruising.
Penn State coach Joe Paterno then benched Cappelletti in order to not run up the score. One of Cappelletti's teammates, however, notified Paterno of Joey's request and Paterno brought John back in for another series. He scored his fourth touchdown on that possession, smiling and pointing to his little brother after the score. Joey died on April 8, 1976.