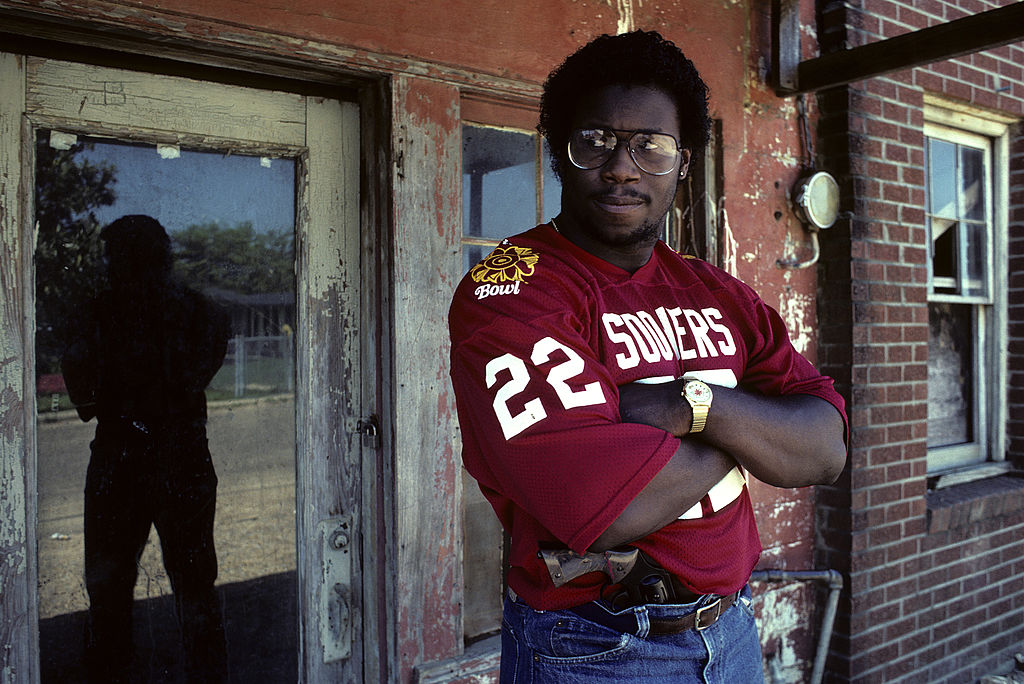 Marcus Dupree Doesn't Dwell on What Could Have Been
Marcus Dupree, a former freshman sensation running back at Oklahoma, doesn't dwell on what could have been.
After his freshman season at the University of Oklahoma, Marcus Dupree was on pace to become one of the all-time great college football running backs. He was big, fast, and strong with incredible football instincts. In the middle of his freshman season with the Sooners, he broke out with a 158-yard effort against Kansas and got stronger from there.  He appeared headed for a long career in the National Football League.
Marcus Dupree was an instant success
In high school, Marcus Dupree wowed everyone from players, to coaches to fans with his size and natural athletic ability. Dupree attended Philadelphia High School in Philadelphia, Mississippi, and began his football career as a wide receiver before switching full time to running back as a sophomore. As a sophomore, he rushed for 1,850 yards and 28 touchdowns, making it look easy.
As a junior, Dupree upped his rushing yards to 2,550 and had 34 touchdowns. In his senior year, he eclipsed Herschel Walker's national high school career touchdown record when he collected 36, giving him a total of 81. He rushed for 2,955 yards in his final year of high school. Dupree committed to play for Barry Switzer at the University of Oklahoma.
In his first season at Oklahoma, Dupree didn't get a whole lot of playing time early, but after the Sooners starter 1-2, Dupree got thrown int the mix a little more. Despite not starting until the seventh game of the season, Dupree still finished the season with 1,144 rushing yards, averaging a whopping 7.8 yards per carry. He also finished with 13 touchdowns and was the MVP of the Fiesta Bowl, rushing for 239 yards.
Dupree's sudden downfall
Marcus Dupree and OU coach Barry Switzer didn't have the best of relationships. Switzer was on Dupree about his weight and sometimes called him out for being lazy. Dupree said he wasn't having much fun.
 "I had the impression before I went to Oklahoma from just watching Coach Switzer on TV," Dupree told Sports Illustrated in 1983, "that he's a hard guy and that he treats his players hard. That turns out to be true. I think I'll play this year, but it could be my last. Coach Switzer says I don't practice that well. The problem is, it's not like high school when Coach (Joe) Wood made it fun. At Oklahoma, it's not fun. I don't know…."
Dupree played in four games in his sophomore season and suffered a concussion against the University of Texas. After taking a week off, Dupree surprisingly announced he was leaving Oklahoma and would be enrolling at Southern Mississippi. The NCAA ruled that Dupree would have to miss one full season after transferring, meaning he would have to miss the rest of the 1983 season and all of 1984. He couldn't play college football again until 1985.
"Marcus has had difficulty coping with the fact he cannot play college football until 1985 and has talked of the possibility of playing professional football," Jim Carmody, Southern Mississippi's head coach, said in a New York Times article in 1984. "He is not sure of his plans at this time, but it is obvious he will not be playing football at U.S.M."
Dupree heads for the USFL
In 1984, Marcus Dupree signed with the New Orleans Breakers of the USFL and had a pretty good season, scoring nine touchdowns. His second and final season in the USFL was short-lived after sustaining a severe knee injury. After four years away from football, he decided to give the NFL a shot in 1990. The Los Angeles Rams held his rights after drafting him in the 12th round in 1986. He was never the same. In two unimpressive seasons with the Rams, he scored one touchdown and had just 68 rushing attempts.
Looking back at it all, Dupree regrets leaving Oklahoma. "I wish (Barry Switzer) would have treated me a little bit better," Dupree told OU Daily in 2010. "There was such a lack of communication. I know I shouldn't have left [OU], but I still love Oklahoma and I still love watching [the Sooners] play."
Today, Dupree goes around speaking, telling his story. He's happy with his life and doesn't look back. He said his message is simple. Dupree equates life to a football game and he's preaching something he didn't do while he was at Oklahoma. "Be patient with the process," he said. "Life, to me, is like a football game. First quarter, you may score two touchdowns. Second quarter you may fumble the ball and come into halftime and have to regroup and understand what's going on. It's how you handle adversity. Be patient and stay with the process."