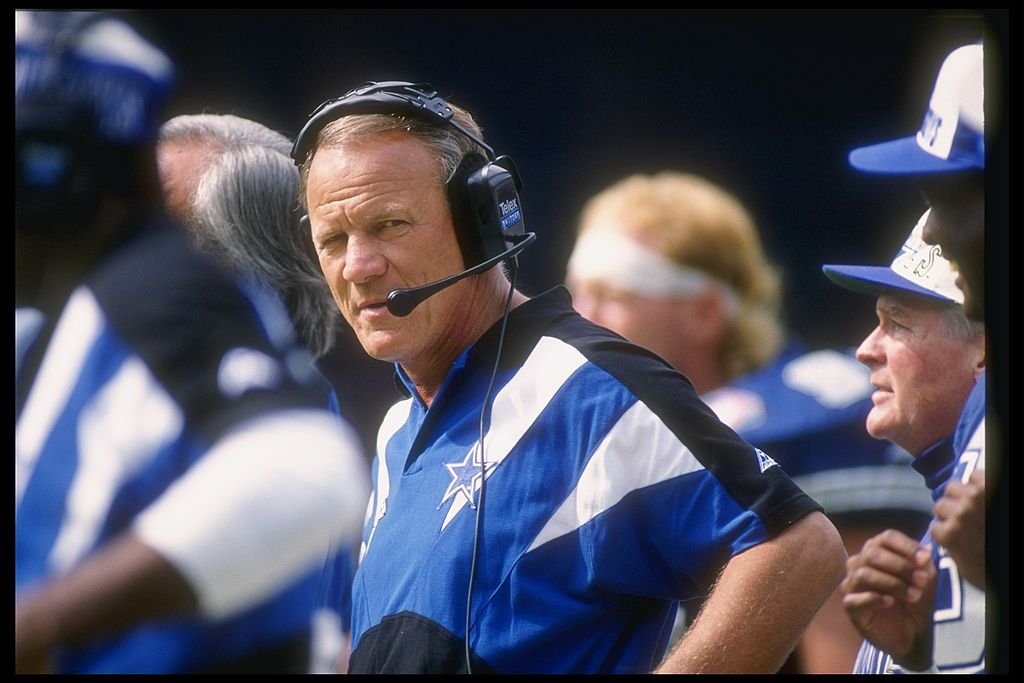 What Happened to Dallas Cowboys Super Bowl Winning Coach Barry Switzer?
Barry Switzer is the last coach to lead the Dallas Cowboys to a Super Bowl victory in 1995. What happened to head coach Barry Switzer?
The last time the Dallas Cowboys won the Super Bowl was 25 years ago. Troy Aikman was handing off the ball to Emmitt Smith or throwing touchdown tosses to Michael Irvin. Jason Garrett was Aikman's backup. And leading the team was head coach Barry Switzer. Where is Barry Switzer today? 
Barry Switzer and Jerry Jones go way back
When Jerry Jones initially called Barry Switzer in March 1994 to talk about the soon-to-be-open position as head coach for the Dallas Cowboys, Switzer's girlfriend Becky answered the phone and told Jones he would call him back. He didn't have time for Jones at the moment. Switzer was still groggy and recovering from a colonoscopy procedure.
While most coaching candidates would take the call no matter the situation, not Barry Switzer. That's the kind of relationship he had with Jones. Switzer and Jones had been friends for 30 years going back to their time when Switzer was the freshman team coach at the University of Arkansas, and Jones was on the offensive line. After Arkansas, Switzer moved on to Oklahoma, where he won three national titles, and Jones moved into business, where he struck it big in the oil industry.
Switzer did call Jones back later that day and told him he didn't know the position was even open. Jones informed him it wasn't, but it would be the next day. Switzer told Jones to call him back the next day. He did. And the rest is history.
Switzer coaches Dallas Cowboys to Super Bowl win
When Barry Switzer took over the Dallas Cowboys, he couldn't have walked into a better situation. The Cowboys had won the previous two Super Bowls and had their star offensive players in Aikman, Smith, and Irvin returning the following season.
In Switzer's first season, the Cowboys continued where they had left off the previous year, finishing the season with a 12-4 record only to come up short in the playoffs losing in the NFC Championship game to the San Francisco 49ers. It was a disappointing finish for most who considered the Cowboys the team to beat in the 1994-95 season.
That following season the Cowboys replicated their 12-4 regular-season performance of a year earlier, but this time around didn't suffer a let-down in the playoffs defeating the Pittsburgh Steelers in Super Bowl XXX, 27-17. Switzer joined Jimmy Johnson as the only two coaches to win a college national championship and Super Bowl.
During the next two seasons, the Cowboys went 16-16. In 1997, Switzer resigned as head coach. 
Where is Barry Switzer today?
Despite a less-than-amicable end to his relationship at Oklahoma more than 30 years, Barry Switzer has always called Norman, Oklahoma home. He lives right next to the Oklahoma campus. He never really "retired" after he left football, just shifted his focus to something else.
That something else today is the 50-60 businesses he works with in various fields that range from oil and gas, to the medical field, as well as cash-advance stores, and several automobile dealerships. 
When not dealing with his businesses, he is still very involved in the sport where he made his name. His close proximity to campus allows him to regularly attend Oklahoma football practices, where he readily talks with coaches and players about the program's storied history of which he is a big part.
His mind is still sharp. At 81, he's very active on Twitter where he interacts with his almost 105,000 folllowers. He recently recorded a COVID-19 PSA in very Barry Switzer-like style telling people to "keep your ass at home."
Even in his 80s and out of football, Switzer can't escape his desire to coach. And the history books will show, he was one of the best to ever do it.