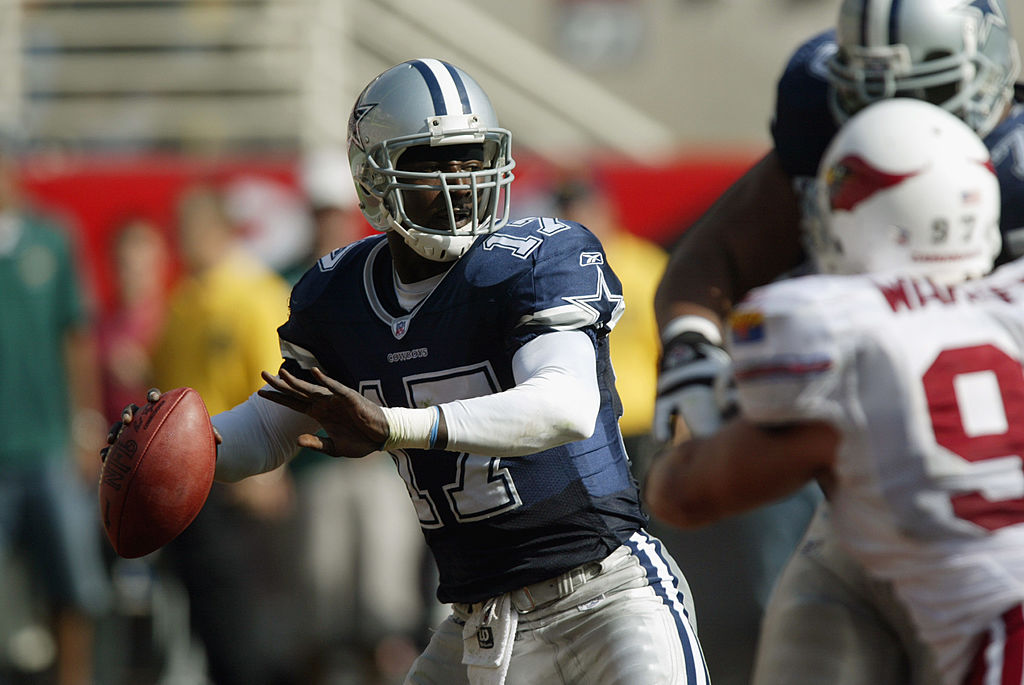 The Self-Destruction of Former Dallas Cowboys Quarterback Quincy Carter
Quincy Carter is one of three quarterbacks to lead the Dallas Cowboys to the playoffs since 2000. Since he left Dallas, he's been on a self-destructive path.
Since Troy Aikman guided the Dallas Cowboys to three Super Bowl titles, only three quarterbacks have led the team to the playoffs—Dak Prescott, Tony Romo, and Quincy Carter. We know where Prescott and Romo are these days. Quincy Carter's life after football has been a day-to-day struggle littered with addictions, arrests, and time behind bars.
Quincy Carter—the talented two-sport star 
Coming out of high school, Quincy Carter had options. He initially signed a letter of intent to play football at Georgia Tech in 1996. Instead of playing for the Yellow Jackets, Carter opted to play minor-league baseball after the Chicago Cubs selected him as the 52nd overall pick in the 1996 MLB draft. 
Carter struggled in the minors for three seasons, making it up to Single-A ball, where he hit .211 in 105 games. In 1998, he decided to return to football, but shocked the Yellow Jackets when he signed to play with the in-state rival Georgia Bulldogs.
At Georgia, Carter won the starting job as a freshman, and directed the Bulldogs to a 9-3 finish, a 35-33 Peach Bowl win over Virginia, and a No. 14 final ranking. Carter followed up during his sophomore year leading Georgia to an 8-4 record, a 28-25 victory over Purdue in the Outback Bowl, and a No. 16 ranking. 
Carter's junior season was beset with injuries and he missed four games. Despite his injuries and struggles, Carter declared for the NFL draft following his junior season.   
Dallas Cowboys select Carter and hand him the keys 
The Cowboys, and particularly owner/general manager Jerry Jones, liked Quincy Carter. With no first-round pick in the 2001 NFL draft, the Cowboys selected Carter in the second round with the 53rd overall pick.
Coming into training camp, Carter was expected to back up behind veteran quarterback Tony Banks. Carter so impressed head coach Dave Campo, he was named the starter, becoming the first rookie quarterback selected in the second round, to start a week one game in NFL history.
Injuries plagued Carter his rookie year and limited him to just eight games. After the 2002 season, in which he split time with Chad Hutchinson, Carter had his breakout season in 2003 when new head coach Bill Parcells arrived in town. 
The third-year quarterback directed the Cowboys to a 10-6 record and a berth in the playoffs, the season highlighted by a last-minute 24-20 victory over the Carolina Panthers, where Carter completed 29 of 43 passes for 254 yards and two touchdowns. In the Wild Card game, the Cowboys faced the Panthers in a rematch and lost decisively 29-10.
Shockingly, in training camp before the start of the 2004 season, Parcells inexplicably cut Carter and never provided a reason. Carter later admitted it was for a failed drug test. It was the start of a destructive spiral that has lasted for years.
Quincy Carter's destructive life after football
Quincy Carter served as a backup for the New York Jets in the 2004 season but was declared inactive in the postseason. He had checked himself into a rehabilitation program. For the next five years, it was much the same—football, drugs, breaking team rules, and various run-ins with the law.
He played three seasons for three different indoor football teams. During that time, he was arrested multiple times for possession, DWI, and simple battery. He spent his 30th birthday in jail. 
Now 42, Carter said in a recent interview with the Fort Worth Star-Telegram, he admits to his problems and is trying to start his life over.
"I was abusing alcohol. I had dipped into cocaine. When you're an addict, you can hide it all you want. I was drinking extra to think I don't have an addiction. You're drinking even more."
After multiple attempts at recovery, he moved to Austin, Texas where he has connected with former Dallas Cowboys star linebacker Thomas "Hollywood" Henderson, who has been sober for more than 36 years. Henderson directed Carter to Alcoholics Anonymous.
"I went to rehab about seven months ago," he said. "It ain't an easy task, but the only way to beat it is to wholeheartedly surrender. It's sad to say I'm 42 and learning how to live again, but this is where I'm at."
Carter, who just passed nine months of sobriety, is hoping to find a job as a high school coach. If a team does hire him, they will be getting a quarterback who is one of a select few to lead the Dallas Cowboys to the playoffs in the 21st century.