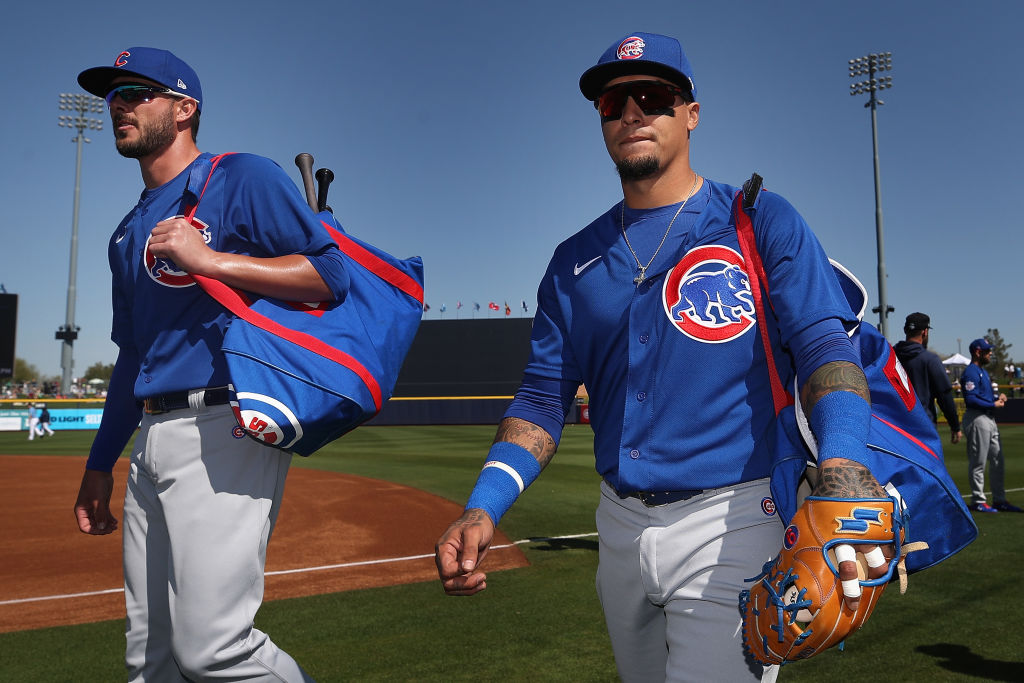 Do the Chicago Cubs Have the Pieces They Need to Bounce Back in 2020?
Can the Chicago Cubs bounce back in 2020? A look at the coaching staff, players, and moves that could be made to get them to the postseason.
After a four-year run, including a 2016 World Series win, the Chicago Cubs missed out on the postseason in 2019. The North Siders still managed to win 84 games but finished third in the National League Central behind the St. Louis Cardinals and Milwaukee Brewers.
With Opening Day of the 2020 MLB season inching closer by the minute, the Cubs are hoping to get back to the form that got them to those four consecutive postseason appearances. Joe Maddon is out. David Ross is in. It seems that Kris Bryant was almost out but he remains a Cub at this point. Many of the pieces that helped Chicago end the 108-year drought still remain.
But do the Cubs have enough pieces to get back to the postseason, or even make another run to the World Series?
The Chicago Cubs still have a very solid lineup
The big pieces of the Chicago Cubs lineup are still in place.
With the exception of second base, the Cubs infield is pretty much set. Willson Contreras will once again be behind the plate, with Victor Caratini as a solid backup. Contreras played just 105 games in 2019 but still managed to hit 24 home runs with 64 runs batted in.
The core group of Anthony Rizzo at first (.293, 27 HR, 94 RBI), Javier Baez at shortstop (.281, 29 HR, 85 RBI), and Kris Bryant at third (.282, 31 HR, 77 RBI) will obviously play a major part in the Cubs offense in 2020. It will be interesting to see how David Ross' experiment with Bryant leading off turns out.
The only thing up in the air right now is who will play second base. The logical choice seems to be David Bote. However, Nico Hoerner came on late last season and impressed. Daniel Descalso and Jason Kipnis are also options.
As for the outfield, there are five options currently available for three spots. Jason Heyward will still play most days in right field but it will be interesting to watch how the Cubs mix and match their lineup each day. Kyle Schwarber will still likely get a lot of time in left, but the mix of Albert Almora, Jr. (who is having a solid spring), Ian Happ, and a healthy Steven Souza, Jr. will fight for playing time as well. David Ross will have some tough decisions to make on a day-to-day basis.
Who will pitch for the Cubs in 2020?
The first four spots in the Chicago Cubs starting rotation are locked up with Jon Lester, Yu Darvish, Josh Hendricks, and Jose Quintana. Lester and Quintana had down years in 2019 and both will be looking to bounce back in 2020. It looks as if Tyler Chatwood and prospect Adbert Alzolay will battle it out for the fifth starting spot.
The Cubs lost three pitchers from the bullpen that appeared in more than 50 games a season ago. However, that may not be such a bad thing as the bullpen was a big problem for the North Siders in 2019 and some new blood might shake things up. They're hoping that Jeremy Jeffress, who signed with Chicago after three years in Milwaukee, can get back to his 2018 form, the year he was an All-Star. Craig Kimbrel will also have a full spring camp in 2020, which may help him improve on some dreadful performances last season.
Will the Cubs players trust David Ross?
It hasn't been long since David Ross was a player himself. Ross retired following the Cubs' World Series win and spent some time in the broadcasting booth before taking this job. He has no managerial experience to speak of, but he is well-liked. Theo Epstein & Co. have to hope that doesn't become an issue. Ross was Jon Lester's personal catcher and friend for years. So how will Lester react when Ross pulls him from a game?
Will Anthony Rizzo, Kris Bryant, Javier Baez, Willson Contreras, Jason Heyward, or Kyle Schwarber trust him or take him seriously? They were all teammates with Ross and that can be a tricky dynamic. While Ross is well-liked, he is well-respected and the front office has to hope that the players respect his authority.
How will the Chicago Cubs finish in 2020?
For the Chicago Cubs to get back to the postseason, they'll have to contend in a very tough division. The National League Central may end up being the most competitive division in all of baseball from top to bottom. The Brewers and Cardinals both made the playoffs a year ago and both are looking very strong once again. While the Pittsburgh Pirates aren't looking great, the Cincinnati Reds made some big moves in the offseason and will certainly be better than they have been over the past few years.
The Cubs still have a lot of key pieces from the team that won the World Series. But that was four years ago. Yes, these same players can still produce at a high level. But can they all get back on the same page? Can Bryant look past nearly being traded? Will he actually still get traded at some point? Can David Ross bring back the focus that seemed to have gotten lost in the last year under Joe Maddon? Answers will come soon enough. The Cubs open the regular season on March 26 in Milwaukee.