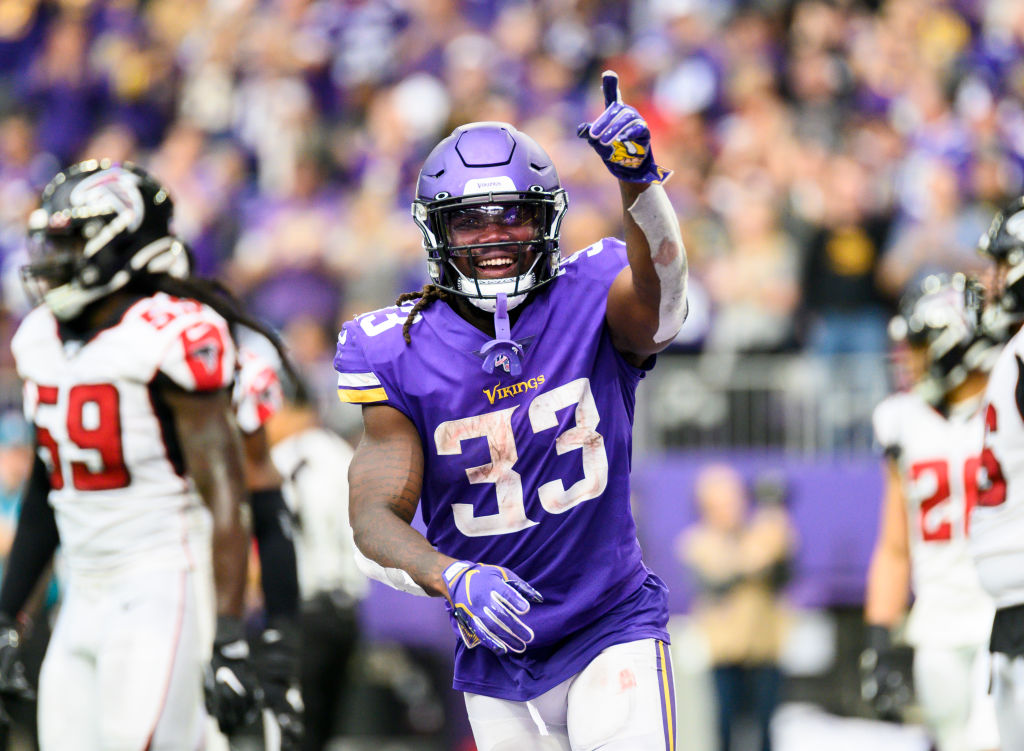 Dalvin Cook Should've Learned His Lesson From Le'Veon Bell
Minnesota Vikings running back Dalvin Cook should've learned his lesson from Le'Veon Bell's holdout with the Pittsburgh Steelers.
Dalvin Cook is a very talented running back for the Minnesota Vikings. He's also a very unhappy running back who might be overestimating himself. Cook, who will be entering his fourth season with the Minnesota Vikings, is seeking an extension and it's been reported he intends to hold out if no agreement is reached. Teams can get by without that star running back. Just look at the Pittsburgh Steelers after Le'Veon Bell sat out an entire season in a contract dispute.
Dalvin Cook's NFL career
Dalvin Cook has been with the Minnesota Vikings for three seasons. After an outstanding three years at Florida State, the Vikings selected him in the second round of the 2017 NFL draft. When he's been on the field, Cook has been productive, but his young career has been marred by injuries.
During his rookie season, Cook suffered a season-ending knee injury in Week 4 after a promising start. He had rushed for 354 yards and scored a pair of touchdowns in three-plus games. During his second season, Cook played in 11 games and was hampered by a hamstring injury. He rushed for 615 yards and two touchdowns.
Cook had himself a Pro-Bowl season in 2019. He collected 1,135 yards on the ground and added 13 touchdowns. He suffered a chest injury in Week 10 which showed him down the remainder of the year. Cook missed the final two games because of the injury. He returned for the playoffs, rushing for 94 yards and two touchdowns in an upset win over the New Orleans Saints. The following week, he was limited to 18 yards on the ground in a loss to the San Francisco 49ers.
Reports have said Cook will hold out without 'reasonable' extension
A source told ESPN on Monday that Dalvin Cook will stay away from all team activities if an extension isn't reached. "He's out," the source told ESPN. "Without a reasonable extension, he will not be showing up for camp or beyond."
According to Sports Illustrated, the Minnesota Vikings had some productive talks in mid-May about signing Cook, but nothing was close at the time. Rick Spielman, the Vikings GM, said the plan has always been to try to have Cook remain with the team for years to come.
"I put Dalvin in the same class as I have all of our other young guys…we've always tried to keep our core young talent that we draft and develop," Spielman said at the combine in February. "I consider Dalvin as one of those core group of players that we definitely want to try to keep."
Le'Veon Bell should've taught Cook a valuable lesson
Dalvin Cook has one year remaining on his rookie deal. If he plays it out and has a year similar to last season's, he becomes a valuable free agent. If he holds out, he opens the door for disaster. Le'Veon Bell held out in 2018 and missed the entire season. Bell was replaced by James Conner, who made the Pro Bowl that season, rushing for 12 touchdowns and nearly 1,000 yards.
Bell's absence in Pittsburgh went relatively unnoticed. Before James Conner, it was D'Angelo Williams who filled in admirably when Bell wasn't on the field. Running backs can be replaced. It's already happened to Cook in Minnesota.
Last year, when Cook missed the final two games because of a chest injury, the Vikings' ground game was still strong. Minnesota plugged in Mike Boone, a running back out of Cincinnati who wasn't even drafted. Boone, against the Chicago Bears in Week 17, rushed for 148 yards and a touchdown. Running backs are replaceable, just ask the Pittsburgh Steelers.