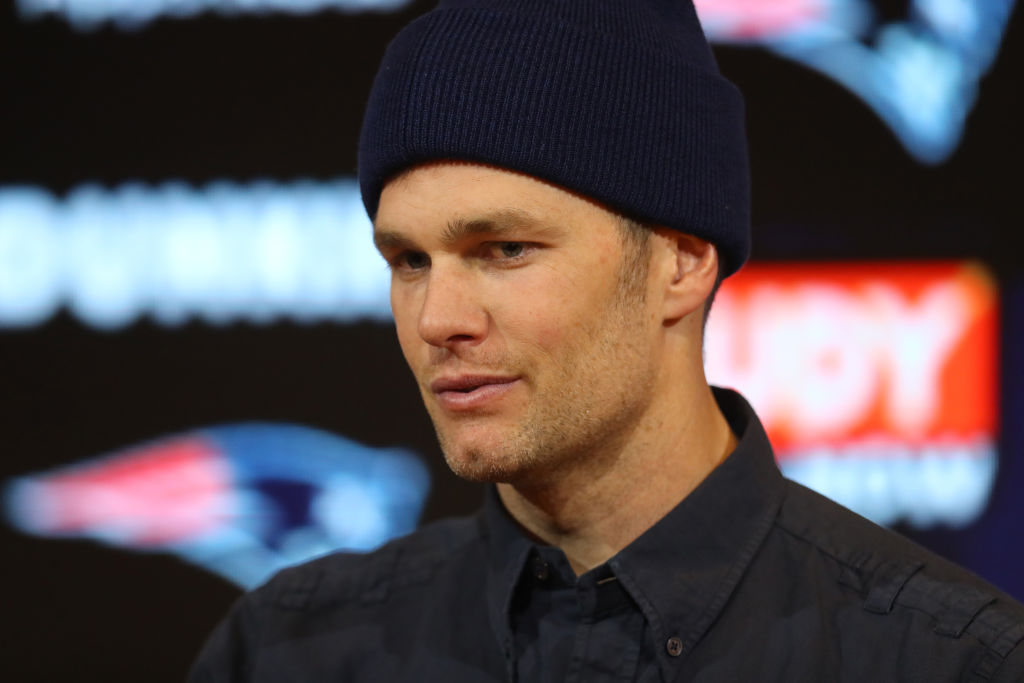 Tom Brady is So Old That His New Teammate's Dad Once Intercepted Him
Tom Brady's new teammate with the Tampa Bay Buccaneers, Antoine Winfield Jr., has a father that once intercepted the 6-time Super Bowl champ.
When you play in the NFL for as long as Tom Brady has, stories are going to build over time. He won six Super Bowls with the New England Patriots, which is an NFL record. His nine appearances are also an NFL record. He's been teammates with hundreds of players over the last two decades and has played against thousands more. Now with the Tampa Bay Buccaneers, Brady, who will be 43 when the 2020 NFL season begins, now finds himself in the hilarious position of being teammates with a player whose dad intercepted him early in his career.
Tom Brady took over for Drew Bledsoe with the New England Patriots in 2001
Following his career at the University of Michigan, Tom Brady was famously selected with the 199th overall pick of the 2000 NFL draft and was all set to serve as the backup to Drew Bledsoe, which is exactly what he did his rookie season. However, once Bledsoe went down with an injury during the second game of the 2001 season, Brady took the starting job and never looked back. He led the Patriots to their first-ever Super Bowl win that season and won five more during his tenure in New England. Who knew that a random interception that first season as a starter would be talked about nearly 20 years later?
Antoine Winfield played 14 seasons in the NFL and once intercepted Tom Brady
One year before Tom Brady entered the NFL, cornerback Antoine Winfield of Ohio State was taken by the Buffalo Bills with the 23rd overall pick in the 1999 NFL draft and would go on to play 14 years in the NFL and was a three-time Pro Bowl selection with the Minnesota Vikings later in his career. Brady and Winfield actually played against one another in college as part of the historic Michigan vs. Ohio State rivalry and would cross paths again at the pro level in 2001.
On November 11, 2001, which would have been Tom Brady's seventh game as a starter following the Bledsoe injury, the Patriots matched up with the Bills in Foxboro and the Pats walked away with a 21-11 win. Brady was efficient that day, completing 15-of-21 passes, but threw for just 107 yards and a touchdown. But he also had one interception that afternoon, which was made by Antoine Winfield. It had zero importance in the outcome of the game and was one of 12 picks that Brady threw in 2001. No big deal, right? After all, it was just one of seven games that Brady and Winfield played against one another throughout their respective careers, with Brady holding a 6-1 record.
The Tampa Bay Buccaneers selected Antoine Winfield Jr. in the second round of the 2020 NFL draft
With the 45th overall selection of the 2020 NFL draft, the Tampa Bay Buccaneers selected Antoine Winfield Jr., a safety out of the University of Minnesota. Winfield Jr. was a unanimous All-American selection for the Golden Gophers and was also a member of the All-Big 10 First Team. He just also happens to be the son of the same Antoine Winfield that picked off Tom Brady in 2001. Winfield Jr. was three years old when his dad picked off arguably the greatest quarterback of all time and is now set to become his teammate in Tampa Bay. That's absolutely insane and Winfield Jr. knows it. But he's very excited about his future and the upcoming season with Brady and the Bucs.
"It is crazy that my dad played against him. It's just wild for me to think about.

"That's crazy, but Tom Brady's the GOAT. It's gonna be crazy when I see him in person. He's one of my favorite players."

Antoine Winfield Jr.
There are a lot of jokes that can be made about Tom Brady's age but this just might be the most fun.