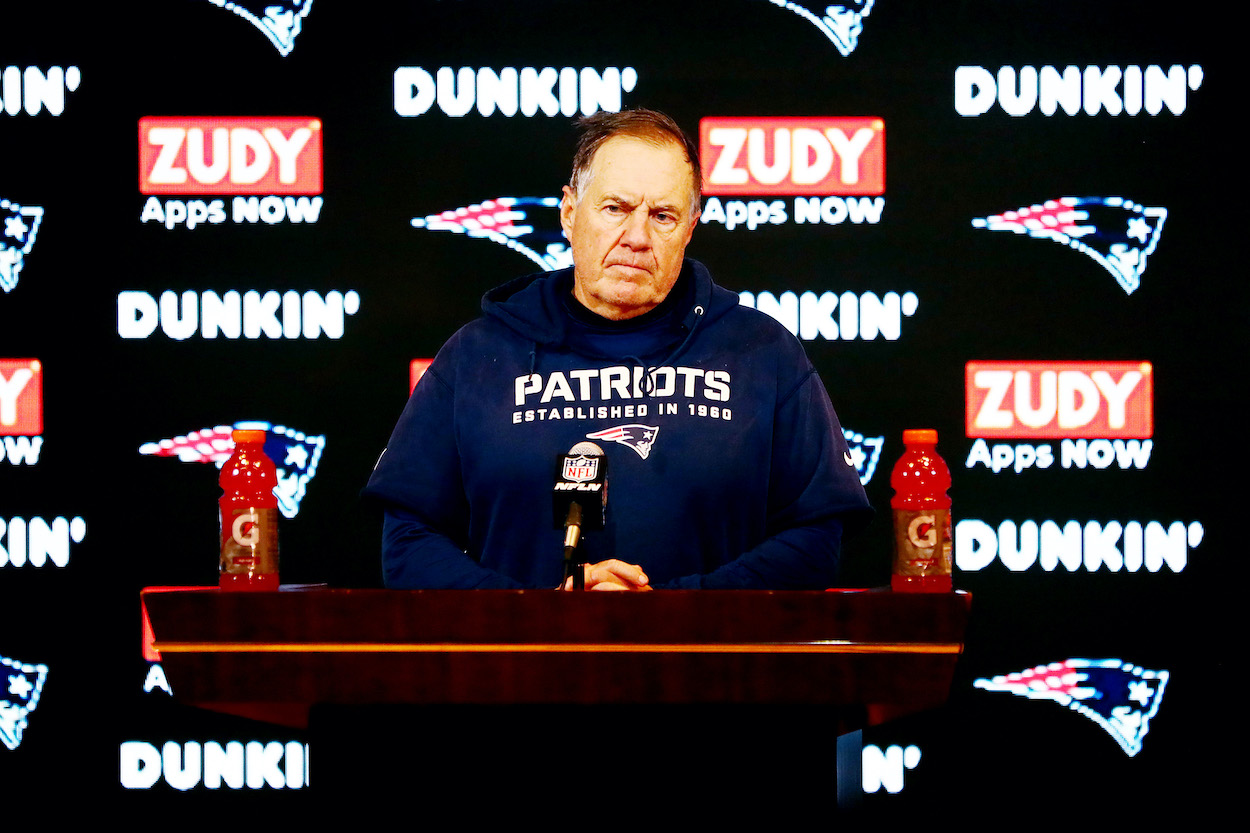 Mac Jones Is Already Giving Perfect Bill Belichick-style Answers to the Media
Bill Belichick is the master of giving the media non-answers, including his most famous line, "We're on to Cincinnati." His new QB, former Alabama passer Mac Jones, is learning this skill quickly in his rookie year. This Patriot Way that Belichick created hasn't yet been very successful around the NFL with his coaching disciples.
"The Patriot Way" is as strong as ever in Foxborough. New England Patriots head coach Bill Belichick has spent two decades developing a culture around his team where every player buys into the way he wants things done. After just a few OTA practices, rookie QB Mac Jones already seems to be onboard with Belichick's way of doing things.
One of the key tenants of Belichick's culture is to say as little as possible to the media. He demonstrates how to give these often-mumbled, non-answers and his players follow suit. In at least this area, Jones seems to be a fast learner.
Bill Belichick gives the media short, meaningless answers
Belichick's mentor, Bill Parcells, was a master of the quote. He was often contentious of the media, but, like any proper son of New Jersey, he loved the verbal combat.
New England's Maryland native and son of a football coach did not inherit his old boss's love of mixing it up with the press. Instead, Belichick prefers to fulfill his media obligations as quickly as possible. And, he does so without giving away any of his strategies or giving his opponent any bulletin board material.
The irony of Belichick's terseness with reporters is that those around the NFL tell stories about what an interesting, engaging guy he is. The Wesleyan University grad can apparently talk for hours about NFL history, retired players, or his favorite sport – lacrosse.
As an NFL coach, though, his shortness is legendary.
Who can forget iconic press conference lines such as, "Got to get back to work. Improve in every phase of the game." Or gems like, "Look, I don't know about hypothetical questions."
And of course, no discussion of Belichick quotes is complete without mentioning the presser where he famously answered every question, "We're on to Cincinnati."
Mac Jones has quickly learned the art of the non-answer
Jones is the latest in a long line of new Patriots to conform to Belichick's standards quickly. Even some of the most outspoken NFL players ever, such as Randy Moss, Corey Dillon, and Chad "Ochocinco" Johnson, kept relatively quiet during their time in New England.  
Now, several reporters covering the Patriots in 2021 recently tweeted about bland, non-answer quotes the former Alabama QB has given.  
Jones told Ben Volin of the Boston Globe, when asked to compare Alabama to his current team in New England, "There's differences, there's similarities, but we're not here to draw comparisons." Very Bill Belichick.
To ESPN's Mike Reiss, Jones gave this nonsensical quote, "The things I know keep in one bucket, and the things I keep messing up, or things I'm not getting, I have to put them in another bucket, and figure out what's wrong,"
NFL Network's Michael Girardi got this "great" insight when he asked Jones about offensive coordinator Josh McDaniels, "Josh, he expects everything to be perfect. That's why he's so great at what he does. Our relationship is great."
Most of Belichicks disciples haven't been successful with The Patriot Way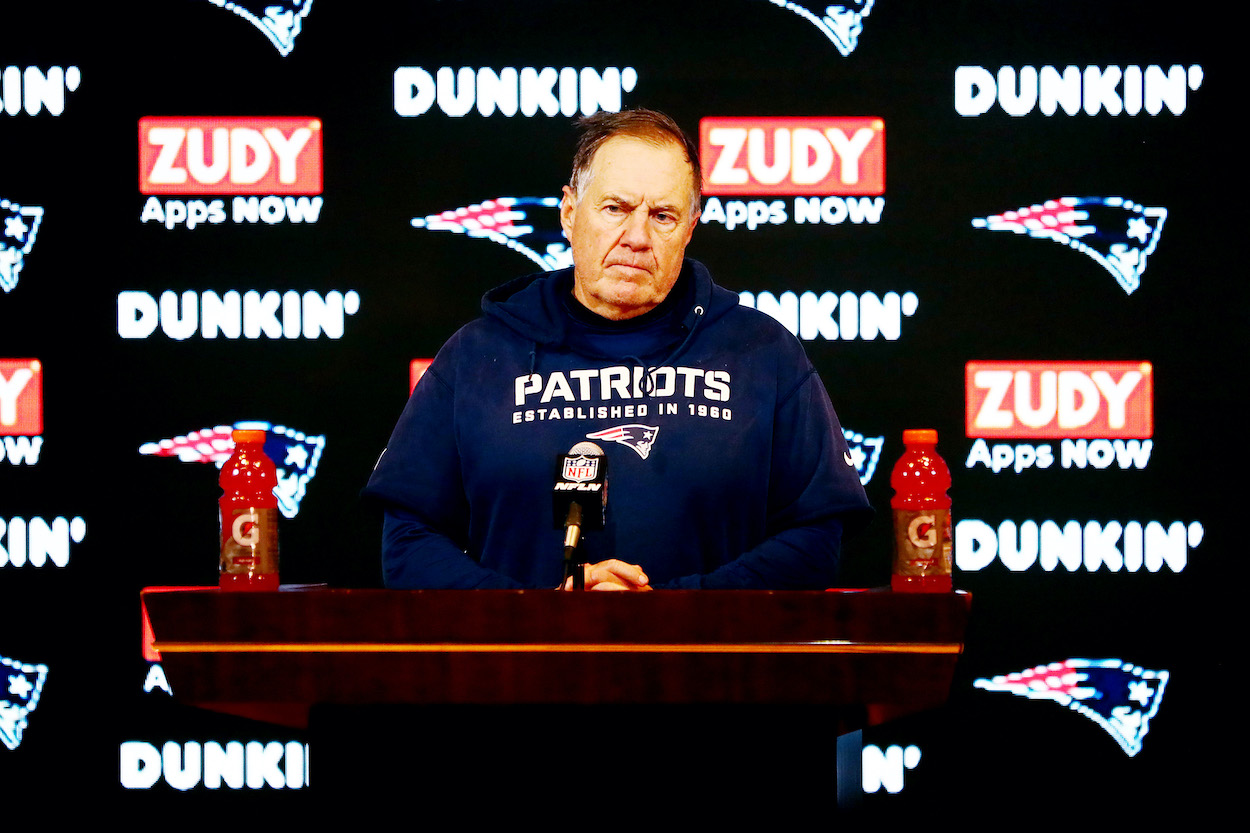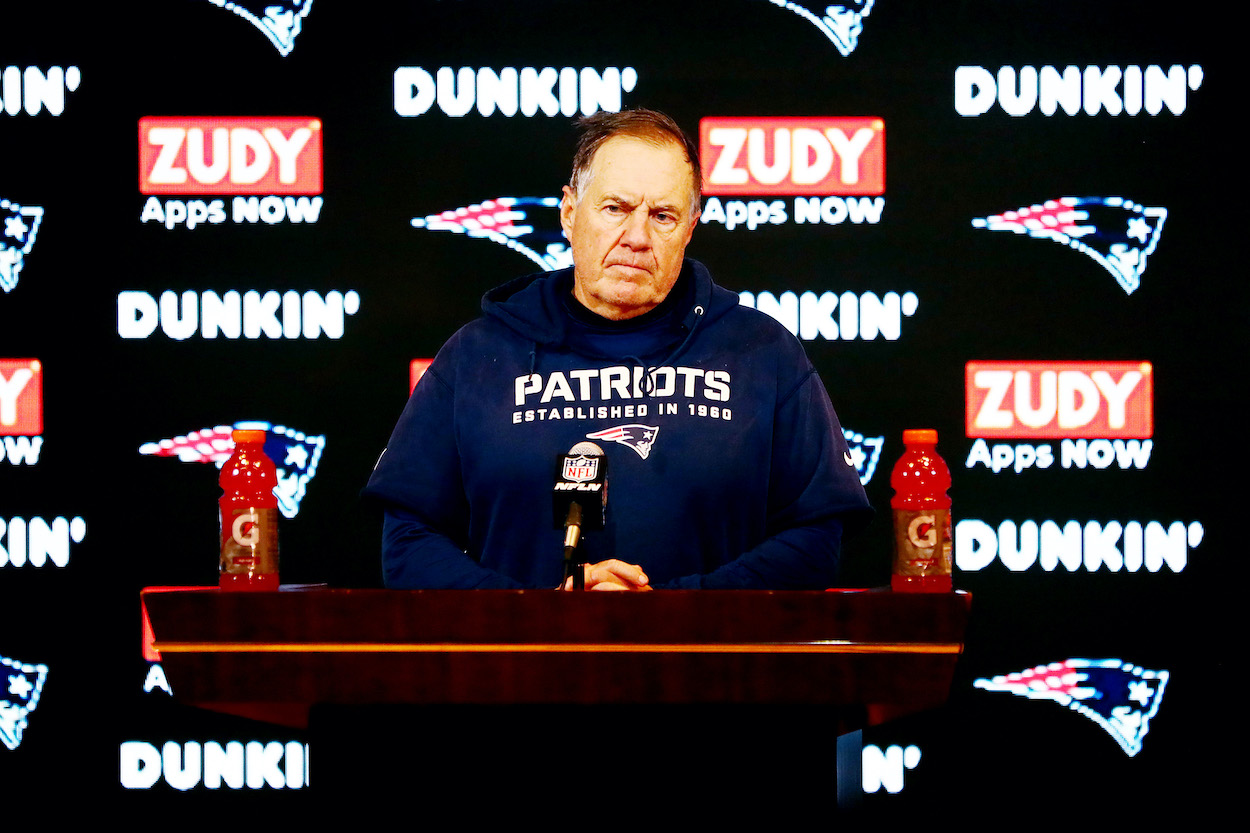 While the Patriot, and more specifically the Belichick Way, has been incredibly successful in New England, it has failed to translate almost anywhere else in the league. Parcells, in addition to Belichick, produced NFL head coaches like Sean Payton, Tom Coughlin, and Mike Zimmer. Belichick's coaching tree hasn't been that successful.
Belichick's former assistants such as Romeo Crennel, Charlie Weiss, Eric Mangini, Josh McDaniels, Matt Patricia, and Bill O'Brien have all been colossal failures as NFL head coaches. Nick Saban is the most successful but also failed spectacularly in the pros with the Miami Dolphins.
However, there is a new generation of Belichick acolytes who are finding more success on their own sidelines. Former Patriots player Mike Vrabel is finding great success as the coach of the Tennessee Titans. The team made the playoffs in two of his first three seasons and even reached an AFC Championship Game in 2019.
While Miami's Brian Flores and the New York Giants Joe Judge have yet to produce the results that Vrabel has, they are both widely regarded as two of the best and brightest young head coaches in the league. These three recent success stories have a chance to turn the tide on the Bill Belichick coaching tree in the future.
If we were to ask Belichick how he feels about his recent successful disciples, he'd surely reply, "We're on to Cincinnati."
Like Sportscasting on Facebook. Follow us on Twitter @sportscasting19