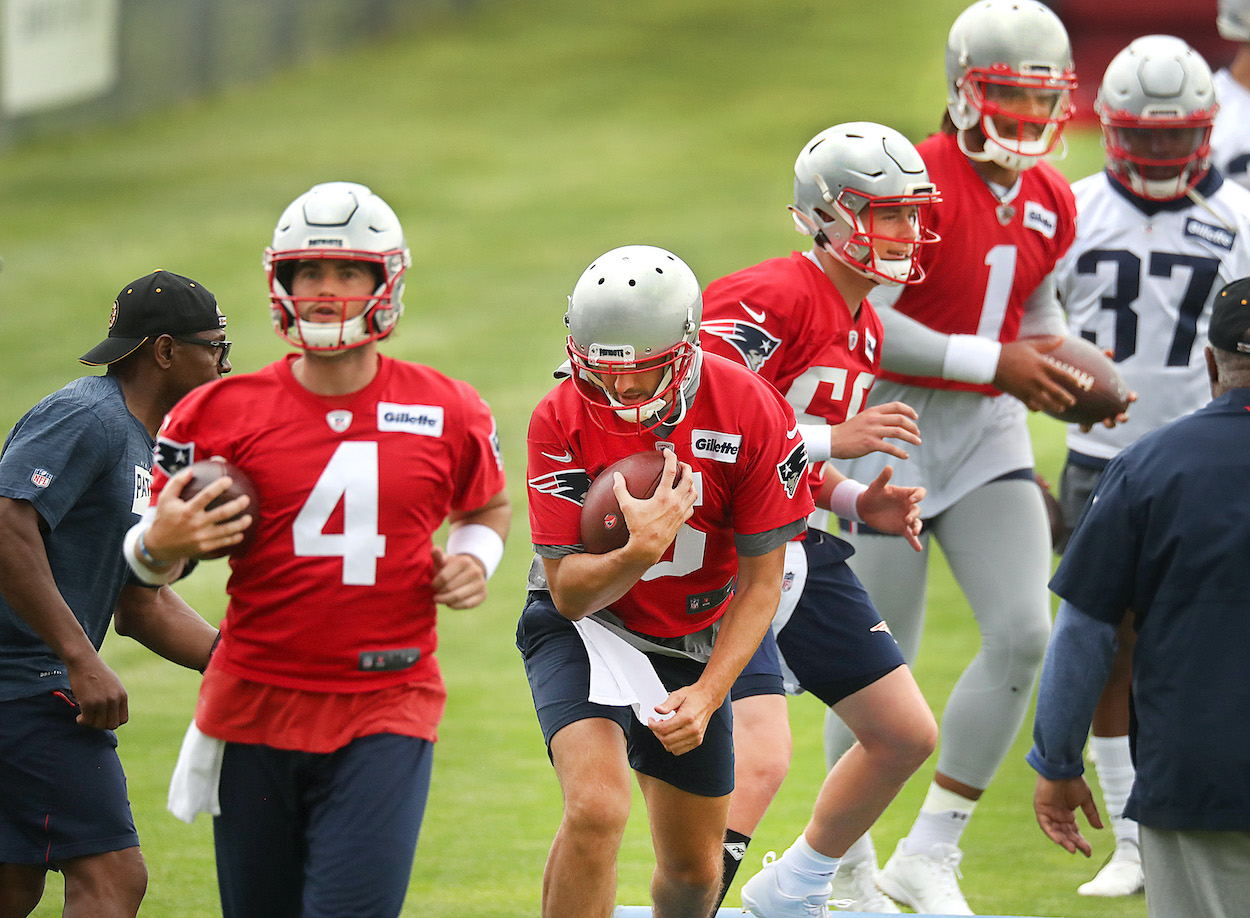 Bill Belichick Might Have a QB Controversy After Cam Newton's Hand Injury, but It May Not Be What You Think
The Cam Newton hand injury that the quarterback suffered during Patriots OTAs may have opened the door for an unexpected quarterback controversy for Bill Belichick leading into the season. Jarrett Stidham is the quarterback who looked best in Newton's absence, not first-round draft pick Mac Jones.
Cam Newton's hand injury raises the question: Who will New England Patriots head coach Bill Belichick start at quarterback in 2021?
Will Alabama's Mac Jones back up Newton, or will the veteran take a back seat to the rookie? These are the questions that every Patriots fan (and more than a few Patriots haters) are asking in the offseason.
Following Newton's hand injury in OTAs, Belichick might have an unexpected quarterback controversy on his hands.  
The New England Patriots have a crowded quarterback room heading into 2020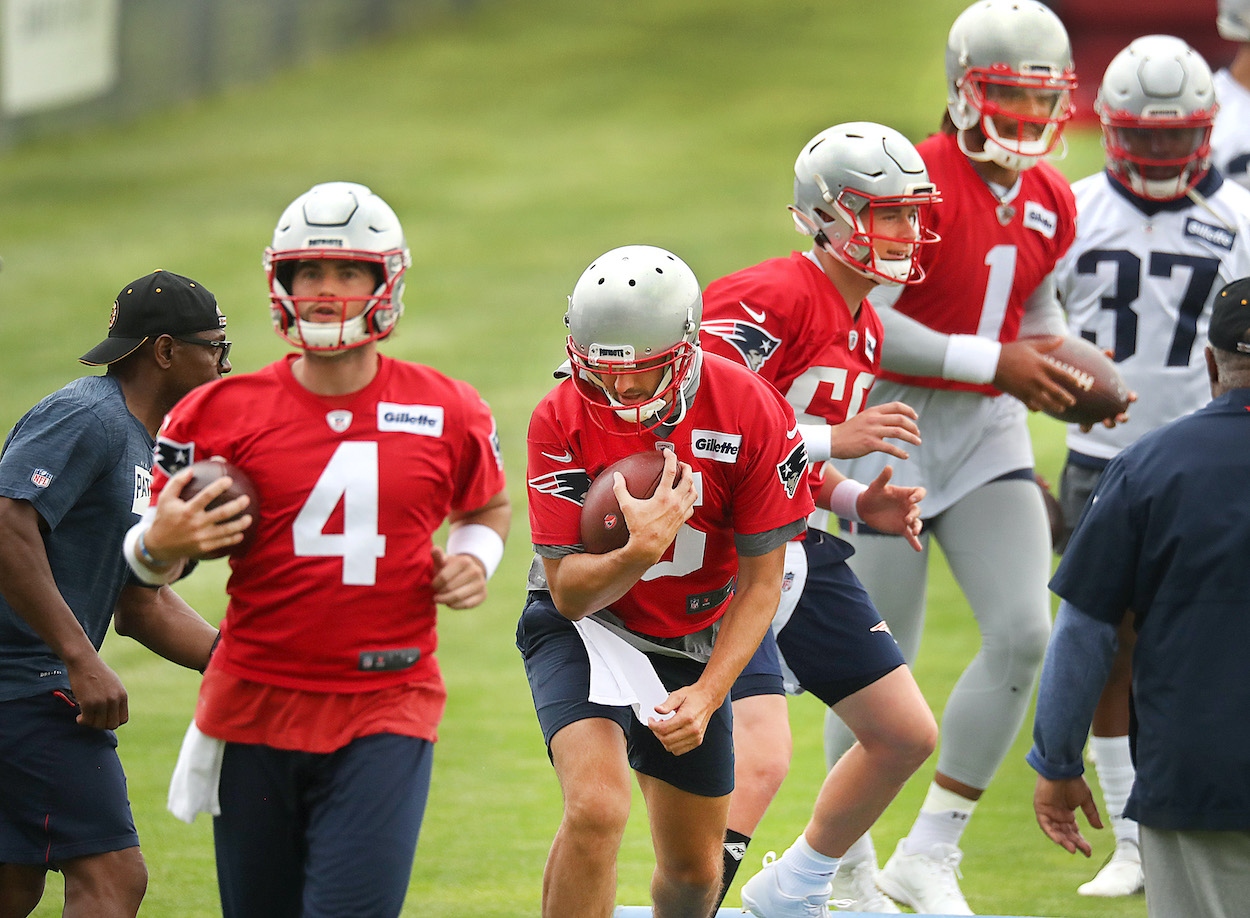 Newton and Jones are the New England QBs who get most of the publicity, but offensive coordinator Josh McDaniel's quarterback room has several competent signal-callers.
In Newton, they have a former NFL MVP who took his Carolina Panthers to the Super Bowl in 2015. With Jones, who the Patriots took No. 15 overall in the 2021 NFL draft, Belichick has a young passer who won the NCAA National Championship and was a finalist for the Heisman Trophy in his last year with the Alabama Crimson Tide.
There are two other QBs on the Pats' roster who can also play in the league. Brian Hoyer is back for another season after years of backing up Tom Brady in New England.
Then there is Jarrett Stidham.
Stidham arrived in Foxborough as a fourth-round draft pick out of Auburn in 2019. He threw four total passes and completed two of them as a rookie backing up Brady. The 6-foot-3 QB was briefly the Patriots' presumptive starter between Brady leaving and Newton arriving in the 2020 offseason, but that didn't pan out.
Due to Newton's absence for COVID-19-related reasons, along with other minor injuries and ineffective performances, Stidham did see some game time in 2020. In limited action, he threw for 256 years on 22 completions with two touchdowns and three INTs.
Belichick drafted Jones, at least partially, due to these anemic numbers. The stats are also why many doubt Stidham's future as a Patriots starter.
Jarrett Stidham stepped up after the Cam Newton hand injury
All the Patriots quarterbacks participated in the team's offseason OTAs in early June, including Newton. The offseason practice led to Newton's minor hand injury, though, and Belichick decided to shut the veteran down until training camp.
This injury represented a potential opportunity for Jones to impress Belichick and McDaniels. But while reports on Jones from OTAs are relatively positive overall, it is Stidham who notably stepped up when Newton went down.
NESN reporter Doug Kyed tweeted that Stidham, who has two years of experience with McDaniels' system, has looked much more comfortable and fluid when taking reps in the practices after Newton went out.
Despite what Bill Belichick says, the Patriots QB battle is wide open 
Belichick told the Providence Journal after selecting Jones on draft night, "Cam Newton was 'our quarterback' and that Jones and fellow quarterback Jarrett Stidham would have to challenge and compete with the veteran."
Even if this typically Belichik-ian non-answer means the head coach fully expects Newton to be the starting QB in Week 1, that is far from a guarantee in June.
Newton's 2020 season was, by far, his worst statistical season in which he started most of the games for his team. He had career lows — throwing out his 2019 season lost to a foot injury — in yards (2,657), completions (242), and touchdowns (8), which are just the latest numbers in a downward statistical trend since his MVP season.
Also, even at 6-foot-6, 245 pounds, the 1,071 career rushing attempts and 322 sacks in Newton's career have taken a toll on his body. As the hand injury shows, the veteran may be breaking down.
The New England Patriots will have a legit QB battle in training camp and, likely, throughout the 2021 season. Just don't be surprised if it's a three-way battle that involves Jarrett Stidham.
All stats courtesy of Pro Football Reference