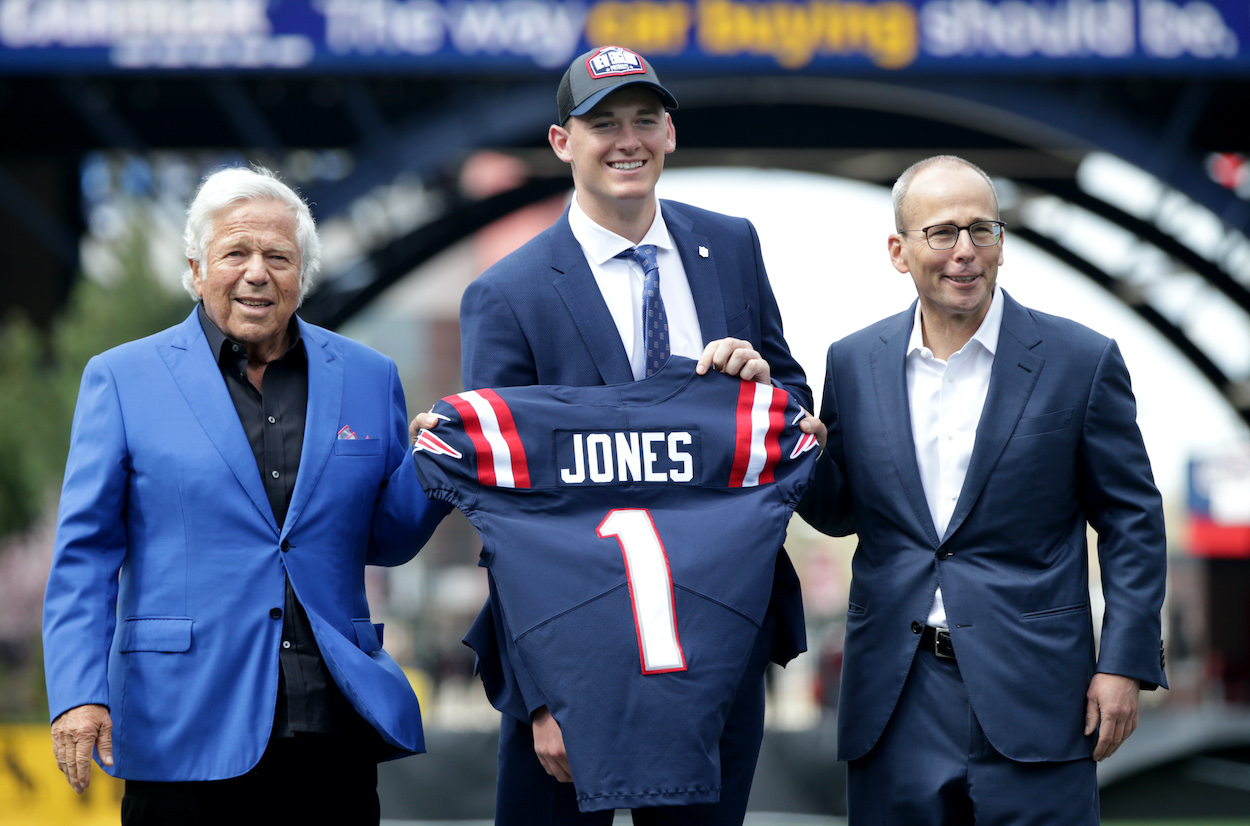 Why Bill Belichick Is Forcing New England Patriots Rookie QB Mac Jones to Wear No. 50
When New England Patriots fans saw their first-round draft pick, Mac Jones, wearing No. 50 on his jersey at OTAs there was likely some confusion. It turns out, the strange QB jersey number is part of a long-standing tradition imposed by Bill Belichick to make rookies learn the Patriot Way.
 New England Patriots fans got used to seeing the familiar No. 12 under center for their team for 20 seasons.
During OTAs leading into the 2021 NFL season, it may have surprised Patriots fans when they looked at their new QBs jersey. The shock wasn't just that the player with the ball is rookie quarterback Mac Jones. It was that he was wearing No. 50 for some reason. 
It turns out he was wearing that odd QB jersey number because his head coach Bill Belichick made him. 
Bill Belichick drafted Mac Jones to be the heir to Tom Brady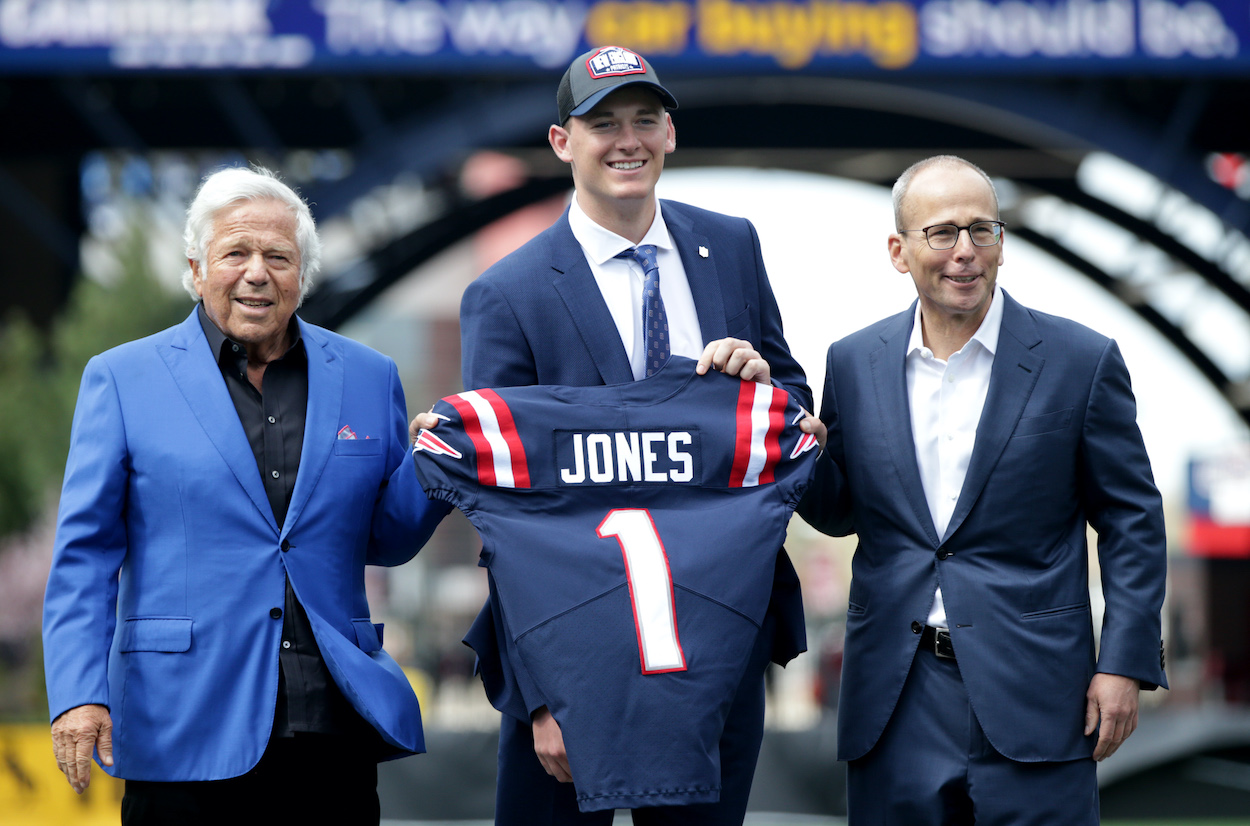 Belichick's first year without Brady did not go well for the 69-year-old coach. The Patriots went 7-9 with Cam Newton, Jarrett Stidham, and Brian Hoyer at quarterback. It was the organization's first losing season since 2000, the year they drafted Brady. 
It was apparent to all Patriot-watchers that to get back to the top of the league where they sat for two decades, New England needed a new franchise passer. 
Belichick seemingly agreed when he drafted Jones out of the University of Alabama with the No. 15 pick in the 2021 NFL draft. Jones led the Crimson Tide to a National Championship in his final season at the school. In his three years there, he threw for 6,126 yards and 56 touchdowns. 
Jones will compete with Newton for the starting job in the coming season. 
Belichick makes rookies wear non-traditional numbers during offseason OTAs every year
Many fans noticed that Jones was wearing a strange jersey in his first official practices with the Patriots. He donned a typical red QB jersey at OTAs, but it had No. 50 on it. 
A Belichick tradition is the reason that Jones wore the number normally reserved for linebackers. As NBC Sports tells it:  
All rookies who come through Foxboro are assigned a temporary jersey number when they first arrive, as head coach Bill Belichick wants them to focus on learning the system instead of fretting over what number to wear.
The specific number, 50, is generally reserved for the Pats' first overall pick. Every subsequent selection wears the following number in the 50s. 
This unusual jersey number won't be what Jones wears in the regular season. Some players will be able to pick non-traditional numbers, however, for the upcoming year. This is because the NFL has just changed its positional numbering system. 
The NFL is letting players wear non-traditional numbers, but QBs can't wear No. 50 
During the offseason, the Kansas City Chiefs proposed a rule change that would expand the numbers that each position group can legally wear. The NFL ratified this change, and for the first time, we will see some players wearing numbers not normally associated with their position. 
NFL.com explains the new jersey number rules: 
The expanded jerseys will allow running backs, tight ends, fullbacks, H-backs, and wide receivers to wear numbers 1-49 and 80-89; defensive backs can choose from 1-49; linebackers 1-59 and 90-99; offensive linemen 50-79; and defensive linemen 50-79 and 90-99. QBs, kickers and punters will remain in 1-19.
Once Jones learns the offense and the "Patriot Way" to coach Belichick's satisfaction, he'll be able to pick his actual jersey number. The most likely scenario is that he sticks with his college number, No. 10. 
All stats courtesy of Sports Reference