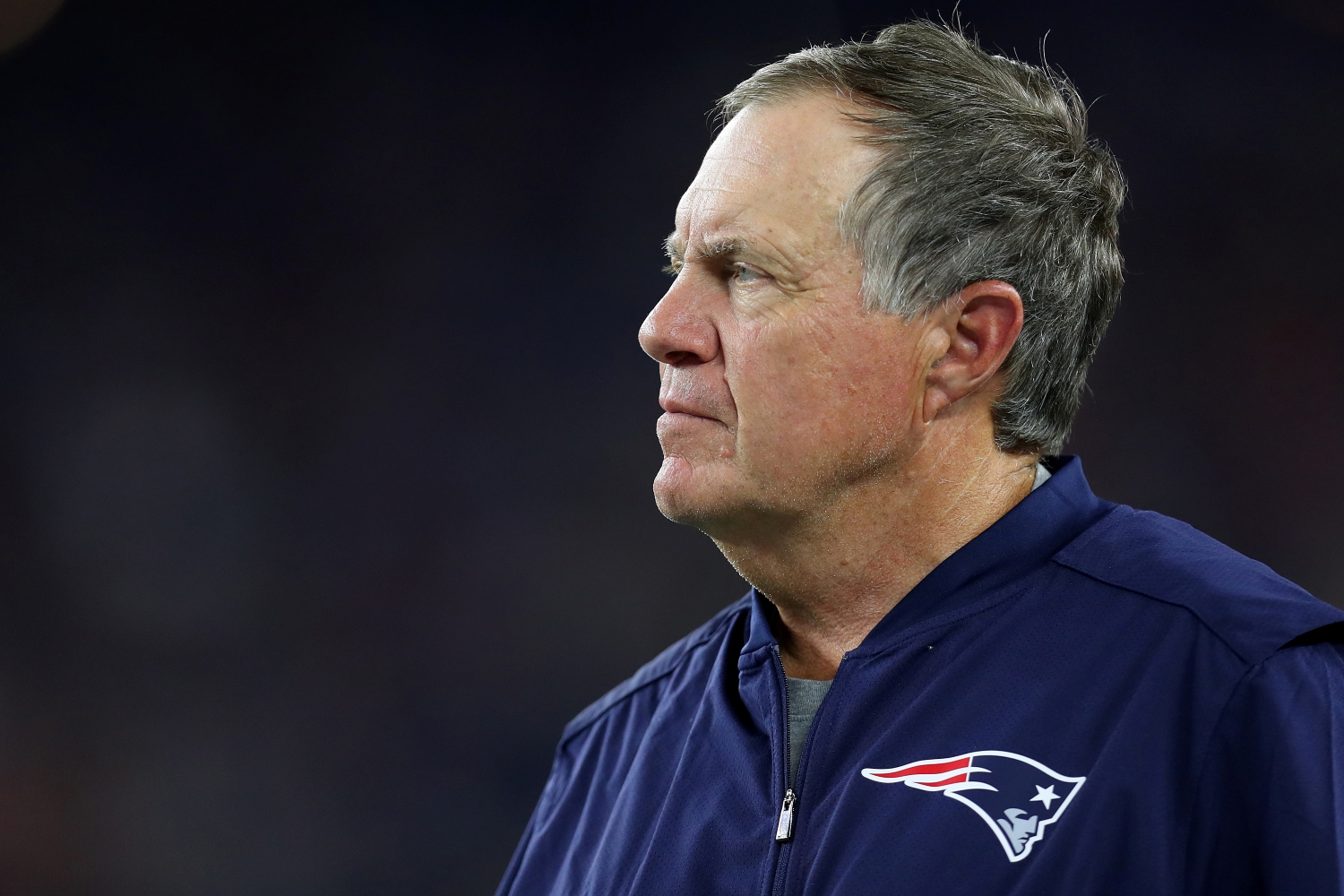 Bill Belichick Praises Cam Newton, Barely Mentions Mac Jones While Discussing Patriots' Quarterback Situation
Bill Belichick spoke with reporters on Thursday about the Patriots' quarterback situation. Will Mac Jones beat out Cam Newton for the starting job?
Bill Belichick has an interesting decision to make over the course of the next few months. Will he continue to ride with Cam Newton as his starting quarterback? Or does Mac Jones give the New England Patriots the best chance to win this season?
With organized team activities underway, Belichick shared an update on Thursday about the team's quarterback situation. And his comments only highlighted how difficult it is to project a timeline for Jones.
Cam Newton headlines an interesting quarterback room
While he didn't impress as a passer, Newton obviously did enough things right last season to convince Belichick to give him another chance. After an up-and-down season that included eight passing touchdowns (plus another 12 as a runner) across 15 starts, he signed another one-year contract with New England. But with only $3.5 million guaranteed on his deal, the 32-year-old will have to stay on the field to maximize his payday. Considering how much he struggled in his first year playing in Josh McDaniels' offense, betting on Newton to make a major turnaround seems like a risky proposition.
Meanwhile, Jones represents something Patriots fans didn't have before the 2021 NFL draft: hope for the future. The team's top pick showcased tremendous accuracy, processing speed, and toughness at Alabama. Jones also draws rave reviews for his intelligence and understanding of the game. However, he will have to prove he can play at a high level without having multiple first-round receivers around him.
Jarrett Stidham and Brian Hoyer round out New England's quarterback room.
Stidham arrived as a fourth-round pick in 2019 and has yet to start a game. The pressure is firmly on the 24-year-old to prove he deserves to stick around in New England.
Hoyer provides the Patriots with a signal-caller who has a thorough understanding of their offensive system. That makes him an excellent mentor for Jones and a potential backup option for the 2021 season.
Bill Belichick shares update on Patriots' quarterback situation
With players participating in OTAs, the clock has officially started on the Patriots' quarterback battle. On Thursday, Belichick spoke with reporters before practice about the overall situation while touching upon Newton and Jones.
"I think all the quarterbacks are working hard," he said during his media session. "Again, it's a starting-over process for everybody. Some have been here, some of them haven't. They've had various levels of opportunity to work in our offense, but really we're starting everybody at the same point like we always do at this time of year."
Newton obviously has a leg up on Jones from an experience standpoint. And it's clear the veteran continues to set a high standard from a character perspective.
"Cam's been here all the way through," Belichick said. "He was here at the beginning and has been a consistent participant, continues to give us the usual leadership and energy that he brings to the field and to the workouts and practice."
He further added, "Cam's very professional, and I'm sure that he'll continue to work hard and do his best out there like he's always done for us. It's never been anything but that from the day he got here."
Don't be surprised if New England takes it slow with Mac Jones
Belichick's comments about Newton show how much respect he has for the 2015 NFL MVP. While that doesn't mean he'll just hand him the job, it wouldn't be surprising to see Newton under center in Week 1. After all, Belichick didn't even try to set any real expectations for Jones.
"Mac dove into the playbook and continues to do that, like everybody out there," he said. "We all have a lot of things we've got to work on. That includes everybody. So that's what he's doing. That's what everybody's doing."
At this point, it's far too early to declare a winner in the race for starting quarterback duties. However, Patriots fans shouldn't be surprised if Jones doesn't make his on-field debut for a while. Belichick seems to value Newton's loyalty and leadership. Teammates appreciate his work ethic and positive attitude. And he has the edge on the rookie in terms of experience in the system. Based on those factors, Newton looks like the top candidate to start the season opener.
But don't dismiss the idea of Jones taking over at some point in 2021.
If Newton can't take advantage of an upgraded set of weapons, it makes no sense for the Patriots to continue to put him on the field. So even though Jones may have to bide his time, he definitely has a chance to see action as a rookie. Because once he demonstrates an understanding of the playbook by playing well in practice, he should unseat Newton and cement his status as the team's franchise quarterback.
Like Sportscasting on Facebook. Follow us on Twitter @sportscasting19.