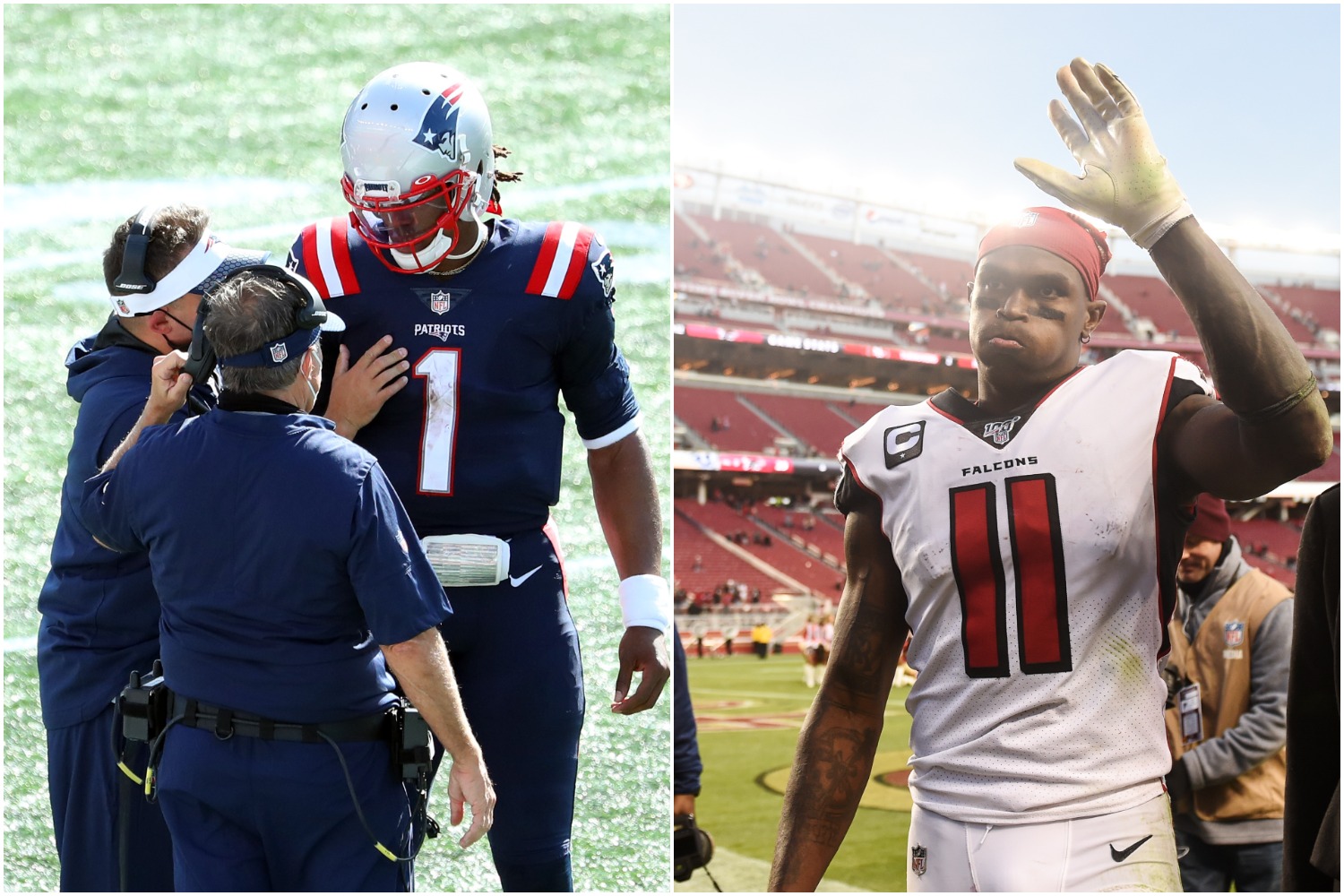 Bill Belichick and Cam Newton Should Be Ecstatic by the Latest Report on Julio Jones
If Bill Belichick wants to do Cam Newton a favor, he should give the Atlanta Falcons a call. Will the Patriots make a deal for All-Pro WR Julio Jones?
The Cam Newton experiment didn't work out quite like Bill Belichick hoped last season. But could the quarterback be the key to the New England Patriots landing one of the most talented wide receivers of all time?
Based on the latest report involving Atlanta Falcons superstar Julio Jones, that may just be the case.
An end of an era in Atlanta?
The Falcons made a franchise-altering move during the 2011 NFL draft by trading up to the No. 6 overall pick to take Jones. Based on everything he did at Alabama, selecting him seemed like a surefire way to help bring a Super Bowl title to Atlanta. Although the franchise has yet to taste championship glory since he arrived, Jones has more than lived up to expectations.
A seven-time Pro Bowl selection, the 6-foot-3, 220-pound wideout has dominated defensive backs for years using his tantalizing combination of size, speed, and strength. With 848 catches, 12,896 receiving yards, and 60 touchdowns in 135 regular-season games, Jones undoubtedly belongs in the Pro Football Hall of Fame.
However, after spending his entire career in Atlanta, the 32-year-old may record his next reception as a member of another NFL team. According to Jeff Schultz of The Athletic, the Falcons would like to trade the aging wideout.
The only problem?
Jones carries a $15.3 million base salary for 2021. That means a team must have ample cap space to accommodate his contract. With that in mind, only a few stand out as potential fits. As Schultz wrote, the Ravens, 49ers, Colts, and Chargers all represent potential trade partners. The Patriots also have the financial flexibility (and need at the position) to make a move for Jones.
So far, though, the Falcons have yet to deal one of the most beloved players in team history.
Bill Belichick and Cam Newton should be ecstatic by the latest report on Julio Jones
The Patriots probably suffered a net negative by starting Newton for 15 games last season. His inability to move the offense played a significant role in the team missing the playoffs for the first time in 12 years. Somehow, though, his film didn't scare off one of the NFL's best receivers from wanting to be his teammate.
In news that should be embraced with open arms by both Newton and Belichick, Michael Holley of NBC Sports Boston delivered a critical report about the Falcons star.
"You know who [Jones] really wants to play with? He wants to play with Cam Newton. He likes Cam," Holley said during a video segment.
As for the All-Pro wideout's current quarterback? Jones apparently saw some slippage in one area of Matt Ryan's game.
"That's the other thing: He thinks Matt Ryan has lost a little zing on his deep ball," Holley reported.
Considering how much Belichick has backed Newton publicly since he first joined the Patriots, he has to feel good if the latest report about Jones has merit. That would further validate his decision to re-sign a player who draws rave reviews from a character and leadership standpoint. And for Newton, the fact one of the NFL's all-time greats still wants to catch passes from him after a disappointing season has to feel good, too.
Does trading for Jones make sense for the Patriots?
The Patriots shouldn't trade for Jones solely because of his reported desire to play with Newton. For all we know, Mac Jones could win the starting quarterback job and send Newton to the bench. That wouldn't exactly align with Jones' goal of joining forces with the former Carolina Panthers star.
New England would obviously benefit from having Jones on the roster. His presence would immediately upgrade a receiver group that lacks a true No. 1 threat. Plus, he would draw attention away from other targets, including tight ends Jonnu Smith and Hunter Henry.
Still, Belichick has to consider several factors.
What do the Falcons want in return? Can the Patriots live with paying a receiver top-of-the-market money? Does Jones carry too much injury risk at his age?
Those questions must be answered before any deal gets done.
Will New England bite the bullet and trade for Jones? Only Belichick truly knows the answer to that.
All statistics courtesy of Pro Football Reference.