Patrick Mahomes Reveals How His Pre-Draft Grade Changed His Life Forever and Why the NFL Needs Microchips
Patrick Mahomes may be the NFL's biggest star at the moment, but he didn't enter the league as a can't-miss prospect. In fact, it would be fair to say he was viewed as something of a boom-or-bust pick by the Kansas City Chiefs.
Obviously, though, the selection paid off.
Still, the fact people had doubts about his ability to succeed at the pro level reflected the uncertainty surrounding Mahomes during the evaluation process. During a recent podcast appearance, he explained the life-changing impact of his pre-draft grade, along with a number of other topics. And besides talking about the past, Mahomes also spoke about an idea involving microchips that could change the NFL forever.
Patrick Mahomes has silenced any of his pre-draft doubters
It didn't take Mahomes long to prove NFL teams made a mistake by letting him fall to the 10th pick in the 2017 NFL draft. After biding his time behind Alex Smith as a rookie, he took over the starting role and immediately made his presence known. In his first full season of action, Mahomes completed 66% of his passes for 5,097 yards and 50 touchdowns.
His raw numbers took a dip in 2019, but that didn't matter in the end. Kansas City turned it on in the playoffs and emerged victorious in Super Bowl 54 against the San Francisco 49ers.
Mahomes rebounded with an MVP-caliber campaign in 2020 that included 4,740 passing yards, 38 touchdowns, and only six interceptions. Unfortunately for the Chiefs, their bid at winning back-to-back titles ended with a lopsided loss to the Tampa Bay Buccaneers in Super Bowl 55.
Only 25 years old, Mahomes already looks like a lock to make the Pro Football Hall of Fame one day. Considering he was the third quarterback taken in his draft class, that shows just how much he was undervalued coming out of college. But in the span of three seasons, he's demonstrated the ability to dominate the game with a truly unique skillset.
The Chiefs star explains the life-changing impact of his pre-draft grade
The NFL draft is an inexact science.
We've seen teams blow premium picks on players with robust college resumes and no apparent red flags. At the same time, there are plenty of examples of late-rounders or undrafted free agents who became big-time stars. So even in the case of a gifted prospect like Mahomes, it can be incredibly challenging to project how he will perform at the pro level.
While speaking on the WHOOP podcast, the three-time Pro Bowler addressed the topic of his pre-draft grade. Once he received a second- or third-round grade from the NFL draft advisory board, Mahomes' life changed forever.
"I kind of just told myself that these next few months, I'm gonna put everything I have into making my body in the best shape possible," he explained. "My conditioning, the way I eat, everything like that, and I worked my tail off, and I was able to get drafted with the 10th pick overall."
Mahomes further added, "To make that climb and to know that all that hard work that I put in was paying off, it kind of jump-started my career of knowing that that's how I need to work at all times if I want to continue to be successful."
Mahomes believes the NFL can solve a common problem with a simple solution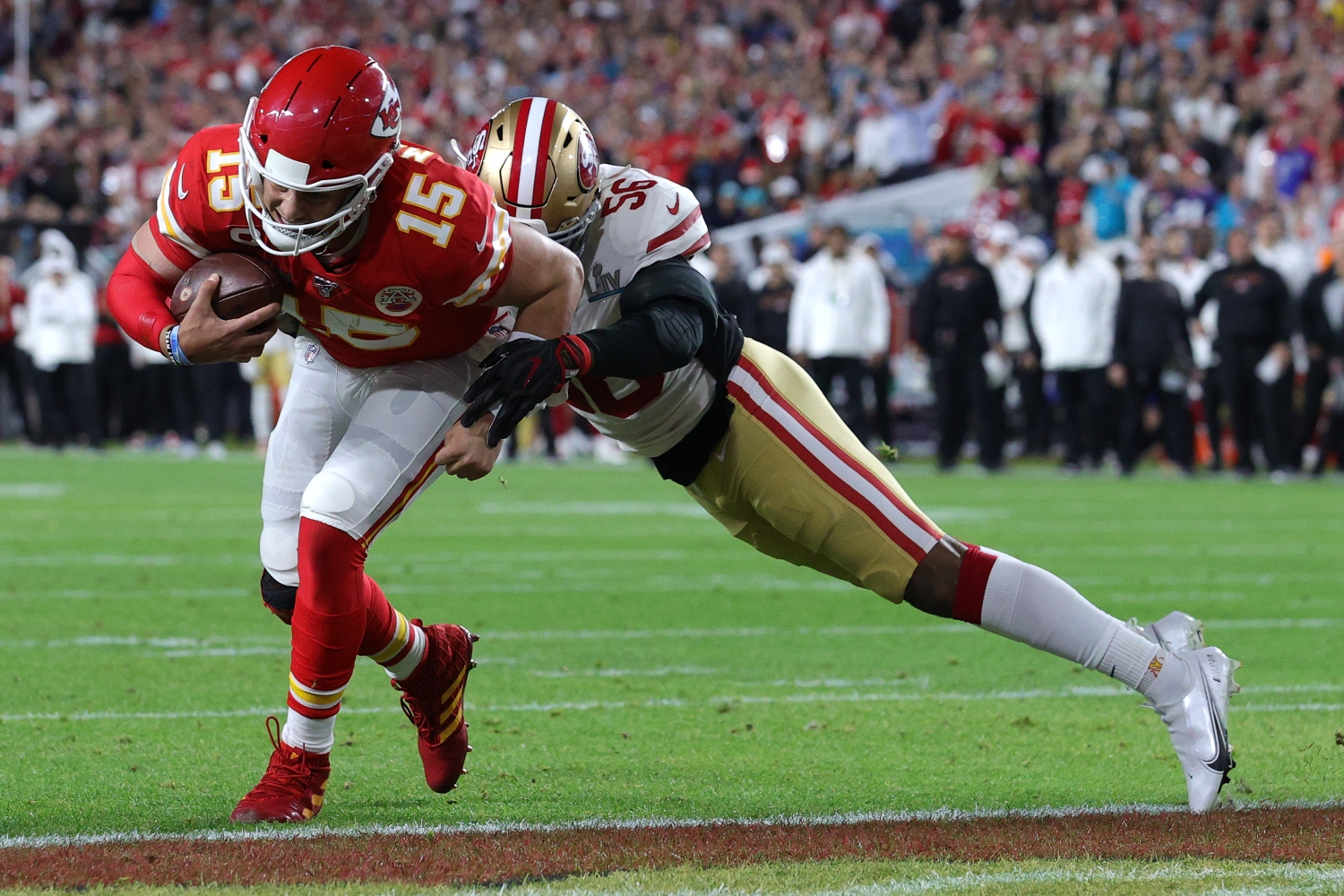 Thanks to his work ethic and natural talent, Mahomes has taken the NFL by storm in such a short period. Looking ahead, though, he wants the league to make a simple change to solve a common problem: figuring out if a player actually carried the ball over the goal line.
So how would Mahomes fix this issue and erase any doubts about whether a touchdown should stand?
Microchips, of course.
"I've always thought the chip in the ball has to happen sometime, where if you cross the line, it just tells you a touchdown," he said.
After acknowledging the human error factor involved, Mahomes doubled down on the logic of using microchips to ensure accurate goal-line calls get made.
"The biggest thing to me is when they get in the pile by the end zone, there is literally no way to tell if he's in the end zone or not," he explained. "It's like you said, it's just whatever they call. I'm sure it'll happen soon enough."
All statistics courtesy of Pro Football Reference.