Julian Edelman Opens Up About His Troublesome Knee and What Playing for Bill Belichick and the Patriots is All About
New England Patriots fans will remember Julian Edelman as one of the most productive and tough players in franchise history. His journey from being a college quarterback to catching passes from Tom Brady for a living remains one of the most fascinating stories in the history of the NFL draft. But after making plays on Sundays for so many years, the dynamic slot receiver finally said goodbye to the game he's loved for decades.
As players around the league prepare for the upcoming season, Edelman can finally give his body a well-deserved break. And during a recent discussion with fellow retired NFL player Pat McAfee, the 34-year-old opened up about his troublesome knee, retiring, and what it's like to play for Bill Belichick and the Patriots.
Julian Edelman brought his brilliant NFL career to an end this offseason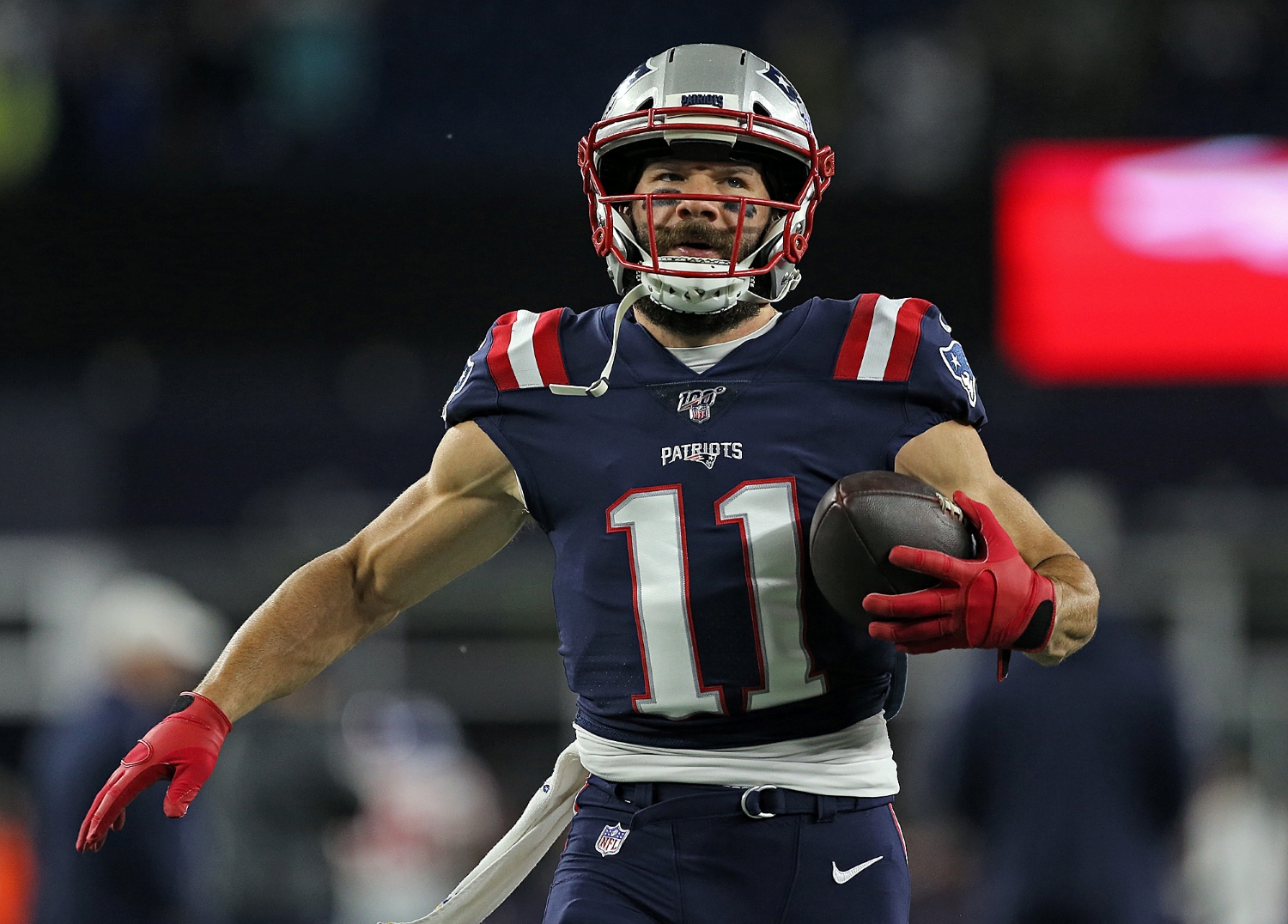 New England stumbled upon a future star by taking a chance on Edelman in the seventh round of the 2009 NFL draft. Although he played quarterback at Kent State, the 5-foot-10, 198-pounder only attempted six passes during his pro career. Instead, he made a living as a dynamic slot receiver who also made a sizable impact on special teams.
Injuries limited Edelman early on, but he took advantage of an opening in 2013 and never looked back. Showcasing an almost telepathic connection with Brady, it became routine to see No. 11 haul in pass after pass from the legendary quarterback.
More importantly, Edelman stepped up when it mattered most. He totaled 118 receptions for 1,442 yards and five touchdowns in 19 playoff games. His performance in Super Bowl 53 stood out so much he took home MVP honors.
Unfortunately for Edelman, everything went south once Brady left. Coming off a 100-catch campaign in 2019, he played only six games last season. His absence certainly played a role in New England's struggles on offense. After months of speculation about his future in Foxborough, he officially brought his career to an end by announcing his retirement on April 12.
The Patriots legend opens up about his troublesome knee
Although it looked like Edelman had a chance to return at the end of the 2020 season, that never happened. Ultimately, he totaled just 21 catches in what amounted to his final year as an NFL player.
Edelman may have the mentality of a warrior, but not even he could overcome the damage his body sustained from playing pro football. During his appearance on The Pat McAfee Show Thursday, the three-time Super Bowl champion provided more details about what happened to his knee.
"I'm just like most guys that have knee problems—I'm just bone on bone," Edelman said. "And also my medial side is just worn out because I tore a PCL years ago, and you don't repair those. So, then you just get this lag in your tibia-fibula, and then I'm bow-legged, so you're just going over years, years, years of grinding."
He added that he "popped the root" of his cartilage last year, which essentially represented the end of the road for the veteran wideout.
What's it like to play for Bill Belichick and the Patriots?
In addition to talking about his decision to retire, Edelman provided some valuable insight into what it's like to play for the Patriots. Needless to say, he had to fight hard to earn a role on the team that featured several established wideouts.
"You either had to be really good at one thing or you had to be very versatile," Edelman explained. "There's a saying around New England everyone always says, 'The more you can do.'"
Of course, the ex-college QB carved out a niche on special teams before working his way into the mix at receiver. Edelman even moonlighted as a corner when New England experienced major injury issues at the position back in 2011.
As for his longtime boss? It sure sounds like the Patriots legend has no desire to follow in Belichick's footsteps.
"He lives there. Those coaches live there," Edelman explained. "I thought maybe early in my career I would get into coaching. I love football. Then I started watching these guys and they got blow-up mattresses in their office. I put in 14 hours a day and these guys are here for 20."
All statistics courtesy of Pro Football Reference.