The Latest Update on Julian Edelman Should Seal His Fate With the Patriots
Bill Belichick has spent the early portion of the offseason adding more talent to a New England Patriots roster that simply didn't have enough starting-caliber players last season. Of course, it didn't help that Julian Edelman spent most of the year on the sidelines.
Unfortunately for the aging wide receiver, the latest update about his health status should seal his fate with the Patriots.
A knee injury sidelined Julian Edelman for most of the 2020 NFL season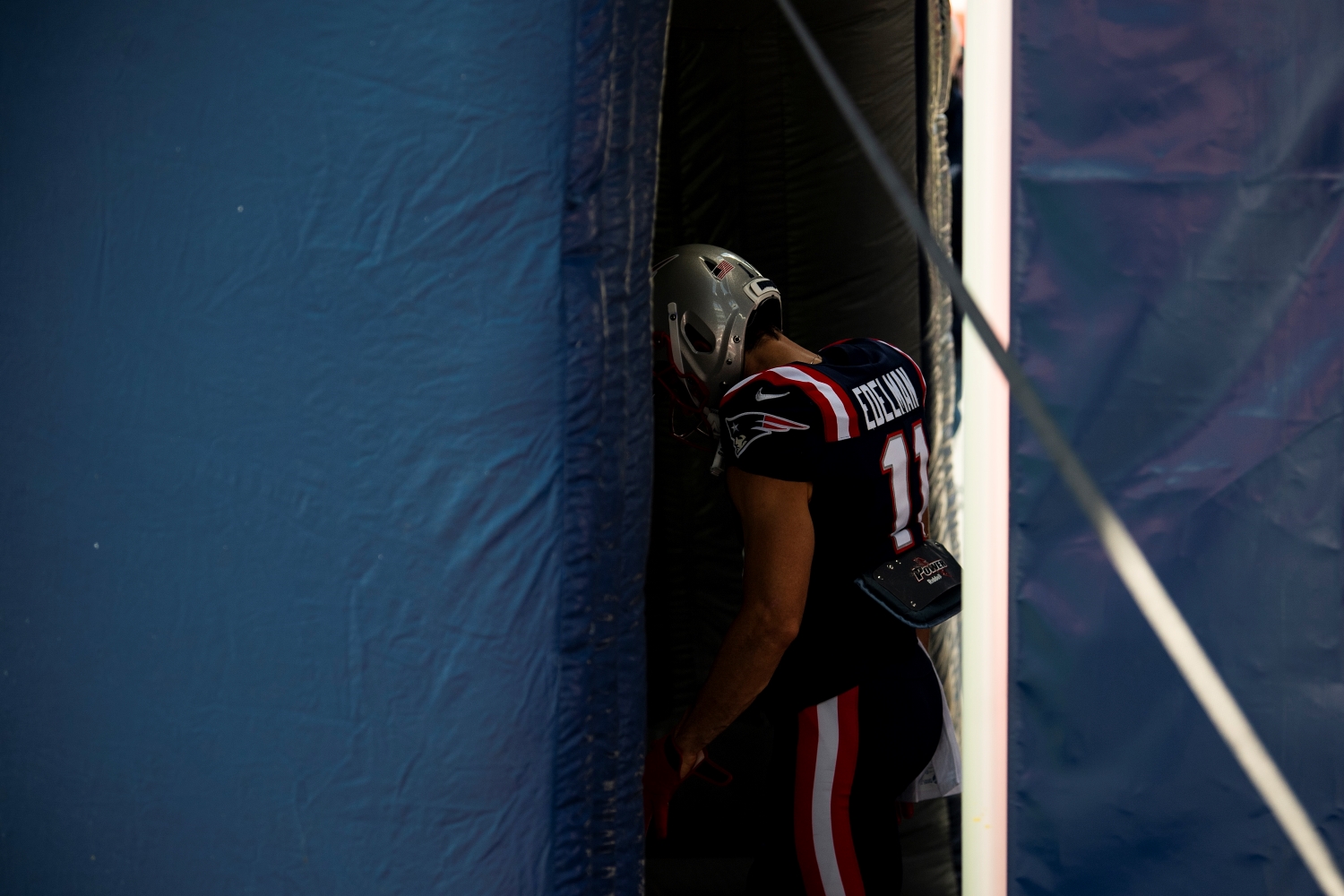 RELATED: Patriots Offensive Lineman Justin Herron Saved a 71-Year-Old Woman's Life by Putting a Stop to a Terrifying Situation in an Arizona Park
From 2016-19, Julian Edelman averaged 91 catches, 1,024 yards, and five touchdowns. However, in his first season without Tom Brady, the former playoff hero didn't come close to hitting those marks. In fact, the three-time Super Bowl champion barely made an impact at all.
After totaling eight catches for 179 yards in a close Week 2 loss to the Seattle Seahawks, Edelman only recorded eight receptions for 79 scoreless yards in his next four games.
Eventually, his knee injury became problematic enough that the Patriots placed him on injured reserve. For weeks, fans waited patiently for good news about the team's longtime star.
The situation appeared to take a promising turn in mid-December. Yet, even after getting designated to return from IR, Edelman never played another down. A year removed from posting a career-high 1,117 receiving yards, the former Super Bowl MVP finished with just 315 in six games.
The latest update on Edelman should seal his fate with the Patriots
RELATED: The New England Patriots Have Reportedly Made a Final Decision About Jimmy Garoppolo's Future in Foxborough
Julian Edelman deserves tremendous credit for putting in the effort to try to get back on the field. But based on the latest update about his troublesome knee, his fate with the Patriots should be sealed.
On Thursday, Karen Guregian of the Boston Herald delivered a sobering report about Edelman. According to a source familiar with his situation, it is doubtful he will be able to play the entire 2021 season.
Surgery could provide temporary relief. However, Guregian's source said nothing can solve the underlying problem.
"He could play a few games in 2021, but given the nature of the problem, be gone the next," she wrote.
Given Edelman's age and health status, along with Bill Belichick's history of moving on from aging players, the Patriots appear primed to cut ties with one of the most popular players in franchise history.
At this point, New England should either trade or release him. Such a move would not only save cap space but also force the Patriots to find a replacement via the 2021 NFL draft.
Bill Belichick needs to continue rebuilding the receiver group in the 2021 NFL draft
RELATED: The New England Patriots Just Received Some Much-Needed Help from the New York Jets
While free-agent additions Nelson Agholor and Kendrick Bourne should play prominent roles this season, the Patriots need to draft and develop a future starter, too.
Armed with the 15th pick, Bill Belichick has an opportunity to make fans forget about the N'Keal Harry disaster. Although Ja'Marr Chase will surely be gone by the time New England comes on the clock, other talented prospects could still be available.
If Jaylen Waddle and/or DeVonta Smith sits on the board, Belichick should think long and hard about taking one of the former Alabama stars. And given the depth of this year's class, the Patriots could even wait till the second round to select a pass-catcher.
Ultimately, the latest update on Julian Edelman should only give Belichick more motivation to spend a premium pick on a receiver. But given his track record in the draft, Patriots fans better hope there really are some changes to the player selection process.
All contract data courtesy of Spotrac. All statistics courtesy of Pro Football Reference.